How to Spot Common Scholarship Scams
In this guide, we'll show you how to identify and avoid scholarship scams, as well as tips on finding legit scholarships.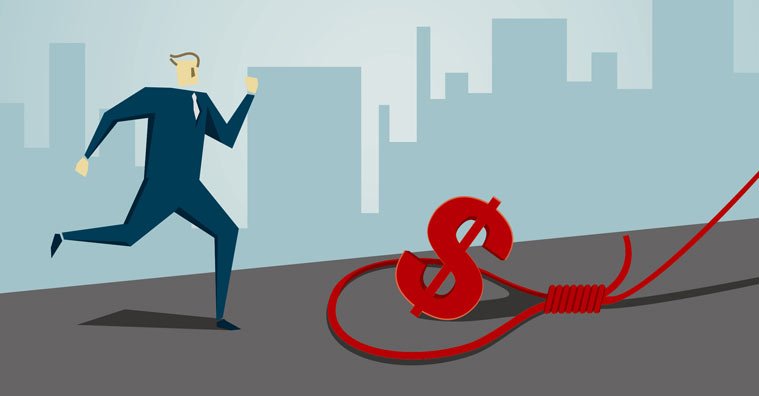 Regardless of how you choose to pay for college, scammers seem to be lurking around every corner, waiting to take advantage of you, your parents, and your need for money. And scholarships are no different.
In this article, we'll take a look at what scholarship scams are, some of the most common ones you'll come across, as well as some foolproof tips you can use to avoid them.
What Are Scholarship Scams and How Do They Work?
A scholarship scam will often promise to help you or your child obtain specific scholarships in exchange for a fee but ultimately won't provide you with any value for your hard-earned money.
Scholarship scams generally follow certain guidelines, so if you know what to look out for, they'll be that much easier to avoid.
1. The Pitch
Like most types of fraud, scholarship scams will initially appear legitimate. Whether they come through the regular mail, through a high-pressure sales call, via email, or through an online advertisement, their goal is to 1) make you think they're a reputable company who 2) can help you obtain one or more college scholarships.
If it's through the mail, this might involve a professionally designed envelope, complete with the organization's seal and legit-looking signatures. If through email, you might be enticed by the subject line that reads, "Your Scholarship Money is Available for Deposit," as well as the company's regal-sounding name.
You might have been convinced to attend a seminar at a posh hotel's conference room. And in this instance—or if you happened to speak to someone over the phone—you might have found their sale pitch irresistible, and that it seemed impossible to say no.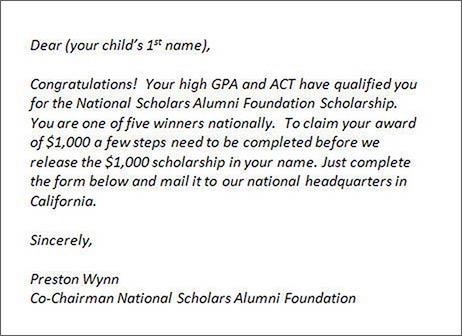 Have you received an email like this recently? Be very careful; it's likely a scam. Image credit: CollegeMadeSimple.com
2. The Hook
However it's presented, these companies make many of the same claims:
Find out how to get your GUARANTEED scholarship.
[Foundation Name] has selected you as the winner of a $10,000 scholarship.
We'll help you get a scholarship—for only $100! Money-back guarantee.
The final step to confirm your scholarship eligibility: checking account info.
Congrats! You're a finalist for the 2015 [Foundation Name] scholarship.
3. The Scam
In many instances, you might not receive any kind of service once you've handed over your money. And by the time you figure out you've been duped, the scammers are long gone and on to their next scheme.
Or, you might simply receive a pre-printed list of all available scholarships and little else. Even if you're eventually able to get someone on the phone, you might find that according to the company's Terms & Conditions, it's all but impossible to get a refund. Sometimes they might simply refuse.
Alternately, if you handed over your checking account information, you could be paying steep fees every month, without the ability to opt-out.
In any case, these companies appeal to your desire to obtain free money for college, without ever having to lift a finger.
How to Spot Scholarship Scams
Although the Scholarship Fraud Prevention Act of 2000 increased the penalties related to scholarship scams, while also making it easier to prosecute the criminals who use them, since 1996, consumers just like you have lost more than $22 million through scholarship scams. So what can be done to protect yourself?
According to the Federal Trade Commission, the easiest way to identify a scholarship scam is any time a company guarantees or promises scholarships—even for a fee.
This simply isn't possible, and anyone claiming otherwise is likely only interested in taking your money and running.
In addition, if a company claims to provide you with a list of scholarships that aren't available anywhere else, this is another sure sign of a scam (we'll come back around to this in a moment).
If a company asks for an upfront "disbursement" or "redemption" fee, requests your bank account or social security numbers, or claims that the scholarship will cost money, turn and walk away.
Legitimate Methods of Finding College Scholarships
Scholarship Search Engine
Perhaps the easiest way to find scholarships is by using a "scholarship search engine," such as CollegeData, Scholarships.com, and CareerOneStop, which can help you find out about national and state scholarships since these lists are required to be publically available.
While these options are free, you'll also find paid options such as FastWeb.com, which provides the added ability to save your searches, create lists, and even apply for scholarships.
In either instance, some of these search engines will offer more features than others, although most allow you to narrow search criteria by GPA, ethnicity, religion, area of study, and more.
Check Locally
However, keep in mind that these search engines generally won't feature local scholarships; ones that might be offered through your religious community, employer, or local civic clubs such as the Rotary Club or the Kiwanis.
When searching for local scholarship opportunities, a good place to start would be your high school's guidance office, or by contacting city agencies or businesses directly in order to find out about any local scholarship opportunities.
Speak to the College
Similarly, if you've already been accepted to a specific college, speak with a financial aid counselor about any scholarships they have to offer.
This way, they can help you sort through all the available options, discern whether or not you'd qualify, and then apply when the time comes. After all, in-school scholarships are the most common type.
Due Diligence
Lastly, if you decide to attend a scholarship search seminar, remember that you hold all the cards (i.e. your money).
As such, take your time before making a decision, ensure all your questions are answered appropriately, take the company's "success stories" with a grain of salt, and search for them online in order to learn about their reputation.
You can do this quickly by Googling the company's name, followed by the word "scam." As we noted previously, if the company has been around for long and is actively defrauding customers, people will quickly start complaining online.
If you don't find any information about the company through an online search, be sure to double-check with the Better Business Bureau and try different variations of the company's name. (For example, if the company is called "ABC Scholarship Finding Services," you might try searching for "ABC Scholarship," "ABC Finding Services," etc.)
Already a Scholarship Scam Victim?
If you already fell victim to a scholarship scam, don't despair. As we mentioned above, their marketing pitches are fine-tuned and their promises of easy money can be difficult to resist, which makes this a profitable type of scam.
The first thing you should do is file a complaint with the FTC, which can go a long way toward letting the proper authorities know what's going on and getting them involved.
Then, be sure to leave a review on as many consumer advocacy websites as you can.
Pro tip: Whether you paid the company a one-time fee or had the money debited from your checking account each month, the likelihood of getting a refund is slim to none. Because of this, we'd recommend saving yourself time and a ton of time and frustration by getting your credit card company involved.