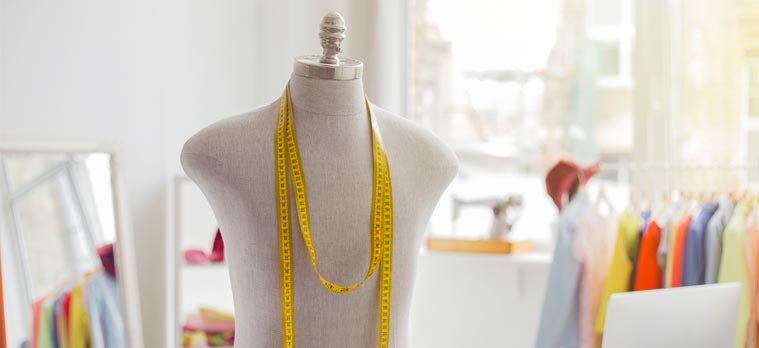 Do you struggle to find off-the-rack styles and sizes that fit your body shape or build? A new style of online store is aiming to offer an alternative to settling for ill-fitting clothes.
Made-to-measure clothing retailers take a different approach to manufacturing that falls somewhere between off-the-rack and custom-tailored.
Instead of creating a new pattern for each customer, custom women's clothing stores alter existing patterns to your specific measurements. Depending on the brand, you might also be able to alter the fabric choice and detailing.
According to made-to-measure retailers, this middle ground can ease your wardrobe woes by offering fashionable styles in custom fits at an affordable price.
Why Consider Made-to-Measure Clothing?
Standard clothing sizes assume that if we're big in one area, we're equally big in another, which means that you often have to buy an item that fits your widest point.
Tailoring after purchase can improve a fit in matters that deal with width, but can't compensate for garments that are too long or short in the midsection without creating additional seams that might change the garment's overall appearance.
So, what kind of poor-fit foibles can made-to-measure fix? Consider this type of retailer if:
Your fitted shirts often gap at the buttons or restrict your arm movement.
You have to buy too-big bottoms to fit your hips, which causes waistbands to gap.
Your long torso means that shirts are always too short, and pants ride too low.
Your short torso leaves you swimming in shirts, and pant rises float above your waistline.
Your height makes finding the perfect hemline difficult or long arms mean sleeves are too short.
Basically, made-to-measure clothing attempts to reconcile the differences from point to point on your body, without compromising a garment's style with unintended tucks and seams.
Sound like made-to-measure clothing could be a good fit for your wardrobe? Here's a look at several different online retailers that offer custom sizing, and what type of clothing they do best.
What's the Best All-Around Online Custom Women's Clothing Store?
Need to completely rebuild your wardrobe? eShakti offers a wide variety of clothing categories, including dresses, tops, skirts, pants, and even a small selection of wedding dresses in women's sizes 0-36. Additionally, their prices are very reasonable:
Dresses: $45-130
Tops: $29-63
Skirts: $32-74
Pants and jumpsuits: $44-78
Denim: $43-80
eShakti's prices are pretty comparable to most women's ready-to-wear clothing stores. However, the above price ranges shared above are for standard sizing, or "as is" – without any custom sizing beyond changing the length of a garment for your height.
If you want to get the benefit of made-to-measure tailoring when shopping eShakti, you'll need to pay a little more – $9.95 per item. That fee gets you a garment that's totally tailored to your figure.
The measurements go beyond bust, waist, and hip to include underbust, shoulder, and upper arm measurements. They even ask for the distance between points, which is a blessing for anyone who struggles to dress a particularly long or short torso.
Have you ever looked at a garment and thought that it'd be perfect, if only it had longer sleeves, a higher neckline, or a shorter skirt?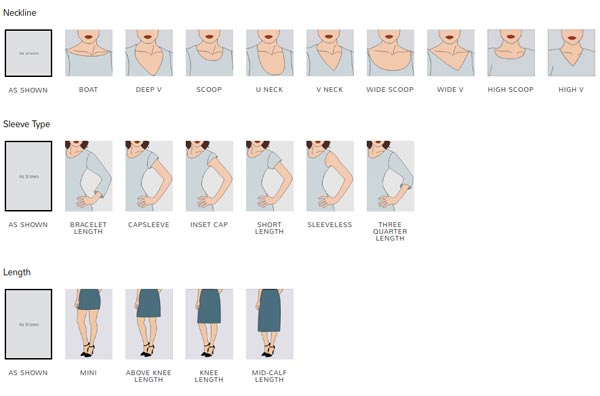 For an additional $9.95 per item, eShakti allows you to customize different aspects of a garment, including the neckline, sleeve, and hem length.
Why Do We Think eShakti is the Best All-Around Custom Women's Clothing Brand?
It's hard to beat eShakti's expansive catalog of different styles. We also love how often new items are added, which is at least two times a week.
It's true that the two separate fees for customizing an eShakti item can quickly hike up your total cost, especially if you're ordering multiple garments. However, we found that this retailer frequently offers coupons and sales which can soften the extra cost.
We also appreciate that eShakti offers a 100% Satisfaction Guarantee return policy that allows you to receive a refund on any unworn item for up to 30 days.
Finally, one of our favorite aspects of eShakti is how actively they promote customer engagement. If you follow the brand on Facebook, you can learn a lot about their service, as well as check out pictures of happy customers wearing their tailored garments to get a better idea of how these pieces fit on real people.
Bottom Line on eShakti:
From order to delivery: 10-14 days.

What we liked: The site saves your measurements for your next order. You can customize aspects of a garment, such as sleeves or necklines, to create something that's perfect in fit and style.

What's worth noting: All dresses have a vintage vibe, so even with all the options, the style range seemed limited.

You might not like: If you want a custom fit and detailing, expect to add an extra $19.90 to each item.

What consumers say: Overall great reviews, though even devoted shoppers say that it's occasionally hit or miss. Better results reported when size is custom.
What's the Best Online Store for Women's Custom-Fit Skirts?
Rita & Phil specialize in creating Kim Kardashian-style curve-flattering, custom-fit skirts – which are notoriously difficult to find.
The brand offers both pencil and full skirt styles, which are cut and sewn by hand in their studio before being shipped directly to the customer. Skirt prices range from $99-155 for pencil skirt styles and $135-175 for full-skirted tulle styles.
Rita & Phil was founded by a mother-daughter team to operate a studio out of Vietnam, where they employ a unique pattern making system that uses your height, waist, hip, and thigh measurements to create a personalized pattern.
When you order once, your personalized pattern stays on file, making Rita & Phil a truly custom-tailored clothing option. And, because their skirts are completely made to your measurements, there are no sizes to choose from and no size limits.
Why Did We Pick Rita & Phil for Best Women's Custom Skirts?
Our favorite aspect of shopping Rita & Phil was that it doesn't matter if you're a 00 or a 46W, you can enjoy the exact same garment in whichever fabric you choose. This is especially worth noting if you wear above a size 14 and have frequently been frustrated with the lack of selection in a store.
We also appreciate that Rita & Phil's offers fabric choices that are almost as expansive as their sizes. Customers complete creative input over garment's fabric and lining, selecting from their range or even offering to find a color fabric that isn't already on hand.
The brand promises to use classic hand-stitch techniques that are normally reserved for bespoke clothing, including reinforced slits and are fully lined (lining available in contrasting or complementary fabrics).
Additionally, their pencil skirts are tailored with an "enhancement seam" which brings the fabric back close to your body at the bottom of your derriere. This curve-hugging tailoring helps to create a modern, flattering silhouette and prevents skirts from riding up as you walk.
Finally, international shipping is free, even if you return your item. Rita & Phil's satisfaction guarantee promises that they'll pay for return shipping and either remake your custom item or refund your purchase to ensure that every customer is happy.
Bottom Line on Rita & Phil:
From order to delivery: Ships in 14 days.

What we liked: You get complete control over fabrics and lining. The "enhancement seam" seems to create truly custom fits.

What's worth noting: These figure-hugging skirts all sit at your natural waist, which may not appeal to everyone's personal style.

You might not like: While their quality justifies the cost, Rita & Phil skirts are priced at nearly double what you'd expect to pay for a similar ready-to-wear item.

What consumers say: Overwhelmingly positive reviews regarding quality and fit. "If you haven't ever had a custom-made piece, know that it's honestly life changing—no matter which company it's from," says one reviewer. Additionally, that there are no sizes, only your measurements, appeals to women of every shape.
Who Offers the Best Women's Custom-Tailored Dress Shirts?
Modern Tailor might be known for their full suite of custom men's clothing, but the online store also offers an impressive array of fabrics and available details for women's custom-fitted dress shirts.
Because Modern Tailor focuses on dress shirts, the process for shopping this store is more reminiscent of visiting a brick-and-mortar tailor.
Customers start by picking out your fabric from over 9 pages of swatches, which ranges from $19.95-$129.95. Next, you're presented with a range of customization options starting with eight different collar styles, including options for a rounded collar and contrasting fabric.
You're then guided through additional selections for lining, cuffs, buttons, and other details. Some of the selections will cost an extra $5, such as contrasting collars or lining, but the end result is a completely custom-tailored women's dress shirt that fits without gapping or restricting your movement.
Why We Picked Modern Tailor for Best Women's Custom-Tailored Dress Shirts?
Women's suiting options can be incredibly bland and ill-fitting. We loved that Modern Tailor gives the chance to look professional, while still reflecting a dash of your personal style, and without sacrificing a great fit.
Modern Tailor's made-to-measure women's dress shirts are relatively new to their catalog. However, the brand has a well-established reputation for providing quality men's wear and male reviewers in the Men's Fashion Advice subreddit consistently name this company as their go-to for custom shirts online.
We also love that, beyond fabric, cuff, and collar options, shoppers are presented with an equally dizzying array of choices for stitching, pocket styles, monograms (optional), plackets, fit, darts, and more.
In short, if you're a woman who's sick of struggling with suiting basics, the incredible number of details that Modern Tailor allows you to tweak to your tastes is sure to please.
Bottom Line on Modern Tailor:
From order to delivery: Ships in 14 days.

What we liked: The range of customization options allows you to feel like you're really buying a bespoke garment.

What's worth noting: Dress shirts are notoriously difficult to tailor sight unseen. Consider starting with a budget fabric and tweaking your measurements over an order or two, before springing for a pricey material.

What you might not like: Reviews warn that the cheaper fabric options (less than $49) don't breath well and compromise comfort.

What consumers say: Superb customer service. Workmanship doesn't vary across multiple orders.
How to Get the Most from Online Custom Women's Clothing Stores?
Made-to-measure retailers make it fun to design your dream wardrobe from your living room. But, when it comes time to hit "buy," nerves can kick in. After all, it's difficult to assess reviews for made-to-measure products and, while each retailer has its plusses, there's also price and risk to consider.
So, how to make the most of these new custom-tailored websites?
We spoke with eShakti customer service, who suggested that made-to-measure newbies should consider getting their measurements taken by an actual tailor. This reduces the risk of error that comes with trying to read a measuring tape at odd angles and possibly skewing your size.
Also, beware that some patience is required since clothes can take between two weeks and a month to arrive. When you're getting made-to-measure clothing, taking some time just comes with the territory.
Remember to Check Custom Clothing Store Reviews
While there aren't a wide range of brands offering women's made-to-measure clothing online at this time, new brands are popping up increasing frequency. But be warned that not every customized clothing brand shares such great reviews.
In researching the best made-to-measure clothing brands, we also came across several companies with flat-out awful reputations. To protect yourself from purchasing from the wrong company, we suggest following these steps to learning if a company is legit before you buy.
Made-to-Measure Is a Worthy (and Lengthy) Investment
The tailors at Chicago-based Oxxford Clothes take over 15 measurements of a client's body to create a bespoke suit.
It's a process that involves first making a paper pattern that the tailor marks up for details, such as button holes and trouser cuffs; and then, for particularly difficult fits, creating a sample suit from scrap fabric. Six weeks, two or three fittings and around $5,500 later, the client takes home her perfectly fitting suit.
While that might be a life-changing experience, it's certainly not an affordable one for most consumers – which is why made-to-measure retailers are appealing. Sure, the results might not be a completely custom-tailored suit or dress, but the results promise to fit perfectly while costing pennies on the dollar when compared to bespoke.
In a nutshell, we think that made-to-measure garments are a great way to build out wardrobe staples. However, if you're considering getting something custom-cut for a big event, we suggest making an initial order from the service, then tweaking your measurements as needed, to ensure a perfect fit.
Read Next: 6 Top Tips to Buying Pre-Owned Designer Clothing Online (That You'll Actually Love)