Tips to Help Kids Overcome Their Fear of the Dentist
Children are afraid of the dentist for many reasons, from the perceived pain of the shot to the feeling of being numb. Dentists who treat children discuss how to offset these fears.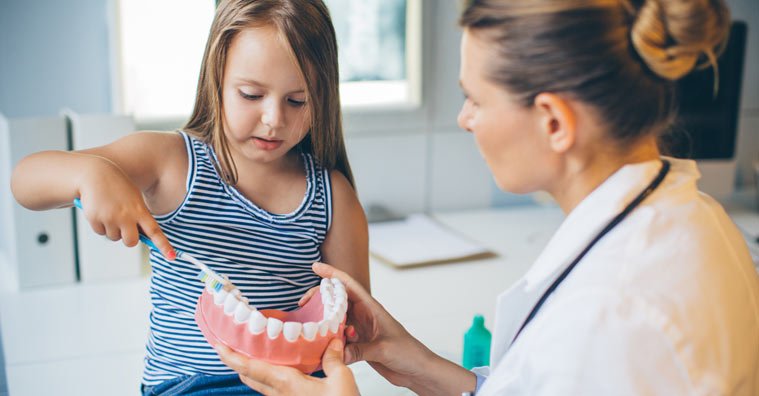 The thought of going to the dentist can raise fear in people of all ages, and children are no exception. Such fears can affect a child by carrying on into adulthood, making a visit to the dentist uncomfortable at best – and avoided at worst.
This article takes a comprehensive look at how to help your child overcome their fear of the dentist. We've obtained input from three experts for this topic, all of whom are dentists with their own practices and work with children on a regular basis.
The good news is that there are many ways to help a child diminish their fear of going to the dentist.
Do Certain Ages Fear the Dentist More?
Personality and past experience with the dentist tend to be the driving forces for fear of the dentist, according to Dr. Cristen D. Whitmer, owner of Whitmer Dentistry in Camarillo, California, who also has a background in psychology.
Dr. Whitmer has been providing children's dental services for a decade and has three children: ages 18, 3, and 8 months.
"I treat children as young as a few hours old for lip and tongue-tie release surgery (via a soft tissue laser) to high school age," Dr. Whitmer said. "In dentistry, children are considered, and treated as, adults starting at the age of 13 because this is the age that most children have a complete set of permanent teeth – no deciduous teeth, also known as baby teeth."
In her experience, she does not find that a particular age is more afraid than the other.
"I have treated a 3-year-old for a cavity who wanted to 'do it by herself' and preferred to have her mother wait in the reception area," Dr. Whitmer recalled. "Although this is a rare occurrence, and I encourage parents to accompany their children during treatment, I do not find that a younger child faces more fear than an older child or vice versa."
More adults are afraid than children, according to Dr. Zachary Potts, owner of the Moorpark Center for Dentistry in Moorpark, California. At his practice, he starts seeing children at either 12 months, or when the first tooth erupts – whichever happens first.
"And if children are afraid it is usually because the parents are afraid for them and that translates onto the child," Dr. Potts said. "A previous bad experience is usually the cause of being fearful of the dentist and those are happening a lot less now it seems due to better anesthetics, technology, and dental office environment and customer service."
Biggest Fears Children Have of the Dentist
In Dr. Potts' practice, the biggest fears children have of going to the dentist include the following:
The shot: "They think it's going to hurt," Dr. Potts said. "Parents, family, friends…for some reason think it fun to scare the kids prior to their appointment about the shot hurting so much or they relate it to a painful vaccination shot or something in their past."

The feeling of being numb: "Sometimes it feels too weird to them," Dr. Potts noted.

The anticipation of any pain: "Even when numb, they expect any noise or vibration to hurt, even though they're numb," he said.
Dr. Whitmer has found that children are the most fearful of the unknown.
"This could also be said for most adults as well," she said.
"When they do not understand what is happening to them, then they fear the worst and become very anxious," Dr. Whitmer noted. "For children with past experience with a dentist, their greatest fear is often the possibility of the pain when being anesthetized (numbed)."
If the discomfort is unexpected, it could cause a patient to fear anything the dentist does as all trust has been lost, Dr. Whitmer further warned.
"Therefore, I always tell my child patients how long it will take to numb them and if they experience any discomfort, I address it, apologize for the discomfort, and commend them for doing so well during the hardest part of the treatment," she said.
How Anxiety or Fear Can Affect Outcome of Dental Treatment
Throughout her career, Dr. Bita Saleh "had a knowing" that providing the best dentistry for patients was not enough – and all the advanced technology that we had access to was not enough.
"The picture of patient care was incomplete without addressing and managing the patients' fears, anxieties, and traumas," said Dr. Saleh, who graduated from USC dental school in 1989.
This knowing and desire to help patients led her to seek modalities where dental anxiety could be addressed without the use of pharmaceutical drugs. Using muscle testing she developed an innovative protocol using meridian tapping for treating anxiety in dental patients. This protocol takes 4 minutes and can be administered by dental assistants. The findings of her research and the details of this protocol were presented in her published paper: The Effect of Emotional Freedom Techniques on Patients with Dental Anxiety: A Pilot Study.
"It is common knowledge among dentists that the outcome of a patient's dental treatment is directly related to the patients' compliance," she said. "When there is anxiety or fear, inevitably there will be compliance issues affecting the outcome of treatment."
She noted the example of a child who's had a drowning experience in the past. The negative feelings in relation to this experience if unresolved will remain stored in the child's memory.
Although it may never resurface in day-to-day living, she said the fears associated with drowning could be triggered at the dentist the second the child is asked to open his/her mouth and to stay open and remain still while water is squirted around and strange metal instruments go in and out with a pair of hands guiding them.
As the child's nervous system is triggered into fight/flight mode, the youngster will want to get out of this situation in whatever way possible by squirming in the dentist's chair, moving his/her head away in a jerking fashion, or crying.
"Usually these children are very difficult to numb and even when this is accomplished the effects of the anesthetic will not last long enough to get a lengthy procedure completed," Dr. Saleh said.
In other more common real-life examples, Dr. Saleh's research paper noted the following dental fears and anxieties:
My parents forced me to go to the dentist.
Even though I didn't want to, I was told I had to.
The dentist strapped me in the chair and forced me to behave, I was not allowed to speak.
They did not listen to me when something hurt.
I kept feeling pangs of sharp shooting pain but they told me to just be a good patient and behave.
The needle was huge and it hurt upon insertion and as it moved through my tissues.
I wasn't completely numb and I could feel pain when they were drilling on my tooth.
The bright overhead light was shining right in my eyes and they were very close to my face, invading my private space as though it was normal to do so.
I felt awkward when they touched my face and had their fingers in my mouth.
The noise of the drill and/or the ultrasonic instrument used to clean the teeth was too loud, piercing and unexpected.
They never explained anything so I didn't know what to expect and I was afraid of the unknown.
I felt out of control especially when I could not swallow and felt as though I was choking and gagging.
Because my saliva was sucked out so much my mouth constantly felt dry and this made swallowing unnatural and difficult.
Nothing good ever happened when I went to the dentist.
X-rays hurt and made me gag.
The scraping of the teeth with metal instruments felt like nails on the chalkboard.
I hated feeling confined to the chair and being asked to not move.
It was hard to keep my mouth open and afterward, my jaw, neck, and shoulders always hurt.
"These negative experiences, if not addressed, will become limiting beliefs in a child's life," Dr. Saleh warned. "If not resolved, these limiting beliefs will have negative consequences of great magnitude impeding a child's progress later in life."
If we had to place these in categories, the issues of safety, not being hurt, being able to freely speak knowing that they're being heard without being punished, that their needs are addressed, not being surprised and not being blind-sighted are of paramount importance, Dr. Saleh added.
"The bottom line is, 'don't hurt me, keep me safe and help me trust you' is what any child wants," she said.
Is a Child's Fear of the Dentist Real or in Their Head?
These fears are certainly not in the child's head, Dr. Whitmer emphasized.
"This is a normal psychological reaction to the unknown," she said. "However, this can be complicated and escalated to a more intense feeling, and sometimes can cause the child's lack of cooperation, if the child is being restrained or does not feel like they have control of the situation."
Dr. Potts, however, believes that these fears are "mostly in their heads."
"The pain from a shot can be real, although pre-numbing gels and gentler anesthetics make it much more comfortable for them," Dr. Potts said. "After that, there is no more pain, only vibration, noise, taste, and smell which they can translate to pain or anticipation of pain in their mind."
Ways to Help Children with Fears of the Dentist
It's very important to show the child what is going to be done, in terms that they will understand, and inform them of any discomfort they may experience, Dr. Whitmer advised.
"I find that when a child does not understand this – due to age or mental development – they are a good sedation case," she said, "and I refer them to a pediatric dentist who has a special permit to sedate a child under the age of 13."
Dr. Whitmer's main goal is to have the experience be positive and if this is not possible, it is better that the child be sedated, or sleepy, during the appointment.
"I do not use a papoose board (restraints) in my practice, and although it is common practice in some offices, I do not believe this to be the most effective method for treating children," she said.
Dr. Whitmer encourages parents to discuss a trip to the dentist one-on-one and in a very calm, upbeat environment.
"I also encourage them to avoid using the dentist as a punishment but rather as a fun activity that promotes a healthy body," she said.
For parents who want to have a dialogue with their child about going to the dentist beforehand, Dr. Saleh offered the following example:
"Dad knows a great guy who takes care of his teeth so he can always eat what he wants, and with one smile can make everyone feel shiny and sparkly. You love the way he smiles don't you? So now that you're getting older and your adult teeth are coming out we want you to meet Dr. Smith so he can help you the same way that he's helped your dad."
"If you know your child is afraid it's best to approach this as a team," Dr. Saleh recommended. "Your child's anxieties may trigger you if you have had bad experiences. Seek help from the treating dentist and a psychologist…to gain resolution before scheduling your child for dental treatment."
In other advice, Dr. Potts offered the following tips:
Start the child off early in a good dental office. Even if they don't do anything, just ease them into it.

Train parents early on not to make a big deal out of dental appointments. If the child sees or hears fear in the parent, then they will certainly feel the same way regardless of their past experiences.

Parents should not translate their fears onto their children. And if they are afraid, they should not be in the room with the kids. Kids can read their energy, and so often the parents are so much more afraid than the kids are.
"Just don't make it a big deal," Dr. Potts advised. "Make it like something as normal as going to the grocery store or something. Take them to a couple of your dental appointments, as long as you show no fear, to show them how easy it is."
At Dr. Potts' practice, methods he uses to help diminish a child's fear include distractions such as televisions – which are in every patient room – as well as toys like cars, dolls, and dinosaurs that he gives to children.
"I tell them it will be fast and easy and that they'll get a prize as soon as we're done," Dr. Potts said. "Then I distract them about something to take their mind off of things; such as asking them about school, their clothes, what's on the TV, what they like to do."
Do's and Don'ts for Children with Fears of the Dentist
Dr. Saleh gave the following advice of what to do and what not to do when it comes to kids who are afraid of the dentist.
Do's:
Explain what will occur when they come in for the dental visit. It's best to do this before the actual appointment, and in addition, make a meet-and-greet appointment where the dentist can meet the child and develop rapport. This can take as little as 5 minutes.

Make sure the child is rested either the night before or within three hours before the procedure.

Allow the child to ask questions before the visit-always reassure the child that the dentist is caring and loving and it's okay to trust the dentist.

Assure them that you will be close by; but it's best that you're not right there in the room because you want all the attention of the dentist to be on the child and no one else.

Allow and grant permission for your child to develop a trusting relationship with his or her dentist.

Avoid any negative statements, even subtle ones such as "let's get this over with so we can get on with our day."
Don'ts:
Drop off your child at the dentist after a long day at school when they're already tired and hungry.

Send out negative cues. If you have had negative experiences associated with a dental visit watch small cues that you might be giving out. Your child knows when you get nervous or when you're worried. Children are very intuitive and know their parents well.

Force your child to behave or make them feel bad about getting fearful. Don't punish them or say punishing statements such as "if you don't do this all your teeth will fall out."
Additionally, Dr. Saleh said do not minimize or deny the fear or anxiety that your child is experiencing.
"If you don't address it, the child will continuously get re-traumatized," Dr. Saleh warned. "They will feel that their needs are not met, that they don't matter, that regardless of how hard they try they're never enough – and ultimately will suffer from lack of self-esteem and not wanting to socialize as their dental problems spin out of control affecting their appearance."
In other tips, Dr. Whitmer said for parents to not use the dentist as any form of punishment. For example, she discourages parents from telling their children that if they don't brush their teeth, then they will have to go to the dentist to get a filling – and it will hurt.
Dr. Whitmer also recommends that parents treat a trip to the dentist as a special event that warrants a special treat or activity after they are done.
"Some parents take their children to the store and let them pick out a toy for good behavior while at the dentist or take them to frozen yogurt," she said. "This helps the child perceive a dentist appointment with excitement rather than with fear. For those children with inexplicable fear, it helps them to tolerate and overcome their fears."
Child's Fear of the Dentist: Myths vs. Reality
According to Dr. Whitmer, parents often think that if they prep their child and tell them that "it won't hurt" that they will understand and not fear the dentist.
"Unfortunately, parents are unknowingly placing their own fears on their children," she said. "Most children do not have these inherent fears, especially if it's their first time to the dentist."
Therefore, the child's reaction to their parent's preparation is not one of understanding and clarity, but rather anxiety, as they are now concerned that something may hurt, Dr. Whitmer noted.
"For example, when you take a child to Disneyland, you don't talk about the long lines, or the dirty walkways, or even the crowds of people – you talk about meeting Mickey and how much fun it will be," she hypothesized. "I advise parents to talk about a trip to the dentist in a similar way that they would if they were going to Disneyland, although the dentist may not be as exciting as meeting Mickey Mouse."
Dr. Saleh agreed that misunderstanding can enter the picture when parents subconsciously project their negative feelings onto their children.
"It might be something as simple as saying to the child: 'honey it won't hurt at all; we'll go get an ice cream afterwards,'" she said. "With the best of intentions, small cues can bring out the worse worries in the child who now starts equating a dentist visit as something that requires ice cream for comfort."
Are Kids the Only Ones Afraid of the Dentist?
"No, adults are the grown up kids with unresolved traumas," Dr. Saleh said.
According to Dr. Potts, "adults are significantly more afraid than children are, statistically."
Dr. Whitmer said there is only a small group of people who are not afraid of the dentist, or the needle for injection, "so it is very normal for me to discuss these fears with patients prior to getting started with treatment."
Dr. Whitmer finds that simply discussing a person's fear and addressing how they can have control of the situation eases most patients' fears.
"Although I have a background in psychology and find behavior modification as the best way to treat fear, I also offer nitrous oxide and sedation in my office for patients who simply cannot tolerate being in the dental office," she said.
How A Good Dentist Handles a Child's Fear
At Dr. Whitmer's practice, she first informs the parents of what to expect at their child's appointment and gives them tips on how to talk to their child leading up to the day that they see her.
She also advises them to avoid negative words such as "hurt" or "pain" and to focus on the positives, such as the treasure chest of toys they get to pick from after.
"I encourage parents to be in the room with their child to help relieve any anxiety and to comfort their child if they become frightened," Dr. Whitmer said. "I also recommend small children to bring an item that soothes them such as a blanket or stuffed animal."
She also keeps appointments to a minimum, 15 to 30 minutes in length; constantly reassures the patient that they are doing great, and reminds them that they get to pick out a toy once they are done.
"I always address any fears as they present themselves and reassure the child that they are normal and ask if we can proceed," Dr. Whitmer said. "You'd be amazed at how resilient and strong children are when given the opportunity to rise above their fears."
In other methods, she always bends down or sits down and makes sure she can be eye level with children.
"I ask them about their favorite things and ask them if they know what we are going to do today," she said. "I approach children light-hearted and, at times, silly so they see that I am not scary but kind and caring."
Additionally, "I treat them like my own children and give them praise and accolades where needed," Dr. Whitmer added. "I don't speak down to them as they are very capable and intelligent people who sometimes have a better understanding of the world than expected."
The Bottom Line
Parents should start bringing their children in as soon as they begin to have teeth in their mouth, usually around the age of 4 to 6 months, Dr. Whitmer recommends.
"By having children visit the dentist at a young age, they can be desensitized to the dental environment and slowly begin to interact with the dental team in a fun, positive way," she said, further noting that the more exposure the child has to the dentist in a positive way, especially seeing older siblings or parents in the dental chair, the harder it is for the child to develop fears.
"Moreover, earlier dental appointments allow for earlier prevention of caries (cavities) and therefore less need for dental work," Dr. Whitmer said. "Happy children often stem from easy, fun preventive appointments versus numerous filling appointments."
Happy children with positive dental experiences become happy adult patients who have a strong, healthy relationship with the dentist, she added.
"And therefore, because of this, they tend to have healthier mouths that require less time and money at the dentist into the future," Dr. Whitmer said.
According to Dr. Saleh, the best way that parents can help their child is to resolve their own fears and anxieties around dental treatment.
"Sometimes negative beliefs that are passed on through generations affect the value that parents place on dental health," she said.
If they are too scared, there is safe sedation available for kids to diminish their fears, which is better than trying to force a bad experience on them, Dr. Potts said.
It's better to just stop the appointment and reschedule with some sedation then to try to force it on them, he further emphasized.
"A bad experience will be remembered for life and that is the issue with a lot of adults who are afraid of the dentist," Dr. Potts said. "It's better for their entire lives to just not have a bad experience in the first place."
Was this article helpful? Read more we've written on related topics: