Turmeric and Curcumin: Health Benefits, Best Uses, Potential Side Effects, and Recipes
Turmeric, which contains curcumin, is claimed to have health benefits for its anti-inflammatory and antioxidant properties. Before you try it, read what experts have to say about this spice.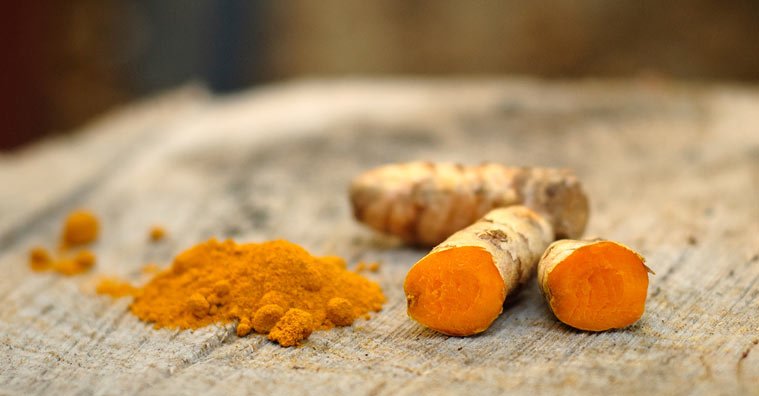 Turmeric, a spice that contains curcumin, is said to have anti-inflammatory and antioxidant properties, and can potentially boost concentration aid in weight loss.
While human studies are still underway to test its properties, some studies on mice have validated that turmeric can prevent clogged arteries and heart disease.
This article takes a comprehensive look at turmeric and curcumin, including the overall health benefits, potential side effects, and ways to incorporate the spice into your diet.
We've obtained input from top experts on this topic, including a Medical Doctor who is a board certified dermatologist, as well as a former restaurateur, author and cancer survivor who provides several recipes that incorporate the spice.
Keep in mind that this article is not intended as medical advice. Before you incorporate turmeric into your diet, talk to your doctor or medical provider, first.
What Is Turmeric and Curcumin?
Turmeric is a spice, native to India and South East Asia, that's been used for centuries as a medicinal, said Dr. Lauren L. Levy, a board certified dermatologist at Loucas Dermatology Manhattan.
"It contains curcumin, which has anti-inflammatory and antioxidant properties," Dr. Levy said. "It is also the ingredient that gives curry the yellow color."
Turmeric is a plant within the ginger family, noted Pam Braun, a former restaurateur and author of The Ultimate Anti-Cancer Cookbook, which contains several recipes that incorporate the spice.
"In America, we use it as a spice, but in other parts of the world, it is used medicinally," Braun noted. "There is much interest in this spice and many studies are underway to test its anti-inflammatory and anti-cancer properties."
Turmeric and Curcumin Health Benefits
Overall, turmeric can be used as an anti-inflammatory, and has shown some benefits in relieving symptoms of arthritis, helping to control some inflammatory disease of the skin, and can be used as an adjunct in reducing coronary artery and heart disease, according to Dr. Levy.
"Additionally, it has been reported to help with pain – menstrual cramps and post-operative pain – indigestion, and aiding in weight loss," she said.
It is considered a super food, Dr. Levy added, and currently, those trained in western medicine are even recommending it as an adjunct to traditional therapies to help reduce inflammation.
Turmeric's active ingredient, curcumin, has been the focus of many studies because of its anti-oxidative properties, Braun said. The popular belief is that it is an anti-inflammatory, and inflammation is believed to be the basis for many diseases.
» See Also: Anti-Inflammatory Diet: A Comprehensive Beginner's Guide
"In studies, it has shown to reduce oxidative damage to cells, decrease inflammation, and regulates blood sugar levels and the immune system," she noted.
"Many studies are underway," said Braun, adding that turmeric has been used medicinally for hundreds/thousands of years in other countries for its anti-inflammatory properties. "However the studies to date have been mixed and not conclusive."
Curcumin has also been used in Chinese medicine for centuries to treat digestion and liver disorders, Braun noted.
"Curcumin may stimulate the production of bile by the gallbladder and bile eliminates toxins from the liver – not proven yet in this country," she said.
Some studies have shown that turmeric can prevent clogged arteries and heart disease, according to Dr. Levy, adding that mice studies have validated this point.
As far as dermatology is concerned, "turmeric has been shown to help with numerous skin diseases including acne and hidradenitis (boils), and even hair loss," Dr. Levy said.
"Dermatologists may recommend taking turmeric supplements in addition to the prescribed regimen if you have one of these disorders. Remember, not all treatments work for everyone."
A Review of Curcumin's Effects on Human Health
Curcumin has received worldwide attention for its multiple health benefits, which appear to act primarily through its anti-oxidant and anti-inflammatory mechanisms, according to a study published by the National Center for Biotechnology Information, U.S. National Library of Medicine.
In conclusions of the study – "Curcumin: A Review of Its' Effects on Human Health" – it was noted that these benefits are best achieved when curcumin is combined with agents such as piperine, which increase its bioavailability significantly.
Research suggests that curcumin can help in the management of oxidative and inflammatory conditions, metabolic syndrome, arthritis, anxiety, and hyperlipidemia.
It may also help in the management of exercise-induced inflammation and muscle soreness, thus enhancing recovery and subsequent performance in active people. In addition, a relatively low dose can provide health benefits for people that do not have diagnosed health conditions, according to the study.
Weight Loss with Turmeric
Turmeric can be added to a diet and exercise program to help facilitate weight loss, but it is not a panacea, Dr. Levy said.
"Turmeric has been shown to suppress fat tissue growth in mice," said Dr. Levy, adding that it also reduces the inflammation that is associated with obesity that can lead to heart disease.
"On a molecular level, turmeric down-regulates leptin, a hormone that lets your body know you're full," Dr. Levy explained. "In patients who are obese, they may have leptin resistance so the hormone does not work properly, and at all times the body is in a state of starvation which drives hunger and the need to eat."
Obesity generally causes inflammation in one's body, Braun added.
"Curcumin may help reduce that inflammation, which in turn might aid in weight loss," she said.
Cognitive Benefits of Turmeric and Curcumin
In a recent study from the University of California, Los Angeles found that curcumin might have cognitive benefits, according to Braun.
"Although it was a small study with only 40 older adults, the results showed that the participants who took curcumin twice daily (half took a placebo) had a 28 percent improvement in memory tests over the course of the study, while those who took the placebo did not," Braun said.
Participants who took curcumin, not the placebo, also had lower levels of beta-amyloid and tau in the hypothalamus and amygdala brain regions, she noted.
"These regions play an important role regarding memory and emotion," Braun explained.
Potential Side Effects of Turmeric and Curcumin
Turmeric should not be taken to those who are allergic, Dr. Levy advised.
"As with any vitamins or supplements, they could cause some nausea or dizziness," she said.
Many people believe turmeric is hard to absorb and should be taken with black pepper to aid in absorption, according to Braun.
"In vitro studies have shown that large concentrations may even cause DNA damage and actually suppress the immune system," Braun said.
When used in "common cooking amounts," it most probably is safe for most people, she noted.
"However more studies, both short-term and long-term, still need to be done, especially when used as a dietary supplement," Braun said. "In vitro tests have shown turmeric to have a large safety threshold, but more testing in humans need to be done."
As with any dietary supplement, you should consult your doctor, especially when consuming it in large amounts, Braun further emphasized.
"Turmeric has shown to thin your blood, which could be dangerous if you are on a blood thinning drug already," she said. "It has also been shown to upset your stomach. Just because it's considered natural, does not necessarily mean that it is safe."
Incorporating Turmeric and Curcumin into Your Diet
Turmeric can be bought in a pill/capsule, a powder, drops, or as a root, Dr. Levy said. It can also be mixed into drinks, or used as a spice in foods.
"For those who are not into cooking, it can be purchased as a capsule or drop form," Dr. Levy advised. "The root can be cut up and placed into a salad. The powder can be added to shakes or into a salad dressing to spice it up."
The doses depend on the form of turmeric, Dr. Levy noted, but generally, for most inflammatory disease, the dose should be around 500 mg two to four times a day. In the cut root form, one should take between 1.5 and 3 grams a day; in the powder form, 1 to 3 grams a day; and in the extract form, 30 to 90 drops a day.
Braun buys bags of turmeric in small ethnic grocery stores, which she says are much less expensive than a large grocery store.
"I then fill gel caps myself," she said. "You can buy gel caps kits online. It's the most inexpensive way to consume turmeric if you aren't cooking with it."
Braun personally fills two, size 00 gel caps a day – which equals to approximately ½ teaspoon.
"Some say it's better with food, and others say an empty stomach helps the absorption," said Braun, adding that studies are "mixed" on whether turmeric should be taken on an empty stomach or not.
Curry and turmeric can also be added to most dishes if desired.
"I add these Indian spices to sautéed vegetables, soups, and stews," Braun said.
Final Thoughts
Almost anyone can incorporate turmeric into their diet, Dr. Levy said, however pregnant and breastfeeding women should contact their physician prior to adding this as a supplement.
"Certain medications – blood thinners – may interact so important to check with your physician," she advised.
Turmeric can definitely be used as an adjunct in treating many diseases, she said, including arthritis, skin disease, pain and weight loss – but should not replace medications prescribed by your physician.
Results are not immediate, Dr. Levy noted, and it may take some time to notice a difference in pain or weight loss.
"Stick to the regimen for 8 to 12 weeks before giving up," she recommended.
Turmeric is not a "magic bullet," Dr. Levy added.
"The supplement needs to be combined with diet and exercise for weight loss and insulin resistance and to prevent heart disease," she advised. "Additionally, claims that turmeric can cure cancer should be taken with a grain of salt – or should I say spice?"
» Related: A Beginner's Guide to Losing Weight and Getting in Shape
We are all looking for the magic pill to either help us through a disease or prevent one from happening, Braun said.
"I think people are quick to jump on a popular bandwagon without doing the research behind it," she noted.
"According to the American Cancer Society there is not yet a definitive answer on whether or not turmeric lives up to its hype," Braun added. "More human research is needed to truly find out its potential. Studies have been done on rats, but that may or may not translate into the same results for humans."
Turmeric Recipes
The following recipes, recommended by Braun, come from The Ultimate Anti-Cancer Cookbook, which she wrote after her diagnosis of late-stage fallopian tube cancer at age 52.
Indian Spiced Coleslaw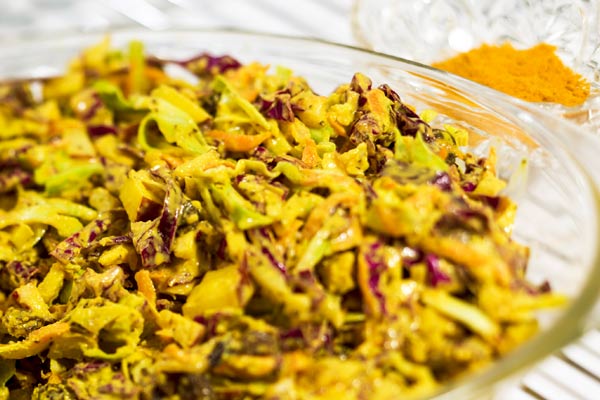 Pam Braun's Indian Spiced Cole Slaw
Ingredients:
2 cups red cabbage, shredded
2 cups green cabbage, shredded
1 small fennel bulb, shredded
1 small red onion, thinly sliced
1 carrot, shredded
½ cup raisins
1 large apple, diced
Salt and pepper
Sauce Ingredients:
1 cup plain nonfat Greek yogurt
2 tablespoons canola oil or light olive oil
2 cloves garlic, crushed
1 tablespoon raw brown sugar
Juice of 1 lemon
1 teaspoon cumin
1 tablespoon turmeric
2 tablespoons tahini sauce
1 tablespoon celery seed
Directions:
In a large bowl, mix all of the slaw ingredients well. In a small bowl, whisk together all of the sauce ingredients until blended. Add the sauce to the slaw ingredients and mix well. Salt and pepper to taste. Serve chilled. This is even better if it sits in the refrigerator overnight so the flavors get a chance to meld together. It lasts a week in the refrigerator and still tastes fresh. Serves 4-6.
Note: For a real gourmet treat, mix this coleslaw 50/50 with a garden salad and dress with olive oil and vinegar.
Indian Spiced Grilled Vegetable Skewers
Ingredients:
1 large zucchini, cut into 1-inch chunks
2 yellow squash, cut into 1-inch chunks
1 large onion, cut into 1-inch chunks
1 small eggplant, cut into 1-inch chunks
1 red pepper, cut into 1-inch chunks
½ pound button mushrooms
16 cherry tomatoes
Olive oil pan spray
¼ cup olive oil for "drizzling"
Salt and pepper
Rub Ingredients:
1 teaspoon chili powder
1 teaspoon cumin
1 teaspoon coriander
1 teaspoon ground fennel
½ teaspoon cloves
1 teaspoon cardamom
1 tablespoon turmeric
3 tablespoons olive oil
¼ cup chopped cilantro
Directions:
Place all of the vegetables into a large bowl. Mix all the ingredients of the rub together in another smaller bowl to create a paste. Pour the rub onto the vegetables and mix together well.
Place the vegetables onto 4 skewers, alternating the vegetables on each skewer. Line the skewers up side by side, spray with olive oil pan spray, and salt and pepper on both sides.
Place on a medium hot grill and grill until the vegetables are tender. Turn several times, and spray with olive oil while grilling. Remove from the grill when vegetables are done. Serves 4.
Indian Spiced Egg Scramble
Ingredients:
6 egg whites
1 medium potato, diced finely
1 medium onion, diced finely
1 cup fresh spinach, chopped
2 medium tomatoes, diced
1 tablespoon chopped fresh cilantro
½ teaspoon curry
½ teaspoon turmeric
¼ teaspoon cumin
Salt and pepper to taste
Canola oil pan spray
Directions:
Spray a medium skillet with pan spray, and add potato and onion. Sauté until potatoes brown and onions are translucent (approximately 10 minutes) and both have some color. Add spinach and tomatoes and stir until spinach wilts.
In a medium bowl, whisk together the egg whites and the curry, turmeric, and cumin. Add to skillet along with the rest of the ingredients. Mix well. Cook on a low heat until egg whites are fully cooked. Serve warm. Serves 2.
Indian Spiced Brown Rice
Ingredients:
2 cups brown rice
4 cups vegetable stock
2 cloves garlic, minced
1 teaspoon curry
1 teaspoon turmeric
1 cup raisins
Salt and pepper to taste
Directions:
Allow minced garlic to rest 10 minutes before using. In a medium pot, combine vegetable stock and rice. Add curry, turmeric, and raisins. Mix well. Bring to a boil, cover, reduce heat and simmer until rice is desired texture (approximately 20 minutes).
When rice is finished, salt and pepper to taste. Serve hot or cold. Serves 3-4.