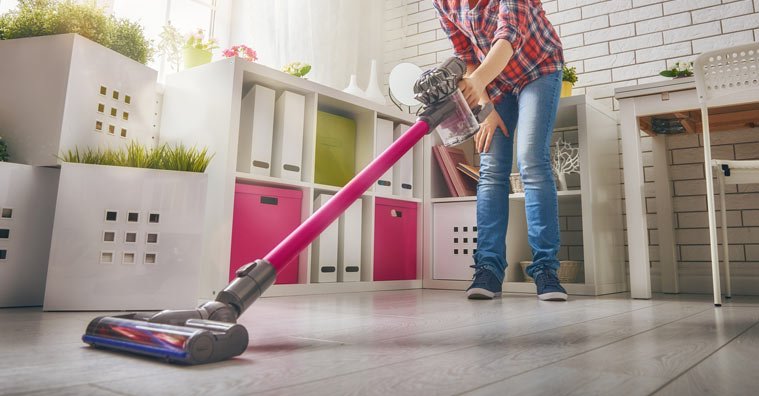 Our vacuums are something we use only intermittently, and then shove in a closet and don't think about them until it's time to clean again—which is something that most of us don't exactly look forward to in the first place.
In a nutshell, we often think of our vacuum cleaners as purely utilitarian devices that are there when we need; otherwise, we don't give them the time of day.
However, vacuums are an essential part of our lives. From cleaning up dinner time messes to making our house look spotless before guests come over, they serve a vital role in our day-to-day existence.
There are hundreds of different models from which to choose, among dozens of manufacturers, which can make it difficult to know which one is right for you.
In this vacuum cleaner buying guide, we'll discuss all the important aspects of the buying process, including choosing which type of vacuum is most appropriate based on your needs, the major manufacturers within the industry, as well as 3 simple steps you can implement to ensure you're making the right decision.
In This Guide:
Different Types of Vacuums
According to Highbeam Business, the vacuum industry raked in more than $1.5 billion and sold more than 26 million vacuum cleaners during 2010. But before you join one of the millions who will purchase a vacuum cleaner this year, make sure you're as informed as possible about the type that will best suit your needs.
Upright Vacuums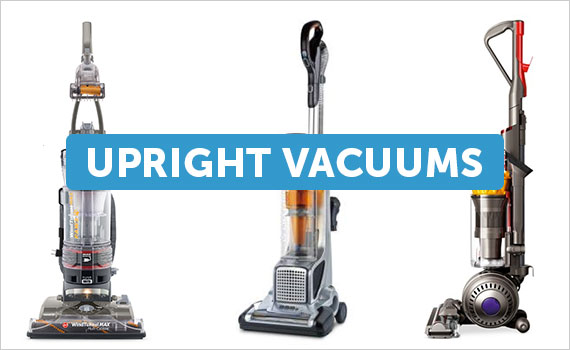 Price range: $50 to $800
Upright vacuums are among the most popular, due in no small part to their powerful motors and comparatively inexpensive cost. In fact, if you've ever owned a vacuum before, it's very likely to have been an upright.
As the name implies, upright vacuums sit upright. The motor is attached to a rubber belt, which spins the brush roll, picks up dirt, and sucks it into the holding container. The vacuum's handle, holding container, and accessories are perched directly above the base, allowing it to remain upright without leaning against anything.
Some upright vacuums are self-propelled, which can definitely help you maneuver it around your home.
Pros: For the most part, uprights feature some of the most powerful motors (read: suction) among vacuums, while being among the least expensive. They also can transition between carpeting and wood floors with ease, although some do this automatically, while others may require manual adjustment.
The design of most upright vacuums also means that you won't have to bend over as much, which can be a lifesaver if you suffer from chronic back pain. On top of this, the long midsection of upright vacuums provides plenty of storage space for hoses and attachments, which can further increase its usability.
Cons: The biggest downfall related to upright vacuums is the weight, which certainly won't be ideal if you need to carry it up and down the stairs, and its tall design doesn't necessarily lend well to storage in small closets. Also, uprights aren't exactly known for their ability to reach into tight spaces, although the included attachments can help make up for this.
Canister Vacuums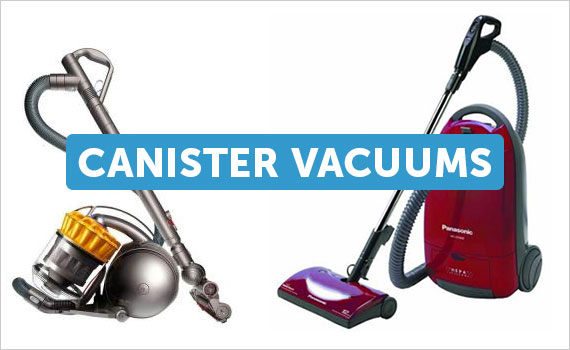 Price range: $100 to $1,000
In contrast to uprights, canister vacuums house the motor and dust collector (which can be bagged or bagless) in a single unit, which is connected to a flexible hose. At the end of the hose, your canister vacuum will include at least one head with a brush roll inside, similar to an upright. More expensive models will generally feature a wide variety of attachments for efficiently cleaning different areas of your home, some of which may be powered independently of the base.
Pros: In contrast to uprights, canister vacuums are known for their relatively small size and maneuverability, making them a breeze to carry up and down stairs and to reach into tight places, such as under furniture. And because upright vacuums are so compact, they often store away easily in small closets, without disturbing any hanging clothes.
Cons: While certainly not the most expensive type of vacuum, canisters are generally more expensive than uprights of equal quality. Also, you might find that you dislike tugging the canister around behind you, which can be especially laborious if your home has deep pile carpeting. In addition, this tugging action is imprecise and can leave dings and dents in furniture if you're not careful.
Unlike upright vacuums, canister vacuums only have one area of suction (the end of the hose attached to the base), which means that if you need to change heads, you'll have to do so manually. And if you're cleaning multiple surfaces, this can become a bit of a pain.
Handheld Vacuums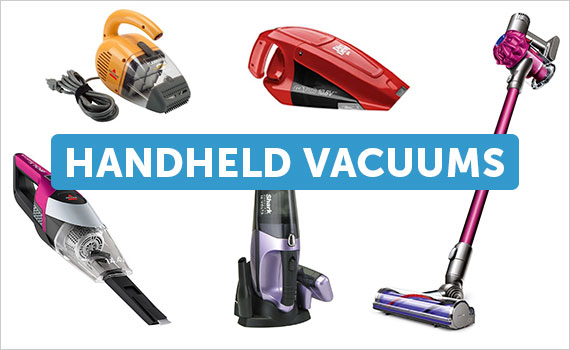 Price range: $20 to $300
As you probably guessed, handheld vacuums are intended to be held in your hand while cleaning and are best used for smaller messes. Handhelds come in corded and cordless models, and some also include short hoses for added functionality.
Pros: Perhaps the biggest advantage for handheld vacuums is their portability. Whether you're cleaning pet hair off the couch or your car's interior after being washed, handheld vacuums can generally go wherever you need. Also, because of their small size, handheld vacuums are perfect for cleaning areas that other types of vacuums simply can't reach.
Cons: However, this small size also means that handheld vacuums hold much less dirt than other types of vacuums, which means you'll have to empty the bin or bag much more frequently. As such, handheld vacuums are primarily intended for small messes and light touch-ups, and not cleaning your entire home.
In addition, the suction power of handheld vacuums can vary greatly, depending on the size of the motor and battery (if cordless). And while corded handheld models can offer greater power, this will also limit its usefulness.
Finally, if your handheld vacuum is cordless, then you'll always have to make sure it's charged. Otherwise, you might have to wait 4 hours for it to recharge, which can become frustrating if it happens often.
Stick Vacuums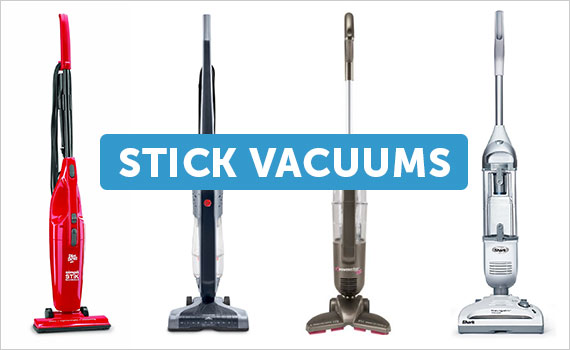 Price range: $50 to $400
A stick vacuum (sometimes called an electric broom) is basically a streamlined, bare-bones version of an upright vacuum, without any attachments or accessories. Stick vacuums come in corded and cordless models, and some can clean carpet and "sweep" hard flooring surfaces without having to change heads.
Pros: Perhaps the biggest advantage related to stick vacuums is their lightweight (generally under 10 pounds), which makes them easy to maneuver in tight spaces and ideal for carrying around the house and up the stairs. And because they're generally cordless, you won't have to worry about plugging them in to use.
In general, stick vacuums are considered ideal for spot cleaning in between more thorough cleanings.
Cons: As with handhelds, if your stick vacuum cleaner is cordless (which most are), you'll always want to make sure the battery is charging when it's not in use. Also like handhelds, stick vacuums tend to have smaller canisters, so you'll be emptying dirt more frequently.
Their smaller battery size means that stick vacuums are much less powerful than corded options, and are generally intended only for light cleanings in smaller areas. On top of this, their lack of attachments and larger size than handhelds means that stick vacuums have a narrow range of usefulness.
Convertible Vacuums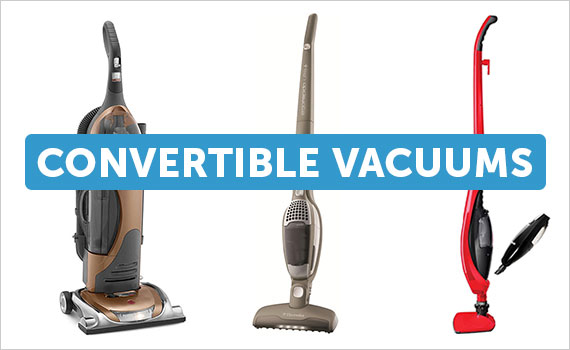 Price range: $50 to $500
Convertible (or multi-function/combination) models combine two or more vacuum types into a single unit. For example, a convertible vacuum may convert from a stick vacuum to a handheld, or from an upright to a canister vacuum.
Pros: Convertible vacuums can offer more bang for your buck by providing more options in a single unit. In other words, if you want the power of an upright but need something more portable for cleaning stairs or other hard to reach areas, a convertible might be just what you need.
Cons: It's often the case than 2-in-1 vacuums don't perform as well as the single-use models they're intended to replace. However, with modern vacuum technology advancing so quickly, unless you're a professional cleaner, you may not notice these slight performance downfalls.
Robotic Vacuums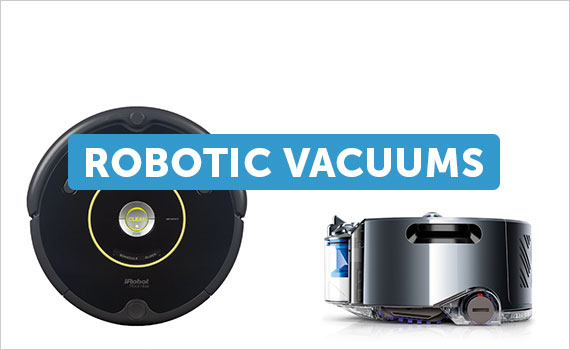 Price range: $100 to $1,000
Compared to other types, robotic (also known as automatic) models represent the newest and most technologically advanced breed of vacuums. These vacuums encompass compact, low-slung designs that will operate with minimal human input while using specialized sensors to "learn" the layout of your home in order to provide effective cleaning. And compared to previous generations, many robotic vacuums can return to their charging stations when cleaning is complete or when they're low on battery power, saving you the hassle of locating it.
Pros: Because of their automation, the biggest advantage of robotic vacuums is that they require minimal human input to do their job. Also, their low-slung, compact design allows them to effortlessly vacuum under furniture and other hard to reach areas, both of which mean that robotic vacuums can let you worry about other things on your to-do list.
Although they're certainly not silent, robotic vacuums are less noisy than traditional vacuum models, and also require less maintenance.
Cons: Although it's coming down as technology advances, perhaps the biggest downfall related to robotic vacuums is their high price. Not only this, but robotic vacuums are only intended to replace surface cleanings in between more thorough ones, which means you'll still need to purchase a standard vacuum, further increasing your overall costs.
Compared to other models, robotic vacuum cleaners take longer to clean and are best used while you're away from home. Robotic vacuums can only handle levels surfaces, which means that you'll still have to manually clean your stairs and may even have to manually move the unit between hard flooring surfaces and carpeting.
Finally, robotic vacuums have a tendency to become stuck underneath furniture or in corners, although as sensor technology improves, this may become a thing of the past. Also, you'll still need to pick the unit up and empty its dustbin, so it's not a completely hands-off process.
» For Further Reading: Best Robotic Vacuum Cleaners Buying Guide
Combination Vacuums
Price range: $150 to $400
Previously used only in the commercial market, combination vacuums have started making their way into the consumer market due to their ability to suck up solids as well as liquids, in addition to their use of steam from internal water reservoirs. Ultimately, this provides users with the ability to clean, polish, and sanitize all their hard flooring surfaces in one unit.
Pros: The biggest advantage of combination vacuums is their ability to clean, polish, and sanitize hard flooring surfaces in one unit. Combination vacuums also tend to be lightweight (although this can vary depending on how much liquid the reservoir can hold), which makes them ideal for cleaning hard surfaces all over your home (e.g. kitchen, bathroom, mud room, etc.).
Cons: Despite its advantages, many consumers complain that combination vacuums have limited usefulness since they can only be used on hard, sealed surfaces, such as tile or polyurethaned wood floors. Also, they may take some getting used to, which can be frustrating compared to a mop and bucket that you can just grab and go.
And as with convertible vacuums, combination vacuums may not always work as well as the tools they're intended to replace, and their cleaning pads may need to be frequently changed out, further adding to your overall costs.
Major Brands of Vacuum Cleaners
Now that you have a better understanding of the type of vacuum you'll find most useful, let's take a brief look at some of the most popular vacuum cleaner manufacturers.
Bissell
Based out of Walker, MI, Bissell has been manufacturing vacuum cleaners and other floor care products since 1876. Two out of every 10 vacuums purchased in the US are Bissells, making them the top player in the industry.
From bargain models to commercial workhorses, Bissell manufacturers dozens of vacuums and floor care products, including the popular Bissell Symphony. Overall (especially considering the number of units sold each year), Bissell's products appear to receive high marks from consumers due to their performance-to-price ratio, although one of the most common complaints is that Bissell products are difficult to repair under warranty.
Dirt Devil
As a company, Dirt Devil has been in business since 1905, although they've been making household vacuum cleaners since 1955. In fact, Dirt Devil was the first company to mass produce a vacuum with a patented Cyclone system for collecting dirt and debris.
For the most part, Dirt Devil models, like the Dirt Devil Lift & Go, are designed to be affordable, lightweight, and easy to use. Because of their affordability though, they often have reputations for being "budget" models, although they tend to perform as well as many other similarly priced options.
Dyson
Although Dirt Devil may have been the first company to introduce cyclonic technology, Dyson might be the first one that comes to mind when you hear the phrase. This is because Dyson's focus on technology and innovation have "upped the game" of cyclonic technology by adding different stages of cyclones, which can reach up to 10,000 G.
On top of this, Dyson holds numerous patents for the technology contained in their vacuums (such as the Dyson Cinetic Big Ball Animal, 360 Eye, and DC65), including their ball maneuvering system, Cinetic tips, self-adjusting cleaner heads, and more.
Granted, all this technology is really cool and might help clean your home more efficiently, but it does come at a price. In fact, the number one drawback noted by consumers is that Dyson vacuums come with a high price point; one that may not always be in line with their performance.
Electrolux
Way back in 1919 when AB Electrolux was incorporated, their name was synonymous with "luxe" vacuums, although today, the company manufactures a wide range of appliances. In fact, Electrolux is the world's second-largest appliance manufacturer, bested only by Whirlpool.
Electrolux tends to have a reputation for quality vacuums, some of which can match (or exceed) other high-end, expensive brands. As such, some of the most common complaints associated with Electrolux vacuums aren't related to their quality, but to difficulty getting items repaired under warranty.
Eureka
Founded in 1909, Eureka is one of the oldest vacuum manufacturers, although the company was purchased by AB Electrolux in 1974.
Since that time, Eureka has always been a top performer, although sales for the company peaked in 1993 when they held 20% of the market. However, as of 2013, Electrolux has dropped to the third most popular brand of vacuum, with 11% of the total market.
Eureka's vacuums seem to have a fairly good online customer reputation, although some of the most common complaints seem to revolve around motors that burn out and difficulty having vacuums repaired under warranty.
Hoover
Hoover bought the patent for the first upright vacuum cleaner in 1908, and the name has been synonymous with quality vacuum cleaners ever since. Not just this, but Hoover has been responsible for many firsts within the industry, including "the disposable paper bag, the vacuum cleaner headlight, the self-propelled feature and the side-mounted hose feature."
Today, Hoover (and its parent company TTI Floor Care North America) is the second biggest player in the vacuum industry. And considering the length of time they've been creating vacuums, most of their customers seem pleased with their purchases, including models such as the Air Cordless Vacuum. However, customer complaints seem to run the gamut, from parts that won't fit to blown motors, and from poor customer service to warranty problems.
Kenmore
Kenmore products—including their vacuums—have been sold through Sears since 1932, and more recently through Kmart as the result of a company merger.
Although they have a smaller market share than some of the other companies listed above, Kenmore vacuums typically receive relatively high marks in customer reviews, not just for their performance, but for their longevity as well.
LG
As a company, LG (then known as Lak-Hui Chemical Industrial Corp.) has been in business since 1947, although it wasn't until 1958 that they began manufacturing consumer electronics under the Goldstar name. Today, LG's Electronics division sells more than 53 billion worth of goods on an annual basis, including televisions, mobile devices, and home appliances.
LG vacuums are generally considered at the forefront of technology, second only to Dyson in this respect, including their Vacuum Dyna Clean System, as well as their focus on implementing state-of-the-art sensors in their vacuums. Although they have a solid reputation for customer satisfaction, some have complained about long wait times for replacement parts.
Maytag
Although Maytag was founded way back in 1893 as a washing machine manufacturer, today, the company is a subsidiary of Whirlpool. In fact, from a vacuum perspective, Maytag even acquired the infamous Hoover brand during the late 1980s.
Beginning in the late 1990s though, after a series of product releases that proved to be less than stellar, Maytag began developing a reputation for poor reliability and low customer satisfaction ratings. Since that time and its acquisition by Whirlpool, Maytag vacuums have re-earned a reputation for quality, no-nonsense vacuums that get the job done.
Oreck
Oreck has been manufacturing vacuum cleaners since 1963, when they were targeted primarily at the hotel industry, based on an abandoned Whirlpool-designed vacuum. Today, however, the company sells a wide range of upright and canister vacuums, as well as floor machines, air purifiers, and small appliances.
Oreck vacuums have a reputation for lightweight, durability, and highly functional operation, and for including a range of accessories that can help you clean every room in your home. Overall, compared to much of the competition, Oreck vacuums could be considered on the higher side from a price perspective.
Shark
Shark is an "As Seen on TV" brand of vacuums manufactured by Euro-Pro, LLC based out of Newton, MA, with some of their most popular models including the Rotator, Rotator Powered Lift Away, and Rocket.
Overall, Shark's primary marketing angle is to bring newfound technology to the residential vacuum cleaner market, but at a price point that's generally much lower than the competition. This can include light weight and portability, a variety of useful attachments, swiveling cleaning heads, and even the ability to transition from an upright vacuum to a canister.
For the most part, Shark vacuums appear to have positive customer reputations, although the most common complaints generally reference less-than-stellar customer service.
How to Choose the Best Vacuum Cleaner for Your Youse
Now that you have a better understanding of the different types of vacuums and their manufacturers, let's put this new knowledge into practice.
In this section, we'll walk you through 3 easy steps that can help you find a vacuum that perfectly meets your needs. Similar to a math equation, as long as you follow each step in order, you're sure to come up with the right answer.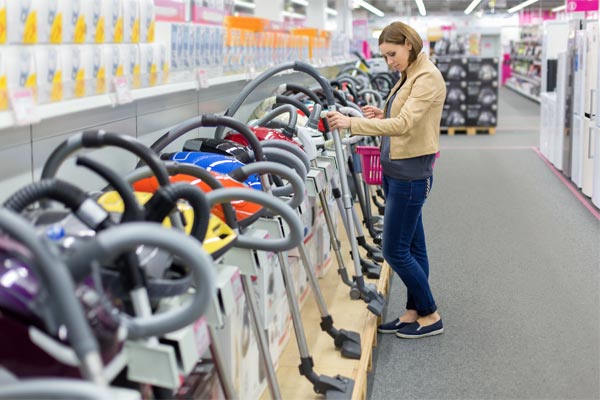 Step 1: Figure Out Your Budget
The first and most important step in finding the perfect vacuum for your needs is understanding your budget. After all, if your max budget is $100, you'll have a much narrower field of options than if your can spend up to $300, and there's no point in wasting time researching vacuums that might meet all your other needs (as we'll discuss below) but that you can't afford.
But here's the kicker: There is a great deal of discussion among consumers, as well as industry professionals, as to whether or not higher priced vacuums are necessarily worth your money. Why?
Because, although pricier vacuums generally clean more efficiently than lower priced models, and often come with better longevity, a greater number of attachments, and premier customer support, these factors might not ultimately be worth the added expense.
For example, if you're a young professional who lives in a small one-bedroom apartment, you may not clean often enough to really take advantage of a higher priced vacuum's performance.
On the other hand, if you live in a household of 5 people, plus a cat and a dog, you know that you'll be putting your vacuum to the test on a regular basis, so springing for a higher priced model might be worthwhile.
Step 2: How Will Your Vacuum Be Used?
The second most important step in determining the right vacuum for you is taking a closer look at your needs:
Does your house consist of mostly carpeting, hard surfaces, or an equal combination of both?
Will you be cleaning only floors, or are you also looking for a vacuum that can clean other surfaces as well, such as high shelves, ceiling fans, drapery, and more?
Is your house large or small? Do you have stairs?
Do you have indoor pets that shed frequently, such as cats or dogs?
Does your vacuum need to do double duty for cleaning the car, or even your garage?
Most upright vacuums provide some of the best power-to-price ratios (more about this in a moment), which can be ideal if your home consists mostly of carpeting, or if you need some extra oomph in order to pull pet hair out of carpet fibers.
In addition, uprights often come with a whole slew of attachments that are stored directly on the vacuum and could come in handy in a variety of situations.
On the other hand, uprights tend to be heavier and less maneuverable, which can be a big downfall if you need to lug one around a large home, up and down stairs, or need to clean under a lot of furniture.
If your home has mostly hard flooring surfaces, such as sealed wood or tile, make sure your vacuum's beater brush can be turned off (or removed), or you might end up spreading more dirt than you're cleaning.
Canister vacuums can definitely solve the weight issue faced by uprights and are more portable and maneuverable, but often are less powerful and may come with fewer attachments.
Features & Attachments
How you'll use your vacuum is heavily dependent on the features and attachments you'll find most useful.
As we noted above, this includes removable brush rolls, but also other things such as retractable cords (and whether or not it even has a cord in the first place), height adjustability, variable power settings, lights, edge cleaning capabilities, self propulsion, and even seemingly minor factors such as where the on/off switch is located.
In addition, depending on your needs, you'll want to consider tools for reaching into crevices, dusting, cleaning upholstery, telescoping wands for added reach, and more.
Step 3: Personal Preferences
After you've figured out what your vacuum will primarily be used for, the third and final step is to factor your personal preferences into the equation.
Your Cleaning Style
Do you prefer to lightly to clean your home every few days, or do you only deep clean once every few weeks? Do you use your vacuum to clean most surfaces of your home or only your floors?
If you clean often, you'll likely want something lighter and more portable (such as a canister vacuum) that you won't have to fight while dragging it around the house. However, canisters may not provide the versatility you need to clean multiple surfaces.
On the other hand, if you clean less frequently, size and weight may not be as big of an issue, although cleaning power (as provided by uprights) might be what you'll want to focus on.
Filtration
Are you asthmatic? Does someone in your household suffer from allergies? If so, you'll want to make sure that your vacuum comes with a HEPA (high-efficiency particulate arrestance) filter that can catch at least 99.7% of particles with a size of 0.3 microns or larger (e.g. dust mites, most types of bacteria, mold, pollen, and more).
If you or a loved one suffers from respiratory ailments, you'll also want to choose a sealed disposable bag system (versus a bagless one). Otherwise, you could re-release all the harmful particles back into their air when emptying your vacuum.
Despite the focus on HEPA filters though, the fact of the matter is that vacuums come with a number of other filtration options, including:
Disposable filters, which require regular replacement.
Odor filters, which remove particulate matter from the air while also neutralizing smells.
Foam filters that can be rinsed in the sink, your dishwasher, or your washing machine. Then, once they're dry, you simply pop them back into your vacuum cleaner. Because of their design, these types of filters can last for years.
Bag or Bagless?
Speaking of bags vs. bagless: Each has their pros and cons. As we mentioned above, bagged vacuums offer superior filtration capabilities, although this means that you'll always want to make sure you have replacement bags available. This can add to your overall operation costs, and can be quite frustrating if your house needs cleaning, only to find out you're out of bags.
On the flip side, bagless vacuums ensure that you'll never have to worry about keeping replacement bags on hand, although the dumping process might create more of a mess than you were expecting.
Bring on the Power!
Most manufacturers advertise the power of their vacuums using amps, which represents the amount of current in a circuit. In other words, the amount of electricity it uses.
As you might imagine though, how much electricity a vacuum uses isn't necessarily a good indicator of how much suction it provides. Instead, a better measure is using kPa (kilopascals) or PSI (pounds per square inch), both of which measure how much of a difference the vacuum's pump causes in air pressure.
For the most part, the majority of household vacuums operate at 20 kPA (2.9 PSI), although you might want to focus on those that provide 24 kPA (3.6 PSI) or more to get the most suction for your money.
Noise Levels
Let's face it: Vacuum cleaners can really spiff up your home and make your floors spotless, but they're not exactly known for being quiet. At an average of 70 decibels, vacuum cleaners probably won't harm your hearing, but everyone in your house will definitely know what you're up to, which might be especially problematic if you have small children or prefer cleaning during the evening.
However, over the past decade or so, some manufacturers have really focused on making quieter vacuums, some of which can go as low as 60 decibels (about the same level as a conversation or background music). Keep in mind though that many of these ultra-quiet options are on the higher end of the pricing scale.
Bottom Line
At this point, you almost certainly have a solid idea about:
The type of vacuum cleaner you need,
The most appropriate vacuum cleaner manufacturer for you, and
What you need to focus on based on budget, personal preferences, and more.
Unless a retailer is offering one or more of their vacuums at closeout prices, there is often only a minor cost difference between each chain. However, because of lower overhead costs, online retailers might provide a slight price point advantage when compared to brick and mortar stores, and some even provide free shipping.
What's the point? When it comes to buying a new vacuum cleaner, there isn't a clear winner for how to uncover the best deals, or where to find them.
With this said, most professionals recommend trying different vacuums out before making a purchase. However, in nearly all circumstances (except with dedicated vacuum cleaner showrooms, where quality—and prices—will typically be higher), you'll only find your vacuum boxed up on the shelf.
As such, you might be more interested in the specific store's return policy and whether or not you'll be charged any kind of restocking fees if you're dissatisfied. And if you're purchasing your vacuum cleaner online, find out if the retailer offers free return shipping, which could save you a decent chunk of change in the end.
» See Also: Easy Homemade Cleaning Solutions to Treat Common Carpet Stains