What is CrossFit: Your Comprehensive Guide to High-Impact Interval Training
CrossFit and similar gyms are part of the high-impact interval training (HIIT) movement, which uses demanding, short workouts to strengthen the entire body.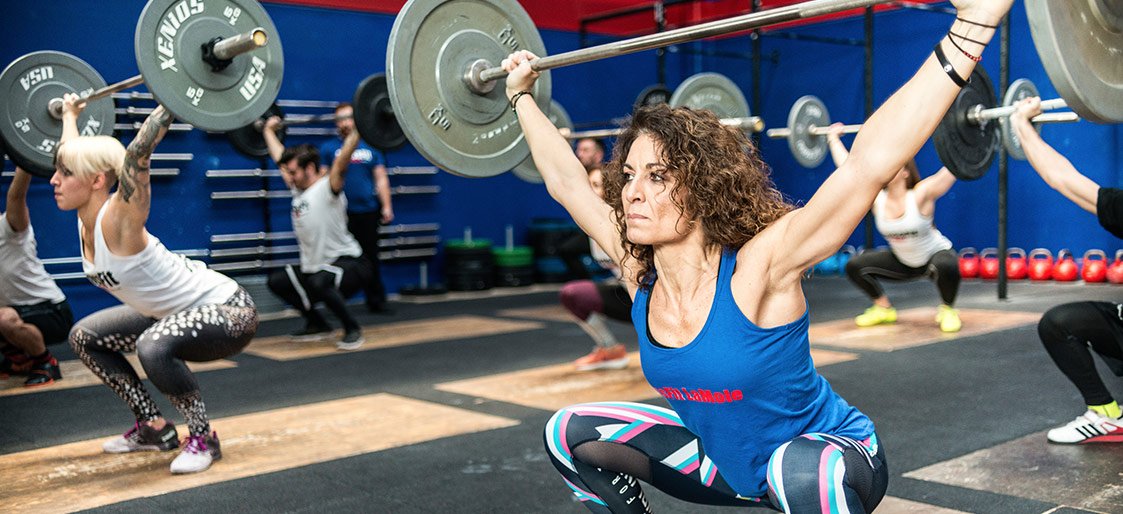 What Is CrossFit Training?
For those inside the world of fitness, it's simply known as HIIT – high-impact interval training.
To the rest of the world – whether big-box gym members or couch potatoes – it falls under the CrossFIt umbrella. It is, for the average person, that super-intense thing young people do with weights, kettlebells and big boxes they jump on and over.
In reality, it's a series of workouts that incorporate weightlifting, resistance training, and aerobic exercise. Each workout is called a WOD, or "workout of the day".
The body is subjected to dense moments (high impact) of full-body movements that shift and change rapidly (interval). Workouts focus on doing as many repetitions as possible (AMRAP) or for a set amount of time.
But let's get past all the technical jargon and talk about the obvious question: If HIIT programs are for slightly crazy young people, why is it relevant to me?
That's a great question, and it deserves an answer. So, we went out and interviewed several experts in the field about the CrossFit craze. We found out:
Why people are trying CrossFit-style gyms
Who is best-suited for these workouts
What precautions you should take if you want to start HIIT
What you need to succeed
In talking with these experts we realized something – CrossFit and programs like it aren't as exclusive as you think. You just might find yourself in a gym, whipping that heavy rope up and down next to the twentysomething you once thought was crazy.
Before we get into each of the topics we listed above, we think it's important that you see actual HIIT workouts in action. So, take a look at the video below; it's from CrossFit's official YouTube page:
​
Note: We're going to use HIIT and CrossFit interchangeably throughout this article, but we'll always try and couple "CrossFit" with "style" or "type".
What Draws People to CrossFit-Style Programs?
That CrossFit-types of training regimens are popular is an understatement. In an article we wrote about why walking has lost its appeal, we pointed out that HIIT has made walking look boring. In fact, one Forbes article pointed out that a new CrossFit-licensed gym pops up every 144 minutes.
The Hardcore Competitors
Ainslie MacEachran, a former CrossFit gym manager and independent personal trainer at The Body in Ft. Collins, CO, is a 16-year veteran of the gym industry.
Ainslie helped us see why these high-energy workout programs are popular. In a world where extreme competition is often discouraged, HIIT offers a certain type of person an outlet for their competitive side.
"It draws a particular crowd," he says. "It's self-selective, in that sense. If they're into a competition-driven workout, they're most likely going to stick with it over time."
In other words, people who crave hardcore workouts and competition are a natural fit for HIIT programs.
The Millennials
That crowd may look different depending on where you live. While Ainslie's HIIT sessions usually happen within the four walls of a gym, Ariane Hundt's HIIT classes happen on the Brooklyn Bridge.
Ariane runs New York City's Brooklyn Bridge Boot Camp, a high-intensity training program that combines quick cardiovascular intervals, resistance bands and bodyweight exercises that use structures on the bridge itself.
The crowd that stops by her sessions is a split between long-time clients and millennials looking for a quick, cool workout.
"It's a way to work out, but it's as much as a social activity as going out for a drink after work," Ariane says of millennials. "Twentysomethings in the city … want to look good and be fit and make friends, and they want to do what's cool and hip."
But it's not just the idea of these intense workouts that draw people in, says personal trainer Dan Welden, a New York City independent personal trainer at Mid-City Gym.
People Who Want a Fitness Family
What keeps people coming back to CrossFit-type programs is the sense of community, and that's probably the number one reason why it's thriving.
"Compared to big-box gyms where you see rows of people aimlessly jogging or walking and not interacting with each other, you get a community type of mindset in CrossFit," Dan says. "What is most appealing is the family aspect, the community, and the camaraderie. Everyone is there to support each other."
We tend to agree with Dan, Ariane, and Ainslie, which brings up an interesting question for the average person deciding whether or not they want to join a HIIT gym: Is it for everybody?
What Kind of Person Can Participate in CrossFit-Style Workouts?
This where we found a bit of a divide in the experts with whom we talked. Some said just about anybody can join a high-intensity gym, while others said you needed to work out for around a year before trying it.
After watching a few videos of CrossFit WOD's, I was positive that I was definitely not a fit and that it's not something anyone can try. Just take a look at this WOD from CrossFit enthusiast Dan Bailey:
​
CrossFit Might Not Work for You If You're a Newbie to Fitness
That's definitely a workout designed for somebody who already has some muscle and endurance built up, right? It seems pretty out of reach for the average person, which is why Dan Welden says CrossFit isn't for everyone.
"CrossFit always has an increased chance of injury and joint damage," Dan says. "There's an inherent risk of injury in lifting weights, and that's why I never recommend someone new to the fitness world trying high-impact interval training."
Ariane Hundt says she occasionally has new customers who come to her class because they've sustained injuries in CrossFit-style programs.
"A lot of people shouldn't do those programs because they don't have the muscle built up," she says. "There's way too much going on that can cause an injury, and that can set you back in your fitness progress. Mentally, that's really demotivating."
Pro tip: If you want to get into HIIT, spend a year building up muscle strength and overall fitness, Dan says.
CrossFit Might Be a Great Fit If You're New to the Fitness World
Ainslie MacEachren takes a different approach to the matter of who is a good fit for HIIT, especially if you sign up for a structured, systematized program like CrossFit.
"I think anybody is a good fit for CrossFit," he says. "You have to realize it's a reasonably steep learning curve. It's going to be hard."
CrossFit has an OnRamp designed to ease new CrossFit members into full-fledged workouts.
"When you go to a CrossFit gym, you want to ask about their OnRamp program," he says.
If your local instructor is doing his or her job, they'll sit down and talk with you about where you're at in your fitness journey, what you want out of your HIIT and how they can scale workouts to fit your ability level.
If your local gym/trainer doesn't want to talk with you before signing you up or rushes you through information, you might want to look elsewhere (but more on that in a few minutes).
CrossFit Is Probably Not a Good Fit If You're Dealing with Health Problems
Dan Welden says people dealing with various injuries might want to hold off on crazy, high-impact workouts.
In fact, he says you should stop by your doctor's office for a check-up and let him or her know you want to try a HIIT program.
"If you have bad knees or a bad shoulder or scoliosis, it could prevent you from doing it," Dan says. "Meet with a doctor or a CrossFit trainer to find out if your body can go through the torture of a HIIT program."
Dan isn't alone in this recommendation. The American College of Sports Medicine says you should be able to pass a basic PAR-Q, or physical activity readiness questionnaire. Some of those questions include:
Has your doctor ever said that you have a heart condition or that you should participate in a physical activity only as recommended by a doctor?
Do you have a bone or joint problem that could be made worse by a change in your physical activity?
Is your doctor currently prescribing drugs for your blood pressure or heart condition?
According to the ACSM, if you answer yes to any of these questions (you can read the rest in the link we gave you above), you should talk with your physician before joining a HIIT program.
As a 2016 Huffington Post article about HIIT shows, these high-intensity workouts are serious business. And because of that, you should always make sure your body is in a place where it can handle the increase in physical activity.
Pro tip: Ariane points out that, if you're dealing with stress, HIIT may not be a good fit for you. Intense workouts will boost your stress hormones, which will increase your hunger and cravings for sugar.
See Also: Is CrossFit Safe? Experts' Opinions on the Dangers of CrossFit and HIIT Workouts
CrossFit Is a Solid Choice If You're Looking for a Post-Injury Workout Program
We know this sounds a little counter-intuitive, but take it in the context of the type of HIIT program you look for. Not all CrossFit-style gyms are the same. In fact, some feel more like a beach than a gymnasium.
Just look at Sandbox Fitness, a Los Angeles-based HIIT club where all routines are done in the sand.
Founders David and Minna Herskowitz started the gym after dealing with a string of workout-related injuries – two torn ACLs, a torn biceps tendon and an injured labrum between the both of them.
"We weren't able to do all our crazy workouts, but we wanted to find a way to get a good sweat on aside from what we did for our injury rehab," Minna said.
One day while they were at the beach, they did a 10-minute workout in the sand.
"It was so much harder than anything we'd done, so we thought, 'Let's open a place where we can work out in the sand,'" she said.
Since opening her gym in 2014, she's noticed a trend among the new clients they capture – the walking wounded show up frequently.
"We get a lot of people who come in with a lot of injuries; we get a lot of injured CrossFitters," she says. "The sand workouts are better on their backs and joints, and they say it's the best workout they can do for their injuries."
CrossFit Is an Excellent Choice If You're Wealthy (How Much Is Crossfit?)
A 2014 study by Rally Fitness found that the average CrossFit user is well educated, between 25-44 and there's a more than 50% chance they make at least $150,000.
Of all these numbers, the income is probably the most important. Why? Because CrossFit-type gyms charge, on average, $125 a month, which is about $70 more per month than a traditional gym membership.
In cities where the cost of living is higher, that monthly fee could jump significantly. For instance, membership in the Upper West Side branch of New York's CrossFit NYC is $275/month.
A Quick Note About Why CrossFit-Style Gyms Are So Expensive
We pointed out in another article about gyms that around 70% of people don't use their traditional gym memberships. That's great for the gyms because those memberships are free money for a year (or however long the contracts are). They can offer low monthly fees because they know most people who join won't be walking through the doors that often.
CrossFit gyms don't have that luxury. They offer memberships on a month-to-month basis, which means they need to guarantee money is coming in, franchise experts at Inside the Affiliate said in an article about why CrossFit programs are pricey.
Another reason CrossFit gyms cost more than traditional gyms is the level of involvement – instructors walk you through workouts and have a hands-on approach to your training, whereas traditional gyms offer this at an additional cost.
Also, as we've pointed out, CrossFit gyms are known for the tight bonds they produce between athletes. That sense of community isn't always apparent at traditional gyms.
How to Start CrossFit: What Precautions Do You Need to Take Before Joining?
As you've probably noticed, HIIT programs aren't something you should take lightly. With that in mind, all the experts we talked to said you should take a few precautions before signing up for a program.
Don't Underestimate the Level of Difficulty
Imagine that you're driving across the Brooklyn Bridge. You look over to your right and you see a strapping young dude in workout gear puking his brains out.
Let that be a warning: HIIT is tough. So tough, says Ariane Hundt, that men often underestimate how hard their workout will be.
"It's hard for guys because they go all out in the first 10 minutes and then they can't go further because their blood sugar is low or they're nauseous," she said.
Find a Certified, Helpful Instructor
Your trainer is going to play a huge role in your HIIT program. He or she can either empower, encourage and strengthen you or discourage and debilitate you.
To find a good trainer, you should take a hard look at a few things: their certification, their class command and how they treat you.
Their Certifications
If you're looking for a CrossFit gym, make sure the instructor is certified either as a coach or a trainer. To bear the official CrossFit name both as a gym and as an individual instructor, fees must be paid and certifications must be passed.
Ask your instructor for proof of their CrossFit certifications. If you have doubts, verify your instructor's certification by emailing CrossFit at customerservice@crossfit.com.
If you're looking for a personal trainer who specializes in HIIT programs, ask them if they're certified with any of the following organizations: NASM, ACSM, NFPT or ISSA.
Their Class Command
Have you ever watched a movie where a substitute teacher shows up to a classroom and within minutes the kids go totally crazy? Imagine if you stopped by a HIIT gym to observe a class and everything seemed disorganized, wild and a total fitness free-for-all?
If you get the sense that the trainer doesn't have everything under control, don't be afraid to look elsewhere, Ainslie says.
How They Treat You
Finding a trainer with whom you feel comfortable is crucial, Ariane Hundt says. The physical demands of HIIT are tremendous, so you'll need an instructor who cares more about you than they do about selling you membership upgrades.
So, when you find a gym you want to join, pull the HIIT trainer aside and tell them what you're looking for and your specific needs.
"If you tell them your needs and they try to push sessions on you, they're just out for the money," she says. "Someone who can give you a common-sense recommendation speaks from a genuine concern for the client's well-being."
Minna Herskowitz also says that a good personal trainer will be able to adapt their HIIT programs on the fly to fit your particular needs and abilities.
Yet even the best trainer can't make you succeed or keep your head in the game for you. The mental side to your HIIT success is just as important as choosing the right trainer and the right gym.
What Mindsets Do You Need to Succeed with CrossFit?
Once you've chosen where you'll undergo the hardcore workouts that come with CrossFit-style programs, you'll realize pretty quickly that your mind plays a significant role in your ability to endure exhaustion and pain.
So, it's no surprise that our fitness experts had all kinds of advice about how to stay mentally tough while you're working out.
Listen to Your Body
Remember how Ariane Hundt said guys will come to her class, go all-out for about 10 minutes and then come to a grinding halt because they're nauseous or battling low blood sugar? This is pretty common for CrossFit/HIIT newbies, along with injuries that result from overly enthusiastic workouts.
Think of your body like a messenger. When you start working out, it's constantly sending signals to your brain letting you know what's tired, what's hurting and what is in serious trouble.
When we work out in a competitive environment, the intensity of the moment and the encouragement of trainers and fellow participants can drown out those messages from our body. Either we're so focused on other people we don't sense something is wrong, or we know something is wrong and we try to push through it.
"Don't get pushed into something because you feel like the instructor is going to look down on you or give you a hard time, and don't worry about what the rest of the people in your gym think," Ainslie MacEachran says. "What's right for them isn't what's right for you. Your body will tell you what it needs and wants."
Ariane has the same advice: "Listen to your body. You know when to rest and when to push yourself."
The Three C's of CrossFit: Courage, Commitment and Consistency
If you want HIIT to be a long-term relationship that doesn't fizzle out after a month, you'll need to adopt Ainslie MacEachran's three C's, in one form or another:
Courage – You'll need a little bit of courage because the workouts are hard.
Commitment – You're either all in or you're not. You have to commit to the plan.
Consistency – You have to make all the workouts. You can't do a week, then take a week off.
If you think you won't remember these, write them on your bathroom mirror with lipstick or a dry-erase marker, Ainslie says.
The Last Few Reps: Our Final Thoughts on HIIT and CrossFit-Style Workouts
CrossFit and CrossFit-style workouts are intense, high-energy exercise programs done in a short amount of time.
They're very popular with people between the ages of 25 and 44, mainly because the nature of the workouts is such that they might be too demanding for older folks and teenagers.
Another factor in the popularity of these workouts with this age group is that membership to HIIT gyms can hit $275 per month in cities like New York.
But even though the average CrossFit participant is pretty specific, anyone can join. In fact, CrossFit gyms have OnRamp programs that help you know what you're getting into.
But we do want to caution you if you've dealt with recent injuries or medical conditions. So, before you start any kind of a high-intensity workout regime, consult your doctor to make sure you're sturdy enough to join.
Though a traditional HIIT workout may not be good for you if you're dealing with joint issues or back pain, programs like Sandbox Fitness might be a good option for you. The soft surface is gentler on your joints.
If you're a little overwhelmed by what you do during your first session, take a moment to talk with your trainer/instructor about your fitness level and what you can and can't handle. If your instructor is solid, he or she will be able to adjust the workout to your level.
And remember, HIIT success has a lot to do with your mind. Listen to your body, be courageous, be committed and stay consistent with your workouts.
Now, we know that some of you will read this article and think, "I'm not ready for CrossFit or HIIT just yet." If you find yourself saying that, check out two articles we've written about gym memberships at traditional facilities like Planet Fitness, 24 Hours Fitness, LA Fitness and Gold's Gym.
These articles will help you understand what the gym industry is all about, when most people go to the gym, how often they go and more. We also take a look at the four gyms we mentioned above, analyzing what they offer, who they're best for and how you can make an informed decision.