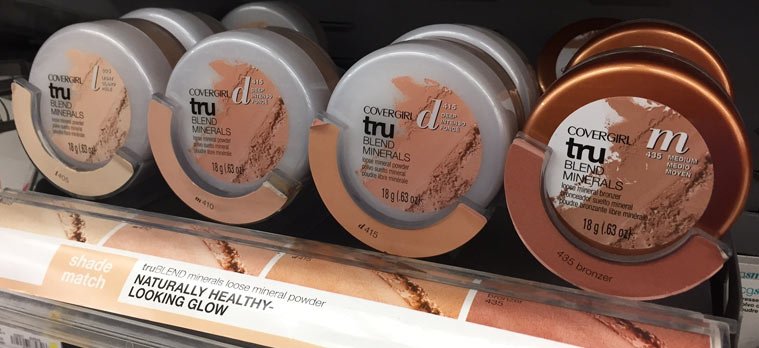 They gave us hieroglyphics and pyramids. Mummies and Cleopatra. Of the many contributions to civilization, ladies, we can also thank the ancient Egyptians for cosmetics.
Today, it's an $80 billion industry and has come a long way from its origins of using ash and oxidized copper, or kohl, for eyeliner, and herbaceous oils to mask body odor.
Makeup was first intended to promote good health and protect from harsh sun and wind while promoting beauty.
By 4000 BCE, Egyptian women were applying lead and copper ore to their faces to increase definition and add color to their skin. A couple thousand years later, east Asian cultures began staining their nails and applying rice powder to their faces to whiten their skin.
As Europe caught on during Elizabethan England, the trend of lightening the skin turned more scientific and France began toiling away on complex scent-making, which was added to various powders and concoctions. As the 19th century got underway, zinc oxide replaced lead and copper after a mixture called, Ceruse, was later discovered to be toxic and caused all kinds of physical problems and even death.
By 1900, the theater, European and Russian ballet companies, and film were popular sources of entertainment where actors and dancers would don more theatrical and dramatic looks. While these styles were emulated by everyday people, pressure to look, better, younger and prettier began driving cosmetic trends.
As you can see, makeup wearers of today are no different than those who invented it. The same goals of improving one's appearance, boosting confidence and exuding power and beauty still exist. What we're going to focus on is how cosmetics is going back to the basics using good old fashioned nature.
Makeup has come a long way from using ingredients deemed unhealthy, or downright deadly: i.e. lead, copper, etc. However, a huge industry has surfaced by marrying our origins of using nature as the main ingredient with modern technology. In this guide, we'll be exploring the world of mineral makeup: its benefits, ingredients, top brands, and cost.
What is Mineral Makeup
In recent years, brands have become more sophisticated and the technology and science behind cosmetics more advanced. While synthetic chemicals and techniques have been devised to achieve certain products, many cosmetic companies have gone the more natural route and employed botanical methods for creating a wide range of products from eye shadow to lipstick to foundation and beyond.
This type of make-up is commonly called mineral makeup. It's been around for decades but has more recently caught on as dermatology and protective skincare has gained popularity as it eliminates certain preservatives like parabens, dyes, and fragrances, containing fewer ingredients overall.
Mineral Makeup's Ingredients
While mineral makeup sounds all-natural, it's important to remember that this type of cosmetic can be both naturally derived and synthetic.
True mineral makeup includes iron oxides, mica, and titanium dioxides and other elements. It should not contain parabens, glycerin, silicones or alcohol.
It's common to label something all-natural yet still contain synthetic ingredients. For example, bismuth oxychloride is commonly used as a "filler" in mineral makeup.
Filler means that it's the base ingredient to which everything else is added. Bismuth oxychloride is a by-product of lead and copper, mixed with chloride and water. Since it's made from a combination of minerals, marketers can get away with calling it "natural."
Why Switch to Mineral Makeup
Mineral makeup is designed to do what any traditional synthetic cosmetic is created to accomplish. That is to add color, tone, evenness and definition to your skin.
But mineral makeup is one of those things that is borderline skincare. Very borderline. It's still makeup and should be washed off at the end of the day, but with the presence of zinc oxide, one could argue it's protective from the sun's rays and has soothing properties.
While it's not recommended that you sleep in it, it has fewer pore-clogging properties, and contribute as proper skincare for those who suffer from acne, rosacea, (a condition that causes redness), have undergone microdermabrasion, skin peels or laser treatments.
According to WebMD, mineral makeup is not a replacement for anti-aging moisturizers, but it does have skin benefits, especially for people who have sensitive skin. They find that mineral makeup has fewer irritants and soothes the skin. Acne sufferers also find mineral makeup has improved their skin quality.
Other benefits of mineral makeup is that it's water-resistant and bonds to the skin, so it won't smear or wash off, it's lightweight and absorbs excess oil.
Mineral makeup also has the ability to shield harmful UV rays. The mineral particles help bounce harmful UV sun rays off your skin in the same way a mineral sunscreen does. It also often contains titanium dioxide or zinc oxide, which are natural sunscreens. But, let's face it, while the health benefits are appreciated, women wear it because they care about how they look.
And, the reviews are mostly positive. Women say mineral makeup provides a natural and healthy glow to the skin and helps cover skin conditions like rosacea and other pigment issues.
It isn't without a few drawbacks, however. High quality, pure mineral makeup isn't made with binders, so re-application during the day could be necessary. Others have also complained of its drying properties because it lacks any oils or other liquid components.
The Benefits of Mineral MakeUp
Short-Term Benfits: Along with that healthy glow, mineral makeup is lauded for its flawless finish. Because the particles are so fine, they have the ability to cover the skin for a pore-free appearance. It's excellent to use in the summertime because the composition is light and won't melt off the skin in the heat. It's also easy to apply.
Long-Term Benefits: Mineral makeup has the ability to provide broad-spectrum (UVA and UVB) protection and an SPF as high as 20. Both titanium dioxide and zinc oxide are often included as active ingredients and act as reflectors and refractors of the sun's rays. They are especially useful on skin that has been compromised and might be sensitive to chemical sunscreens.
There is also a new subclass of physical blockers, micronized reflecting powders, which are becoming more available from several manufacturers. Micronized reflecting powders are less visible, yet provide broad-spectrum protection against UVR and do not cause photosensitization.
A Spectrum of Mineral Makeup Products
As they say, you can't build a house without a good foundation. Same goes for 'putting on your face.' While mineral makeup's reach extends into eyeshadow, lipstick, etc. we're going to focus on the foundation.
While not all women wear it, a cosmetic foundation is an important first step in the daily makeup regimen. It's the base from which the rest of the colors and lines are applied and drawn on the face. It covers up flaws and evens out skin tone creating a smooth and consistent appearance.
Whether it's powder or liquid – loose, pressed, pump, foam or spray – foundation comes in every tint, tone, and application you can think of. The contents, however, have been diverging from oils, emollient, water and alcohol to minerals, which are considered more natural and holistic. This has sparked a trend from which other mineral-based cosmetics have been innovated.
But, not all mineral makeup is created equal. There are different grades and qualities, some touted as pure while others contain additives.
Typically, mineral makeup contains mica, bismuth oxychloride, titanium dioxide or zinc oxide. Talc is also a mineral and could be considered a "mineral makeup." But, better grades of mineral makeup boasts being talc-free.
A "mineral makeup" may be all mineral, part mineral — or contain less than 1% mineral everyday finished formula, so it's important to look carefully before making your purchase.
Here, we'll explore what you can get for the money if "mineral" foundation is the way you want to go.
Top Mineral Makeup Brands
Cosmetics consumers became re-introduced to mineral make-up in the 1970s as natural beauty came into fashion. Since then, companies such as BareMinerals, PureMinerals, Physicians Formula, etc. have climbed the ranks within the industry as some of the most popular makeup solutions on the market.
So, how does one choose the best brand for quality and cost? This is a hard question to answer because makeup serves different purposes for different people. One thing to keep in mind is that, overall, mineral make-up can be pricier than regular make-up.
There are top brands on the market, at different price points, that make it worth taking a closer look.
2016 Top 5 High-End Brands ($30–$64):
BareMinerals All-Over Face Color
Colorscience Sunforgettable Mineral Sunscreen Brush SPF 50
Illuminaire Moisturizing Mineral Foundation
Estee Lauder Double Wear Mineral Rich Loose Powder Makeup Foundation
Jane Iredale Liquid Minerals Foundation
Source: Elle
2016 Top 5 Drugstore Brands ($9–$17):
L'Oreal True Match Mineral Foundation
Max Factor Natural Minerals
Revlon ColorStay Mineral Foundation
Maybelline Mineral Foundation for Sensitive Skin
The Body Shop Nature's Mineral Foundation
Source: stylecraze.com
A Look at Mineral Makeup Reviews
When choosing the right product for you, it's a wonderful thing to hear from people who've "been there, done that" and can offer an honest assessment of their experience.
Starting with the more expensive brands, there is definitely a consensus.
Exploring the less expensive brands, the following made the cut for the best blend of quality for the money.
Finding the Right Mineral Makeup
It may not be the perfect pair of jeans you're looking for, but the level of importance in seeking good makeup is darn near close. Finding a mineral foundation that's right for you is a subjective process. Among the myriad aspects to consider include skin tone, complexion, sensitivity, acne-prone, occupation – are you indoors/outdoors most often, which will determine the importance of SPF and length of time you'll be wearing the make-up.
Luckily, most makeup is returnable. As long as you hold on to the receipt, most stores both brick and mortar and online will take back products, especially if they cause irritation.
It's also recommended that you have a good understanding of what color you need. The best way to determine this is by going to a cosmetic counter and playing around with different tones.
It's easy to assume you have one color skin and that all brands will be uniformly toned. Each brand is different, but having a basic sense of what your requirements are will help you shop online.
And, finally, read the reviews. Nothing is better than hearing what others have to say. Plenty of women have tried these products before and provide honest and helpful feedback.
Did you find this article useful? Read more about makeup: