Best Slow Cooker Buying Guide: How to Pick the Right One
A slow cooker is a least expensive and most time-saving tool in any kitchen. In this slow cooker buying guide, we look at the types, models, reviews, tips, and recipes to help you choose.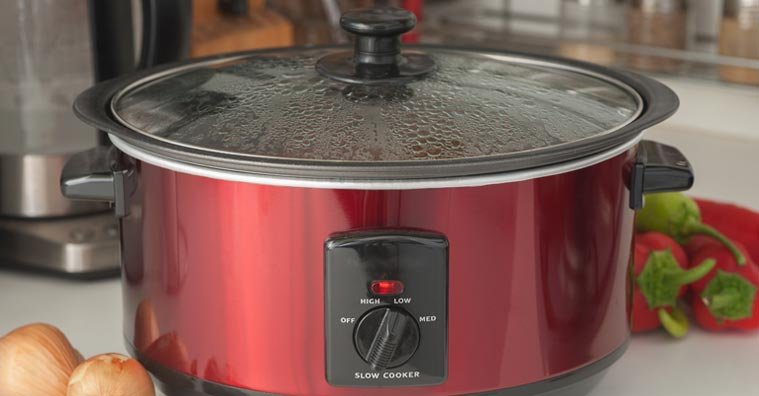 Looking for a convenient, all-in-one kitchen appliance that makes delicious meals with minimal effort? That's the promise made by many pressure cookers, multi-cookers, and slow cookers alike.
But, what's the difference between each, how do you know which is better suited for your family, and which features are worth paying a higher price for?
In this slow cooker buying guide, we take an in-depth look to help you decide which appliance—and model—is worth space on your kitchen counter.
What Is a Slow Cooker?
When trying to understand what sets slow cookers apart, the name really says it all. Slow cookers, sometimes known by the name of best-selling brand Crock-Pot, might be the only kitchen appliance that saves you time by taking longer to cook.
Specifically, the main appeal of a slow cooker is that with a relatively modest investment of up-front prep time, you can pile all the ingredients for dinner together, turn it on, and walk away for a few hours—or even a whole day.
The cooking method does come with several challenges, however: A closed cooking environment doesn't permit much browning or reduction—the keys to flavor development for most cooking methods. Additionally, more delicate ingredients, such as tomatoes and peppers, must be added later in the cooking process so as not to turn to mush. For those reasons, slow cookers are generally depended on for meat-heavy dishes, soups, and stews.
However, with a few everyday basics and a little practice, time-pressed home chefs can use a slow cooker to make a variety of recipes, from casseroles to side dishes and even desserts.
Slow Cooker Buying Guide: How to Pick the Best One?
Although all slow cookers consist of three basic parts (a base with a heating element, a removable insert, and a lid), they can range in price from $20–$200.
The first and most important aspect of a slow cooker is its size. Not just for the number of mouths a meal can feed, but because slow cookers work best when they're between one-half and three-fourths full.
Filling it less will burn or dry out your food; more might cause your cooker to overflow if the food expands during cooking, or if you leave your meal undercooked.
Step 1: Choosing a Slow Cooker Size
Like any other cookware, choosing a slow cooker size mostly comes down to which foods you cook most, and how often.
For example, at one to three quarts, the smallest models are intended to whip up dips and accomplish very small cooking tasks, while 2.5-3 quart options can cook for one or two.
Interested in cooking soup, stewed dishes, and casseroles? A four-quart model could suit you well. Have a large family or frequently cook dishes like pulled pork or roasts? You might want a five to seven-quart model.
Other considerations include a slow cooker's shape, as they come in both round and oval designs. Some reviewers state that round is better for soups and stews, but that the oval slow cookers are best for accommodating cuts of meat.
Pro tip: Since it's easier for a liquid to conform to the shape of its container than trying to cram a square roast into a round hole – if you're on the fence, we recommend picking an oval slow cooker.
Step 2: Selecting Additional Slow Cooker Features
Basic slow cookers often only feature a temperature control mechanism (low, medium, or high) and an on/off button. There's no timer, so you'll have to monitor the cooking, especially for smaller quantities of more delicate foods. You'll also have to turn the slow cooker off once your meal is finished.
For a higher price, programmable slow cookers allow you to choose the cooking time—some for up to 24 hours in 30-minute increments—with a digital readout that shows remaining cooking time. Many of these higher-priced models also automatically switch to a keep-warm setting once cooking is complete, which can maintain the food's freshness for hours.
In addition, programmable slow cookers often offer other convenient features such as:
Insert Materials: Most slow cookers have a removable ceramic or metal pot. Some non-stick models can be safely used in the oven, microwave, or on the stovetop. Of all the varieties, it appears that ceramic inserts continue to receive the highest consumer reviews, based on reports of even heat distribution and minimal scorching.

Ease of cleaning: Is the insert advertised as "easy to clean"? Is it dishwasher safe? Does it feature knobs and buttons, or touchpad controls (which many consumers report are easier to clean)?

Lids: A clear glass or clear plastic lid allows you to look at your food, without losing precious heat (see below for some tips and tricks related to this). Some slow cookers also feature a hinged split lid that lets you lift one side while the other stays shut, thereby retaining more heat.
Step 3: Consider Which Slow Cooker Features Might Not Deliver Extra Value for the Price
Slow cookers have come a long way since first being patented in 1940. Now, many models have evolved to include timers that can slow down or speed up a recipe's cooking time based on the food's progress, manually stir a pot to keep everything equally mixed or utilize a built-in probe to record a roast's internal temperature.
While these features might sound enticing, the folks at America's Test Kitchen found the fancier features to be more of a hindrance than helpful: During their testing, they found slow cookers that promised the ability to shorten or lengthen a recipe's cooking time caused the quality of the meal to suffer, while yielding unpredictable results—even in sturdier foods, such as chili and beans.
Models that claimed to track internal meat temperatures, and then to adjust cooking temperatures accordingly, were found to give faulty readings. This was either because the heating elements were on one side of the slow cooker, or because the cut of meat was not symmetrical in size and thickness, resulting in uneven cooking.
Finally, ATC reported that slow cooker models featuring self-stirring pots often stirred the middle contents appropriately, but left the outer contents, located next to the heating elements, unstirred and, inevitably, scorched.
The bottom line on most important features: During your search, look for programmable models with timers, locking lids, and a silicone gasket to prevent spills. Many sites like ATC note that additional features likely aren't worth paying more for.
Now, let's compare some of the more popular options to give you a bird's eye view of some of the features you can expect to encounter.
The Top 2017 Slow Cooker Models
Because there can be such a difference in functionality between sizes, we've divided this into two sections: full size and smaller options.
Popular Full Size Model Comparison
Scouring some of the most popular cookware review websites like America's Test Kitchen, Good Housekeeping, Food & Wine, The Spruce, and CookwareJudge, there were several slow cooker models that made multiple appearances across these lists. Here's how they compare:
| Model | Price | Key Features |
| --- | --- | --- |
| KitchenAid 6-Qt. Slow Cooker with Standard Lid (KSC6223SS) | $83 | 3 temp settings (low, medium, high), 24-hour programmability in 30-min increments, keep, keep warm setting, digital display |
| Cuisinart 3-In-1 Cook Central 6-Quart Multi-Cooker (MSC-600) | $126 | 3 temp settings (high, low, simmer), 24-hour programmability, automatic keep warm feature, one-touch mode switching, XL blue backlit LCD display (time and temp settings), includes steaming rack |
| Hamilton Beach Set 'n Forget Programmable Slow Cooker With Temperature Probe, 6-Quart (33969A) | $50 | 3 settings (program, manual, and probe, which "displays the actual temperature of meat as it cooks"), keep warm function, power interrupt protection, Clip-Tight Gasket Lid |
| All-Clad Programmable Oval-Shaped Slow Cooker with Black Ceramic Insert and Glass Lid, 6.5-Quart (SD700450) | $126 | 3 cooking modes (high, low, hi/lo), 4-20 hr cooking times, keep warm function up to 6 hrs, large push-button controls, integrated insert handles |
| Cuisinart Stainless Steel 6-1/2-Quart Programmable Slow Cooker | $126 | 3 settings (simmer, low, and high), 24-hour timer, stay warm feature, spiral-bound recipe book with 70 dishes |
Smaller Slow Cooker Comparison
Looking for a more compact slow cooker for lighter-duty operation? While these models are certainly less popular than their full-size counterparts, here were some of the top ones tested by these same sites:
| Model | Price | Key Features |
| --- | --- | --- |
| BELLA 5 Quart Programmable Slow Cooker | $20 | 3 settings (high, low, keep warm), programmable time (30-min to 20 hrs) |
| Cuisinart 3-In-1 Cook Central 4-Quart Multi-Cooker (MSC-400) | $95 | 3 functions (slow cook, steam, brown/sauté), keep warm mode, adjustable temp/time, includes steam rack |
| Hamilton Beach Stay or Go Slow Cooker, 4-Quart (33249) | $20 | 3 settings (warm, low, and high), secure seal side clips |
| Crock-Pot 4-Quart Manual Slow Cooker | $50 | 3 settings (high, low, and warm) |
| Proctor Silex Portable Oval Slow Cooker, 1.5-Quart (33116Y) | $21 | 3 settings (warm, low, high), lid with rubber seal and lid latch strap, removable oval stoneware and lid |
At the end of the day, a slow cooker should offer you the convenience of putting food in before work, and after eight hours, returning to a meal that isn't pulverized or completely without flavor.
While not all slow cookers are made equal, shopping for a good one doesn't have to be difficult. Just look for the things that make cooking in it as easy as possible, with features that make cleanup convenient an extra bonus.
For example, taking the above options into consideration, nearly all feature at least three settings or modes, as well as keep warm functions and adjustable time (frequently in 30-minute increments). So, if these are the only functions you need, you probably can't go wrong with any of these models—or, paying a rock-bottom price.
On the other hand, if cost your most important factor, a lower-end, slim-featured model might work better. But, if the optimal functionality is your main concern, then it might be worth splurging on features like backlit LCD displays, buttons instead of knobs, and perhaps even probes.
Once you have a slow cooker on your kitchen counter, though, what's some actionable information you can use to start things off on the right foot?
Tips & Tricks for Using Your Slow Cooker
First and foremost, don't forget to prep your slow cooker! Vegetable oil spray or aluminum foil can be used to protect ingredients in recipes where sticking and burning are problematic, such as casseroles.
Here are some additional tips to ensure slow cooker success:
Because it can't escape, if you're using a traditional recipe in your slow cooker, reduce the requested liquid by one-third. If not, you could be left with far too much.

Again, capacity makes a difference. Slow cookers cook best when filled one-half to two-thirds full.

Because heat generates from the bottom-up, lower food will tend to absorb the most flavor, and also cook the quickest. As such, it's best to place hearty vegetables, such as potatoes and carrots, on the bottom and meat on top.

It seems innocent enough, but every time you open the lid, it adds an additional 20-30 minutes to your cooking time (which might be acceptable, if you want to reduce the liquid or thicken a sauce). Instead of releasing all that steam by lifting the lid, spin it to remove condensation. This will allow you to see your food, while maintaining cook times.

Instead of splurging on the expensive stuff, cheaper cuts of meat (such as chuck roast, mixed with some onion soup mix, beef broth, and veggies) are fattier and are ideal in a slow cooker.

Use your microwave to heat up aromatics, such as onions and garlic, before adding to your slow cooker. Microwaves are also useful for partially cooking hearty vegetables, or releasing excess moisture and fat from meat.

Sometimes it's necessary to wrap more delicate vegetables in a foil packet before placing them in your slow cooker. This keeps them from overcooking and keeps their flavors from fading.
Finally, slow cooker models vary quite a bit, so be sure to store your manual in an easily-accessible place so you can follow the manufacturer's temperature and cooking time suggestions if you're ever in a pinch.
Slow Cooker Safety Tips
Slow cookers are certainly convenient, but if used incorrectly they can be hazardous to your health. Here's what you need to know to make your slow-cooked meals safe and delicious:
If you've kept a dish in the refrigerator while inside the inner pot, let it return to room temperature prior to placing it in your slow cooker. Otherwise, you could quickly shatter the ceramic pot.

Bacteria thrive between 40° and 140°F, so make sure your cooked food doesn't sit too long within this temperature range.

Frozen ingredients should never be added to the slow cooker. Meat and poultry should be defrosted in the refrigerator beforehand.

The United States Department of Agriculture recommends that, when cooking meat and poultry on low, start by turning "the cooker on the highest setting for the first hour of cooking time, and then to low or the setting called for in your recipe." However, they add, "it's safe to cook foods on low the entire time — if you're leaving for work, for example, and preparation time is limited."
Slow Cooker Recipes & Resources
Ready to start cooking? When looking for recipes fit for a slow cooker, there are, of course, few resources more dependable than Crock-Pot.com, where you can search for recipes by meal, ingredient, or type of cuisine.
However, you can do more with a slow cooker than Crock-Pot's traditional dishes. A quick online search for "slow cooker recipes" returned thousands of relevant results at the time of our research, including top sites like AllRecipes.com, Country Living, Delish, Food Network, and TheKitchn.
Alternatively, if you're a fan of America's Test Kitchen their "Slow Cooker Revolution" could be a great addition to your library at a reasonable price of $14.99.
From there, The Spruce features a vast directory of slow cooker recipes by ingredient, as well as handy slow cooker tips, depending on which ingredients you include in each dish.
Finally, YouTube is a great resource for those who are culinary-challenged, or who simply want to see a recipe in action. We found this fantastic playlist of 31 slow cooker recipes, starting with an all-time favorite – mac n' cheese.
» See Also: A Complete Guide to Buying Multi-Cookers (Plus Tips, Tricks & Recipes)