AscendFlex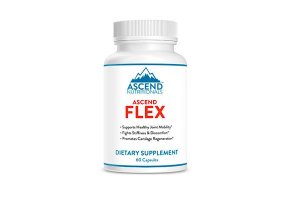 Using 1.6 grams of turmeric, a daily dose of Ascend Flex claims to be able to allevaite joint pain and help support your body's cartilage as you go through your daily routine.
What Is AscendFlex?
AscendFlex is a supplement from Ascend Nutritionals that claims to help with joint pain and discomfort through a mix of ingredients that relies heavily on turmeric.
The supplement is manufactured in the United States in an FDA-registered facility and has a 60-day money-back guarantee.
Some of the supplements biggest claims are that it can support joint movement, help reduce stiffness and discomfort and support the growth of cartilage.
These are significant claims considering how many people deal with joint pain, joint stiffness, limited joint movement and cartilage degeneration. In fact, a 2016 report from WebMD indicates that around 15 million people live with joint pain and discomfort.
In this review, we'll break down how this supplement works, what its ingredients are, what science says about those ingredients and the side effects you may experience. We'll also take a look at the supplement's pricing as well as how it compares to similar supplements from Amazon.
Each bottle of AscendFlex comes with 60 capsules. You take two capsules at a time twice a day, which means that one bottle will last you 15 days.
Here's a quick list of the word-for-word claims presented on the AscendFlex website:
"Supports healthy joint mobility"
"Fights stiffness and discomfort"
"Promotes cartilage regeneration"
Each of these claims has an asterisk next to it that corresponds to the following disclaimer at the bottom of the AscendFlex website:
"These statements have not been evaluated by the Food and Drug Administration. These products are not intended to diagnose, treat, cure, or prevent any disease. Results may vary from person to person."
This disclaimer tells us that, while Ascend makes some promising claims, they also acknowledge that their supplement isn't intended to cure arthritis, for example, and that the supplement's effectiveness may be more prevalent in some people than others.
These types of disclaimers are common among supplements and are not specific to AscendFlex.
AscendFlex Ingredients
Now, the important thing to remember is that it's the ingredients included in each Flex capsule upon which Ascend makes their claims. According to a back-label photograph, each bottle of AscendFlex includes the following ingredients and dosages:
Turmeric root: 800 milligrams
Glucosamine sulfate: 200 mg
Turmeric 95%: 100 mg
Ginger extract: 100 mg
Chondroitin sulfate: 50 mg
Boswelia extract: 40 mg
Methylsulfonylmethane (MSM): 10 mg
BioPerine: 10 mg
Quercetin: 8 mg
Methionine: 8 mg
Bromelain: 8 mg
In the next section, we'll talk about the effectiveness of the main four ingredients and what, if any, side effects you may experience.
Is There Any Clinical Evidence to AscendFlex?
AscendFlex's ingredients list totals 1,334 mg of ingredients. Turmeric-based ingredients make up 900 of those mg, so we'll focus our analysis on that ingredient while offering a bit of insight into the other more prevalent ingredients in a few minutes.
Turmeric
According to ConsumerLab, an independent research group who specializes in studying supplement ingredients, turmeric's main proposed usage is for indigestion. Secondary uses include taking it for Alzheimer's disease, uveitis, high cholesterol, rheumatoid arthritis and several other conditions.
Now, keep in mind that just because turmeric is used for various conditions doesn't mean its effective in treating those conditions.
ConsumerLab's entry about turmeric notes that turmeric is often used as a preservative in foods because it has antioxidants, which are chemicals that slow cell death.
Specific to joint pain, one study indicated that 2 grams of turmeric are equally as effective at treating knee osteoarthritis as 800 mg of ibuprofen but without the risk of stomach irritation ibuprofen carries.
"Both groups experienced a similar degree of improvement in their symptoms, and the side effects did not differ between the groups. Although this study is far from conclusively, some advocates suggest that curcumin is superior to standard medications in the ibuprofen family because, at standard doses, there is comparatively little evidence of harm to the stomach," the site notes.
They also point out that the typical dosage is 600 mg three times a day, which totals 1.8 grams. If you follow Ascend's directions, their Flex supplement will give you 1.6 grams of turmeric per day.
Glucosamine Sulfate, Chondroitin, MSM and Boswellia
These four ingredients are often hailed as effective for helping restore cartilage and reducing joint pain. ConsumerLab indicates that the evidence for this combination of ingredients helping with joint pain is "not overwhelming."
Many studies have been conducted with glucosamine and chondroitin...and the results have been mixed. In short, they may modestly reduce knee pain if you have moderate to severe knee pain, although benefits may not occur for several months," they write. "In addition, if you have mild to moderate osteoarthritis, particularly of the knee, these agents may, over a period of years, slightly reduce the extent of further loss of cartilage volume."
The clinical evidence they present indicates that glucosamine and chondroitin are most effective when you use them in daily doses of 1,200 mg and 1,500 mg, respectively.
Based on all of the evidence we've seen, we believe that the ingredients in AscendFlex have a limited ability to provide joint pain relief and that, if there is some relief due to the supplement, it most likely won't emerge until several months down the road.
This brings up an important financial decision for you. As we'll point out in a few minutes, it will cost you $294 for a three-month. Considering that there's a good chance a supplement based on the ingredients in AscendFlex will have minor effects on your pain, you'll have to decide if it's worth it to pay nearly $300 for minor relief.
AscendFlex Side Effects
Based on the research we read, there are only a few possible side effects from the ingredients included in this supplement. ConsumerLab notes that extended use of heavy doses of turmeric could cause some liver toxicity and should be avoided by those with liver conditions.
WebMD notes that turmeric is "generally safe" but that it can cause nausea and diarrhea. They caution against using turmeric if you have gallstones. Also, they point out that pregnant women should not take turmeric.
AscendFlex Pricing and Return Policy
You can purchase this supplement two different ways: as a one-time buy or as a recurring subscription. The pricing for one-time purchases is as follows:
One bottle: $69
Three bottles: $177
Six bottles: $294
Signing up for a subscription means that Ascend will charge you for a new shipment of supplements every 15 days. If you choose this option, you'll receive 20% off the pricing you see above. Shipping varies depending on where you live.
When you make your first purchase, you have 60 days to return the product if it doesn't perform up to your standards. To start your return, you'll need to call Ascend at (800)304-2795between 9 a.m. and 5 p.m. EST, Monday through Friday. You can also email them at support@ascendhelp.zendesk.com.
The Bottom Line on AscendFlex
Based on our research, we believe that AscendFlex is a high-priced option for pain relief that isn't guaranteed to alleviate your joint pain or support joint cartilage.
As for price, we did some quick research on Amazon and found numerous similar supplements with high turmeric content that were considerably cheaper than AscendFlex. For example, Qunol's turmeric pills contain 120 1,000 mg capsules of turmeric and cost $29.95. Like Ascend, its' manufactured in the U.S.A. in an FDA-registered facility.
Based on this, we think that, if you're committed to trying turmeric, it may be better to start out with a cheaper product that contains more turmeric, as AscendFlex is expensive compared to other products.
Furthermore, remember that the scientific evidence seems to indicate that it could take several months of taking a supplement like this to start experiencing results.
Great information

By Debbie G.

,

Rigby, ID

,

Jul 18, 2019
Verified Reviewer

It's really good to know that someone is out there watching over us...the GULLABLE consumer. Thanks for the heads up on AscendFlex! I definitely know NOT to buy it and waste my money by these snake charmers!

Bottom Line: Yes, I would recommend this to a friend

---

Less pain in joints after taking capsule daily.

By Thomas D.

,

Florida

,

Jul 27, 2019
Verified Reviewer

I am an 87-year-old male active in many things, including running a BBQ Sauce business, exercising several times a week and doing yard work and gardening at home. For the last few months, I noticed after working out my joints were hurting and became stiff. Thought about going to Doctor to see what could be done to eliminate the pain and stiffness. Researched joint pain and stiffness and found an ad about AscendFlex, ordered some and begin taking, after a few days I noticed a big difference, of less pain and stiffness in joints, shoulders, wrists, knees. It appears that this formula is a great find for me, thanks.

Bottom Line: Yes, I would recommend this to a friend

---

Advertisement

---

I am now able to walk because of AscendFlex

By Sally S.

,

Hillsboro, OR

,

Aug 2, 2019
Verified Reviewer

I had a cortisone shot for my right hip because of my arthritis. It helped at first, but I was soon bedridden and could hardly walk. I have been taking AscendFlex for two weeks. Towards the end of the second week, I noticed that I was walking without a limp. I am hopeful that I won't have to have hip surgery. I highly recommend AscendFlex. Each day I notice a bit of improvement.

Bottom Line: Yes, I would recommend this to a friend

---

AscendFlex

By L K.

,

Mishawaka, IN

,

Aug 20, 2019
Verified Reviewer

I started taking this after going for physical therapy for back pain that limited my ability to move and exercise. After going through a bottle of ibuprofen I started searching and talking to my doctors. One suggested the use of turmeric and Bioperine due to studies that suggested this was effective. It took a few days but I began noticing less pain daily. After my first month, I decided to see if it really was working. I went off for a week and now am starting again since my pain returned. This has helped significantly in improving my daily life. I won't go off it again! Beware of taking a turmeric product without the Bioperine. Research supports this is an important combination to be effective.

Bottom Line: Yes, I would recommend this to a friend

---

Advertisement

---

Pain relief

By Jim F.

,

Riverside, CA

,

Oct 30, 2019
Verified Reviewer

I have arthritis pain in my hands. My doctor had prescribed me Diclofenac sodium topical gel that has ibuprofen in it. It helped pretty good for my pain. But I found AscendFlex and it seems to work better for my pain in my hands. It cost more but my pain seems to be some much less. I think it is worth the cost for the relief I receive, I have already recommended this product to a friend and will recommend it to others. My pain went from a scale of about 8 to 2 or maybe 1. Sometimes I do not feel much pain after using this product. Great product for me.

Bottom Line: Yes, I would recommend this to a friend

---

Real relief

By Ralph C.

,

Texas

,

Dec 28, 2019
Verified Reviewer

I gave AscendFlex a try. Bought 3 bottles without commitment. Used 1, then by next bottle didn't notice but was asked where my limp was left at. I was wowed, realizing I hadn't been in pain for some while. Finished all 3 bottles. Discontinued use and 2 months later the painful reality. Now I want my Ascend back in my life and the pain back out. I'm buying my next continual order.

Bottom Line: Yes, I would recommend this to a friend

---

Advertisement

---