Ashford University Reviews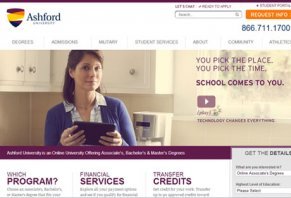 About Ashford University
Founded in Clinton, IA in 1918, Ashford University uses a student-centered approach to provide affordable online and on-campus undergraduate and graduate degree programs. Focused on providing professional relevance for their graduates, the University's goal is to build real-world knowledge and skills, along with a drive for intellectual inquiry.
As part of their student-centered approach, Ashford University provides a range of technological support, as well as faculty and staff who are "guided by contemporary scholarship and professional practice." The college is accredited by the Higher Learning Commission and is a member of the North Central Association.
Ashford University Programs
While Ashford University offers both online and on-campus bachelor's and master's degree programs, more options are provided for those online. Some of these programs include:
Business and Professional Studies – Accounting, Business Administration, Finance, eMarketing, Entrepreneurship, etc.
Health, Human Services, and Science – Adult Development, Health and Wellness, Health Education, Health Care Administration, Natural Science, Psychology, etc.
Education – Child Development, Education Studies, Cognitive Studies, Physical Education, etc.
Liberal Arts – Military Studies, Applied Linguistics, Social Science, Sociology, History, Environmental Studies, etc.
…in addition to many minor options.
Ashford University Online Courses
Like nearly all other online colleges, Ashford University provides each student with access to their online learning platform. Here, they can log in at their convenience and view assignments, access course materials, participate in discussion boards, communicate with other students and instructors, and submit assignments.
From an attendance perspective, Ashford states that they expect their online students to regularly attend class, which is defined as "posting in a graded discussion forum or submitting a written assignment, journal entry, quiz, or exam" at least two times per week. In addition, undergraduate introductory courses must be attended at least once every seven days, while non-introductory courses must be attended once every 14 days. If you fail to meet these minimum requirements, your assignment and/or overall grade could be negatively impacted.
Ashford University also provides each student with a personal Student Advisor, who is meant to provide easy support throughout the entire educational process.
» Read Next: Is It Still Worth It to Go to College? The Experts Say, Yes!
1 out 1 people found this review helpful

Ashford isn't what they seem

By

Samantha Hicks

,

Bbjlhickshicks1000@gmail.com

,

Jun 3, 2017
Verified Reviewer

I must say this school here was a huge disappointment. They are very deceptive as far as the prices go. They hounded and bugged multiple times a day until my daughter finally said ok.

She did everything that was asked of her, and she was only eligible for like $4,500, which the school got access to straight away. After one class she was told she had to make another $5,000 payment before continuing on. Clearly, we did not have that kind of money, and she was not informed that she would have to pay for the entire 4-year degree up front.

So she dropped out and asked them to take the amount for the one credit she earned and send the remaining amount back towards her debt balance. They said they could not do this because the money was already used for her next classes, but they needed the remaining $5,000.

Long story short she was deceived, manipulated, and taken advantage of due to her vulnerability and lack of understanding. My advice to anyone looking for an online school be careful, do your research and ask questions, lots and lots of questions. Especially if you do not fully understand the process. These people are trained to look for that kind of stuff in new recruits. Good luck to you all!

Bottom Line: No, I would not recommend this to a friend

---

Advertisement

---