Aspiration Reviews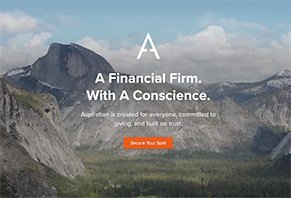 Aspiration is financial services website where you can invest your money three different ways. Their claim to fame is a pay-what-you-want fee structure.
About Aspiration
Investing can be an expensive endeavor, especially if your investment company is charging you confusing fees for their services.
Aspiration.com, a financial services company that lets you invest your money in two mutual funds and/or a checking account, claims to make investing as cheap as possible by letting you pay what you think is fair for their services.
When the California-based company launched its pay-what-you-want model in 2014, it received all sorts of media coverage:
The Wall Street Journal: "The startup is offering an online investing platform that lets anyone invest … and it lets them pay whatever they like for the privilege. Yes, whatever they like."
Business Insider: "Unlike traditional investment firms, which charge a percentage of the assets invested, the company plans to go in another direction: Pay whatever you think is fair."
Wired: "But what truly differentiates Aspiration from all other platforms is the Pay What is Fair model. 'That's what makes this so damn provocative,' says Joe Sanberg, one of Aspiration's earliest investors."
The company's founder is Andrei Cherney, a lawyer whose background is impressive: speechwriter for John Kerry and Al Gore, fellow at Harvard Kennedy School of Government, assistant district attorney.
Aspiration's funds are managed by UBS Banks, an international bank rated as a top-10 private bank by Advisory HQ. Think of Aspiration as the cool website that gets you to say "Yes" to investing, and then passes you cash off to UBS.
When we saw Aspiration was becoming more and more popular, it made us wonder if their financial services were actually free, if there were any hidden costs and what kind of financial products they offer.
Normally, our financial product reviews include the opinions of consumers, but since the company hasn't taken on any investors yet, those opinions don't exist. In this review, we'll replace that section with a discussion about other low-cost investment vehicles we've previously analyzed.
What Types of Products Does Aspiration Offer?
According to Aspiration's website, they offer three different products to consumers:
Redwood Fund: Focuses on "companies whose sustainable, environment and employee practices result in their being poised for growth." This is what is known as SRI, or socially responsible investment. Funds managed by UBS Bank.
Flagship Fund: Focuses on "long-term growth with less volatility than the stock market." Funds managed by UBS Bank.
Summit Account: No-fee checking account with a 1.00% annual yield. Account provided by Radius Bank, an online financial institution.
Basically, these three options offer you three different levels of risk. The Redwood Fund's emphasis on companies "poised for growth" indicates there's a bit of a higher risk because investments are made based on forecasts of growth that do not yet exist.
The Flagship Fund's mutual-fund composition offers less risk and is designed to weather the financial storms, while the Summit Account offers the least amount of risk and the least amount of return.
The two funds require a $500 deposit and cap investments at $10,000, while the minimum opening deposit for the Summit Account is $10.
Per their website, Aspiration will donate 10% of their revenue via micro loans to various charities across the United States. This program is called "Dimes Worth of Difference".
Pro tip: If you aren't familiar with financial terminology, a "mutual fund" is a collection of different investment types. UBS portfolio managers control the fund, basically applying his or her expertise to your money so that you don't have to.
Aspiration's No-Fee Structure: Is It Really Pay-What-You-Want?
One of the things we've learned during our research of consumer financial products is that "great deals" or "fee-free" offers are rarely as great as they seem. Marketing has a lot to do with what consumers believe about a product.
Our goal is to cut through all the marketing and make you a professional consumer through our research and healthy skepticism.
So, when we first heard about Aspirations "pay-what-you-think-you-should" structure, we were a little skeptical. Financial companies, after all, need to make money to operate, and Aspiration is no exception. It's not a non-profit; it's an investment company who wants to make money.
To understand the real story behind Aspiration, we read through reporter Karen Damato's the Wall Street Journal profile of the company. Here's what she wrote back in Nov. 2014:
"Aspiration's 'Pay What Is Fair' offer doesn't mean that investors could pay nothing for the firm's fund. Investors will be charged their pro rata share of the underlying funds' expenses, estimated at 1.22% a year in the Aspiration fund's prospectus. In addition, while the fund doesn't have a set portfolio-management fee, it does have other operating expenses (for legal and administrative services, among other things), which are capped at half a percentage point."
When we read over this for the first time, it was a bit of a surprise considering how heavily Aspiration's unique fee-payment structure has been promoted by the company and covered by the press. However, it's not a complete surprise; as we said earlier, consumers need to cut through all the marketing and see a product – financial or otherwise – for what it really is.
Based on what we read in the WSJ¸ consumers could easily be misled by Aspirations claims that you only have to pay what you want for their services. In reality, you'll already be paying a fee of, according to the Wall Street Journal, about 1.72%.
Now, in the grand scope of the investing world, 1.72% is standard – the average fees are for the type of funds that Aspiration offers is about 1.75%, Damato wrote.
What is not standard is that Aspiration doesn't force you to pay fees. Most financial advisors or investment firms will either charge you a flat fee or a commission for their services.
So, in that sense, what Aspiration is offering is pretty divergent … and they say as much on their website: "Aspiration brings to everyone the kinds of investment strategies once limited to only the wealthiest Americans."
But, how do those fees compare to robo-advisors who charge low fees for their services?
Aspiration's Fees Compared to Robo-Advisors
We've reviewed several of the most popular robo-advisors, which are apps that invest your money into something called ETFs, or exchange-traded funds.
These funds are made up of a diverse group of assets and are designed to mimic the growth of the top funds on the market. If some parts of your ETF start to do bad, an algorithm in the robo-advisor picks up on the downward trend and automatically trades the bad performer for a good one … this process is called rebalancing.
Basically, these robo-advisors are the autopilot version of investing. Some really smart people came up with an algorithm that does everything for you; it steers the ship while you relax and enjoy life. If you want a more in-depth explanation of ETFs, head to Investopedia's exchange-traded funds page.
The reason we mentioned robo-advisors here is because their fees are lower than what you can expect from Aspiration.com. Here is a list of the fees of the robo-advisors we've reviewed:
Betterment: $3 per month when you deposit less than $100/month, 0.35% on monthly deposits at or above $100. Fees drop to 0.25% per month when your balance hits $10,000. No minimum deposit.
WealthFront: Free for balances up to $10K, 0.25% after that. Minimum deposit is $5K.
Acorns: $1 per month for accounts under $5K, 0.25% for accounts above $5K. No minimum deposit.
As you can see, the fees on these robo-advisors are lower than Aspiration's fees. The drawback, however, is that these three apps don't offer SRI options. So, for the socially-conscious investor, it may be worth the higher fees at Aspiration to invest in SRIs.
Our Conclusions About Aspiration
Aspiration's pay-what-you-want model is a nice idea, especially since consumers have grown weary of bank fees and institutional greed. Their Redwood Fund provides investors with a chance to put their money toward sustainable, environmental and employee practices.
These companies are poised for growth, which indicates a level of risk you don't find with the Flagship Fund. The Flagship is built for long-term wealth that rides out the ups and downs of the market.
The third product, Aspiration's Summit Account, is the most stable investment account but has a paltry guaranteed yearly return of 1%.
After doing our own research and comparing Aspiration to robo-advisors like Betterment, WealthFront and Acorns, we've come to conclude that, while Aspiration isn't a new idea, per se, it's nuanced enough to where it could appeal to someone who wants their money to go to a "good cause" and have the chance to see return on their money.
The company's Dimes Worth of Difference is a nice perk for the giving-inclined consumer, and it, to a certain extent, adds a new twist of generosity in what's perceived as a greedy, cutthroat investment world.
It's hard to argue with their pay-what-you-want philosophy, although this program does mask the fact that you'll be paying, according to a 2014 Wall Street Journal article, 1.72% in maintenance fees.
If you aren't sure about investing with Aspiration, feel free to read up on Betterment, WealthFront, Acorns and other robo-advisors. Also, check out the guide we wrote on robo-advisors – it will help you understand how they came into being and why they're so popular.
SCAM

By Nan P.

,

Atlanta,

,

Nov 9, 2019
Verified Reviewer

My experience started from the beginning when I deposited a small amount only to never get a debit card and every time I call I could hear employees in the background but it was a robot. I have reported them to the FEDS as a small amount times a million people adds up for them and they are horrible. I have tried everything, phone, letters, and email to no avail. THEY ARE HORRIBLE.

Bottom Line: No, I would not recommend this to a friend

---

NOT TOO MANY ISSUES

By LJ J.

,

California

,

Sep 5, 2019
Verified Reviewer

I've been an Aspiration member almost from the beginning, and overall they have been a great option to traditional banking (for me). In the beginning, there were a few "hick-ups"; however they corrected their errors, and for almost a year I have been pleased. Some idiots ruined the no ATM fee perk by taking advantage, but I believe now you can get up to 5 or 6 ATM withdraws per month with any ATM (in the world) with no fees and they are (now) better about the "quickness" of the reimbursements (my issue in the beginning). I hope to remain a long term client for years to come.

Bottom Line: Yes, I would recommend this to a friend

---

Advertisement

---

1 out 1 people found this review helpful

Most awful experience I've yet to encounter with ANY company.

By Nicolee H.

,

Utah

,

Aug 1, 2019
Verified Reviewer

I was excited to open my Aspiration account. And I have been stuck on "just one more thing, to get you all set up." For 4 months. They have acknowledged that they have all my correct information. They have told me that I did everything right, however, there was a technical issue with opening the account and now they refuse to give me ANY information on what is going on. Why they haven't done anything with my account. What they have done with my personal information.

Customer service is an outright fraud. I would not be surprised if it was automated because no one shows any sense of empathy or understanding of my problem or even tries to fix it. That's not customer service. It's a fraud. I can't get them to delete my information and at this point, I do not trust them as a financial institution that I feel comfortable at. At all. I worked in banking for 10 years. And it takes 7 minutes to open a new account. 4 months in incompetent and unacceptable.

I would only reconsider actually opening my account there if:

1. They actually "solved" the issue at hand.

2. If they directed me to operations, or management or anyone with even a speck of customer service background that knows how to solve issues instead of giving the runaround.

And since that will never happen I'm giving up on them and I hope I can stop anyone else from having such horrible awful experience.

Bottom Line: No, I would not recommend this to a friend

---

Purposefully deceptive and functionally ineffective

By Douglas M.

,

Dallas, TX

,

Jul 20, 2019
Verified Reviewer

Advertises that customers get Cash Back Rewards for shopping at businesses with a higher Aspiration Impact Measurement (AIM) score. But you have to give a company money first before you can find out how good/bad a merchant is (posted transaction in app and online reveals score but it's not available elsewhere).

Rewards are not explained in the Disclosures as required by the FTC, but instead are buried in their FAQ's where they explain they have the right to change them without notice. Using the Internet Archive, I see now that on 05/12/2019 they were offering 1% Cash Back for businesses with a HIGH AIM and 0.5% for all others. Ten days later on 05/22/19, they changed that to 0.5% for business with the HIGHEST AIM and 0.25% for all others and for the first time revealed the list of (only 23) businesses with extra rewards:

Adobe Systems CVS Page Plus Cellular

Aetna DirecTV Skype

Allstate eBay Sprint

Apple Esurance Target

AT&T Google Verizon

Boost Mobile Jet.com Walmart

Boots MetLife Xbox

Cricket Wireless Microsoft

My concerns were repeatedly being dismissed by a representative "Nicole W" who at first said she too wanted more clarity on the rewards and then said if I don't understand their [vaguely written] legal Terms I should seek legal counsel. She claimed that my request for transparency would require engineers that they couldn't justify for a "one-off" request. However, it doesn't take an engineer to put the score next to the above list or with the list of the THOUSANDS of businesses they advertise they have scores for (website shows Amazon, Netflix, Tesla, Nike, Urban Outfitters, Hyatt, Whole Foods, YouTube, Starbucks) so you have to first do harm by supporting a bad company and then learn from your mistake. Furthermore, "highest AIM" seems subjective as CVS has a 93/100 People Score and 91/100 Planet Score, but Walgreen's has scores of 88/100 and 91/100 and does not earn extra rewards. They've got AIM scores on THOUSANDS of businesses but only 23 are the "highest"(?!!). Assuming their use of "thousands" only means 2000, Aspiration is not rewarding you for shopping at 98.85% of known businesses; 3000 businesses equates to only 0.77% eligible for incentive...(For past 15 years, Global 100 reviews 3.7 million data points to rank 7500 companies and only 1 of their top 100 is in Aspiration's 23: MetLife at #53.) "Rewards" for shopping at any known business, except the 23, are same as for businesses Aspiration doesn't know. Again, nowhere can you find the score until you've already spent money and nowhere can you see why the score was given or what is considered the "highest AIM" (as required by the FTC). Chief Compliance Officer, Christopher Mates, was contacted about concerns regarding Rewards transparency and provided copy of FTC's Disclosure requirements (read receipt received) and response from Aspiration's rep was that consumer transparency is a feature not a requirement.

Both app and website report purchases with Transaction Date (not Posting Date) so when using third-party financial apps or software, it makes it difficult to reconcile transactions which will have a tip added later. For example, if you use You Need A Budget (YNAB) and purchase a $5 cup of coffee every day from Starbucks but tip different amounts, the original authorized amount immediately is imported as $5 on Transaction Date but is sometimes duplicated with the final amount Posted with tip. Original authorized transaction amount imports as "cleared" only to later be changed or duplicated with the final amount with tip.

Transactions cannot be exported or downloaded (which would ordinarily show you both the Transaction and Posting Dates) until a statement is generated and then, despite their WebConnect with YNAB and Quickbooks Online (set up by Aspiration NOT by YNAB or QBO), are only available as a PDF. No option for a Quickbooks Desktop file either. Support request for fix during a 1.5-hour call 10 days ago provided not even an acknowledgment email.

As an accountant, after reading all the complaints regarding service issues, after personally receiving condescending responses for legitimate concerns, earning $1 for every $400 spent (until they change/lower reward again without notice), doesn't seem worth doing business with Aspiration. You're better off downloading the full Global 100 list and supporting those businesses with a different card that has higher/clearer rewards like "Discover It" which gives 1-2% back on any purchase.

Bottom Line: No, I would not recommend this to a friend

---

Advertisement

---

Could not get any customer service

By H E.

,

Austin, TX

,

Jul 11, 2019
Verified Reviewer

I tried to open up an account but couldn't ever get things started because I never received the micro-deposits to verify my account. There is no real customer service and I was blown off and my ticket closed after being told to wait. It NEVER showed up and they won't stop emailing me marketing emails. I am glad that they screwed up because this shows they are obviously not legit!

Bottom Line: No, I would not recommend this to a friend

---

5 out 5 people found this review helpful

Aspiration - spend and save account lock

What was supposed to have been my new primary bank account has now been locked out for 6 business days. I was told to upload a government picture ID and PDF copies of my linked bank account statement, which I provided under an hour after the requested email was received. There are reviews piling up on other websites, and I have seen reports of at least six other account lockouts in the past couple of weeks. Aspiration has responded to me on Twitter and via other direct message channels telling me to be patient, but they have given me no information as to why this has happened or an ETA for when I will have access to my account.

Bottom Line: No, I would not recommend this to a friend

---

8 out 8 people found this review helpful

Theft of funds

By Patricia G.

,

Spring Green, WI

,

Apr 3, 2019
Verified Reviewer

Aspiration took out $5,000 out of my bank account, unauthorized to open up a Spend & Save Account, which I did not want. I told them numerous times to put the money back and this is NOT what I wanted. I've had to file a lawsuit against them to get my money back. DON'T do business with them. They are a scam and a thief!

Bottom Line: No, I would not recommend this to a friend

---

16 out 16 people found this review helpful

Horrible experience

By Valerie T.

,

Vineland, NJ

,

Feb 20, 2019
Verified Reviewer

I have been with Aspiration for about three years now. At first, it was amazing, but then just this year, in February, my account was locked for no reason. I have called and emailed only to receive nonchalant responses. One representative, Joseph, even sent me a closure form and said that once I transfer my money out, I can close. Here's the problem - my account is still being held hostage, and no one is responding to my calls or questions via email. They are absolutely horrible to deal with. I'm lucky this isn't my only bank account, because I would be in terrible straits right now.

Bottom Line: No, I would not recommend this to a friend

---

22 out 22 people found this review helpful

This company has no customer support and is holding money hostage

Aspiration migrated after a month with no account. I finally got the account active, and I was provided the wrong routing number.

I have been trying to contact them for over three weeks.

The only way to contact them is email, in the meantime, I cannot access my funds.

Bottom Line: No, I would not recommend this to a friend

---

20 out 20 people found this review helpful

Horrible company

By Chelsey W.

,

Seattle, WA

,

Jan 15, 2019
Verified Reviewer

To add to the frustration of the transition, I am now having issues paying my bills because the routing number is not a recognizable routing number. I am having to sign up for Bill Pay (called Payments through Aspiration and can only be done via their mobile platform, which is the dumbest thing I have ever heard of). Every one of my bills is going to be late now.

Ever since I signed up with this company, it has been a hassle. The transition has just made it worst. The new tracking system does not show when you have paid a bill. For example - when I paid my rent, it posts as "ACH Withdrawal." Not as a payment to a company. This makes it EXTREMELY hard to balance your account at the end of the month. I now am having to keep a paper record of bills that are paid directly out of my account so that I know what was paid to which company.

Lots of issues. While the fee-free banking is awesome, the hassle is not worth it.

Bottom Line: No, I would not recommend this to a friend

---

21 out 21 people found this review helpful

Absolute headache to deal with

By Fred H.

,

Groveport, OH

,

Oct 26, 2018
Verified Reviewer

I've been with this bank just over a year. I wish I would have never set up an account with them. I have since moved my bank to Capital One 360. It started out ok, but has not ended well. Their customer service is horrible. They are nice, but don't even expect to talk to anyone that can help. Plus, considering they will be changing to another partnering bank with new routing and account numbers, what a run around.

My dilemma started when I got a personal loan for a small amount of $2500 to purchase a used vehicle. I was on hold for a long period every time I called. It took about 3 days for my loan company to wire the funds to my account with Aspiration. Once in my account, I called to have the funds wired to the car dealership. After long holds, they told me they spoke to operations (whomever that is) and that I had to let the funds stay in the account for 24 hours. So I call back the next day. This time the story is different. The operations said they could not verify funds, so my account was locked. Which means all of my money is locked now.

I went round and round and spent many hours on the phone. They would never give me to a supervisor, however, some guys came on the phone to say he was a supervisor (which I found out later, he wasn't). He assured me he would be personally working on this to help resolve. He wanted my loan documents, which I refused. My loan is between myself and the bank. And finally said they couldn't help without that. They told me the loan company would need to reverse the ACH transfer. So not knowing much about ACH transfers I call my loan company, and they tell me they cannot help, that my bank will need to reject the funds in order for them to be transferred back.

So I called back today. I was on the phone for another 2 hours only to get more run around. First off, when I called, I advised the agent he would not be able to help me that I needed to speak to someone in charge from management. Of course, like any call center, they can't until they hear the story. So he had me on hold on and off for an hour while the supposed supervisor reads the account information and issues along the way, knowing that since I have threatened already to leave the bank and get an attorney to deal with this.

So, finally, he comes back and tells me they are going to go ahead and close the account since I was going to do this anyways. I asked about the funds that were being sent. He claimed all of it, my original amounts plus the loan. I explained to him that all of this started due to this issue and all I wanted to do was wire the funds. I asked him, once again, to let me speak to the supervisor and again got blown off as he placed me on hold for another 15 minutes, in what I assume was discussing with the supervisor. He finally comes back and they will do nothing but send the funds via US mail, check will be cut today and usually take about 7 days. Are you kidding me?! So now I have to wait another 7 days, plus time at my other bank to clear?

I highly recommend to avoid this bank at all costs. I'm pretty sure if I was to raise holy hell, it's likely they broke several laws and I could easily sue them.

Bottom Line: No, I would not recommend this to a friend

---