AspireAssist Reviews
Claimed This company has claimed this profile, is getting alerted on any new customer reviews entering this page, and may engage in dialogue with its customers to address their matters.

Companies cannot pay money or provide goods in order to remove or alter customer reviews.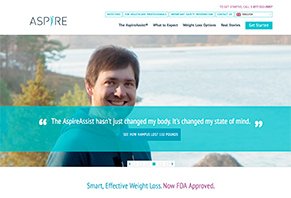 AspireAssist uses a small tube connected to your stomach, along with a smartphone-sized device, to drain 30% of food and to help obese patients lose weight.
About AspireAssist
Losing weight—and keeping it off—can seem impossible. From crash diets that provide little more than short-term results (and cause untold health consequences) to intensive surgical procedure that permanently alter your body, it often feels like you're taking one step forward and two steps back. More than once, you've just felt like throwing in the towel.
But AspireAssist, an FDA approved weight loss solution developed by three world-renowned physicians, claims to help you achieve "smart, effective weight loss." How so?
AspireAssist involves a low risk, minimally invasive surgical procedure that can be completed in 15 minutes using twilight sedation—without any permanent changes to your anatomy. This means you'll be able to go home within a couple hours and get back your busy life.
After healing, you'll be able to remove about 1/3 of the food you eat through a small tube in your belly, which provides not only portion control, but also helps reduce the number of calories absorbed by your body. Although you'll be able to eat normal, healthy meals with AspireAssist (unlike most other surgical weight loss procedures), you'll be required to eat slower and make healthy changes.
These factors, combined with lifestyle counseling and online community support, means that AspireAssist might be able to help you keep the weight off for the long term.
In a marketplace full of broken weight loss promises, a relatively inexpensive procedure like AspireAssist might seem like a breakthrough. In the real world, will AspireAssist really help you "take control of your life." Or, will you find yourself in this exact same situation a year from now? We'll talk about all of AspireAssist's most important aspects, so that you can make a more informed decision.
To begin, let's look at exactly how AspireAssist works.
How Does AspireAssist Work?
We'll talk more about the AspireAssist procedure in a second, but in a nutshell, the program is made up of two primary parts:
A thin tube that connects the inside of your stomach to a discreet button on the outside of your abdomen.
A small handheld device about the size of the palm of your hand.
During meals, you'll chew your food slowly and carefully in order to ensure no large particles remain.
About 20-30 minutes after your meal, when your food is still sitting in your stomach but before being passed to the intestines, you'll attach the handheld device to the button on your abdomen. Since the tube is located toward the top of your stomach, this device will allow you to remove (or "aspirate") 30% of the food it contains, which is drained directly into the toilet. Then, you'll store the device away in a small case.
In the end, this allows you to significantly reduce the amount of calories absorbed by the body (similar to manually reducing portion sizes), while still giving your body the proper amount of calories and nutrients it needs to function. Over time, as you learn to eat more healthfully, you might be able to reduce the frequency of your aspirations.
How is the AspireAssist tube put into place?
What Happens During & After the AspireAssist Procedure?
The Installation Process
Installing your AspireAssist tube probably won't take more than 15-20 minutes, and only involves twilight sedation, which is similar to what you might receive at the dentist's office. Here's a good video that briefly explains how this is done:
Although the procedure itself may only take a few minutes, and you'll probably return home within 1-2 hours, you'll need to recover over the next 2 weeks. Initially, this means you won't be able to shower for a couple days post procedure, and you may experience some pain or discomfort that can be managed by medications.
After 3-7 days, you should be able to return to work, although you will likely experience "some abdominal discomfort during this healing stage." This is when you'll notice your stoma (the pathway where the tube is placed) healing, and you should be able to take baths, swim, and exercise by the end of a week.
About a week following your procedure, you'll return to your doctor, who will attach the button to your tube, which will sit right at the surface of your skin. This part of the procedure is completely painless.
Finally, two weeks after your procedure, your healthcare team will show you how to use AspireAssist, a small handheld device about the size of a smartphone, which can be carried in a purse or briefcase.
During Your Weight Loss Journey
After AspireAssist has been put in place, your target weight loss is 1-2 pounds per week, although every person's journey is different. The company reports that by the end of six months, "patients lose about 40% of their excess weight on average, but you might find that your weight loss slows after six months." We'll come back to this thought later.
There aren't any specific restrictions on what and when you can eat and drink with AspireAssist, although you'll meet with your doctor regularly during the first six months to monitor your progress, adjust your tube, and check your electrolyte and other blood levels. You'll also attend lifestyle support, which involves one-on-one counseling and support meetings (including access to a private online community), along with monitoring by a physician to ensure you're losing weight in a healthy manner. This way, you'll be able to make healthier food choices, monitor portion sizes, and boost physical activity.
After the first year, your doctors visits and adjustments will become less frequent, and many patients might find they no longer need to rely on their AspireAssist to keep the weight off.
Are There Any Side Effects with AspireAssist?
The company claims that AspireAssist has a low risk of serious complications (similar to feeding tubes, which have been used for over 30 years). In fact, AspireAssist is basically just a feeding tube in reverse.
Common side effects include abdominal discomfort following the procedure, as well as skin irritation around the button site. Less common (and much more severe) side effects noted during clinical trials included infection and ulceration.
As we mentioned above, you'll return home the same day after your procedure, although it's noted that some patients may experience "significant pain" during the first 2-3 days, which can often be managed using medications. Other than a couple specific activities (like deep water diving), you'll be able to exercise normally.
While not technically a side effect, it's important to outline that you'll need to re-learn how to chew each bite of food completely. Otherwise, larger pieces of food won't fit through the tube, potentially negating your results (or even causing clogs).
Are There Any Clinical Trials for AspireAssist? Is It FDA Approved?
The company claims Aspire Assist has been "studied in hundreds of patients in both the US and in Europe," but they don't mention the actual number of trials that have occurred. After a brief online search, this is the only one we found:
A 5-year study that began in May 2014 comparing the efficacy of AspireAssist with more traditional procedures like gastric bypass for morbidly obese patients. Estimated completion date is 2019.
Despite the fact that this study is ongoing, it appears that this data was used to achieve AspireAssist's FDA approval.
How Does AspireAssist Compare to Other Weight Loss Surgeries?
Despite this positive (and ongoing) clinical evidence, AspireAssist represents new technology, so its long-term benefits haven't been fully studied. Specifically, how well it works at keep the weight off after the "honeymoon period" of rapid weight loss (around one year), or how this compares to other surgical weight loss methods.
For reference, by some measures, 1/3 of weight loss surgery patients regain all their weight within two years of their operations, whether from gastric banding, gastric bypass, or sleeve gastrectomy, which are the three most common procedures. Outside of this, here's how AspireAssist stacks up (based on the company's own numbers):
37% excess weight loss, compared to 37%-64% for other methods
3% serious complications (pain, infection), compared to 17%-24% for other methods
Average procedure time 15 minutes, compared to 78-165 minutes
Only minor anatomical changes and 1 incision
2 hours in hospital or clinic, compared to 1.7-4.7 days
No vomiting or dumping syndrome (although some vomiting was experienced by trial participants)
How much will you pay for these benefits?
What's the Price for AspireAssist? How Much Does It Cost?
While there aren't any prices listed directly on the AspireAssist website, WebMD interviewed several professionals familiar with the technology, who claimed it'll cost $8,000 to $10,000. This is compared to the $30K to $35K price tag associated with traditional weight loss surgeries.
While the article notes that "the company is in discussions with insurance companies to get coverage," it's brand new technology that might take a while to receive widespread approval.
If you have additional questions about AspireAssist's cost, the company can be reached at 877-312-0007. To find out more about insurance coverage, you'll want to call your provider directly.
Are There Any AspireAssist Patient Reviews?
AspireAssist's new approach to weight loss (not to mention the fact that it's FDA approved) has garnered a ton a media attention since being released over the last few days, including popular websites like Fox News, CBNC, the FDA, NBC News, Business Insider, and many others.
The problem is that (again, since the device is so new) most of these were high-level overviews that repeated much of the same information. As such, there aren't any first person accounts you can use to make a more informed decision.
From a company perspective, AspireAssist is manufactured by Aspire Bariatics based out of King of Prussia, PA. The company isn't listed with the Better Business Bureau, and we found very little information about them on third-party websites.
However, we did find a TheWeek.com article from 2013 talking about the difficulties Aspire had getting some foods through the tube, as well as their long journey toward FDA approval.
Is the AspireAssist Aspiration Therapy System a Weight Loss Solution?
Can AspireAssist help obese individuals lose weight? Based on the available clinical data, it certainly appears so. It's also positive that the company includes training and support with the procedure, which can really attack the problem of long-term weight loss from all important angles.
After all, if you don't learn healthy eating and exercise habits, the likelihood of keeping the weight off for the long term (whether using AspireAssist or another surgical procedure) slips to somewhere near zero.
However, like anything else, AspireAssist isn't a perfect solution. It will require surgery (however minor), which always carries a risk of complications. You'll also have to learn how to chew your food much more slowly, or risk getting some stuck in your tube. And it pretty much goes without saying that the thought of draining food from your stomach 3X daily might seem… unappetizing to a lot of people.
Finally, although the AspireAssist device is relatively small and will easily fit in a purse, if you're a man (or otherwise prefer not to carry a purse), it might not exactly be portable—and what happens if you lose it?
Taking everything together, the AspireAssist device takes a bold new approach to weight loss, and could "split the difference" between dieting and exercise and traditional surgeries. Is it for you? The best way to find out is by speaking with your doctor.
Did you use AspireAssist? If so, how was the procedure? How much weight did you lose? What are the pros and cons? Tell us all about it by leaving a review below!
Does not work

By Mary N.

,

South Carolina

,

Sep 25, 2018
Verified Reviewer

After one year with only a 26-pound loss. I have been on Weight Watchers for 10 weeks, I average a one pound loss a week. With the diet and purging, it should be more. Just with the diet, I lose one pound a week. Save your money, it is not worth it. My tube site looks as if it is infected one year later and is still sensitive. Not worth the money.

Bottom Line: No, I would not recommend this to a friend

Sep 25, 2018

Mary, I'm sorry to hear that you are not happy with your weight loss results so far. Multiple clinical studies with the AspireAssist have shown similar weight loss results to many bariatric surgeries (on average), but of course some people do lose more, and some lose less. With the AspireAssist, much of your success can be influenced by how often you use the device, and how well you're aspirating. If you still have the device, please reach out to us so we can help you get back on the right track (hello@aspirebariatrics.com or 877-312-0007)! As for the ongoing pain, this is not typical and I hope that your physician was working with you to treat any underlying issues.

---

Advertisement

---