Atomic Beam Headlight Reviews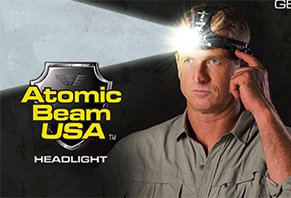 The Atomic Beam Headlamp sits on your head using three elastic straps and claims to deliver 5,000 LUX of light and virtually indestructible construction.
About Atomic Beam Headlight
Atomic Beam Headlight promises to deliver tough grade construction, an ultra bright, 5,000 LUX bulb that lights up practically anything, and three settings: Low Beam, High Beam, and Strobe.
Together with its hands-off operation, adjustable beam and angle, and its ability to withstand boiling water, being frozen in ice, and even the force of a sledgehammer, the manufacturer tells us that the Atomic Beam Headlight implements the same "virtually indestructible" technology used by the US Special Forces.
Whether you're performing an emergency repair in the dark, tooling around in the garage, or out on a camping trip, these are clearly some great benefits.
But is the Atomic Beam Headlight worth the price? Does it have any competition? Does it deliver all the necessary features that might make it useful for years to come?
Consider this your quick and easy Atomic Beam Headlight buyer's guide. By the end, you should have a solid idea whether or not it deserves a spot in your home.
What Should You Look for In a New Headlamp?
An outdoor headlamp simply involves a battery-powered light that's attached to the head, usually via flexible, adjustable headbands, in order to provide hands-free operation.
These devices are especially popular for activities like hiking, backpacking, mountaineering, and caving and can be found online and at most sporting goods retailers.
Outside of these basic defining characteristics, though, the reality is that you'll find headlamps in just about every size, shape, color, and design imaginable. How can you possibly choose the best option(s) for you? REI recommends looking for models that feature:
Adjustable lights with flood (or wide) and spot (or focused, narrow) beams.
Different modes/brightness levels, such as low, mid, high, and strobe.
A high lumen (a measurement of light) output. Keep in mind this also means the battery will drain faster, which is where a rechargeable battery can come in handy.
Speaking of which, the longer the light's runtime, the better.
A beam that will project the farthest.
If you have to carry around a lot of weight on your head for hours, it could obviously create some strain. Fortunately, most headlamp models weigh about 7 ounces.
Additional noteworthy features include regulated output (can help prevent battery drain), red light mode (easier nighttime use), tilt, and even external battery packs for extra-long run time.
With these features in mind, how does Atomic Beam Headlight fare?
Does Atomic Beam Headlight Have All the Features You Need?
On the up side, the Atomic Beam Headlight comes with low/mid/high/strobe modes, an adjustable (tilt) beam, and some models come with a rechargeable battery.
On the other hand, we're only told about the Headlight's lux, which measures light intensity in a specific area. As this might lead you to believe, in order to measure lux, you need to know the total surface area where the measurement was taken.
Without this number, Atomic Beam's 5,000 lux measurement doesn't tell us much.
Other factors the manufacturer doesn't tell us about are the distance that the Headlight's beam will shine, its overall weight, or its run time (although this almost wholly depends on the battery you choose).
Ultimately, only you can decide which of these features are most important to you, and whether or not Atomic Beam Headlight ticks all the necessary boxes.
From a price perspective, a quick online search revealed that many competing headlamps—many of which deliver the same (or more) features as Atomic Beam—could be purchased for between $15 and $30. Some options, however, were far more than $100.
What will you pay for the Atomic Beam Headlight?
How Much Does the Atomic Beam Headlight Cost?
The Atomic Beam Headlight is available through three different offers:
Main Offer – Single = $19.99. Double = $29.98. Both come with free S&H.
Deluxe Offer (one Headlight and one rechargeable battery) = $32.98. Double = $55.96
Atomic Bundle (one Headlight, one Lantern, and one Flashlight) = $59.99. Deluxe (adds one rechargeable battery for Flashlight and Headlight, each) = $89.96
Regardless of the option you choose, Atomic Beam Headlight comes with a 30-day refund policy, less S&H.
If you choose any of the BOGO offers, keep in mind that the fees you pay on additional products will be non-refundable, which means in some instances, you could lose a big chunk of change if you're not satisfied.
All Atomic Beam Headlights come with a lifetime guarantee—if it breaks, you get your money back.
To request a refund or process a warranty claim, Telebrands customer support can be reached at 855-668-1655.
What do we know about Telebrands? Can this inform our decision when it comes to the Atomic Beam Headlight?
Does Atomic Beam Headlight's Manufacturer Come with Solid Customer Reviews?
Telebrands is overwhelmingly the largest and longest lasting ASOTV company in existence, with thousands of products released over their decades in business and hundreds of massive hits.
Some of their most recent examples include Red Copper Square Pan, Smart Swab, the original Atomic Beam USA flashlight, Ped Egg Power, and Lazer Bond.
Based on what we've learned from readers like you over the years is that As Seen on TV and infomercial products tend to come with fairly low customer reviews, whether from Telebrands or any other manufacturer in the industry.
As you can see clicking on many of the links above, most of these products come with 2-star or lower average consumer ratings, with common complaints claiming that they didn't work as advertised, didn't last as long as expected, or that they came with unpleasant customer service experiences.
With this said, we tested the original Atomic Beam USA flashlight and found that its zoom feature covers quite a large area, although its beam was much less bright than similar competing models.
It performed fine when submerged in water, but stopped working when exposed to direct heat (flame from stove burner) after a few minutes.
Granted, the Atomic Beam Flashlight and Headlight are two very different products bearing the same name. And just like the investment commercials always say, "Past performance does not guarantee future results," so we're not saying you're certain to encounter any of this with the Atomic Beam Headlight.
Should the Atomic Beam Headlight Be Your Next Headlamp?
Telebrands sells millions of units per year, so compared to the number of online complaints about some of their products, it seems that most customers are pleased with their purchases.
Outside of this, only you can know whether or not all the Atomic Beam Headlight features we've discussed here will meet your needs, not only now, but into the future as well. But if you choose to compare it to the competition, you now have the information to need to make a much more informed decision.
Did you order the Atomic Beam Headlight? Did it deliver on its claims? What are your thoughts about its overall value? Write your review below and tell it all!
Poor product - Atomic Beam Headlight USA

Not much to say except that my new Atomic Beam Headlight USA did not work at all after unpacking it and inserting brand new batteries in strict compliance with the directions provided. I could not get the light to come on even once, and can only conclude that the product is defective.

Bottom Line: No, I would not recommend this to a friend

---

Failed on first use

By Andrew

,

California

,

Jul 17, 2017
Verified Reviewer

This stopped working the first time I used it. I took it camping and it worked for about 20 minutes. I have to enter more information and text here to make it valid. OK here it is, but there is nothing else to say, it failed and I have a hard time contacting the manufacturer.

Bottom Line: No, I would not recommend this to a friend

---

Advertisement

---

Lost brightness

I bought this headlight and ordered rechargeable batteries and charging unit ($50.00). The light worked fine the first two times I used it. The next time I turned it on, the brightness was gone. Really disappointing. After spending this much for the light ($19.99) plus tax and the above amount for batteries and charger, I am not a happy camper.

Bottom Line: No, I would not recommend this to a friend

---

Atomic Beam Headlight

By William Hosey

,

Vermontville, MI

,

Nov 7, 2017
Verified Reviewer

I have two headlights I bought from Walmart. Both lights lasted less than two weeks. They were bright at first, then went dim, and even with new batteries, they are still dim. They are junk. There is no way to get in touch with anyone to return them.

Bottom Line: No, I would not recommend this to a friend

---

Advertisement

---

Bait and switch website, BEWARE

WOW, I have used these products and have been largely satisfied all prior to this order, where I purchased from As Seen On TV vendors without any issues. I hopped and justifiably assumed I would get a better deal directly from the company and to an extent I did, that is until the cashout. You CANNOT apply any discount code and there will be no opportunity what so ever.

You will be offered a $10 discount on THIS ORDER if you provide your email address, you will not receive that and they will deny it, you will then be happily surprised to be told if you call this number that is provided you will receive a $20 discount on this order. That is a lie and simply a bait and switch to get you to give a credit card lock company authorization to take money until you demand they stop and you still never get the discount on this order. What you may get is a proposed check for $20 if you sign up for the card lock service, but guess what? You can't get it without putting in an order for an Atomic Beam product.

It's not a bad product, just very bad support. I was insulted twice and transferred four times in three hours of aggravation and no result. Such a shame. This is the new norm. BEWARE. And check your parent's and grandparent's orders always.

Bottom Line: No, I would not recommend this to a friend

---

Won't last long

Atomic Beam headlamp is a piece of junk. The first one I bought I bought at a drugstore that had a 90-day return policy. It lasted 93 days with somewhat frequent use, and then it refused to turn on.

It appears to be very poorly constructed. I lost that $20 but I bought another one, and a friend bought one, and another friend bought one, and they kept breaking so we kept returning them, using the same receipt. I guarantee you this product could be advertised as it won't last long because if you buy one it won't last long. I would recommend buying it from a drug store with a 90-day return policy because it will break within 90 days, if you're lucky, that way you can get your money back.

When it does work, it seems to work really good, but unfortunately, they seem to break even when you're not using them. You use them, and once you put them down, you go back a month later, and the thing won't work. And it's not the batteries.

Finally, I just took it back and got my money back. I bought a two-pack of headlamps at Costco that aren't as bright, but they are designed much better, and they actually work. The ads make it sound too good to be true, and it is because As Seen On TV is code for "this product doesn't work."

Bottom Line: No, I would not recommend this to a friend

---

Atomic Beam Headlights

By Walter C.

,

Georgia

,

Sep 3, 2018
Verified Reviewer

My review for the Atomic Beam Headlight is a poor rating, to say the least! For starters, this is my third headlamp from them. I am very displeased. This headlight has the worst design I have ever seen. I get it that Bulbhead wants to make a different design than the rest, but this headlight does not live up to the standard. I want Atomic Beam to know that they are making a terrible product regardless of the money. Oh and I got my third one for $10, that tells you how shady they are.

Bottom Line: No, I would not recommend this to a friend

---

Not for duck hunters

By Mark E.

,

Texas

,

Jan 11, 2019
Verified Reviewer

I received my Atomic Beam as a gift. I thought it would be great for my early morning ventures off to the duck blind. WRONG. It worked for about 15 minutes...leaving me in the middle of a knee-deep swamp...in the dark.

Bottom Line: No, I would not recommend this to a friend

---

Sad

By John C.

,

Ohio

,

Jan 26, 2019
Verified Reviewer

My dad bought me a light for Christmas. I used it three times. Never dropped it. Want to go use it. NOTHING. Somehow the wires are loose. Wiggling the wires it will flash off and on. I can't find the receipt. So I'm screwed. Went online. Found reviews. Well, guess what, I'm not the only person this has happened to. Fix your product.

Bottom Line: No, I would not recommend this to a friend

---

Save your money

By Chris T.

,

Illinois

,

Mar 17, 2019
Verified Reviewer

The absolute worst. I bought two. They both failed after a few weeks of use. DO NOT buy this piece of crap! Tried to contact...forget it! This is a SCAM COMPANY. Would never buy this ever again. So very disappointing. I need this for my job. Will go buy one at Home Depot.

Bottom Line: No, I would not recommend this to a friend

---

Works for a short time

By Ronald L.

,

Bourbonnais, IL

,

Mar 21, 2019
Verified Reviewer

Just another "As Seen On TV" piece of garbage!

I purchased Atomic Beam because it looked like a well-made product. WRONG! It quit working after a couple of times of use.

I've seen many other reviews with customers stating the same issue. I did not order it online or over the phone. It was purchased at a store where I could physically see it. It looked well made but, the internal components are not.

Bottom Line: No, I would not recommend this to a friend

---