Atomic Beam SunBlast Reviews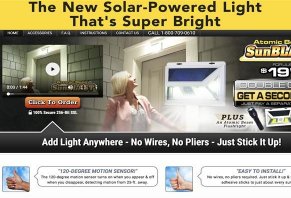 Atomic Beam SunBlast is a solar powered light that promises to stick just about anywhere, and uses two panels of high-powered LEDs to deliver super-bright light, wherever it's needed.
What Is Atomic Beam SunBlast?
The solar-powered Atomic Beam SunBlast claims to use industrial-strength adhesive to stick to just about every surface, including stucco, stone, wood, and siding, making it easy to install wherever you need super-bright light—without hassling with wires or pliers.
Additional features advertised on the website include a state of the art 120-degree motion sensor that picks up movement from 25 feet away, with a wide-angle design that covers much more ground, including the sides and in the front.
We're also told that its heavy-duty construction delivers weatherproof ability in the rain and snow, and that its built-in Lithium-Ion battery quickly recharges, even on a cloudy day, so you won't have to worry about replacing batteries or high electricity bills. Then, this battery powers two LED flat panels that the manufacturer reports are super bright and can last a lifetime without burning out.
Based on what we learned from the website and commercial, Atomic Beam SunBlast certainly seems to come with a lot of features. But is there any competition? And if so, how do they compare? From there, how can you choose the best option for your needs?
How Much Does Atomic Beam SunBlast Cost?
One SunBlast solar powered light is priced at $19.99, plus $7.99 S&H. During checkout, you can purchase a second unit for an additional $19.99 fee, as well as an Atomic Beam Flashlight for the same price.
Expedited handling is an extra $9.99. Note: The website emphasizes that since the product contains a Lithium-ion battery, it can't be shipped to P.O. boxes.
The ordering page also offers the opportunity to purchase a Deluxe SunBlast version for an additional $5 per unit, which claims to "shine brighter, illuminating a larger area in front of your door or side of your house."
We contacted multiple service representatives at 855-668-1655 looking for specifics (How much brighter does it shine? How much larger of an area will it illuminate?), although none were able to provide additional details.
All Atomic Beam SunBlast orders come with a 30-day satisfaction guarantee, less S&H, along with any fees associated with the additional products offered during checkout.
What Do We Know About the Company Behind Atomic Beam SunBlast?
As the largest company in the As Seen on TV industry, Telebrands (as well as their BulbHead retail division) has released hundreds of products over their more than 30 years in business.
Fairfield, NJ-based Telebrands held a B+ rating with the Better Business Bureau, as of 8/9/18. This was based on 27 customer reviews and more than 280 closed complaints, most of which revolved around ordering problems, lower quality than expected, and less-than-stellar customer service. A company representative responded in each instance.
Are There Other Stick-Up Solar Powered Lights Like Atomic Beam SunBlast?
After browsing popular online marketplaces like Amazon and Google Shopping, we didn't encounter anything designed exactly like Atomic Beam SunBlast.
However, we did come across a handful of models promising many of the same core features, including stick-up installation, motion sensors with at least 25-foot sensing ranges, heavy-duty weatherproof construction, Lithium-ion batteries, LED chips built into panels, and super-bright illumination. Here were some of the more popular choices:
| Brand | Price | Special Features |
| --- | --- | --- |
| Atomic Beam SunBlast | $27.98; $19.99 each additional light | 270° wide-angle sensor, 25 ft detection range |
| Swiftly Done Bright Solar Power Outdoor LED Light | $15, Amazon | Dim light remains on when no motion, which activates once detected |
| SolarBlaze Super Bright LED Security Lighting | $19, Amazon | Includes optional mounting screws |
| Zookki 82 LED Outdoor Solar Motion Sensor Light | $41 (two-pack), Amazon | Up to 1640 lumens (20 LEDs on each side), off switch in back, extra large solar panel, IP65 waterproof capability, 125° detection angle, 270° lighting angle |
| LITOM 24 LED Outdoor Solar Light | $32.99 (two-pack), Amazon | 24 LEDs, 200 sq. ft. illumination range, remains on for 20 seconds once activated |
Because this is just a small sampling of the potential competition, how can you choose which of these options will best meet your needs, before handing over your hard-earned money?
Houzz (writing as a contributor for Forbes) emphasizes that—ideally—you'll want to use solar powered spotlights and floodlights near doors, in the driveway, and even in the garden. But, because of the weaker illumination, these lights tend to put out (about that of a 40-watt incandescent bulb), you might want to double or triple-up on them to provide sufficient illumination for your needs.
Along these same lines, they recommend at least eight hours of direct sun per day in any location where you're considering a solar-powered light. Otherwise, the cells might not fully charge the batteries, resulting in weak, short-lived illumination after the sun goes down.
As with any other product, the price is usually a factor when choosing an outdoor solar light. And we can see from the table above that, at about $30 for one unit, Atomic Beam SunBlast is the most expensive close competitor in our list. On the other hand, customers can purchase two of the LITOM versions for about $16.50, each.
Finally, make sure that any company you do business with comes with a mostly positive customer reputation, and stands behind their products with at least a 30-day refund policy.
Is Atomic Beam SunBlast the Right Solar Powered Outdoor Security Light for You?
The fact of the matter is that Atomic Beam SunBlast comes with a meaningfully higher price than many competitors, and customer support wasn't able to provide additional insight into its essential specs (e.g., the number of lumens it emits, how long the light remains on after activation, the total square footage it will illuminate, etc.)
However, it also comes from a manufacturer with decades in the business and who has a mostly positive online customer reputation, as well as who offers a 30-day satisfaction guarantee on all purchases.
Just remember that if you're not pleased with its lighting performance, you'll immediately lose your original $7.99 shipping charge, as well as any fees associated with the BOGO or additional product offers—plus whatever it'll cost you to ship your light(s) back to Telebrands.
Piece of junk!

By Bill H.

,

Texas

,

Dec 9, 2019
Verified Reviewer

I bought this through Amazon. It lasted one week. One week wasn't worth the trouble of getting on the ladder and attaching it to the back eave of the house. Then, having to go back up and take it down to trash it. I do NOT recommend this item. Save your money and aggravation and get one a bit more expensive than actually works at your local Lowes, Home Depot or hardware store.

This purchase was a total waste. Don't buy one.

Bottom Line: No, I would not recommend this to a friend

---

Atomic Beam SunBlast

By Sanz G.

,

Nevada

,

Nov 2, 2019
Verified Reviewer

I installed the unit two weeks ago. I tested it three times the first week and it worked. But today, when I needed it, it's dead. I should have read the reviews first. A total waste of money!

Bottom Line: No, I would not recommend this to a friend

---

Advertisement

---

Don't waste your money

By Susan W.

,

South Carolina

,

Aug 20, 2019
Verified Reviewer

Worked great for 2 days, bright light where I needed to see when we come home at dark in bear country. Worked great for exactly 2 days, now nothing. A complete waste of money. Glad I didn't go ahead and get that second one.

Bottom Line: No, I would not recommend this to a friend

---

Very disappointed

By C S.

,

Virginia

,

Jul 18, 2019
Verified Reviewer

Bought Atomic Beam Super Bright solar light last September, upon receiving, opened it and checked, it worked but did not get it mounted outside until a month ago. Worked great for about 5 days, was considering getting another and then it just stopped working completely. It is also where I have solar lights in the ground and I have no problems with them recharging. Pulled it down and let it sit where it is constantly in the sun, still nothing. Call customer service and for another $4.99 said they would replace it. Then I read the reviews and since it seems to be a constant problem I don't think I need to spend another dime. Don't generally buy things I see on TV and won't again.

Bottom Line: No, I would not recommend this to a friend

---

Advertisement

---

Complaint

By Martha M.

,

Arvada, CO

,

Jun 17, 2019
Verified Reviewer

I have purchased about ten of these lights for my backyard; however, only four are working. I installed them according to the instructions, receiving sunlight daily. I have to say I was very excited at first about these solar lights but unfortunately, I am now an unsatisfied customer.

Bottom Line: No, I would not recommend this to a friend

---

Do not buy this product

By Walter R.

,

Illinois

,

Jun 14, 2019
Verified Reviewer

I bought one of these lights to cover a dark outside stairway. It's on the southern side of the house and gets full sun almost all day long. Initially, it worked great. At dusk, it would light up as I went up or down the stairs to my back door. Unfortunately, it stopped working after about 4 months, and it no longer lights up.

It is past the 30-day warranty period so they will do nothing about it. I now find many reviews with others having the exact same problem.

Bottom Line: No, I would not recommend this to a friend

---

Ordered 2, and ordered 2 more!

By Paul C.

,

Mardela, MD

,

Apr 23, 2019
Verified Reviewer

I purchased two more of the "Deluxe" Atomic Sunblast lights! It's very dark living in the country. When placing each light, they have FULL sun coverage during the day, at my home that has NO TREES. I have a 1/2 acre lot! When I open my backdoor, which is approximately 50 feet away, it triggers the motion sensor and turns the light on! Total purchase to date - 4! Be sure to SET the tiny switch on the back; of EACH light! Especially, if you use the 3M Adhesive to mount. My being a senior citizen, these lights are very helpful to me, they enable me to see in complete darkness (as they DO light up the night) while living in a rural area of the county!

Bottom Line: Yes, I would recommend this to a friend

---

DOA

By Ken R.

,

Florida

,

Apr 15, 2019
Verified Reviewer

Light came on when first set up for a test. Then never worked again. I checked online, seems to be a common problem.

Bought it on eBay, came in original sealed packaging. YouTube has lights being tested, same problem. Should have watched YouTube before I purchased. One tested opened his up and determined that the battery was bad. Does anyone know where to buy the batteries?

Bottom Line: No, I would not recommend this to a friend

---

My Atomic Beam SunBlast experience

By Bruce H.

,

Tennessee

,

Apr 7, 2019
Verified Reviewer

I received two SunBlast lights in October of 2018. I installed one in November, it failed in February. I replaced it with the second one yesterday. There is no warranty beyond 30 days. Don't waste your money with these people.

Bottom Line: No, I would not recommend this to a friend

---

Atomic Beam customer

By Linda F.

,

Oak Forest, IL

,

Mar 28, 2019
Verified Reviewer

It was great while it worked, only a few months. I called the company and said the warranty was only 30 days. Why does it say it lasts a lifetime? It does not. Will not recommend to anyone.

Bottom Line: No, I would not recommend this to a friend

---

What a SCAM product, no vendor support

By Joseph B.

,

Florida

,

Feb 26, 2019
Verified Reviewer

To date, I have bought a total of seven of these units (both for myself and some friends), all which have failed between 12 to 48 hours after initial use. Took the units off and tried them again in the house and still they were DEAD! Vendor will not do anything unless they are returned in their original packaging. These units are a piece of junk and the FALSE ADVERTISING on TV should be removed, period.

Bottom Line: No, I would not recommend this to a friend

---