Atomic Beam USA Reviews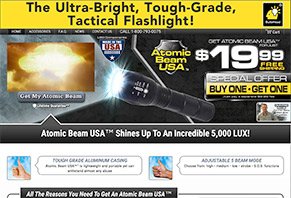 Atomic Beam USA Flashlight promises to deliver the same tactical technology used by U.S. Special Forces, along with five adjustable modes, all at a competitive price.
About Atomic Beam USA
The Atomic Beam USA tactical flashlight uses ultra bright LEDs to shine up to 40X brighter than ordinary flashlights, and features a tough-grade aluminum casing that claims to withstand extreme conditions.
At just a little over 5" long and less than 1.5 pounds, Atomic Beam promises to implement the same tactical technology used by U.S. Special Forces, plus a beam that can be adjusted between high medium, low, strobe, and S.O.S.
And since it shines up to 5,000 lux and features a 2,000X zoom function, the manufacturer tells us that Atomic Beam is "one of the most powerful flashlights on earth."
Let's cut to the chase: You don't have time or extra money to purchase something that won't deliver value, so let's find out if Atomic Beam will be your next tactical flashlight.
Does Atomic Beam USA Feature U.S. Special Forces Tactical Technology?
Compared to their civilian brethren, tactical flashlights are generally much brighter. Why?
Instead of just illuminating an area, they're also supposed to temporarily stun/blind a person at the receiving end. In addition, tactical flashlights feature strong, yet lightweight, construction, with the on/off switch situated in the tailcap and the ability to be mounted to a firearm.
Based on these characteristics, except for this last bit, it seems like Atomic Beam matches the broad definition of a tactical flashlight. Before moving on though, we need to explain why not all tactical flashlights are created equal.
How Bright Is Atomic Beam?
There isn't a standard light output for tactical flashlights, but there is a standard unit of measure to convey this output, which is something known as lumens (tactical flashlights can range anywhere between 60 and 1,000+ lumens).
However, the manufacturer only tells us that Atomic Beam outputs 5,000 lux—and, without knowing the square footage of the area where this measurement was taken, we can't convert this number into lumens.
Ultimately, the company doesn't really provide any useful numbers we can use to gauge Atomic Beam's real-world power and compare it to the competition (or confirm that it's 40X brighter).
How Tough Is Atomic Beam?
In the Atomic Beam commercial, we see the flashlight dropped from dozens of feet in the air, after which the spokesperson picks it up and finds that it works just fine. This is known as impact resistance, which measures how well a flashlight can withstand a drop to concrete from a specific distance.
While there's no standard impact resistance that a flashlight must meet in order to earn the "tactical" distinction, most are warrantied between 1 and 3 meters (about 3-9 feet).
What about those demonstrations where Atomic Beam was enclosed in ice or pulled from boiling oil? Again, neither of these are requirements for a tactical flashlight designation, but it's a demonstration we've seen more than once, and doesn't seem to be unique to Atomic Beam.
Either way, we wouldn't expect any tactical flashlight to work for very long when exposed to similar repeated abuse.
Now, let's talk about Atomic Beam's price.
How Much Does Atomic Beam Cost?
When checking out on the Atomic Beam website, you'll be presented with two options:
Main Offer: $19.99 plus free shipping for the first Atomic Beam. Get a second for an additional $9.99 fee.
Deluxe Offer: Includes one Atomic Beam tactical flashlight, plus a rechargeable battery and charger, hands-free tactical headband, and reinforced nylon carrying case: One for $39.98, two for $59.97.
Atomic Bundle: One Atomic Beam USA Flashlight, Lantern, and Headlight: $$59.99 plus free S&H.
Regardless of which option you choose, you can add an Atomic Beam Lantern and an Atomic Beam Headlight for an additional $19.99 each.
You can also purchase the accessories found in the Deluxe package individually:
Expedited Handling: $9.99
Rechargeable Battery & Charger: $12.99
Reinforced Nylon Carrying Case: $9.99
Hands-Free Tactical Headband: $7.99
Regardless of which option you choose, all orders come with free shipping, as well as a 30-day refund policy, less S&H.
Pro tip: Keep in mind that the $9.99 fee for the second Atomic Beam in the Main Offer technically counts as shipping, so you'll immediately lose it when requesting a refund. You'll also be required to pay return S&H.
All Atomic Flashlights come with a lifetime replacement guarantee. Here's how the company puts it in their commercial: "If it ever breaks, for any reason, you get your money back."
In order to request a refund or cash in on your replacement guarantee, you'll need to call BulbHead (a division of Telebrands) customer service at 855-668-1655.
How does this price compare to the competition?
Are There Other Tactical Flashlights Like Atomic Beam?
Since you're reading this review, you probably already know there are literally hundreds of other tactical flashlights like Atomic Beam.
If not, you can quickly find out by searching for the term on your favorite search engine. We've even reviewed other ASOTV versions like TacLight by Bell + Howell and Stonehawk X800.
When you search online or read our other investigations, you'll find that in many instances, these tactical flashlights are almost indistinguishable from Atomic Beam.
In other words, they'll generally share the same important features, like high lumens (usually between 600 and 1,000), rechargeable batteries (that you don't have to pay extra for), sturdy construction, and multiple modes/zoom features.
One area most of these other options can't compete, though, is price. Whereas one Atomic Beam flashlight comes in at about $20, some models from the competition can reach $80 or more.
But just because it's less expensive, does this mean that Atomic Beam will provide a better value? Let's find out what we learned during our testing.
We Put Atomic Beam USA to the Test
Initial Impressions & Functionality: When we received Atomic Beam, we found it packaged well with a sturdy aluminum case, although it arrived with some very minor scratches on the black aluminum, as well as around the LED light bulb.
We thoroughly tested the claims of the Atomic Beam USA. To find out what we experienced, be sure to watch the video below:
For more product tests and reviews: Click here to subscribe to HighYa's YouTube channel.
After unboxing, we installed three AAA batteries (not included) by unscrewing the endcap and inserting them into the cradle. Atomic Beam's on/off button is located on this same endcap, which also allows you to scroll through the different beam modes.
Note: The manufacturer makes a fairly big deal out of the fact that Atomic Beam is made in the USA, although we learned that only some critical internal components meet this claim, while the flashlight is assembled in China.
Testing Atomic Beam's Claims
Brightness: We found that all of Atomic Beam's modes worked as advertised. To zoom in and out, we pulled both ends of the flashlight away from each other. Atomic Beam covered quite a large area when fully zoomed out.
With the exception of button colors and brand markings, TacLight (which we also tested) and Atomic Beam looked and felt identical. Performance-wise, however, TacLight was a great deal brighter.
In fact, in one test where TacLight fared well, we found that Atomic Beam was barely visible.
Waterproof Capability: We turned on Atomic Beam and submerged it in room temperature water for about five minutes. After removal, we found a small amount of water had seeped in through the bezel and into the lens, although it was completely dry inside the battery casing.
In the end, Atomic Beam is only water resistant (although the manufacturer doesn't claim otherwise) and shouldn't be left in the water for an extended time.
Extreme Temperature: To simulate the grease test, we held Atomic Beam over a gas burner for a few minutes, after which point it stopped working. The on/off button's rubber became so soft that it fell into flashlight and was no longer functional.
After allowing time for it to cool off, we took Atomic Beam apart and found that the heat melted the battery cradle and damaged the batteries themselves. We had also melted part of the lens and caused small bubbles to develop.
Because it was ruined, we couldn't simulate the ice test in Atomic Beam's commercial.
Granted, some of these tests were pretty extreme and likely wouldn't occur in many real-world scenarios, so be sure to factor that into your decision.
Given everything we've learned here, what's the bottom line about Atomic Beam?
Is Atomic Beam a Good fit?
Telebrands (including their Bulbhead division) is the largest company in the ASOTV industry, so they're definitely not a scam (although based on a 2014 lawsuit by the NJ Attorney General's office, they might not always operate in the best interests of their customers).
However, in order to keep your expectations realistic about Atomic Beam, we think there are a couple more important facts you should consider:
Is Atomic Beam Useful for Self Defense?
In the Atomic Beam commercial, we saw a woman quickly hold up Atomic Beam's strobe mode to fend off a would-be attacker, who immediately runs off. How realistic is this?
As we outlined above, since there's no way to measure Atomic Beam's lumens, we can't know how well it would blind an attacker.
However, assuming it features the same number of lumens as other tactical flashlights, it might be possible to temporarily stun an attacker—just remember that you'd have to keep your hand on the flashlight's button at all times in order to react so quickly.
Also, our Atomic Beam flashlight was meaningfully dimmer than a competing model, so we think it would have been much less likely to stun an attacker.
Given this, unless you're using a tactical flashlight like Atomic Beam alongside a firearm, with think it's doubtful that an attacker would react so strongly to a simple flashlight.
Who is Hunter Ellis?
Hunter Ellis is a former Navy aviator and FedEx pilot, who also appeared on the reality TV program Survivor: Marqueses during 2001-2002. Since that time, Hunter has worked as a news anchor, television host, and general on-screen personality.
While Mr. Ellis might have some star power, remember that just because a celebrity endorses a product, this doesn't mean they use the product—or that it's necessarily any good.
What Are Customers Saying?
Since writing our original article, 60 HighYa readers have provided their feedback about Atomic Beam USA, giving the flashlight an average rating of 2 stars.
Most compliments appeared to reference competitive price, good value for the money, and solid customer support. On the other hand, common complaints related to less-than-stellar quality (more than one claimed they didn't work out of the box) and long shipping times (2+ months in some instances).
The Bottom Line About Atomic Beam
Based on its feature set and price, it's admittedly difficult not to immediately hand over your money for Atomic Beam. After all, it seems to have all the key features you'll need for a tactical flashlight, including rugged construction (although there's no formal definition for "tough grade"), a bright light (although we can't know how bright), and multiple settings.
Given the reputation of ASOTV products however, this low price might not ultimately translate into a solid value. After all, you'd probably be willingly pay a little more for something that could potentially last years longer, right?
From this perspective, there's little doubt that other Bulbhead products (a division of Telebrands) have provided tens of thousands of customers with the value they were seeking. Will you achieve the same will Atomic Beam?
The only way to know for sure is by placing an order or visiting a local retailer with a dedicated ASOTV section.
At minimum though, we think you should check out this tactical flashlight buyer's guide before making a final decision.
Talk all about your Atomic Beam experience by writing a review below!
203 out 216 people found this review helpful

Basically a SCAM.

California

,

Jul 13, 2016
Verified Reviewer

This flashlight is available on ebay for $3.50 DELIVERED to your door. Granted, It comes from China, Hong Kong, etc. so the shipping time is at least 10 days. But, The flashlight comes without batteries. The Flashlight requires an 18650 Li-ION battery. A quality battery costs $10.00 and up. A potentially Fake, dangerous junk battery can cost $2.00. Then, you need a charger. Again, if you want junk that can potentially catch fire, another $2.00~$5.00. I use a quality charger by Xtar and it is $25.00. I have sold many flashlights on ebay and Amazon. This flashlight is just an average, nothing special.

The flashlight uses a Cree T6 emitter. Cree claims the following:

Draw: (normal) 700mA 280~300 Lumens. If you put in higher voltage battery and force more power the following:

1000mA 358~385 Lumens
1500mA 507~546 Lumens
3000mA 845~910 Lumens.

I seriously doubt that this flashlight has been put in a Lumens Sphere and tested with certifiable results.

This is an ok flashlight. But, consumers need to be aware that the batteries are dangerous, not readily available and any retail store except perhaps Fry's electronics, or a specialty battery store.

The actual cost to get the Flashlight with batteries and a charger can get rather expensive. Is the charger a high quality item? Li-ion Batteries are very susceptible to over heating and catching on fire or explode. There is a reason why Sears, Kmart, Target, Walmart etc. don't offer this kind of flashlight. It is a HUGE liability.

Protected batteries are available, but quality ones such as Panasonic cost about $20.00 each. A protected battery prevents over charging, draining too quickly and makes the battery repetitively safe. The average person should not be buying this kind of Flashlight. There are HIGH power LED flashlights that use conventional batteries and are significantly safer. Dorcy is one manufacturer that makes a high performance LED flashlight that uses 6AAA batteries. And, there is no hassle of a charger. The batteries are available everywhere and no safety concerns.

Make sure this is really the kind of flashlight you want. I use exclusively Flashlights that use 18650 batteries. But, I have an expensive charger and quite a bit of experience with the batteries. I would not recommend this kind of flashlight for the average flashlight user.

Bottom Line: No, I would not recommend this to a friend

---

137 out 145 people found this review helpful

Hidden Charge

I ordered this and they said get two and pay a separate fee/free shipping. The original price of the first one was $19.95. The "separate fee" price ended up being $50.00! What a rip off. Buyer beware is all I got to say.

Bottom Line: No, I would not recommend this to a friend

---

Advertisement

---

76 out 78 people found this review helpful

Bad customer service. Can't understand them, they talk too fast.

By Bruce Zarfos

,

Omak, Washington

,

Aug 23, 2016
Verified Reviewer

I ordered the combination pack, buy one get second one for 9.99. They sent me two separate flashlights charging 19.99 a piece. OK, maybe a mistake, I will loose 10.00 dollars. Next I received my bank statement, well I was charged for two more flashlights 39.99. I tried to get some answers, not happening. Would not let me speak to someone I could understand. How do they sleep? All I can say is good luck.

Bottom Line: No, I would not recommend this to a friend

---

66 out 68 people found this review helpful

Lost my money

By Wayne

,

Portland, OR

,

Sep 7, 2016
Verified Reviewer

They put 2 charges on my credit card, one on 8/19 and another on 8/23. They had told me that the second charge would be reversed. As of 8/28 it still has not been. I ordered 1 charger, they shipped and charged for two. When I complained about the overage of $14.99, they gave me a credit of $10.00. So at this time, I am still out $64.95.

On my second call to customer care, the agent was totally condescending and arrogant in his tone and comments, even yelling at me. Would not listen to what charge I was calling about. I would never order from this company again!

Bottom Line: No, I would not recommend this to a friend

---

Advertisement

---

64 out 66 people found this review helpful

No good

By Paul Esty

,

Carteret, NJ

,

Sep 10, 2016
Verified Reviewer

Looks like a nice product, very bright. But the switch broke after one week. The Atomic Beam people were absolutely unresponsive when I tried to contact them to learn how to fix it. Don't buy anything from Atomic Beam.

Bottom Line: No, I would not recommend this to a friend

---

64 out 64 people found this review helpful

B.S.

Ordered the flashlights and took months to receive. When they arrived we charged the batteries and guess what. Nothing happened. Read and reread the instructions still nothing. We will be returning them. An expensive lesson learned.

Bottom Line: No, I would not recommend this to a friend

---

77 out 80 people found this review helpful

A really screwed up offer

By Jimlp1

,

Albuquerque, NM

,

Sep 22, 2016
Verified Reviewer

I placed an order on July 2, 2016, for two flashlights, a charger and an extra battery for a total of $42.97. Referred to www.GetOrderStaus.com for order status, it never found the order and it said please allow 3 to 6 weeks for delivery. On August 6, 2016, I received a postcard in the mail stating that my order had been "Back Ordered" and to allow another 30 days for shipment. On Sept. 2, 2016, I checked my order again at the above GetOrderStaus.com, it said that my order was "Canceled"! I called Customer Service and asked who had canceled my order, they stated that they did because they didn't have any in stock. I said NO it was back ordered. They asked if I wanted to place another order and wait for another 3 to 6 weeks. I told them no.

Bottom Line: No, I would not recommend this to a friend

---

69 out 70 people found this review helpful

Crap

My son bought one at Walmart and dropped it in the doorway and it wouldn't come on and the lens cracked. He had it for one week. In the commercial, they drop it from a helicopter at like 100 feet and it still worked. This is bull crap.

Bottom Line: No, I would not recommend this to a friend

---

58 out 67 people found this review helpful

Pissed

By Melissa

,

Cincinnati, OH

,

Oct 23, 2016
Verified Reviewer

The commercial and website states it was made in the USA. However, clearly on the package it says it is made in china I expected a product made in the USA. I am getting a lawyer and I am going to sue . By emailing and calling, no one answered my questions, I am not happy.

Bottom Line: No, I would not recommend this to a friend

---

50 out 50 people found this review helpful

Problems not being able to understand sells people.

I placed an order on 11-5-2016, due to the fact I couldn't understand how this sells, I expected $19.99 but to my surprise, they had billed my bank $104.94. I talked to Max in customer service, he said it was canceled but is pending charge to account is still showing.

My 67 years hasn't taught me to spot a scam.

Bottom Line: No, I would not recommend this to a friend

---

39 out 41 people found this review helpful

I would definetly not recommend this flashlight

By Roy McKelvey

,

LaGrange, Ga

,

Nov 28, 2016
Verified Reviewer

I ordered 2 lights off of the TV commercial, but I received 3 and was charged for 3. No real problem, but I have had them only about 2-3 months and 2 of the 3 no longer work.

The button that turns them on. sunk into the light and is unable to turn them on.

This is a cheaply made light. I am sure the military would never use this light. I am sure they would require a more dependable product.

I would strongly advise anyone to purchase a more dependable product than the Atomic Beam.

Bottom Line: No, I would not recommend this to a friend

---