Atomic Charge Wallet Reviews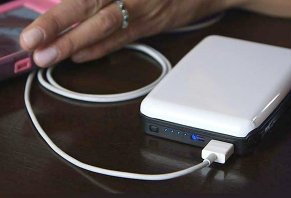 Atomic Charge wallet features a durable aluminum case with RFID blocking technology, a rechargeable battery for your devices, and the ability to hold your belongings.
What Is Atomic Charge Wallet?
With a sleek design, rugged aluminum casing that can withstand shocks and drops, stay-dry water resistance, and even the ability to instantly revitalize your phone, Atomic Charge Wallet promises to be "the best wallet you'll ever own."
The wallet is also lined with RFID blocking technology that can help keep your credit cards safe from electronic thieves, and its accordion design allows it to easily store all your pictures, cash, and credit cards. According to customer service, it comes with two USB 3.0 ports.
Despite all of this, Telebrands tells us that Atomic Charge Wallet is so slim and lightweight that you can easily slip it into your pocket or purse.
While our smartphones have swiftly become smarter, it sometimes seems the battery technology hasn't caught up, leaving us constantly on the verge of running out of power.
But is the Atomic Charge Wallet a practical solution to the problem? Can you expect it to deliver on all the claims made in its commercial?
Keep reading, and we'll discuss everything we learned during our research so you can find some answers to questions like these—starting with what you'll pay.
How Much Does Atomic Charge Wallet Cost?
Available in four colors (black, silver, white, and red), one Atomic Charge Wallet will cost you $19.99, plus free shipping. During checkout, you'll be able to purchase a second for an additional $9.99 fee.
Regardless of the number you order, all wallets come with a 30-day refund policy, less S&H. Keep this in mind if you plan on ordering the BOGO offer.
In order to request a refund, you can call Telebrands customer support at 855-668-1655.
How does this compare to other charger wallets?
Does the Atomic Charge Wallet Have Any Competition?
Perhaps the quickest and easiest method of checking out Atomic's competition is by typing phrases like "charger wallet," "smart wallet," and "battery wallet" into the search engine of your choosing. These include:
| Product | Price | Power Capacity | Special Features |
| --- | --- | --- | --- |
| Atomic Charge Wallet | $20 | 2000 mAh | RFID blocking, Accordion interior, Water resistant |
| Halo Power Wallet | $20 | 3000 mAh | RFID blocking; MicroUSB, lightning cable, and 30-pin adapter, looks more like a traditional leather wallet |
| Nomad Wallet | $50 | 2400 mAh | Traditional bifold design and no thicker than the average wallet |
| Power Wallet | $40 | 2500 mAh | 10 card slots, Full-length bill compartment |
| Fossil Charging Wallet | $70 | 4000 mAh | Leather exterior, zip compartment |
These are just a sampling of your options, which come in just about every imaginable size, shape, color, and design. Given this, how can you choose the right option for you?
How Many Times Will Atomic Wallet Recharge Your Phone & How Fast?
Outside of price and your specific tastes and preferences, the core functionality difference between your various options lies in how much of a charge they can hold. This storage potential is measure in milliamps (mAh).
Another—perhaps more—important number in this instance is the capacity of your device's battery, since this will directly impact how much of a recharge your Atomic Charge Wallet (or any other wallet charger) will provide.
For example, the capacity of onboard batteries found in popular smartphones and tablets can range between 1810 mAh and 10255 mAh. In turn, this means that a 3000 mAh battery (about the same capacity as a traditional AA) could recharge one of these devices between 0.3 and 1.5 times—a fairly big difference.
How long might this take, though? This also depends on the device you're charging, along with the battery's output current (which is information that customer service couldn't provide).
Taken together, we can see that Atomic Charger Wallet's claim to double the life of your device can depend on many factors. Also, we think it's important to keep in mind that the wallet's claim to instantly revitalize your phone doesn't mean it will instantly recharge it to full capacity.
What about the RFID technology used in the wallet?
How Might Atomic Charge Wallet's RFID Technology Benefit You?
Here's how the RFID Journal explains the concept behind radio-frequency identification technology:
This is "a generic term for technologies that use radio waves to automatically identify people or objects. There are several methods of identification, but the most common is to store a serial number that identifies a person or object, and perhaps other information, on a microchip that is attached to an antenna (the chip and the antenna together are called a RFID transponder or a RFID tag). The antenna enables the chip to transmit the identification information to a reader. The reader converts the radio waves reflected back from the RFID tag into digital information that can then be passed on to computers that can make use of it."
In overly simplistic terms, you might think of RFID as an over-the-air barcode. Among others, this technology has made its way into credit cards, allowing cardholders to simply brush them against a specialized reader at the register, without swiping.
Over the past couple years, as criminals have become increasingly tech-savvy, they've started using modified scanners to 'read' the sensitive information stored in the RFID chips in peoples' cards, simply by passing within a few feet. In other words, they can digitally pick-pocket your information without ever touching your belongings.
In response, thousands of specialized wallets—Atomic Charge Wallet included—have hit the market that promise to impede the signals emitted by RFID chips. How? Often by enclosing them in metals like copper and nickel.
Now, let's take everything we've learned and come to a final conclusion about Atomic Charge Wallet.
What's the Bottom Line About Atomic Charge Wallet?
While you'll find plenty of aluminum-shelled, waterproof wallets from third-party manufacturers, along with others that feature built-in batteries or accordion interiors, we didn't encounter any others that combined all three like Atomic Charge.
In other words, if you're looking for something exactly like it, it seems to currently be the only game in town. However, if you have some flexibility in your needs and preferences, other options could meet your needs equally well.
For example, while Atomic Charge had one of the lowest prices among the competition, its battery also featured the lowest energy capacity. And while its hard-shell exterior might be ideal for those who need a rough and tumble wallet, it might not exactly be comfortable to wear it in your pocket and sit on.
So, if that's your preference, you might look for something with a more traditional design, although it seemed you'll pay a higher price.
If you feel like testing out the Atomic Charge Wallet, though, Telebrands stands behind it with a 30-day refund policy. Just keep in mind you'll need to pay to ship it back to the company, and that you'll lose your initial S&H fees if you chose the BOGO offer.
Atomic Wallet

By Ryan S.

,

Georgia

,

Jan 9, 2019
Verified Reviewer

I bought the Atomic Wallet from a store and it won't even stay on long enough to charge my phone. And like everyone else said there is barely any space inside. I've only had it a weak and showing signs of dents and stuff like that.

Bottom Line: No, I would not recommend this to a friend

---

31 out 32 people found this review helpful

Sleazy company

By Tony Himes

,

Albuquerque, NM

,

Dec 4, 2017
Verified Reviewer

I went on to their website and filled in my information to order but NEVER clicked the submit button. In a few weeks, this package arrives and I didn't know what it was. Turns out it was the Atomic Charge Wallet!

The wallet is a piece of crap. It holds only credit cards. Anything slightly bigger won't fit and you can't take the inside separators out.

I called their number to complain. I got this obnoxious Indian fellow. Swore up and down it was my fault even though I never placed the order. He wouldn't listen to reason. Kept placing me on hold. Wouldn't let me talk to a supervisor. Always an excuse and it was my fault.

I had to return the crap at my expense. Then they wouldn't refund the full amount. I got stuck with the shipping and handling.

DON'T DO BUSINESS WITH THESE CROOKS. I don't know why the FTC doesn't put companies like this out of business.

Bottom Line: No, I would not recommend this to a friend

---

Advertisement

---

35 out 35 people found this review helpful

This wallet sucks

By Your Mama

,

New Bedford, MA

,

Oct 18, 2017
Verified Reviewer

I bought the Atomic Wallet and gave the free one to a friend. This wallet DOES NOT hold all the credit cards and cash it claims it can! And the accordion design broke, so this card is a complete joke. DON'T waste your money on this piece of crap! I regret wasting my money and can't even get a full refund now. It is only good as a battery charger, and even if at that, the charge doesn't hold that long either.

Bottom Line: No, I would not recommend this to a friend

---

19 out 22 people found this review helpful

Doesn't hold much cards

New York

,

Oct 10, 2017
Verified Reviewer

For one, I love the charge wallet. My only drawback is that the space to hold the cards is limited I have seven cards, and I have to force-close it. That's the only drawback. Apart from that, it's lovely and very convenient and gives a good charge once it's charged up properly. It could be made with a little more space. I think if the maker goes back to the drawing board, they will figure something out. That's the reason I gave 3 stars.

Bottom Line: Yes, I would recommend this to a friend

---

Advertisement

---

23 out 29 people found this review helpful

Almost, but not quite!

The wallet does charge my phone and it charges fairly quickly. The web page for the product is a bit misleading. It makes it appear as if you stuff 8 or 10 credit cards, cash and photos. You can, but it won't close. One credit card in each slot and two, maybe three money bills, is about all you can do.

Bottom Line: Yes, I would recommend this to a friend

---

95 out 96 people found this review helpful

Atomic Charge Wallet - misleading

By David Ang

,

Norwalk, CA

,

Aug 29, 2017
Verified Reviewer

I bought the Atomic Charge Wallet after seeing the ads on TV multiple times. My chief complaint is about the capacity inside the accordion wallet itself. I have two credit cards, my ID, and two membership cards inside. If I put more than two folded bills inside, the case won't close.

Also, the shell is not built very well. I've barely had it two weeks and it shows signs of separation in two places. The concept is a good one, but the design itself leaves a bit to be desired.

Bottom Line: No, I would not recommend this to a friend

---

Advertisement

---