Atomic Cool Reviews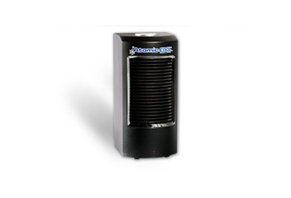 Atomic Cool is a portable tabletop evaporative cooler that comes with useful features like a digital thermostat, a built-in filter, and the ability to cool up to 50 square feet.
About Atomic Cool
Atomic Cool is advertised as an innovative, powerful, lightweight, and ultra-portable cooling system that uses H2O Cool Fusion Technology to pull in hot air and convert it to cool air, while costing a fraction of the price of traditional air conditioners.
Based on what we learned from the website, this technology involves a combination of an evaporative water filter, a digital thermostat for precise control over temperature, and the ability to cool up to 50 square feet, whether using a cord or powered by four D batteries.
Together with its portability, the manufacturer tells us that Atomic Cool can be an ideal solution at home in the bedroom, during daily bathroom routines, or in work areas, as well as at the office.
But will it work for your needs? Let's start by addressing the device's price and manufacturer before delving deeper into this important question.
How Much Does Atomic Cool Cost?
One Atomic Cool device will cost you $39.99 plus $9.99 S&H, while a second can be purchased during checkout for an additional $19.99 fee.
Telebrands backs all orders with a 30-day satisfaction guarantee, less S&H, as well as a 10-year warranty. Support can be reached at 855-668-1655.
More About Telebrands
Telebrands is considered one of the originators in the As Seen on TV industry, with more than three decades in business and hundreds of products released under their name.
Telebrands held a D+ Better Business Bureau rating, based on 29 total customer reviews (28 of which were negative) and more than 320 closed complaints, as of 2/20/18.
Most of these referenced product problems and customer support difficulties, although a representative provided a solution in most instances.
Atomic Cool vs. the Competition
Let's briefly take this step-by-step:
The Basics of How Evaporative Cooling Works
The U.S. Department of Energy explains that the process behind evaporative cooling is relatively straightforward: as water evaporates into the air, it draws heat with it, thereby providing a cooling effect.
It's the same basic principle behind how our skin perspires to decrease body temperature when we're too hot.
Climate & the Effectiveness of Evaporative Coolers
While evaporative coolers can feature a variety of designs, most function using a fan to draw in air, pass this air through a damp filter, and then blow the cooler, more humid air out through the other side. Using this method, they go on to tell us that evaporative coolers can typically decrease air temperature by anywhere between 15°F and 40°F.
But, here's the biggest thing to keep in mind: Since the effect provided by devices like Atomic Cool depends solely on increasing indoor humidity, they work best in hot, dry climates. In other words, if you live in a humid climate, an evaporative cooler might provide little-to-no benefit.
Determining Your CFM Needs
The other factor emphasized by the DoE is that most evaporative coolers are larger units (whether installed in windows or as part of a central HVAC system) that output anywhere between 3,000 and 25,000 cubic feet per minute (CFM) of air.
How much do you require? This is as easy as multiplying the square footage of the space you want to cool by the height of the room's ceiling, and dividing by two. So, if you need to cool a 100 square foot room with 10-foot ceilings, you'd need an evaporative cooler capable of outputting at least 500 CFM.
With these important details as our foundation, let's see how Atomic Cool stacks up against the competition.
Are There Other Portable Evaporative Coolers Like Atomic Cool?
While you'll certainly encounter a number of mid-sized evaporative coolers priced between $250 and $600, as well as window and central units for $750+, there aren't a whole lot of tabletop models competing directly with Atomic Cool. However, we did encounter a couple of options.
Perhaps the closest two were Arctic Air, another ASOTV product designed meaningfully different than Atomic Cool, but that makes many of the same marketing claims and comes with several of the same core features (built-in filter, digital thermostat, etc.). It's also priced the same at $39.99, but comes with free shipping, as well as a potentially useful LED nightlight feature and built-in timer.
Perhaps the biggest difference is that the manufacturer doesn't indicate Arctic Air's CFM (we even called customer service attempting to learn more), while Atomic Cool clearly specifies that it's capable of cooling up to 50 square feet.
Another similar—but lower-priced—option was the $22 Kool-Down Evaporative Cooler, which comes with a similar sized water tank and adjustable air vents, and is powered by four C batteries (versus Atomic Air's more expensive D batteries). Again, no square footage or CFM measurements were provided by the manufacturer.
Jumping up in price quite a bit is the Honeywell Indoor Evaporative Cooler ($139+, 300-470 CFM), the Evapolar Personal Cooler ($175, up to 45 square feet), and the Vornado Evaporative Humidifier ($90, up to 500 square feet).
How does all of this factor into your decision regarding Atomic Cool? Let's wrap things up while answering this final question.
Our Bottom Line About Atomic Cool
When it comes to personal indoor evaporative coolers, based on what we learned about competing models during our research, it seems that the greater your CFM needs, the higher price you'll pay.
With this said, if you only need to cool a very small space (such as a small bathroom or even a large closet, for example), the minimal output provided by a device like Atomic Cool might meet your needs—but only if you live in a relatively hot, dry climate.
Even then, we think it's important to maintain realistic expectations. For example, in Atomic's commercial, a woman is shown using the device in the bathroom while blow-drying her hair.
Although we'd imagine this might deliver some measure of cooling, we think the hot air from the dryer might more than cancel out any benefit it provides. Speaking of which, if the bathroom was humid after someone just took a shower, the high dew point might cause the evaporative cooling to not work at all.
Finally, we called and spoke with several customer support representatives looking for more information about Atomic Cool's:
CFM output and noise level (in decibels)
How long it will last when not plugged into an outlet
What kind of replacement filters it uses, whether or not the manufacturer carries them, and if so, how much they cost
Although none were able to provide additional insight, Telebrands seems to stand behind Atomic Cool with a 30-day refund policy if you find it's not right for you. Remember, though, that you'll lose your initial $9.99 S&H, plus whatever it will cost to ship the device back to the manufacturer.