Atomic Light Angel Reviews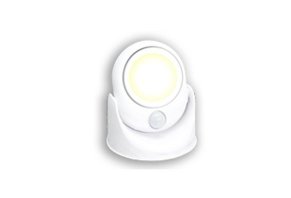 Using a technologically advanced motion sensor, Atomic Light Angel automatically turns on and off, with bulbs that can last 100,000 hours and indoor/outdoor functionality.
About Atomic Light Angel
Atomic Light Angel is a cordless LED that uses a super-adhesive strip to stick anywhere and light your path, regardless of what Mother Nature throws at it.
It also comes with a lamp head that swivels 360 degrees back-and-forth to direct this light where you need, motion activation that automatically turns off after 30 seconds, and COB LED panels that shine at 460 lumens and last up to 100,000 hours. Simply peel and place anywhere you need, whether your front door, back door, side entrance, or in your shed or attic.
Are you looking to figure out if Atomic Light Angel really will deliver the perfect amount of light exactly where you want it? Keep reading, and we'll quickly cover everything we learned during our research.
How Do Motion Activated Models Like Atomic Light Angel Work?
LEDWatcher.com explains that motion activation doesn't reference just one technology. In fact, there are three main categories:
Infrared – Monitors changes in heat generated by humans, animals, or vehicles.
Optical – Video cameras work by "algorithmically comparing images. When someone walks into the room, the picture and pixels changes and a special algorithm can detect these changes."
Radio Wave – Sends out microwave signals to detect changes in the field as objects move into view.
As an advertised "technologically advanced motion detector," which of these will you find in Atomic Light Angel? We'll dive into more detail in a second, but let's first discuss the price and the company behind it.
How Much Does Atomic Light Angel Cost?
One Atomic Light Angel is priced at $19.99, plus free S&H. A second light, along with the Atomic Beam Flashlight, will cost you an additional $19.99 fee
Bulbhead, a division of Telebrands, provides a 30-day satisfaction guarantee on all purchases, less S&H, regardless of the quantity ordered. If necessary, customer service can be reached at 855-668-1655.
What Do We Know About Atomic Light Angel's Manufacturer?
We know a lot about Telebrands, since they're the largest and longest running As Seen on TV company in the industry, and because we've reviewed hundreds of their products over the years, including popular options like Bavarian Edge, California Charcoal, Ped Egg Power, and of course, the Atomic line of lighting products.
With 28 negative reviews and more than 320 closed complaints as of 3/7/18, Telebrands held an F Better Business Bureau rating. Most of these appeared to revolve around lower product quality than expected and difficult customer service experiences.
Atomic Light Angel vs. the Original Light Angel
The HighYa team wrote about the original Light Angel some time ago, which is also a product manufactured by Telebrands. And based on what we learned from the website and commercial, both it and the Atomic version feature:
Wireless functionality
Stick-up installation
Indoor/outdoor capability
Built-in motion activation
30-second auto-shutoff
LED bulbs that last up to 100,000 hours
While we didn't test any of these models ourselves, the biggest differences seem to be Atomic's 360-degree, back-and-forth swivel functionality (the original only swivels up and down), as well as its COB LED panels that promise to shine at 460 lumens (no brightness measures are listed for the original model).
And while customer service wasn't able to confirm exactly how it's powered, the original model uses four AA batteries. Along these same lines, none of the customer service representatives we spoke with were able to provide additional insight into questions like:
How many LED bulbs does Atomic Light Angel contain?
Is there any way to adjust the length of the automatic shutoff?
What happens if you need to place the light in another location? Is the sticky backing reusable, or do you have to add more?
What kind of batteries does it use? How long will they last before needing to be replaced? Will you have to un-stick the entire light from its surface in the process?
What type of motion sensor does it use?
How far away does the motion activation work? What pattern does it detect (straight ahead, 90-degree, 180-degree, etc.)?
Are There Other Models Like Atomic Light Angel?
With these details in mind, we encountered several other cordless, battery-powered outdoor LED spotlights during our research, all of which could be stuck in place (some came with adhesive pads like Atomic Angel, while others did not), on/off motion activation (while remaining on for 30 seconds), 360-degree light rotation, and bulbs that last up to 100,000 hours:
| Product | Price | Features |
| --- | --- | --- |
| Atomic Light Angel | $20 | 460 lumens |
| Light It! by Fulcrum | $22 | 12 LEDs, 100 lumens, 25-foot detection range, 100-degree detection angle |
| WOOPHEN Indoor/Outdoor Spotlight | $14 | 9 LEDs, 100 lumens, can be activated up to 10-15 feet away, 3 AAA batteries, screw mount included |
| Hoont Bright LED Wall Light Fixture | $13 | 10 LEDs, 15-foot detection range, can be used as a flashlight by removing from the base, 3 AAA batteries |
| ProGreen 6000K LED Wall Light | $20 | 9 LEDs, 100 lumens 3 AAA batteries, auto-off during day functionality, rated IP44 water resistant |
We've covered a lot of territory in a relatively short time here, so let's bring everything together and come to a conclusion about Atomic Light Angel.
Our Bottom Line About Atomic Light Angel
When purchasing an outdoor security light, A Secure Life recommends looking for models that use LEDs, since they can last much longer than incandescent versions and can cost much less to operate. However, you'll have to be OK with the blue hue their lights emit, which largely comes down to personal preference.
A Secure Life doesn't emphasize a specific brightness, although they point out that a 60-watt incandescent bulb puts out about 800 lumens. So, you might expect a model like Atomic Angel to provide about half as much light, which means it will only light up a very small backyard (following the claim made in the commercial).
On the flip side, although Atomic Angel seems to put out meaningfully more light than some of its close competitors, keep in mind this also means it could go through batteries much faster.
Lastly, the author recommends looking at security lights with at least a 40-foot motion sensor range.
Bringing it all home, based on what we learned from the website and commercial, Atomic Light Angel seems to come with several useful features (360-degree rotation, 460-lumen brightness, long-lasting LEDs, the ability to stick anywhere, etc.), along with a competitive price. Although, customer support wasn't able to answer any of our questions regarding additional specifications.
If you feel like giving Atomic Light Angel a try despite some of these missing details, Telebrands seems to stand behind it with a 30-day refund policy, so you might not be out much more than return S&H charges if you give it a try and end up dissatisfied.
4 out 5 people found this review helpful

Do NOT Buy This Light!

By Diane K.

,

Minneapilis, MN

,

Nov 22, 2018
Verified Reviewer

This product fails on so many levels. It is NOT self-adhesive to any surface. It comes with mollys to attach it but now I have 3 holes in the stucco of my home as the light even doesn't work. I am angry that I paid good money to hire a handyman to secure a poor performance, non- working light! Save your hard earned cash. Buy anything else but this product!

Bottom Line: No, I would not recommend this to a friend

---

5 out 6 people found this review helpful

Scam!

By Mene E.

,

Adelanto, CA

,

Nov 21, 2018
Verified Reviewer

Everyone, do not order from this company. I ordered two Atomic Lights and never received any. They kept telling me it was delivered. Scam! Scam! They never refunded my money either. Terrible service!

Bottom Line: No, I would not recommend this to a friend

---

Advertisement

---

7 out 7 people found this review helpful

Didn't last a month

By Joseph R.

,

Baltimore, MD

,

Oct 26, 2018
Verified Reviewer

I purchased an Atomic Light off the website, and a second one from a store in Ocean City, Maryland. The first one is three weeks old and the second on is one week old. They both worked fine until it got cold out. Now neither one is working. Don't waste your money on these products.

Bottom Line: No, I would not recommend this to a friend

---

17 out 24 people found this review helpful

Atomic Angel

It's a lie. TV said I would get two lights and flashlight but I received only one light. As for the product, it looks bright, but we will see how long it lasts. It's false advertisement to tell people on TV that you get two lights and a flashlight. I won't order on TV ads anymore. I had a choice to pay through Amazon or PayPal, so I felt safer doing it through Amazon. As for the product, I like how bright it is, so I hope for the price it will last.

Bottom Line: No, I would not recommend this to a friend

---

Advertisement

---