Atomic Zapper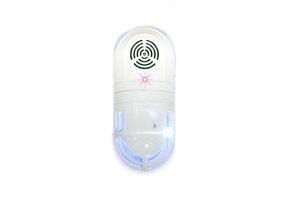 Telebrands advertises that Atomic Zapper emits sounds that humans can't hear, but that mice can't stand, while attracting and killing insects with UV light, to help rid your home of pests.
Atomic Zapper Review
Atomic Zapper is a two-in-one device that plugs into any standard wall outlet and uses a combination of ultrasonic sound waves and Blue Light Technology to repel rodents and kill flying insects.
In fact, the manufacturer advertises that it's the first combination ultrasonic pest repeller and flying insect zapper that can help you avoid spending a fortune on expensive exterminators, without any installation required.
Sure, all of these advertising claims sound great. By combining our in-depth research with the help of industry professionals, we'll help you decide whether or not Atomic Zapper can deliver on them, and if you should spend your hard-earned money.
Let's kick things off by taking a closer look at its functionality.
How Does Atomic Zapper Work?
We'll quickly break this topic into easily digestible bites to ensure everyone's on the same page.
Atomic Zapper's Ultrasonic Waves
The Georgia State University Department of Physics and Astronomy website explains, "the term 'ultrasonic' applied to sound refers to anything above the frequencies of audible sound, and nominally includes anything over 20,000 Hz."
In layman's terms? "Ultrasonic" is a broad term referencing any sounds that humans can't hear.
When it comes to Atomic Zapper, specifically, it "works by emitting a high-frequency sound wave that's intolerable to rodents and insects," explains Jeff Sameth, owner of Masters Touch Pest Solutions in West Chester, Pennsylvania. Basically, it continually makes sounds that annoy pests, causing them to leave the area.
"Ultrasonic devices have been used for a while and are generally accepted in the pest control industry as a way to treat pests— especially rodents," he says.
However, he's careful to emphasize, "there's truly no definitive proof they work. There are some studies out there that show some results, but nothing we should really consider concrete."
Even as far back as 2001, he points out that the Federal Trade Commission sent "warning letters to more than 60 manufacturers and retailers of ultrasonic pest-control devices, stating that efficacy claims about those products must be supported by scientific evidence."
And in instances where ultrasonic devices provide some measure of pest control, Sameth says they "should only be used as a temporary solution," and that, "the longer you use them, you can begin to expect diminishing returns, since rodents and other pests become accustomed to the sound."
Atomic Zapper's Blue Light Technology
What about Atomic Zapper's Blue Light Technology, which promises to attract and kill insects?
"A lot of studies have found that blue lights alone can have some effect on pests and their habits," Sameth explains. "A team of researchers from Tohoku University has found that specific frequencies of blue LED light can be used as an effective and safe way to kill insects. Different frequencies of light can kill different species of pests."
According to this study, which was published in December 2014, blue light between 440 and 467 nm killed up to 90% of D. melanogaster (common fruit fly) eggs, pupae, larvae, and adults. However, none of the support reps we spoke with could confirm the wavelength of light emitted by Atomic Zapper's Blue Light Technology, or verify if it falls within this range.
With these details in mind Sameth says that, for residential pest control, "blue light devices probably aren't going to be as useful or as helpful as just having a pest management professional come and do an evaluation since the blue light is treating a symptom, not the problem."
For example, "with mosquitoes, you have to remove their habitat and breeding grounds; otherwise, you'll continue to have mosquitoes," he outlines.
How Much Does Atomic Zapper Cost?
One Atomic Zapper will cost you $19.99, plus free shipping. Furthermore, you'll have several additional upgrades from which to choose during checkout:
A second two-in-one device for $19.99, which also includes Roach Doctor roach-attracting formula
Upgrade to the Deluxe model that "has increased decibels for more ultrasonic power" for an additional $9.99 fee
Upgrade to expedited handling for a $9.99 fee
All Atomic Zapper orders come with a 30-day refund policy, less shipping charges and the $9.99 fee for the Deluxe model. You can call Bulbhead's, a division of ASOTV giant Telebrands, customer support at 844-254-8279.
Are There Other Ultrasonic Pest Repellers Like Atomic Zapper?
Despite what we learned earlier from pest professional Jeff Sameth regarding effectiveness, you'll encounter perhaps hundreds of different plug-in ultrasonic pest devices online, as well as at local pharmacies and big-box retailers. It's much of the same story when it comes to plug-in indoor bug zappers.
On sites like Amazon and HomeDepot.com, electronic rodent repellers are priced between $20 and $35, with mini UV bug zappers falling between $10 and $20.
However, at $19.99 each, it appears that Atomic Zapper is the only two-in-one indoor device that combines an ultrasonic pest repeller with a UV bug zapper. So, if this combination of features is at the top of your must-haves, it's currently the only game in town.
As such, it seems that the manufacturer's claim that it's "the first ultrasonic pest repeller and flying insect zapper combined into one powerful device" seems to hold true. But, will this two-pronged approach necessarily help you "avoid spending a fortune on expensive exterminators," as advertised by the manufacturer?
According to Jeff Sameth, "these devices aren't worth it." Why?
"For one," he explains, "you're treating the symptom rather than the actual problem. For these to be effective, you need to either have a professional diagnose the situation or attempt to do it yourself."
"Secondly," he continues, "you're investing in technology that doesn't have definitive evidence that it works. While, yes, many pest management companies use ultrasonic devices as a means to remove rodents, it's not the only option, because [effective] pest control needs to have a multi-pronged approach."
It's crucial to balance these points, though, by emphasizing that most Amazon customers reported positive experiences with popular third-party ultrasonic repellers and standalone UV zappers. Frequent compliments included effective pest control, lack of poison or other harmful substances, cruelty-free operation, compact designs, and plug-and-play functionality.
Let's pull all of these details together and wrap things up so you can make a final decision about Atomic Zapper.
Our Conclusion About Atomic Zapper: Will it Deliver Value?
Even if you have sufficient space to plug them into the same outlet, purchasing separate ultrasonic repellants and UV zappers from third-party companies would cost you meaningfully more than a single Atomic Zapper. Not to mention the fact that you'd take up an extra outlet plug in the process.
On top of this, Atomic Zapper comes from a manufacturer who's been in business for decades, with mostly positive online customer feedback, and who stands behind their products with a 30-day satisfaction guarantee.
With this said, if you're willing to explore standalone ultrasonic and UV pest repellants from third-party companies, you'll likely find multiple local options. This could put them in your hands faster than placing an online order for Atomic Zapper.
Still, based on what we learned from Masters Touch Pest Solutions owner Jeff Sameth, only limited clinical evidence exists supporting the efficacy of certain wavelengths of blue light, or that ultrasonic frequencies work to effectively rid an area of rodents.
And even in instances where blue light technology has been shown to reduce insect levels, such as in the Tohoku University study referenced earlier, it was only used on fruit flies.
So, if this isn't the pest you're dealing with, you could be out of luck.
Furthermore, even in a best-case scenario, Sameth emphasizes that these devices only address symptoms, and not the underlying causes of your pest problem—such as stagnant water on your property that could act as a breeding ground for mosquitoes.
>> Keep reading: Natural and Safe Pest Control Solutions to Get Rid of Roaches, Ants, and Bugs
Save your money

By Cherie B.

,

Kentucky

,

May 17, 2019
Verified Reviewer

It cost way too much for it to not work. I used it for months and still have flies, and the new mouse trap I got caught 6 mice in one night. I want a refund. I got 2 at $40. Can't find an email to complain to the company. If you want something to kill the mice go to Walmart and pay $5 for one that puts a rubber band around the mice neck. They don't get far and it is no mess.

Bottom Line: No, I would not recommend this to a friend

---

Advertisement

---