Auction.com Reviews
Claimed This company has claimed this profile, is getting alerted on any new customer reviews entering this page, and may engage in dialogue with its customers to address their matters.

Companies cannot pay money or provide goods in order to remove or alter customer reviews.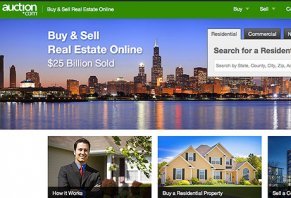 Auction.com claims to be the "nation's leading online real estate marketplace" to purchase residential and commercial properties using an auction format.
About Auction.com
If you're looking to purchase a new property, you may have heard about Auction.com, which claims to allow you to buy and sell residential and commercial property in an online auction format. In fact, Auction.com claims to have sold more than $25 billion of residential and commercial real estate since opening its doors in 2007.
But when it comes down to it, can Auction.com really help you find your next real estate purchase, or is it just a way to scam you out of your hard-earned money? We sifted through the facts, and here's what we found out.
How Auction.com Works
At its most basic, Auction.com claims to be a real estate marketplace that uses "world-class marketing and cutting-edge technology" to help bring buyers and sellers together in an easy to use format. All Auction.com real estate auctions—including bank owned and redemption properties, foreclosures, short sales, bankruptcies, bulk sales, and residential and commercial notes—are date and time-specific, so you'll always know exactly when they'll begin and end. In fact, in some instances, Auction.com claims that some of their properties may be newly available and not listed anywhere else.
Auction.com claims to work over 3 steps:
Search for properties that meet your criteria, including by state, county, city, zip code, address, or property ID, and then save them as your favorites. You can also sign up to receive email alerts any time a new property that matches your criteria is listed.
Once you're ready, you can then register for the property's auction, place your deposit, and begin bidding. Bids are placed directly through the Auction.com website, and you can bid on more than one property at a time. However, you may be required to contact a bidder qualification representative, submit additional documents, and/or provide proof of funds prior to placing your bid. Auction.com also offers the ability to practice bidding before going through a live auction.
If you end up being the high bidder, you'll pay for the property and begin closing (we'll talk more about this in the Bottom Line section).
During an Auction.com auction, the property's home page will include important details such as type, address, square footage, number of bedrooms and bathrooms, estimated amount owed by the current owner, and pictures, as well as current bid, bid deposit, time remaining, if financing is available, and whether or not the reserve has been met. With this in mind, while most residential auctions occur directly through the Auction.com website, some foreclosure auctions will take place live at public venues (e.g. courthouses).
If you're looking for properties on the go, Auction.com also offers an iPhone app.
Auction.com Pricing & Refund Policy
Signing up for Auction.com is free of charge, which gives you the ability to save searches, create custom alerts, and to receive auction announcements and advance notifications for new auctions that you may be interested in.
However, once you've decided to start bidding on a residential property auction, you'll be required to put down a deposit of anywhere between $1,000 and $2,500, which must be placed on a credit card. On top of this if you're the winning bidder, you may be required to pay a buyer's premium in addition to the final purchase price, which is typically 5%. For example, if you purchase a home for $100,000, you may be required to pay an additional $5,000 directly to the seller on top of the sales price, which in most instances is a bank.
If you're the winning bidder once the auction has concluded, your credit card deposit will be returned after earnest money has been received and purchase documentation has been signed. However, if you're not the winning bidder, your deposit will be returned to your card within 2 business days.
It appears that there are no refunds associated with use of Auction.com, which seems to weigh heavily in the seller's favor. We'll talk more about this in the Bottom Line section.
Other Auction.com Reviews Around the Web?
Auction.com appears to have a relatively poor online customer reputation, with the most common complaints citing:
Numerous seller's fees (often initiated by the banks) on top of the winning bid, many of which were not disclosed in the original auction.
Homes are already overpriced before auctioning even begins.
Accusations that these homes are not salable on the open market due to very poor condition (e.g. presence of mold/termites, serious structural problems, etc.). In fact, we read several reviews claiming that even when documentation for problems such as these were provided to Auction.com, they refused to list them in the property's auction.
Poor customer (rude, unhelpful, attempt to rush you into signing an agreement that essentially waives all your rights as a seller).
Extensive shill bidding.
What's the Bottom Line About Auction.com?
Similar to HomeSearch.com, Auction.com claims to be the "nation's leading online real estate marketplace." But does this mean that you should use them for your next residential or commercial real estate purchase? Like so many things in life, the answer is that it depends. Here's why:
First and foremost, keep in mind that you're solely responsible for performing all due diligence on any property you're thinking about purchasing through Auction.com, including any existing liens and hazardous conditions. On top of this, most properties are not contingent upon financing and are sold "as is/where is" with no other contingencies available (such as an inspection). In other words, it's up to you to find out as much as you can about a property before bidding, and if something comes up after you've agreed to purchase it, you have no recourse against the seller.
Second, it's important to note that just because you win an auction doesn't mean that you've purchased the property. Instead, Auction.com essentially acts as a buyer's representative and submits your highest bid to the bank, who can then accept or reject your offer. As such, in addition to the complaints noted in the previous section, numerous customers stated that banks would take a very long time to respond to these offers, and even when they did, they would often change the terms (e.g. sales price, down payment/deposit amounts, seller's/legal fees, etc.). And if you decide to back out of the deal once this occurs, Auction.com will then keep your deposit for "failing to close."
Finally, although Auction.com holds an A+ rating with the Better Business Bureau with just 12 closed complaints over the past three years, their online reputation is much less rosy. In addition to the complaints noted in the previous section, the company has a reputation for rushing buyers to sign contracts that essentially strip you of any rights you may have.
Bottom line: If you decide to purchase a residential or commercial property through Auction.com, it appears it's pretty much a coin toss as to whether or not your high bid will be accepted by the bank. And if it is, remember that you'll essentially be subject to whatever last-minute changes the bank decides to make, while having almost no recourse throughout the process.
Really BAD - REALTORS DON'T GET PAID

By Rose L.

,

New Jersey

,

Mar 9, 2020
Verified Reviewer

I SHOWED a property listed thru a local realtor and on Auction.com. My buyer liked it and placed a bid. Refused two or three times. Auction.com has buyers, not realtors, place the bids on their site. Last bid accepted. The original realtor information put into bid was not carried thru to the last bid which was accepted by Auction.com days later and Wells Fargo won't pay the broker's commission. Don't waste your time. Besides other problems with these people (shills, etc.), this one takes the cake.

BUYER wrote Wells Fargo and Auction that I initiated sale and worked on this about 2 months!

Bottom Line: No, I would not recommend this to a friend

Mar 11, 2020

While an agent is not required to bid on Auction.com, agent partnerships are encouraged. You would need to check the property details page to see if a commission is offered. This is based on the seller's decision, not that of Auction.com directly. If one is not being offered by the seller, you can work out an agreement with your buyer to earn your commission. Please call our Customer Care team 800-793-6107 Mon - Fri, 7 am to 7 pm CST., or email us with your contact information at customerservice@auction.com.

---

You are not the most important part of Auction.com

By Eric W.

,

Ohio

,

Jan 12, 2020
Verified Reviewer

I bid and met the reserve price. I went past the point of depositing $2,500 in an escrow account, there was a bank charge of $25.00 for the transfer on December 19th, 2019. As late as last evening I was told I had won the house. I transferred funds to the escrow as directed by Auction.com on the 19th, according to the escrow company in an internal email I was included on to a supervisor..."Can you check with the seller to see which contract they show is the one they are honoring? We have 2 separate contracts with 2 different buyers for the same property. Both with the same asset company." I'm out 3 weeks' time and a $25 wire transfer fee. On December 23..."The next step is closing, We will be in touch to assist you with the remainder of the process." LOL, I had to tell them that apparently it had been sold...

Bottom Line: No, I would not recommend this to a friend

Jan 14, 2020

Thank you for your review. We are sorry to hear you did not have a great experience with Auction.Com. We would love a chance to discuss your experience by calling Customer Care 800-793-6107 or by emailing your contact information to CustomerCare@auction.com. Please be aware Auction.Com is a third-party platform for bank-owned properties; we do not own the properties but merely facilitate the sales at the seller's request. By and large, the properties on our site are being offered exclusively through Auction.Com before they become available to the broader market. In rare instances, the property may be available through other retail platforms. As Auction.Com does not own the properties, we cannot prevent the seller from accepting other offers or influence the seller's decisions on how the conduct their sales.

---

Advertisement

---

Buying foreclosure is risky

By Dave R.

,

Federal Way, WA

,

Dec 23, 2019
Verified Reviewer

I have purchased 6 foreclosures. One through Auction.com, and the others at live auctions. In all cases, I was not able to get inside the property to do a thorough inspection. You can determine some things from the outside, but generally speaking, you should assume the house will need significant work, and that the previous owners knew they were going to lose the house, and stopped maintaining it and often sabotaging it upon eviction. This being the case, determine what the fair market value of the home would be based on comparables in the area, and bid at least 20% below that amount. Yes, the owner is trying to get as much as they can. This is true of all auctions. When the bid exceeds what you are willing to pay, stop bidding. Don't get mad. Stop bidding. It's business.

Bottom Line: Yes, I would recommend this to a friend

---

Auction.com listed home that was already sold privately

I recently listed and sold a home that was in the redemption period and sold on 9/26/19. My buyer sees her home show up on Auction.com and has people trying to peer in her windows.

The photos they posted were from the spring which leads me to believe they wait for homes to go through sheriffs sale and list when the redemption period is up and don't bother doing their due diligence to see the actual status of the home. I called them and told them to remove it from Zillow stat! They said they couldn't do that. I reported this to Zillow.

Bottom Line: No, I would not recommend this to a friend

Nov 13, 2019

Zillow is a separate company than Auction.Com. If the property is also listed on Auction.Com, we would be happy to assist. Please call Customer Care at (800) 793-6107 or email CustomerCare@auction.com.

---

Advertisement

---

Waste of time

By Tammi V.

,

Minot, ND

,

Sep 11, 2019
Verified Reviewer

I read the whole site, performed my research to my comfort level on a home we had no access to, in or out. We were the only bidder 3 times it went up for auction. The third time the auction canceled in the middle of the auction. No one redeemed the home, I live in the area. Appears Auction.com has no seller agreement to sell and takes an offer to the seller in hopes they will sell. I see why no one else bid, this is a complete waste of time.

Bottom Line: No, I would not recommend this to a friend

Sep 12, 2019

Hi, Tammi. Thank you for your review. We are sorry to hear you did not have a great experience with Auction.com. We would like to speak with you regarding your experience. Please email us with your contact information at customerservice@auction.com.

---

Worst auction experience EVER - unethical - and should be illegal!

By Stan P.

,

Puerto Rico

,

Aug 28, 2019
Verified Reviewer

Today, 8/21/2019, I bid on a bank-owned property. Starting bid was identified as $35k. As soon as the auction started, Auctions.com bid $45k. That is correct - Auctions.com bid on behalf of the Seller. No other bidders, so with about 15 minutes left in the auction, I bid $55k. Within one minute, Auctions.com (again on behalf of the Seller) bid $65k. I then bid $75k. Once again Auctions.com bid taking the bid up to $85k. At this point, I stopped bidding because there were only two bidders - myself and the SELLER! Once the auction came within one minute of ending, Auctions.com bid again which extended the auction another 2 minutes. This happened again and again for another 15 minutes or more until Auctions.com (on behalf of the Seller) had artificially bid the price up to $100k. Remember there is a "Reserve Price" so until bids reach that amount the Seller is not required to sell. And the reserve price is rarely divulged. So I wasted several hours of research and at least an hour in bidding AGAINST THE SELLER. Now Auctions.com has re-scheduled this same property for auction one week from now. Make your own judgment, but I'll never use this unethical service again.

Bottom Line: No, I would not recommend this to a friend

Aug 28, 2019

Hi Stan. Thank you for your review. We are sorry to hear you did not have a great experience with Auction.com. Would you like to speak with our Customer Care team? Please call 800-793-6107 Mon – Fri 7am to 7pm CST. Or email us with your contact information at customerservice@auction.com.

---

It's not an auction. Terrible.

By Randy H.

,

Florida

,

Aug 8, 2019
Verified Reviewer

Auction.com is not an auction of foreclosed properties. Auction.com simply is the middle man to the lender with the goal to help the lender receive as much money as they can for any given property. Which presents a multitude of problems for buyers.

Most if not all depending on your location, Auction.com homes do not have access to inspect prior to bidding. This should be unacceptable to all buyers.

Shill bidding happens constantly. It's not an auction.

Auction.com does not provide lien information, title search or allow for a title search after an "accepted bid". You buy it, you pay for liens.

If you "win" you don't really own the property. Your bid gets presented to the lender then they decide if they'll sell it. Or if they'll relist it, change the reserve, change the terms or a multitude of other changes, which by the way if you disagree with and decide to back out, Auction.com keeps your deposit they required for you to bid!

Auction.com phone staff are mostly unprofessional and could care less about the bidders financial well being or outcome.

A real auction is, bidders review a piece of real estate inside and outside. Potential bidders get lien info and all other financial pertinent documents provided then decide if and how much to bid. If they're the highest bidder, they win and closing is scheduled with the lender. This is not how Auction.com operates. It's a 100% crapshoot for buyers from start to finish. Why anyone would commit their money to this Auction.com system is beyond my comprehension.

Bottom Line: No, I would not recommend this to a friend

Aug 12, 2019

We'd appreciate a chance to speak with you regarding your experience. Please call 800-793-6107 Mon – Fri 7am to 7pm CST. Or email us with your contact information at customerservice@auction.com.

---

What a waste!

By Adam D.

,

Mississippi

,

Aug 7, 2019
Verified Reviewer

Auction.com touts all this info and access to foreclosed properties, but if you have a cell phone or use VOIP instead of a landline, you cannot even register for an auction. I have been searching and found some good deals, but then can't even bid on them because they can't verify my phone number? This has NEVER HAPPENED with a single company I have ever done business with! WHAT A WASTE.

Bottom Line: No, I would not recommend this to a friend

Aug 12, 2019

We'd appreciate a chance to speak with you regarding your experience. Please call 800-793-6107 Mon – Fri 7am to 7pm CST. Or email us with your contact information at customerservice@auction.com.

---

Something's up

By Melissa B.

,

Arizona

,

Aug 5, 2019
Verified Reviewer

I have been following a property to go up for auction in Flagstaff, AZ. It keeps changing dates to later and later, well I just looked on Craigslist and low and behold for sale. Investor's dream!

Was going for $55K, on Craigslist for $245k, who's in your back pocket?

Sounds like crooked business to me. Will dig further into this as well as others.

Bottom Line: No, I would not recommend this to a friend

Aug 12, 2019

We'd appreciate a chance to speak with you regarding your experience. Please call 800-793-6107 Mon – Fri 7am to 7pm CST. Or email us with your contact information at customerservice@auction.com.

---

Difficult to deal with

By Michelle B.

,

Massachusetts

,

Jun 5, 2019
Verified Reviewer

The company isn't a scam but things are not quite as they seem, and they make very simple tasks very difficult. First, it is not a true auction, they will bid you up to the reserve price behind the scenes, but if you read the fine print they admit to this. The worst part though is the way they handle their business. They are so difficult to communicate with. Calls go to voicemail, emails are like sending them into the black hole. They simply do not respond. They ask for you to do your part, they get right on that, but if there is an issue, they do not respond.

Example: I had my side in order, but the agreement they sent had the buyer (me) written incorrectly. They kept calling and emailing asking me why I wasn't signing or sending my deposit, I kept replying and calling people to rectify the contract, we just kept going around in circles. Once we got past that the seller accepted my offer and I was never notified or given next steps. Then I get a call that says I am supposed to have everything done for closing, but they never told me that or what to do. We had to delay closing. Ultimately the title did not pass with my attorney and the foreclosure would not stand up to case law, so had I not had my own attorney review it, I would have bought nothing. So the transaction was canceled, HOWEVER, 6 weeks after signing the termination agreement, I am still owed almost $6,000 in earnest money.

Every step of the process you have to deal with a different person, and they just don't do their jobs very well. It's a shame that so many foreclosures are now going through this company. Again, I don't think it's a scam, but I do think they will happily steal your deposit money if given the chance.

Bottom Line: No, I would not recommend this to a friend

---

Signed up to bid - put down $2500 deposit - then property shown as sold in the future

By Gregory L.

,

California

,

Mar 16, 2019
Verified Reviewer

Seems like a bunch of scammers. I've registered to bid a few properties - they have hidden reserves and auto-bid against you. Then I traveled 250 miles to check out a property on the 9th of March that I was going to bid - and then find out they show it as sale pending when Auction was supposed to be on the 11th-13th of March. Why do they not inform registered bidders? Are they just a bunch of crooks - appears so.

Buyer beware, plus, there are loads on most transactions.

Bottom Line: No, I would not recommend this to a friend

Mar 18, 2019

Hi Gregory. Thank you for your review. We are sorry to hear you did not have a great experience. Would you like to take this conversation offline so I can look into this property for you? If so, please send an email to connect@auction.com.

---