Autopay Reviews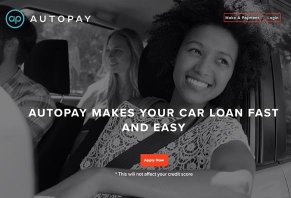 Using Autopay's car loan matching service, the company promises to help you obtain financing before you head to the dealer, potentially helping you save time and money.
What Is Autopay?
After submitting your information to Autopay, the company tells us their marketplace of lenders can help you quickly and easily obtain the lowest auto loan rates available. Even if you already have a loan, they claim they could help you refinance for the best possible APR.
The company indicates this process can help you solidify a loan before going to the dealership, thereby saving you time, money, and potential headaches. They also specialize in providing related products, like vehicle service contracts (VSC) and GAP coverage.
In fact, Autopay is so confident in their lending network that their website promises, "In just a few minutes, you can probably improve your payment." But will they help you improve your financial situation, and do they have any competition?
Let's kick things off by taking a look their details.
Is Autopay a Lender?
In short; no. Instead, Autopay partners with credit unions and financing institutions and works with them to find the best possible loan terms (whether new or refinancing), based on your specific situation. These lenders include Shift, EveryAuto, Instamotor, LMB Auto Finance, and TRED.
Here's how it works: You submit your information to them. Then, they pass your information along to one or more of their lenders, who will then underwrite your application for approval.
While they claim this can save you a ton of time at the dealership, Autopay also works behind the scenes as a "virtual Finance & Insurance office, making sure that your best interests are protected" from start to finish.
Does Autopay Only Provide Loan-Matching Services?
In addition to helping you find the right lender with the best terms, Autopay also offers a specific vehicle service contract, named Estate Coverage, through AUL Corp. This includes coverage for a vehicle's brake, front and rear suspension, and cooling systems, as well as seals and gaskets.
Additional roadside assistance benefits are available such as towing, flat tire change, emergency fuel delivery, battery jump, and key lockout.
Another related option you'll find through Autopay is Guaranteed Asset Protection (GAP) insurance, which "covers the financial gap between the actual cash value of a vehicle and the payoff amount of the loan or lease in the event of a total loss."
What Are Autopay's Eligibility Guidelines & Will an Application Affect Your Credit Score?
In order to send your application to one or more of their lending partners, Autopay will need documentation for your driver's license, insurance, paystubs or tax returns for proof of income, a utility bill or lease agreement for proof of residence.
While they can provide you with a good idea of your options without one, they'll require specific vehicle details in order to process an approval. If you're refinancing, they'll also require a payoff letter.
Keep in mind that depending on the specific lender, you could be asked to provide additional documentation.
Autopay indicates they will perform a soft pull on your credit that will not negatively affect your credit score. Once you choose to submit an offer for approval through a lender, however, the subsequent hard pull could impact it by several points.
Speaking of which, although we're told that each lending partner has a different set of criteria for approvals and that the company can accommodate much of the spectrum, your credit score, income, and credit history will have a big impact on your rate.
All pre-qualification and lender-approved offers are valid for 30 days.
How Much Are Autopay's Rates & Fees?
Autopay doesn't charge any fees to apply. While each lender and application will be different, their partners can provide auto loans ranging from $2,500 to $100,000, with rates as low as 1.99% and terms between 24 and 84 months for qualified applicants.
Some reviews we encountered (more next) indicated there were miscellaneous fees associated with some of their loans, such as document fees, although there is no prepayment penalty.
Overall, the company claims their customers save an average of $1,000 each year and lower their APR by 50 percent. The Partners page on their website reflected a 94% loan approval rate.
Autopay's GAP coverage also provides terms up to 84 months and protection for vehicles valued up to $100,000, with up to $1,000 in deductible coverage. However, per their GAP website page, it appears they'll only cover a single loss up to $50,000.
Most of their lending partners offer automatic payments, although according to their Refund page, Autopay's policy stipulates, "No refunds will be provided for payments made to your account."
Autopay's customer support can be reached at 844-276-3272 or sales@autopay.com.
What Can We Learn From Autopay Reviews?
Overall, Autopay seemed to have a mostly positive online customer reputation at the time of our research.
On CreditKarma, the company had an average rating of 3.8 stars based on 30 customer reviews. There, most compliments revolved around competitive rates and helpful support personnel, while frequent complaints related to less-than-stellar service and higher rates.
NerdWallet indicated that Autopay's lenders charged a maximum APR of 17.99%, with an average of about 5.4% and 14 days funding time. They indicated the company's ideal customer is someone who's been building their credit for six to 12 months (minimum credit score of 600), who makes a minimum of $2,000 per month, and who's purchasing a vehicle no older than 11 years with no more than 125,000 miles.
Applications can be completed in minutes using a smartphone or a computer.
In the end, the article noted that Autopay might be best for "rate shoppers who want to quickly compare multiple auto loan refinancing offers without affecting their credit."
From a company perspective, Autopay is based out of Denver, CO and had been in business for 10 years. They held an A+ Better Business Bureau rating, with 20 reviews (35% positive and 60% negative) and more than 60 closed complaints, as of 6/14/17.
Most of these appeared related to customer service issues, although the company seemed to respond quickly in an effort to resolve the issue.
What Should You Look for in a Car Loan Matching Service?
While you might not be flush with the same number as traditional lenders, there are several auto loan matching services competing with Autopay, including LendingTree, CarLoan.com, Innovative Funding Solutions, CarLoanMatch.com, and Smart Car Loan—to name just a few.
If you're in the market for a new loan or a refinance, you can also use sites like Bankrate.com to quickly check the lowest possible rates through multiple national lenders like Capital One, Nationwide, and US Bank—without submitting any information. Most of the options won't include local lenders like credit unions, though, but neither will most matching services like Autopay.
How to find the best one? Like most other buying decisions, it largely comes down to your most important criteria.
For example, do the matching service's lenders only offer personal loans, or also ones for commercial or business vehicles?
What about those that specialize in consumers with less-than-stellar credit scores? The lowest possible rates? Longest repayment terms? New purchase vs. refinance? Classic or vintage vehicles? Additional products like roadside assistance or GAP coverage?
To choose the best one, you'll want to start by searching consumer review sites like HighYa to see what others are saying about their experiences. Do you find any frequent complaints? If so, this could be a red flag that you might experience the same.
Also, as with auto insurance comparison sites, before handing over your personal information, be sure to read through the company's Privacy Policy, which will outline exactly what they do with your information. Otherwise, you might soon find yourself flooded with spam and telemarketing calls.
Our Final Thoughts About Autopay's Vehicle Loan Matching Service
Will you find success through one of Autopay's lenders? Since—like any other type of loan—exactly what you'll pay depends on personal specifics like credit score, income, credit history, the year, make, model, and mileage of the vehicle you're looking to purchase, as well as your requested loan amount.
With this in mind, we found that Autopay had mostly positive online customer feedback at the time of our research, and their privacy policy indicated they'll only use your information to help you obtain a loan, as well as for internal marketing. It will not be shared with other third parties for marketing purposes.
In the end, the only way to know for sure if Autopay really can save you money is by reaching out and pre-applying. It's free, won't impact your credit score, and you aren't obligated to continue if you don't find their rates competitive, so it doesn't seem you have a lot more to lose than a few minutes of your time.
See Also: Financing Your Car: 6 Expert Tips on Landing a Great Auto Loan
---
Most positive reviews are fake!

By Alan P.

,

Pennsylvania

,

Aug 21, 2018
Verified Reviewer

It's well known that many disreputable companies like this pay to have people write fake, and write positive reviews to boost their review scores and bait unsuspecting people to buy from them. Just read many of them you can figure it out. There's no way this company has more positive than negative experiences.

The absolute WORST lender I've ever dealt with, and I've dealt with many over the years. My recent mortgage prequalification months back was smoother, less stressful, and more reputable than with these people.

I started with the link on NerdWallet after carefully reviewing my options to refinance, well the editorial and the numbers on here don't match at all with what this company is all about. Talk about false advertisement; they take that to the extreme! I'll be writing a one-star review on as many sites as I can to warn people. After filling out the "application" and making an account, which seemed easy enough (I knew it seemed too good to be true), but after entering all my information, it said I had to call them. Hmm, no reason or anything.

So I called and waited for a rep, I had a bad connection, so he offered to email me with his questions. I get the email with no less than 20 questions about myself, co-signer, our car, and all sorts of very personal questions relating to us that have nothing to do with getting an offer. I've been so disappointed with GM Financial and paying too high of an interest rate that I reluctantly gave in and answered all the questions. At this point I'd spend 20-30 minutes between calls and emails and getting all the information together, just to get a lousy rate quote!

So being keen on lenders and their lies, I asked the rep to assure me that the credit pull would be soft. He replied that they have to do a hard pull. I reminded him that they advertise a soft pull only and he tried to talk around it like I'm a fool. He said he would tell his boss to do a soft pull. Then, I'm told I will get a call from an actual loan officer with my "offers." Hours later, I get the call from the sleazy loan officer who proceeds to try to bully and lie his way into getting me to accept his lousy offer, from one bank no less. I'm first told that to get a rate they have to do a hard pull. I said no way, and then he says OK you should expect around 7.5%. So he then says he will call me back, I get a call with him saying it's gotta be 11% because my car is too old and too high mileage.

BS, I drive a 2014 Flex with only 66k mikes; he says then that my credit has too many derogatory marks (big lie, I cleaned up my credit to get a recent mortgage loan and it's stayed clean as I monitor it closely). Also keep in mind my debt-income ratio is good, and my spouse has even better credit than I do. This was more lies followed, as I argued with him telling him their own website claimed the average person with my score should see around 7% rate. So I'm stuck with 14% and six-point drop to my credit scores just for checking to see if I can refinance for a better rate! Crooks out there at Autopay, stay away.

Bottom Line: No, I would not recommend this to a friend

---

What a joke

By Carolyn S.

,

Yeagertown, PA

,

Jul 10, 2018
Verified Reviewer

I decided to check this company out. The good reviews out weight the bad. It's the worse company I ever dealt with. I got one call when I did the pre-approved and haven't heard anything since. I have emailed two different times with no answer, and I also called and got told that the guy handling my account would get in contact with me. That was over a week ago and still nothing. They have already made a hard pull on my credit. This company is a joke. Keep looking, don't go with these jokers. They are not worthy of a one, but unfortunately, it won't let me put a zero, which is what they deserve!

Bottom Line: No, I would not recommend this to a friend

---

Advertisement

---

Absolutely the worst company ever

By Magda H.

,

Virginia

,

Oct 12, 2018
Verified Reviewer

I refinanced my vehicle with this company because they stated it would save me money, and it was recommended by Credit Karma. Big mistake! I owe $2k more after refinancing. I won't go into detail but I hope people read these reviews before putting their trust in Autopay because they will be terribly disappointed. No customer service - they are rude and unprofessional.

Bottom Line: No, I would not recommend this to a friend

---

Not a reputable company

I submitted an application to refinance my vehicle with Autopay. I was approved, and a customer service representative called my home to discuss the terms and rates. At this point, I had not accepted the offer of the loan because I wanted to see it in writing. Autopay is not to do a hard credit report on you until after you accepted a loan offer.

That night I get an email from Credit Karma stating that a bank had pulled a hard credit report on me causing my credit score to drop 3 points. That bank was going to be the lender for the loan through Autopay. That bank representative stated that they pulled the credit report because Autopay authorized them to do it.

Once again, I did not accept a loan offer so a hard credit report should not have been pulled to affect my credit score as stated on the home page of Autopay's website. They are either incompetent or not reputable.

Bottom Line: No, I would not recommend this to a friend

---

Advertisement

---

This one is a no-no!

By Vlad

,

Florida

,

Jan 17, 2018
Verified Reviewer

Stay away. A bunch of people who want to grab your money and run. Customer service there is the worst. Do not waste your time and get sucked in by "sweet" promises!

Bottom Line: No, I would not recommend this to a friend

---

Do your research first!

Customer service started out very nice, but later not only did he attempt to purposely enter my payoff amount wrong to charge me more, but he also attempted to sell me an extended warranty. And he added Gap insurance without having a discussion about it with me. To make matters even worse, he told me I'd have to pay almost $500 in fees but couldn't tell me what the fees were for then said "transfer of title." Since when does the DMV charge that much for a transfer of title? He must have had me mistaken for someone else. The guy got an attitude with me when I passed on the offer and sent me a long condescending email. Anyway, stay away.

Bottom Line: No, I would not recommend this to a friend

---

Worst company ever

If ZERO stars was an option, I would. Autopay is the worst car loan company to deal with. They lack communication, they are unorganized, and their employees are dishonest. They will make you jump through hula hoops just to be disappointed. I had my car loan with them for two years, and it got paid off with an insurance settlement and they told me that they were sending me my refund portion of the settlement and after a while, I started to wonder where it was.

The director, Kevin Barry, who is very unprofessional and rude and disrespectful, told me straight out of his mouth "I'm not cutting you a check." With no explanation, but I'm entitled to the remainder of that money. It is crazy how a company can be ran by a rude a disrespectful person and yet he laughed the whole time on the phone and thought it was funny.

I will never ever spend money with them again or refer anybody to them. They are a JOKE and think their customers are as well! Their employees will tell you one thing, and it will be a different ball game. It took them two months to release the title to my car when I was told "two weeks." A shame.

Bottom Line: No, I would not recommend this to a friend

---

Horrible

By Janet M.

,

Florida

,

Nov 30, 2018
Verified Reviewer

Please do yourselves a favor and do not do business with this company. They promise and promise and once you have signed, they lie, lie, lie. I have been waiting a week for funding, and again they lied. Yesterday it was supposed to be done...nope. It is just mind-blowing. I filed a complaint with the state of Colorado. Seriously, run away!

Bottom Line: No, I would not recommend this to a friend

---

Looks like bait and switch to me.

By Renn D.

,

Utah

,

Jun 26, 2018
Verified Reviewer

Autopay purports to give you pre-qualification rates that in my case, were later increased by about 3% and only after the hard credit inquiry. Why? I was told that the offer was stated "as low as." This is pure deception and I told him so. I also said that it was bait-and-switch. He became pretty agitated and literally yelled at me.

It seems pretty obvious. Extremely poor customer service and only the company's interest in taking advantage of their potential customers. I rejected their horrible offer to which I got further agitated responses. Apparently I'm some kind of bad potential customer. While I was waiting on hold at one point the message was to the effect "refer your friends to Autopay and receive $100 each." They tried on multiple accounts to sell me gap insurance which according to Kelley Blue Book is not needed and other things which I supposed to many customers may find desirable. They tried to make me take a longer-term, longer than the pre-qualification suggested. When I informed them I wasn't interested in a longer-term but a shorter-term with a lower interest rate as has been suggested in the pre-qualification notice they would not even begin to go in that direction.

The final offer was at 63 months for for what I was seeking to pay off in 48. Not at all concerned with my interests or wishes. Used car sales at its worst applied to automobile Finance. Deception. Bait and switch. That's how I see it. Not a single late payment in my credit history.

Bottom Line: No, I would not recommend this to a friend

---

Not worth the hassle

By Brian B.

,

San Diego, CA

,

Sep 21, 2018
Verified Reviewer

This company is a joke. We were detained three weeks on our car and the guy that was handling our account didn't have correct buyer info instructions. Nathan was his name, and he thought all his mistakes were a joke when brought to his attention. We are missing a vital power of attorney paper, and he has been of no help still. They may say lower rates, but they just shop you to lenders. Steer clear!

Bottom Line: No, I would not recommend this to a friend

---

Don't use AUTOPAY as agent

By Lee T.

,

Los Angeles, CA

,

Apr 25, 2019
Verified Reviewer

We paid cash to purchase a vehicle via CarGuru and CarGuru used AUTOPAY as agent for the process. It has been more than a month and two visits to the DMV. We still can NOT get our title because we do not have the lien satisfaction letter from the previous owner's bank. You thought AUTOPAY should know the "process" and provide the customers right paper/document for the car. Now we are waiting for the letter and have to visit DMV one more time. What a waste of our TIME! Don't use them...

Bottom Line: No, I would not recommend this to a friend

---