AutoVantage Reviews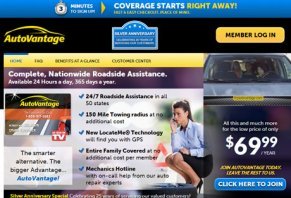 AutoVantage is a car care program that claims to offer a wide variety of services, including towing and lockout assistance, roadside service, and even savings on hotels and auto rentals.
About AutoVantage
Similar to AAA, AutoVantage is a "total car care program" with more than 25 years of service across all 50 states. Unlike other auto programs though, AutoVantage claims to provide towing service up to 150 miles, lockout assistance for both home and auto, and more.
AutoVantage is owned by Trilegiant Corporation based out of Stamford, CT, which has a D rating with the Better Business Bureau. Online customer reviews are fairly limited, though most that we were able to locate appeared to be satisfied with the service. However, the most common complaint we encountered during our research related to being billed without the customer's knowledge.
How AutoVantage Works
AutoVantage is a towing assistance program that is available in all 50 states across the US, 24 hours a day, 365 days per year. In addition to towing, the company claims to also help you save you money on car repairs, new tires and service, oil changes and other maintenance, and new car purchases. In addition, the AutoVantage website claims you can save 5-50% on non-discounted hotel rooms, and anywhere from 5-25% on auto rentals.
When compared to some of the more popular auto programs, AutoVantage claims to offer towing services up to 150 miles, in addition to professional roadside assistance (e.g. fuel delivery, jump start, changing a flat tire). On top of this, lockout assistance for both auto and home is also provided.
When making a claim, you'll just need to call 800-999-4CAR, and the AutoVantage FindMe service will immediately lock onto your location using the GPS technology from your smartphone. This service claims to leverage all the largest cellular carriers, and to only require that you open the company's proprietary app. You'll then be connected to AutoVantage's network of more than 15,000 certified and insured towing providers, who will get you where you need to go. For full details about the services, terms, and conditions, please click here.
AutoVantage Pricing & Refund Policy
A one-year AutoVantage membership is currently priced at $69.99 per year, which covers the primary member, as well as the "member's immediate family including spouses, domestic partner, fiancé, dependent children living home or away and parents living in the household." If you sign up for a two-year membership, you'll be provided a total of 26 months of coverage for $139.98. Membership will start immediately if ordered through the website, though it may take as long as 72 hours to begin if ordered over the phone.
According to the company's website, you can cancel your AutoVantage membership within the first 30 days for a full refund, and any time thereafter for a pro-rated refund.
Bottom Line: Is AutoVantage a Scam?
Based on our research, we didn't find anything that lead us to believe that AutoVantage is a scam.
However, online customer reviews were fairly limited, but those that were available appeared to be primarily positive. With this said, we did run across numerous complaints about underhanded billing practices, so you may want to keep a close eye on your credit card statement.
Also, keep in mind that your personal information may be passed along to third parties for marketing purposes. So if you don't enjoy unexpected sales calls in the middle of the day, you might want to think twice before signing up with AutoVantage.
---
Total scam company

By Brad

,

Idaho

,

Mar 13, 2014

This company uses morally wrong practice to get people roped into monthly club memberships that they never intended to purchase. The send out check under the guise of another company (IE BUDGET CAR RENTAL) that looks like a rebate and if you cash it you have joined there auto club. It is absolutely wrong to do so and needs to stop

Bottom Line: No, I would not recommend this to a friend

---

Nobody Speaks English.

By John D

,

Rockville, MD

,

Jul 1, 2015

The dumbest group of idiots on the planet. If the services were free it would not be worth the hassle. From dealing with a mishap to begin with, then having to endure the disrespectful nature of the Mexican cartel only serves to escalate the demeanor into one of rage. The aggravation is not worth any savings. Put towing on your insurance then call who you can trust; pay them and get reimbursed. Easy peasy.

Bottom Line: No, I would not recommend this to a friend

---

Advertisement

---

Poor customer service

By Michelle Rose

,

Pensacola, FL

,

Jul 4, 2015

Switched from AAA, biggest mistake ever. Only utilized AutoVantage's service twice and long stories short the wait was horrible, customer service was horrible. They promised a callback to verify assistance it is never followed through on. None of this has ever been my experience with AAA. Cheaper service definitely means cheap service. Switching back to AAA.

Bottom Line: No, I would not recommend this to a friend

---

Couldn't even get signed up.

By HeWroe

,

Tucson, AZ

,

Aug 20, 2014

Tried to sign up for their service online, but their web site was not working, and they just didn't seem to be very concerned about it at all. Then when I tried to sign our daughter up and her kids as a gift to them, they wouldn't allow it. They said that she had to call herself which is strange since their promotional site says you can sign up others in your family even if they are not living with you. Anyway, a very disappointing experience, and very glad I looked up the reviews before I went any further with this company.

Bottom Line: No, I would not recommend this to a friend

---

Advertisement

---

Left out in the cold

By John LeVasseur

,

Coon Rapids, MN

,

Jun 8, 2015

I needed service on 1/6/15 for a dead battery. This is the letter I sent to AutoVantage.

I requested assistance on the above date. My first request was made shortly after 3 AM CST. The person arrived 50 minutes later. He was equipped with a pick up truck and a set of jumper cables. He was not able to help start the vehicle. He seemed to have very little experience and he was not properly equipped. A second request for service was made. This time a tow truck was to be sent and either help with starting the car or tow it to the dealer in Coon Rapids MN. I was told at 5:30 AM the truck would arrive in 60 to 90 minutes. The truck never arrived. At 8:30 AM a local auto parts dealer opened and the employees of that shop helped me resolve my situation. You left me out in below zero conditions and never called back to check on my progress. If it had been my wife, she would not have been able to resolve the issue on her own. You advertise low prices, but you get nothing in the way of service.

I will be going back to AAA. They cost more, but the deliver on their promises. I want my membership canceled and my payment for that membership refunded. I will be giving my review of your services or lack there of, on any and all review sites I can access.

Bottom Line: No, I would not recommend this to a friend

---

Slow operators

We switched from AAA to AutoVantage. We had been with AAA for 20 years and switch to AutoVantage was a big mistake. It was the first time we have used them after switching. Now I know it is a false sense of Security.

It was one degree outside and it took three separate 20 to 30 minute on hold time calls on my dying battery cell phone to get through to an Operator. They kept transferring me to different operators. We have never had a problem like this with AAA operators.

The tow service used by AAA has been slow to arrive sometimes at times but their support was great But the AutoVantage operators make up the difference as they were very slow and seemed to have a bit of an attitude. I received a callback about 15 minutes after the three long hold times and the operator said she would call back and tell me who was coming because she did not know who they used for the towing service.

I prefer the customer service from AAA because the tow driver always called us before he came out so we could go to a sanctuary like a local gas station or restaurant if it was bad weather out. We did not get a call from the other driver and I had to stay out in freezing cold weather for a long time.

Bottom Line: No, I would not recommend this to a friend

---

Left Stranded in Freezing Temps by AutoVantage

Massachusetts

,

Jun 8, 2015
Verified Reviewer

On 2/21/15, my car broke down in Boston, MA, about 45 miles from my home. I called AutoVantage and was told they would call me back within 15 minutes with the name and ETA of a tow truck. After 1/2 hour, when I received no call, I called again and was told they had not yet been able to locate a provider and could not give me an estimate of when someone would be available. I explained my car was at an intersection in Boston and the temperature was about 18 degrees. The rep was apologetic but could not find a tow truck yet. I asked if I was able to move my car to a safe location where I could get out of the cold, would this be an issue and they assured me it would not. I gave them an alternative address which they confirmed.

I was lucky that I had a friend who lived nearby with a parking lot I could use for my car and a lobby I could wait in. However, having to drive the car further only caused more mechanical issues and the car died completely as I got into the driveway. I called AutoVantage again to verify my move only to have them tell me that they still could not accommodate me. At midnight, a "supervisor" called to say that there was no way they could get a tow truck out to me until the next day. I asked what they would have done if I hadn't had a safe place to go and, instead, had to wait in a dead vehicle in downtown Boston, in 18 degree temperatures. I got no response. He asked me to call again at 7AM.

At 7AM I called as told. Guess what! Still no tow trucks available and no idea when one would be available. They would call me back in one hour. They did call me back, only to tell me the same thing. I called my husband who called the company from our home. The representative he spoke with told him that I had canceled the service the previous night - which was a complete fabrication. He also got the story about no tow trucks being available and no idea when one would be available.

(The Boston area tow drivers were busy due to extreme weather and police calls. However, eastern Massachusetts is a compact and densely populated area. The state is only about 120 miles from east to west and about 60 miles north to south. I believe that somewhere in eastern Massachusetts, there was a flat bed that could have been called out - even it cost AutoVantage more than they like to budget for tows)

At 10AM, I received a call from a representative to tell me that they were moving my call to a "hold status" as they could not continue to make calls to providers on my behalf. I pointed out that since we paid for their service, I thought she could continue to make those calls and she assured me she could not. I asked if my husband and I were able to find our own provider, would they reimburse us. I was told I could submit a receipt for "consideration" but she could not guarantee repayment.

We were finally able to secure our own resource to come to Boston to get the car. I called AutoVantage to inform them that I had secured a tow truck and no longer needed their service. I told them to take my call out of their queue (assuming I was ever actually in one) so that another customer would not be left waiting for nothing. I was assured they would do this.

I finally got back home at 1:30 in the afternoon - 15 1/2 hours after placing my first call to AutoVantage. At 3:30, I received a call from a tow truck driver to confirm my location. They had not removed my name from the queue. At 3:40, I received a call asking for my feedback about the service I received. I provided the requested feedback. I can not speak to their "consideration" of my tow fees as I have not received my invoice yet. It will be part of the mechanic's final bill as he was the one able to secure the truck.

I don't know what another company might have done but I remain appalled that this company was prepared to leave me stranded nearly 50 miles from home in subfreezing temperatures. There was no offer to help secure shelter or any other offer of help. I could have gotten a ride from a family member or friend but abandoning the car would have lead to it being vandalized or worse. The Boston Police have better things to do that babysit a car and would certainly have towed it to God knows where and we would have had astronomical impound fees to pay to retrieve the car. Needless to say, we will not be renewing our membership and would discourage others from changing from more reliable companies.

An update to my review - the company has refused to reimburse us for our out of pocket expense of $200. We have sent the requested documentation only to have them demand a "certified" receipt. A complaint to the Better Business Bureau resulted in an unresolved case with the agent describing AutoVantage's response as unsatisfactory.

Bottom Line: No, I would not recommend this to a friend

---

No service and nothing but false promises

By Fabio

,

Indio, CA

,

Jul 18, 2015

I'm to this nonsense company. I had AAA for over 20 years. They always provided great service. The biggest mistake I ever made was changing to AutoVantage. My 18 year daughter broke down in Banning, CA at 11 at night. This company has not been able to find a tow truck and my daughter and her friends have been stuck there all night. This company is nothing but a scam. Terrible service. Do not use AutoVantage.

Bottom Line: No, I would not recommend this to a friend

---

Terrible service.

By Ira Ate

,

Philadelphia, PA

,

Jul 18, 2015

Do not get this service. We switched from AAA to AutoVantage, biggest mistake ever. They might be cheaper and might promise more services, but the truth is they are never around when you need them. Takes almost 30 plus minutes to get a hold of someone during an emergency. Every time I have called for service they end up telling me to get my own service and they will reimburse me. It is absolute nonsense because they end up finding a reason not to reimburse you anyway. This company is a partnered with Road America who is based in Florida. They solely rely on their small list of local tow companies to provide service, and when that fails they send you on your merry way.

Word of advice, stick with AAA, they might be more expensive, but at least they're there for you in a bind when you need them.

Bottom Line: No, I would not recommend this to a friend

---

Bad customer service

By Dennis Castle

,

Arlington, TX

,

Jun 2, 2015

I was on the phone for 20 minutes with someone who could barely speak or understand English. Finally he just hung up on me. I had to call a tow truck myself and pay for it. I am cancelling my membership and going with triple A. Oh by the way, canceling is not that easy either.

Bottom Line: No, I would not recommend this to a friend

---

Waited forever

I have used AutoVantage 3 times now and every time out is a hassle. It takes forever on the phone and then the last 2 times I had a car towed it took 4 hours for the tow company to show up. I live in Cleveland, plenty of tow company's that AutoVantage uses, but no they have to send a tow company from 50 miles away from my location. It's a bunch of crap. I will be going back to AAA.

Bottom Line: No, I would not recommend this to a friend

---