Avant Reviews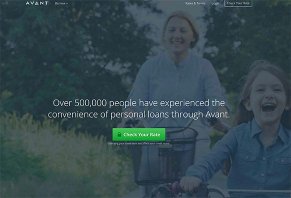 Avant is a non-bank lender who offers personal loans with interest rates between 9.95% and 35.99% on loans with repayment periods starting at 24 months and maxing out at 60 months.
About Avant
Avant is a lending site where you can apply for personal loans and, once you're approved, get the funds sent to your account within 24 hours of approval.
The company's annual percentage rates are similar to credit card rates, but the site says the big advantage of a personal loan is that you don't have to wait for it to come in the mail like you do with a credit card.
Also, they point out, you aren't faced with the high APR's and big fees you'd face if you chose a payday lender.
The company is based in Chicago. According to Crunchbase, it was founded in 2012 by Al Goldstein, John Sun, and Paul Zhang.
At the time of publishing, Goldstein was the company's CEO. He is a graduate of the University of Illinois at Urbana-Champagne's College of Business a former investment banking analyst of Deutsche Bank.
Now, we can talk all day about how a company started and who its leaders are but what's most important about a lending company, at least from a consumer's perspective, should be what the company offers, what their rates and fees are, what others say about them and how they compare to other lending companies.
We're going to tackle each one of these topics in the next few minutes, providing you with accurate, unbiased information about Avant's loans and reputation.
What Does Avant Do?
As we mentioned in the introduction to this review, Avant provides consumers with personal loans.
Now, you might be wondering what the difference is between personal loans and auto loans. The main difference, based on our research, is that personal loans are unsecured. Basically, you're getting a loan without giving Avant anything.
If you were to get a car loan from a bank – we'll call it Avant Bank – you'd be required to have a lien on your car's title. This word means that, should you flake out on your payments, "Avant Bank" can take your car.
According to Avant's website, they offer three types of personal loans:
Debt consolidation
Home improvement
Emergency
Avant Debt Consolidation
To "consolidate" something means to take a bunch of parts and bring them together as one. In money terms, it means letting a lender gather up all your debts and condense your payments into a single payment.
So, instead of having to pay five different credit cards each month, you'll only make one payment to Avant.
This tends to be an easier way to pay your debts since you're only paying one company back and not multiple companies.
However, you will be paying interest and fees on that money and there's a good chance you'll spend more money on your debt through consolidation than you would if you tried to pay off your existing debts as fast as possible.
For example, your debt consolidation may stretch out payments on a 1-year loan to three or four years.
The payments on that existing debt may be lower, but you'll pay more in interest over time, not to mention the administration fees and interest rates Avant will charge you (more on that later).
Avant Home Improvement Loans
Avant markets their home improvement loans as an alternative way to fund a home improvement project like adding a room or renovating your kitchen.
In many cases, homeowners like to use the equity in their home (home value – what you owe) to get a loan from the bank to fund their renovation projects. The idea is that your home's value is high enough to where you could sell it and use the equity to pay back your loan.
The downside to those loans is that, should your home value plummet and you have to sell, you're going to have to pay out of pocket for your loan.
Avant Emergency Loans
The final category of personal loan that Avant advertises on their site is the emergency loan. Here's how they describe why someone would need an emergency loan:
"No matter how well you plan for the future, unforeseen events happen. If you don't have an emergency fund or enough savings to cover those costs, a loan through Avant.com may help."
When you look at the number of Americans who are living paycheck-to-paycheck, it's easy to see why emergency loans are a popular product.
According to a 2017 article from MarketWatch, half of American families are living paycheck-to-paycheck, which means that they wouldn't be able to afford an emergency medical procedure that costs more than a couple of hundred dollars.
"Some 50% of people is woefully unprepared for a financial emergency, new research finds," reporter Quentin Fottrell wrote. "Nearly 1 in 5 (19%) Americans have nothing set aside to cover an unexpected emergency."
Should one of these emergencies befall you, Avant says their personal loans can help steady your finances.
Applying for an Avant Loan
Loan applications are started and completed on the Avant website. First, the site encourages you to check your rate. Keep in mind, though, that the initial rate you're quoted will most likely change during your application process.
The upside to checking your rate is that it doesn't affect your credit score and you get a general idea of what you can expect from Avant.
However, as we just said, don't assume what you see is what you get when you check your rate. You'll only know what your loan terms will be after you fill out an application and Avant checks your credit.
Once your application is complete, Avant will let you know if your application is accepted or if it was rejected. If it was accepted, they'll tell you all the details about your interest rate, administration fee and other aspects of your loan.
You aren't forced to choose Avant even if you've filled out an application and have been approved for a loan. Remember, your ability to shop around is one of your advantages, so use it (more on that in a minute).
Fees and Rates for AVANT Loans
While Avant presents their loan options in three different forms, all the loans follow the same schedule of rates and fees:
Loan amounts: $2,00-$35,000
Annual percentage rate (APR): 9.95% to 35.99%
Administration fee: 0.95% to 4.75%
Loan length: 24-60 months
Late fee (more than 10 days late): $25
Returned payment fee: $15
We wanted to know how much you'd pay in fees if you got the best and worst administration fees and APR. Here are the results using a $10,000 loan:
| Best Rate | Best Rate Fees | Worst Rate | Worst Rate Fees |
| --- | --- | --- | --- |
| 9.95% | $2,733 | 35.99% | $11,676 |
| 0.95% | $95 | 4.75% | $475 |
| Total | $2,828 | | $12,171 |
As you can see, there's a huge difference between getting the best rates with Avant and getting the worst ones: a $9,349 difference, to be exact.
A lot of what dictates which rates and fees you get is your credit scores. The better the scores, the better the rates you'll get.
We read through Avant's FAQ section and discovered that, according to them, the average credit scores of their borrowers range from 600 to 700, which is a spectrum that includes the national average credit score of 673.
Now, based on our research of dozens of credit cards and other financial products, we're confident in saying that, if your scores are at or below 600, then you can expect to get the highest rates and, possibly, the worst rate.
Are Avant's Rates and Fees Worth It?
This is a great question to ask if you're considering debt consolidation, as there is a chance that your Avant APR could be lower or higher than your current rate.
Your saving grace in this situation is that you'll know what your APR is before you have to sign for your loan, so you can reject Avant's offer if the terms of their loan is worse than what you've already got.
However, we think you may be able to get a better rate with Avant if the debts you currently have were incurred when you had awful credit scores – mid- to-low 500's – and your current score is much higher.
If that's the case, then there's a chance the rate you get from Avant will be better than what you now have
If you think you can get better rates with another lender, don't be afraid to shop around a bit. We've done in-depth reviews of many different lenders. Each of those reviews follows the format we used here, so click on any of the links below to learn about Avant competitors:
Reviews of Avant
Avant has reviews on several sites, both from consumers and experts like HighYa.
NerdWallet
NerdWallet's Amrita Jayakumar and Jeanne Lee reviewed Avant in March 2017, giving the lending site 4 out of 5 stars.
They concluded that Avant's loans "are geared toward borrowers with low credit scores who want to consolidate debt or need money for essential expenses."
Credit Karma
At the time of publishing, more than 1100 Credit Karma users had given Avant an average rating of 4.1 stars.
According to the site's metrics, 62% of those reviews were five stars, 17% were four stars and 13% were one star.
Their site lists the most helpful positive and negative reviews, as judged by Credit Karma users.
The most helpful 5-star review praised Avant, saying, "they were really the only company I considered with my low 600's score initially and knew form the beginning the high 29.97% interest."
The most helpful negative review had this insight: "Difficult approval. And when approved, I received $4,700. Dismal Customer Service."
Better Business Bureau (BBB)
Avant gets an A+ rating from the BBB, a rating that's derived from a number of factors including how long the company has been in business, how many complaints have been filed and how quickly Avant responds to those complaints.
Avant has 91 reviews on their BBB page, 78 of which are negative. The average score of those 91 reviews is 3.81 stars.
At the time of publishing, 248 customers had filed complaints with the BBB about Avant.
Our Closing Thoughts About Avant
Since the financial crisis, dozens of companies have popped up offering loans of many different types to consumers.
Each one of those companies has some pretty distinct positives and negatives, and Avant is no different.
Pros of Avant
One of the things we like about Avant is that their loans are simple.
Despite the fact that they market them as debt consolidations, home improvement and emergency loans, they're all the same loan with the same parameters: 24 to 60 months, 9.95%-35.99% APR and administration fees of 0.95%-4.75%.
In this sense, they make things simple for the consumer, which is a big plus for someone who needs money quick and doesn't want to deal with deceptive tactics or confusing websites.
Cons of Avant
We'd say that Avant's high fees are the main drawback to this company's lending model. If you've got bad credit, then there's a good chance that your APR will be above 30% and your administration fee will be north of 4%.
As we showed earlier in this review, getting the highest APR and administration fee will end up costing you more in interest and fees than your actual loan amount.
Who is a Good Fit for Avant?
Knowing that Avant's fees and APR's can get really high for consumers with bad credit, we'd say their loans are a good fit for those who have credit scores near 700 and want a long-term loan with reasonable interest rates.
The Final Word: Shop Around
Because there are so many different lenders like Avant, it would benefit you to shop around and compare the APR's and administration fees you get from other websites.
You'll most likely see your credit scores drop because of the credit check you'll get with every application you fill out, but the effect of those credit checks will fade after six months and disappear after two years.
The money you save from competitive shopping, on the other hand, will be well worth the temporary drop in your credit scores.
Bad business

They do a soft check and if you decide not to sign for the application, it's still a nightmare. They show up on your credit as a hard check. Don't even begin your application. I never turned in any proof of info, but once you enter your social security number, the show begins, where if you decided to get it or not, they punish you either way. Don't do the soft check, stay FAR AWAY! Scammers they are here, this will ruin you!

Bottom Line: No, I would not recommend this to a friend

---

This is a scam.

I received an advertisement through my bank, and filled out an app, but received an email that I was denied credit. Then 10 minutes later someone called me claiming to be Avant, and asked me to verify my identity with all kinds of questions. I told them that I was already denied so why would they be calling me. The call proceeded whereby I was given the run-around. I asked for a supervisor (Axel) and could not give out his last name. I asked for the address of the company, and it took way long while typing was heard (maybe trying to find the answer appropriate to give someone who asks THAT question). Chicago, they finally said, and I asked specifics for that address, delays to answer me. I never got a straight answer. All signs point that your application to this company was intercepted and they need to fill in the blanks because they are a SCAM. No legitimate company would act this way. I will continue to investigate this and report them to the appropriate government office. But for now, this has all the signs of being an ID SCAM. Be aware!

Bottom Line: No, I would not recommend this to a friend

---

Advertisement

---

Avant - a bait and switch

By Mitchell Marks

,

Fort Lauderdale, FL

,

Apr 29, 2018
Verified Reviewer

I applied for a loan with Avant. I was approved. Then I checked back and saw that Avant wanted me to approve a "hard credit check." I really didn't want to do this. However, the rep told me that I had been approved, so I gave in. Afterward, I received an email that the loan had been denied. I have a 653 Trans Union score. Now it will go down. Do not give Avant the ability to "hard pull" your credit score. They must check upward from four to five regional credit bureaus. I thought they would only pull from Trans Union. Oh well!

Bottom Line: No, I would not recommend this to a friend

---