Awair Reviews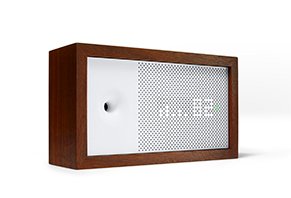 Featuring five sensors that can monitor temperature, humidity, carbon dioxide, chemicals, and dust, Awair promises to help you improve indoor air quality.
What is Awair?
Manufactured by Bitfinder, Awair claims to "know what's in the air your breathe" by tracking toxins and chemicals, pairing with your smartphone, and providing you with personalized recommendations to keep you safe and healthy.
Awair's sensors promise to identify the five key factors that determine air quality, including temperature, humidity, carbon dioxide, chemicals, and dust. You'll be able to see when these changes occur, track improvements over time, and monitor multiple Awair units with a single app.
You'll even be able to connect Awair to other smart products, such as home automation devices, that can help you take control of your environment.
Today, most of us are aware of how outdoor air pollution can impact our health. But if you're looking to take control over your indoor air quality—which can be much worse than outdoor—can Awair help you get there? Or, is it just another solution looking for a problem?
Here, we'll help you answer this important question.
How Does Awair Work?
Awair's Basic Details
Each Awair device is 3.5" high, 6.3" wide, and 2" deep, with a white slotted face, 100% toxin-free materials, and a frame made from high-quality North American walnut timber.
In the center of Awair's face, you'll find LEDs embedded behind several of the slots, which light up and help you understand your air quality at a glance (more soon). These LEDs also work as a digital clock.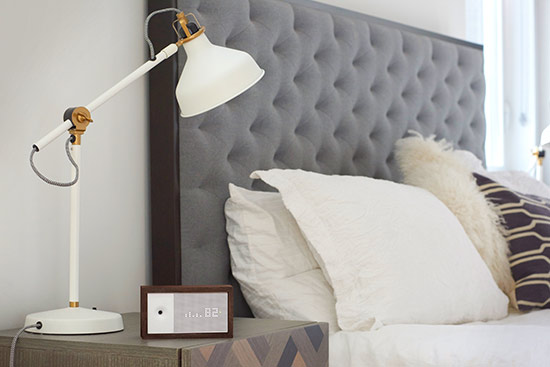 The Awair tabletop device, with its LED display. Image credit: Awair
Once plugged in and placed on a level surface approximately 48" off the ground and 1" from the wall, Awair can actively monitor air quality for about 1,000 square feet. The company recommends one unit per closed wall environment (rooms, closets, etc.).
In order to operate properly, Awair will require a strong Wi-Fi connection and pair with your smartphone via Bluetooth. All firmware updates are performed over-the-air, without any user effort required.
You can choose between three default and secondary displays on your Awair (Dot Light, Clock, and Score). Their 'knocking' feature allows you to quickly switch from the primary display to the secondary display by knocking twice on the top of the wood frame.
When cleaning Awair, the company recommends avoiding liquids and solutions of all kinds, instead noting that you should use a soft, clean, lint-free cloth.
Awair's Sensors
Built to last at least 7-10 years, Awair features five sensors that measure the following factors every 15 seconds:
Temperature (-40 to +125°C (-40 to +257°F), +/- 0.3°C)
Humidity (0 to 95%, +/- 3%)
CO2 (0 to 4000ppm, +/- 75ppm)
Volatile Organic Compounds (hydrogen gas, hydrogen sulfide, ammonia, ethanol, toluene, and formaldehyde)
Dust (0 to 500 μg/m3)
Based on "commonly available standards from the EPA," along with proprietary algorithms and user preferences, Awair will analyze the aggregate levels of each factor and assign a real-time score between 0 (poor) and 100 (awesome).
It will then represent this score using a color-coded scale, similar to a stoplight, and display this on its LED screen; Green = Good, Yellow = Fair, Red = Poor. Ideally, the goal is to see as many green dots and as few orange and red ones as possible.
On this screen, you'll also find a dot graph that represents each of the five sensors. Here, fewer dots mean healthier air.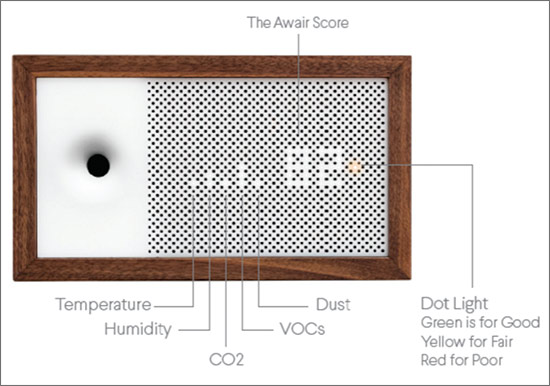 On Awair's LED-illuminated face, you'll be able to check each factor and overall air quality at a glance. Knocking twice on the top can switch between your primary and secondary screen. Image credit: Awair
Before making their way to you, each of Awair's sensors is subjected to a chamber-enabled calibration procedure that helps achieve maximum accuracy. Then, each one is strategically placed inside the device to maximize airflow and optimize readings.
While Awair can't formally detect the presence of mold yet, the manufacturer tells us that it can trace particles in the air, VOC levels, and humidity levels and warn you when mold might be growing.
Awair's iOS & Android App
All data collected by Awair is sent to the companion iOS and Android app (supported devices), where you'll find details about your color-coded score, actionable tips, insights, personalized recommendations, and relevant healthcare information (provided by the Mayo Clinic).
Combined, Awair claims the information it provides can help you sleep better, control allergies, boost productivity, and improve your overall health.
You'll be able to view Awair's data via daily trend graphs and event boxes, as well as a Timeline graph that shows data over a period of time. (Note: It doesn't appear this feature is available yet. Speaking with Nic Barnes, Awair's VP of Brand & Marketing, though, we learned this feature has been tested internally and is slated for release in early 2017.) You'll be able to filter each sensor's data individually.
While each Awair device can only connect to one app, you can connect one app to multiple devices, providing you with an all-in-one overview of every device in your home. Each device will display their location and a unique name.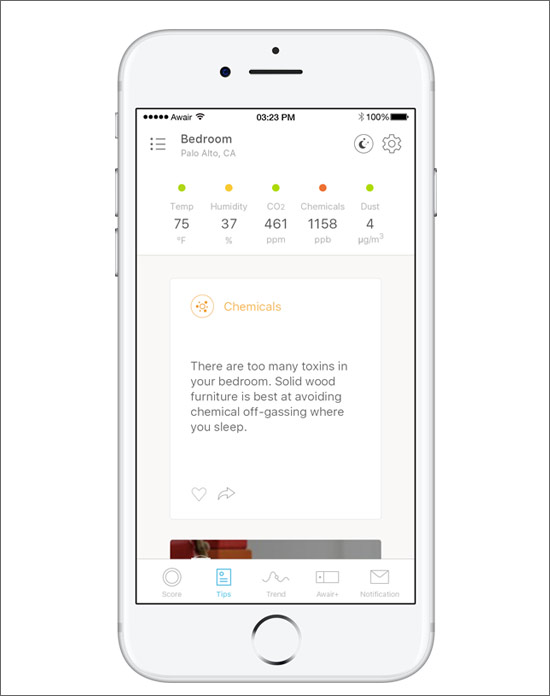 Using Awair's app, you'll gain quick access to each device in your home, an air quality overview, actionable tips, and more. Image credit: Awair
Is Awair Compatible with Home Automation Devices? Which Ones?
Currently, Awair can pair with Amazon's Echo (and its Alexa voice-command feature), as well as the Nest Learning Thermostat.
Awair also supports IFTTT (If This, Then That) functionality, which means you can instruct it to perform a function after specific criteria is met.
For example, if Awair detects VOC levels are rising, you can instruct it to send you an email. Or, if it detects high CO2 levels, it can let your Nest Thermostat know it's time to turn on the fan.
The sky's the limit here (you can set as many IFTTT triggers as you want), although Awair has an existing IFTTT channel that can help you get started. For a complete overview of this technology, be sure to check out Make Use Of's in-depth guide.
Currently, you can only pair one Awair unit per Echo and Nest, although the company tells us that their list of compatible devices continues to grow.
What's the Difference Between Awair & Glow?
Whereas Awair only monitors indoor air quality, Glow is a meaningfully smaller device that also works as a smart plug. The nightlight on top can be activated by motion, touch, or through your Awair app.
All you have to do is plug Glow into any ordinary outlet and connect it to the Internet. Then, it will track all of the same factors as Awair, except for dust, and send the information to the companion Awair app.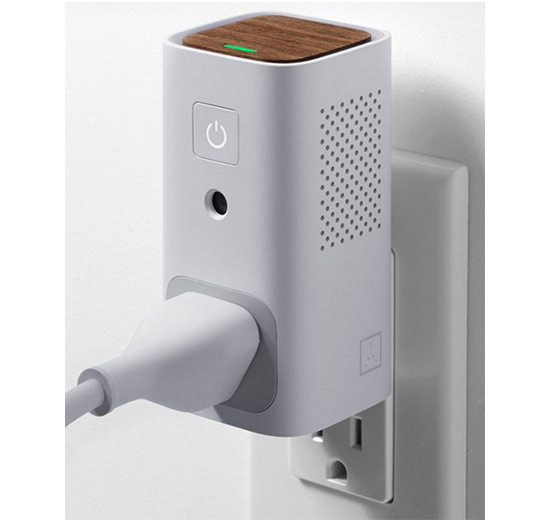 Awair's Glow plugs into any standard outlet, monitors air quality, and can turn any "non-smart" device on or off based on three triggers. Image credit: Awair
You can plug any "non-smart" device into the front of Glow, such as fans, air purifiers, air conditioners, dehumidifiers, lamps, portable heaters, humidifiers, air purifiers, and more. Then, you can control them by setting up three types of triggers via the app:
Schedules – Turns on and off any attached device at specific times.
Air Quality – Triggers an action if the air quality is above or below a certain threshold (such as turning on an air purifier if VOC levels reach above 849ppm).
Eco-Motion – Turns on or off any attached devices if motion is detected (such as a light in a hallway).
While you can only set one trigger at a time with Glow, each time a trigger occurs you'll receive a notification inside the app, and can also receive push notifications if you choose.
To help you keep tabs on your whole-home air quality, Glow can also connect to your Awair.
Important note: Glow currently only works with iOS. Additionally, the manufacturer recommends that you plug Glow into an outlet about 48" off the floor.
However, while Awair recommends Glow for areas like bedrooms, nurseries, and hallways, typically the only rooms with outlets at this height are the kitchen and bathrooms.
Now, how much will these devices and features cost you?
How Much Will You Pay for Cleaner Air Using Awair?
Awair's products are currently available in the US and Canada and are priced as follows:
Awair: $199
Air Baby – A special edition featuring Ocean or Rose-colored copolymer in place of the wood casing. Shipping expected 12/16/16: $159
Glow (shipping expected 12/9/16): $99
All devices come with a 30-day return policy, less S&H, as well as a limited 1-year warranty against manufacturing defects.
In order to request a refund, customer service can be reached at hello@getawair.com. You'll need to include your order number and a description of the issue, and the device must be unused and in the same condition that you received it—including "the original packaging, wrapped the same way it arrived."
Awair is also available through Amazon for the same price.
Speaking of Amazon…
What's Everyone Saying In Their Awair Reviews?
118 Amazon customers had provided feedback about their Awair experience at the time of our research, giving the device an average rating of 3.8 stars.
There, most compliments claimed that the device looks attractive, is easy to use, that it works as advertised (including useful tips and tricks), and that customer support is excellent.
Some customers complained that Awair's sensors were inaccurate (especially temperature and humidity), that they experienced frequent connection failures, and that you can't access detailed data reports.
While Awair was also featured on popular websites like TechCrunch, PC Mag, and CNET, these weren't much more than high-level overviews and didn't include any hands-on testing.
Between iTunes and Google Play, Awair's app had an average rating of about 3.6 stars.
Most compliments referenced ease of use, quick access to information, and intuitive design. Common complaints referenced buggy operation (frequent crashing, disconnecting, inaccurate readings, etc.), incomplete data (can't view graphs for anything other than daily data), and infrequent updates.
From a company perspective, Awair is manufactured by Bitfinder, based out of San Francisco, CA.
The company's CEO and co-founder, Ronald Ro, realized the need for a device like Awair after his baby daughter began suffering from eczema, which he eventually linked to air quality.
Together with his friend and co-founder Kevin Cho, Ronald set out to create a device that could track chemicals and toxins in the air, and provide actionable recommendations based on its findings.
Prior to Awair, Ronald also co-founded Plado, Inc., and Foundersoup.
Awair vs. Foobot (& Other Competitors)
While their website was down at the time of our research, perhaps Awair's closest competition comes from Foobot, a tabletop device that also monitors VOCs, CO2, temperature, humidity, and PM2.5 (dust) in real time.
Like Awair, Foobot sends this information to an iOS and Android companion app, where it provides actionable tips to improve your indoor air quality.
As with Awair, Foobot gives you the ability to trigger other devices and works with Nest, Amazon Echo, IFTTT, and more. It's also compatible with Ecobee.
At $185, Foobot isn't meaningfully less expensive than Awair. Perhaps the biggest difference, though, is that Foobot allows you to track air quality data over time, which seems to be the biggest customer complaint related to Awair.
Another close competitor is the soon-to-be-released uHoo, which seems to provide nearly all of the same features as Awair. However, it will also track carbon monoxide, ozone, and air pressure, with a $299 price point.
On the down side, it doesn't appear uHoo features any smart device integration or IFTTT support.
If you're willing to move away from all-in-one systems like Awair and Foobot, there are hundreds of different air quality sensors (as well as individual ones for humidity, temperature, CO2, and more) out there, although you'll need to be fairly technical to get set up. Some of these can cost well over $1,000, too.
Where does all of this leave you?
Is There a Place in Your Life for Awair?
According to the EPA, indoor air pollution can be caused (or made worse) by dozens of different factors, including tobacco products, building materials and furnishings (new flooring or upholstery, certain pressed wood products), household cleaning products, excess moisture, and much more.
And considering that we spend 90% of our day indoors, it makes sense that we'd want to maximize air quality, right?
Can a device like Awair help you accomplish this? Perhaps. But while Awair seems to have mostly positive feedback, it's important to keep in mind that these types of devices only work as tools.
In other words, unlike an air purifier or humidifier (as a couple of quick examples), which actively change the composition of the air, it will be up to you to implement Awair's recommendations to boost the quality of the air you breathe.
Additionally, even if you only placed Awairs in main rooms of your home, such as the living room, kitchen, and master bedroom, followed by Glows in secondary bedrooms, bathrooms, and hallways, it's not going to be inexpensive to achieve whole-home monitoring.
Awair comes with mostly positive customer feedback, has received a ton of favorable media attention, and according to the company's VP of Brand & Marketing, has recently expanded into retail in Europe and Asia.
It certainly seems like they're doing something right, and that their products could at least get you moving in the right direction.
Quick: Tell us about your Awair experience by writing a review below!