B-Triad by LioSearch Reviews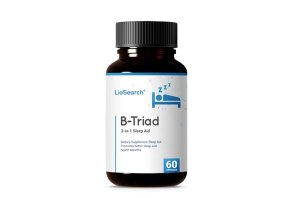 According to LioSearch, B-Triad's blend of seven natural ingredients can help you sleep better, while also improving digestion, cognition, energy, and fat loss.
About B-Triad by LioSearch
Advertised as a comprehensive anti-endotoxin health support supplement, B-Triad by LioSearch uses a revolutionary three-in-one formula to deliver relief from sleep and digestive dysfunctions.
As a result, the company indicates you might expect a wide variety of related benefits, including improved energy and more restorative sleep, feeling more refreshed, energized, and mentally sharp upon waking; a calmer mind, and help against fat buildup.
To accomplish this, customers are instructed to take two capsules once per day, in conjunction with their largest meal. If you prefer, you can also take one capsule, twice daily.
According to the LioSearch website, many users report improved sleep, energy, and overall health within a few days of use (sometimes even within the first few hours), although the most dramatic results typically occur over a two to three-week time span.
You want relief from sleep and digestive dysfunction right now, but is this what you'll get with B-Triad? Let's kick things off by taking a closer look at the underlying problems.
What Causes Sleep & Digestive Dysfunctions?
When it comes to digestion, Cleveland Clinic reports that functional gastrointestinal disorders are the most common problems affecting the GI tract, which occur when it "looks normal but doesn't work properly."
With such a broad definition, it might come as no surprise that there are perhaps hundreds of different factors that can cause these functional GI disorders, although common culprits include:
Not eating enough fiber
Not getting enough exercise
Eating too much dairy
Excessive stress
Taking some types of antacids and prescription medications
Pregnancy
Constipation
Irritable bowel syndrome (IBS)
Hemorrhoids and anal fissures
Colon polyps
Cancer
Note: Brittanica.com tells us that the endotoxins—"toxic substances bound to the bacterial cell wall and released when the bacterium ruptures or disintegrates"—mentioned on the B-Triad website may cause fever, although there's nothing referencing a direct correlation with digestive disorders.
As with any medical condition, your doctor's diagnosis of the underlying cause will directly determine appropriate treatments. With this in mind, common options include eating more fiber, increasing exercise, avoiding caffeine, minimizing stress, adjusting medications, or even undergoing surgery in a worst-case scenario.
Taking a Closer Look at Sleep Dysfunctions
It's much the same case when it comes to difficulty sleeping. Harvard Med's Healthy Sleep notes that "a variety of sleep disorders can cause similar symptoms," so it's "important to seek the expert opinion of your physician and/or a sleep specialist" when looking for a therapy that will deliver relief.
Secondary insomnia (difficulty falling asleep as a result of something else), is often caused by caffeine or alcohol consumption close to bedtime, stress, environmental changes, certain medications, as well as some medical and psychiatric conditions. In many instances, they tell us that addressing the underlying problem will often improve sleep.
eMedicineHealth tells us that primary insomnia, on the other hand, is caused by psychophysiological issues or sleep state misperception, or is classified as idiopathic (no known cause). Many of the same techniques are implemented to help patients find relief, including medication and lifestyle changes.
With these important details as our foundation, let's zoom in and take a closer look at the clinical evidence for each of B-Triad's ingredients in relation to sleep and digestion.
What Ingredients Are Found in B-Triad?
Some of LioSearch's marketing material indicates B-Triad harnesses "the power of dozens of natural, non-habit forming ingredients." But according to the supplement facts label listed on their website, it only contains seven:
Magnesium 200 mg
L-Theanine 400 mg
GABA 100 mg
Phellodendron Root Powder 100 mg
Mucuna pruriens 100 mg
5-HTP 50 mg
Melatonin 2 mg
Another potential discrepancy we encountered (we'll return to this topic in the Pricing section) is that the MySleepSolution.com URL indicates B-Triad is an encapsulated supplement, while LioSearch's main website reports it's a powder that must be mixed with the beverage of your choice.
Back to the ingredients: According to their summaries of the available clinical evidence, websites like Examine.com, WebMD, and the Natural Medicines Database report that taking magnesium (no dosage listed) is effective for relieving constipation and working as an antacid to reduce heartburn.
There's also some clinical research showing that taking 150 to 3,000 mg of 5-HTP daily over the course of two to four weeks could be as beneficial as conventional antidepressant therapy for addressing symptoms of depression.
Melatonin (no dosages listed) is listed as possibly effective for improving sleep disorders in blind people, reducing the length time it takes to fall asleep (but, only by about 12 minutes), and for addressing jet lag.
Outside of this, these same sites indicate there's insufficient clinical evidence to support LioSearch's remaining claims for B-Triad's ingredients.
Could B-Triad's Ingredients Cause Side Effects?
LioSearch emphasizes that B-Triad contains only 100 percent natural and safe ingredients, but as with any supplement, that you should consult with your healthcare professional before starting any new supplement program.
WebMD, Examine.com, and the Natural Medicines Database indicate that the most common side effects associated with Mucuna pruriens (commonly called cowhage) are nausea and bloating, although no dosages or other specifics are listed.
Also, melatonin can sometimes lead to side effects like headache, short-term depression, daytime sleepiness, and irritability. Again, no dosages or details provided.
From a medication perspective, they report magnesium can have a moderate interaction with antibiotics, and a potentially major interaction with medications for depression (MAOIs), as well as those that lower blood pressure.
Melatonin can also have a major interaction with sedative medications.
How Much Does B-Triad Cost?
How much you pay for B-Triad largely depends on where you choose to purchase it from, and whether or not you choose to sign up for LioSearch's autoship program.
For example, if ordered from their MySleepSolution.com URL, the supplement is priced at:
1 Jar: $49.85
3 Jars: $134.70 ($44.90 per jar)
6 Jars: $199.80 ($33.30 per jar)
And if you agree to subscribe (i.e., receive regular shipments of the supplement), your prices will drop to:
1 Jar: $44.85
3 Jars: $121.23 ($40.41 per jar)
6 Jars: $199.80 ($29.96 per jar)
On the other hand, if ordered from the main LioSearch.com URL, prices increase to:
1 Bottle: $69.95
3 Bottles: $197.36 ($65.79 per bottle)
6 Bottles: $375.99 ($62.67 per bottle)
In several places on the B-Triad website, LioSearch indicates the supplement comes with a 90-day satisfaction guarantee, less S&H. However, according to their terms, there is only a 10-day policy in effect for refunds, and a 30-day policy for exchanges or store credit.
In addition to pricing details, we sent an email to support@liosearch.com for clarification about refunds, but hadn't received a response as of publishing.
What Do We Know About the Company Behind B-Triad?
LioSearch is based out of Lyon, France, although we didn't encounter additional information about the company on any third-party websites at the time of our research. In addition to B-Triad, they also manufacture supplements like B-Mood (anti-stress) and B-Brain (cognition).
What about Dr. Vincent Daguise? Searching for his name online, we found several generic entries for someone matching this name as a French General Practitioner, although we didn't encounter a detailed bio or a direct connection to LioSearch in general, or to B-Triad, specifically.
Are There Other Sleep Aids Like B-Triad?
According to Harvard's Healthy Sleep article cited earlier, "on an average night, 30 to 40 million Americans have difficulty falling asleep, staying asleep, or wake earlier than they would like and cannot get back to sleep," which "are the major symptoms of insomnia."
As a result, there are perhaps thousands of different sleep aid and supplement formulations in existence, from almost as many manufacturers, and widely available from online and local retailers at competitive prices. To outline the diversity in your options, here were some of the most popular on marketplaces like Google Shopping and Amazon at the time of our research:
| Brand | Price | Active Ingredient(s) |
| --- | --- | --- |
| B-Triad by LioSearch | As low as $29.96 per jar | Magnesium, 5-HTP, Melatonin |
| ZzzQuil | $5+ | Diphenhydramine HCl 25 mg |
| LUNA Herbal Sleeping Complex | $21 | Magnesium, L-Theanine, Valerian, Chamomile, Passionflower, Lemon balm, Hops |
| DRIFTOFF | $20 | Valerian, GABA, Tryptophan, Chamomile, Passionflower, Lemon balm, Hops, Melatonin |
| Unisom Sleep Gels | $11 | Diphenhydramine HCl 50 mg |
| InstaSleep | $8 | Melatonin |
| Unisom Sleep Tabs | $6+ | Doxylamine succinate 25 mg |
| Alteril | $19 | Melatonin, Glycine, GABA, Hops, L-Tryptophan, Valerian, Passionflower, Skullcap, Chamomile, Soy |
With so many brands, formulations, and price points at your disposal, what's the best first step to help ensure you're making the right purchase? Talk with your doctor.
As HelpGuide emphasizes, whatever's causing your sleep or digestive problems, a sleep aid like B-Triad (or its many competitors) won't cure it—at best, you're looking at a temporary solution that should only be used for the short-term. To provide longer-term relief, you'll need a formal diagnosis and science-based treatment plan from a trained physician.
And perhaps except for the most severe instances, this plan might focus more on lifestyle changes (e.g., relaxation techniques, creating a bedtime ritual, getting more exercise, etc.) than it will on medication.
If you talk with your doctor and they recommend an over-the-counter sleep aid, after writing about hundreds of dietary supplements over the years, we'd recommend doing business with companies who offer at least 30-day refund policies, with no restocking fees.
Also, look for a complete supplement facts label (including dosages), mostly positive online customer feedback, and clinical support for any of the manufacturer's claims.
Our Final Thoughts About B-Triad by LioSearch
In the end, according to sites like the Natural Medicines Database and WebMD, B-Triad comes with several ingredients listed as 'possibly effective' for addressing some aspects of digestion and sleep, including magnesium, 5-HTP, and melatonin.
However, its remaining ingredients weren't listed as having sufficient clinical support for the manufacturer's claims, and the supplement was priced meaningfully higher than some of the sleep aid competition.
In fact, the pricing was even meaningfully different depending on which of the manufacturer's sites we visited, and there were also discrepancies in the supplement's form (capsules vs. powder), the refund policy, and potentially the formula itself.
For these reasons, we emailed the company for additional insight. As consumers ourselves, we might wait until after receiving a response—and you've had time to speak with your doctor, of course—before handing over your hard-earned money.
» See Also: How Sugar, Stress and Sleeplessness Are Hurting Your Memory
I like the product.

By Betsy T.

,

Montrose, CO

,

Sep 2, 2018
Verified Reviewer

I started using B-Triad a few months ago and it sure helped me get to sleep. I used to lay awake for hours but after using this product, and with my doctor's full approval, sleep comes to me like it's supposed to. I like all the supplements that come with it and I like that it's natural. I've had a hard time figuring out where to go to order more. I hope you can help me.

Bottom Line: Yes, I would recommend this to a friend

---

4 out 5 people found this review helpful

Do not order

By K R Weidner

,

Dailey, WV

,

Mar 25, 2018
Verified Reviewer

I bought this product, but before it arrived, I had done more research on the product and with the new information decided not to use it. When it arrived at the post office, I refused it, and the order was returned by the post office unopened. I requested a refund, but no refund or contact was made to me by the company. I am out $92.25. Not a happy customer.

Bottom Line: No, I would not recommend this to a friend

---

Advertisement

---