B2v2 Reviews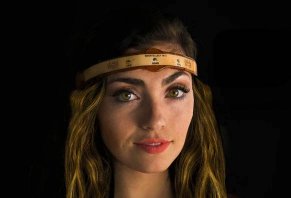 By combining proprietary software housed on a Windows-based tablet with flexible sensors on an adjustable headband, the B2v2 system claims to balance your brain.
What Is B2v2?
Using sensors to read your brain waves and software to translate these waves into music-like tones, B2v2's brain optimization technology promises to act like a "sound-based mirror" that helps the brain hear itself and adjust to a more balanced rhythm.
With regular use, the company claims this balancing can potentially help reduce stress, improve sleep and memory, optimize learning, maximize performance, boost learning, and deliver an enhanced overall feeling of wellness and wellbeing—in as little as 10 minutes per day.
Specifically, we're told that 85-90 percent of B2v2's 122,000+ clients reported sleeping more deeply and waking up more refreshed, with increased confidence, focus, drive, and joy.
In today's harried personal and work environment, a device that passively balances brainwaves, reduces stress, and improves sleep could stand to work wonders for millions. But is this what you'll realistically achieve with B2v2?
Here, we'll explore all the details learned during our research so you can better answer this important question. To begin, we'll take a deep dive into the company's core technology.
How Does B2v2's SMART Protocol & Acoustic Brain Mirror Technology Work?
According to Lee Gerdes, founder and CEO of Brain State Technologies, your "brain sees itself with tone, like you see yourself with vision." As a result, the company designed B2v2 to work by "reflecting the brain back to itself." What equipment does it use to accomplish this?
B2v2's portable, adjustable headband features three raised diamonds on the side that make it easy to feel where each of the black, carbon-infused rubber sensors are located, even with it on your head. In turn, these sensors read the output of your brain's frontal (where emotional states are controlled) and temporal (where sleep is influenced) lobes.
Then, these signals are sent through a shielded HDMI cable from the back of the headband to the controller box, where an advanced processor amplifies and broadcasts them wirelessly via Bluetooth to your Windows PC tablet.
Once there, B2v2's proprietary SMART Protocol HIRREM (high-resolution, relational, resonance-based, electroencephalic mirroring) software analyzes their unique rhythm and pattern in real time, displays them as colorful waveforms on the screen, converts them to engineered music-like sounds, and reflects them back to you through earbuds using a process called Acoustic Brain Mirroring.
Here, the brain's two hemispheres—which can become unbalanced and stuck in a state of constant misfiring, leading to insomnia—are rebalanced for improved sleep and potentially better overall wellbeing.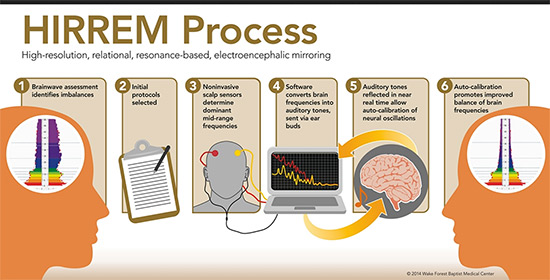 Using the company's proprietary HIRREM technology, B2v2 claims to rebalance the brain's hemispheres and provide improved sleep. Image credit: Wake Forest University
Inside B2v2's app, you'll be able to select a treatment time (4-60 minutes), as well as a sound (you can audition three different sounds before choosing your favorite one). Once you're finished, you'll press the play button to start your session, close your eyes, and relax. A gentle voice will let you know as soon as it is complete.
Finally, at the end of the session, the tablet will save your data, after which the software's Balance Meter will show your activation and emotional brain state at the beginning and end. The app can support up to five different profiles.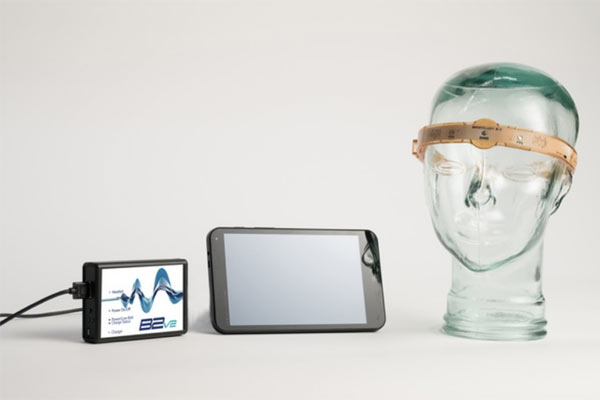 In this image from the company's Kickstarter campaign, we can see B2v2's adjustable headband, Windows tablet, and wireless controller box. Not shown are the earbuds, HDMI cable, and carrying case. Image credit: Brain State Technologies
Does the company provide clinical evidence to support these claims? We'll cover this aspect in a moment, but let's first discuss how B2v2 differs from the original.
BRAINtellect vs. B2v2
On the system's website, Lee Gerdes tells us that the original B-2 Headband was launched via Kickstarter in 2015. It was supported by a scientific grant from the U.S. Army Research Office—and developed in collaboration with professionals and researchers from the Wake Forest School of Medicine, Harvard Medical School, and the University of Virginia School of Medicine—aimed at optimizing sleep and regulating circadian rhythm.
After more than 4,200 individuals tested the original, the site tells us results were good, but the headband received frequent feedback that it was bulky, made of hard plastic (no laying down during treatment), difficult to put in place and achieve proper positioning, and was ill-fitted.
As a result, the company decided to keep all the other components of the B-2 system, but redesign the headband using flexible circuits and proprietary sensors to provide more comfort and deliver greater contact with the scalp.
Now, let's come back around to the topic of clinical support for B2v2's claims.
Is B2v2's HIRREM Technology Clinically Proven?
According to a June 2017 press release, the technology featured in B2v2 underwent a three-year study conducted by Prof. Charles Tegeler, M.D. at the Wake Forest School of Medicine, Department of Neurology. It involved 107 adults with insomnia, who were assigned to receive 10 sessions of either HIRREM or a random tone placebo. Here were the reported results:
"At the predetermined endpoint two months after their sessions, those who received HIRREM reported a significantly greater reduction in insomnia symptoms than those who received placebo. Moreover, the HIRREM group showed marked improvements in heart rate variability and baroreflex sensitivity, whereas the placebo group showed no physiological changes. Ninety-four percent of the enrolled subjects completed all sessions and follow-up visits as scheduled, and there were no adverse events in either group."
We also found a total of seven studies on the NIH's Pubmed where Dr. Tegeler and Lee Gerdes found the same technology might have a correlation with treating postural orthostatic tachycardia syndrome (POTS), athletes with persisting post-concussion symptoms, resting heart rate, and allostatic neuro-education.
With this said, Newsweek reports that neurofeedback, or "a form of biofeedback in which subjects respond to a display of their own brainwaves or other electrical activity of the nervous system," has been used by neurologists since the 1960s to help the brain self-regulate.
How Much Does B2v2 Cost?
A new B2v2 system is currently available for $995 through the company's Kickstarter campaign, with an estimated shipping date of November 2017.
This includes sensor inserts, a controller box and charger, a Windows tablet, pre-installed software for two users and one guest (up to three additional users can be added for between $99 and $199), an HDMI cable, ear buds, and a carrying case.
Alternately, if you own an original B-2 system, you can upgrade your headband for $195.
All B2v2s come with a US-based customer service for 90 days, a 30-day money back guarantee, and a one-year warranty.
In order to request a refund or process a warranty claim, Brain State Technologies can be reached at (480) 588-6840 to obtain approval and a return authorization number.
Are There Other Brain Synchronization Systems Like B2v2?
In short, no. We encountered several other products (including smartphone apps) that claimed to synchronize brain waves, mostly using binaural beats, but nothing that included an entire system, proprietary technology, or biofeedback. However, B2v2 was also priced meaningfully higher than all of these other options.
So, the next logical question might be: Is B2v2 worth the nearly $1,000 price tag?
The author of the Newsweek article cited earlier reported they underwent two sessions using the previous B-2 headband and, "After the first session, I felt as if I'd just finished meditating, and the world seemed a little brighter. After the second, I felt like I'd taken a Xanax."
It also appears that Brain State Technologies, based out of Scottsdale, AZ, held an A+ Better Business Bureau rating and no closed complaints as of 7/5/17.
Based on everything we've covered here, let's wrap up and come to a final conclusion.
Our Bottom Line About B2v2
When looked at from a high-level overview, we've learned that the technology behind B2v2 was originally developed at Wake Forest University from a U.S. Army grant, and comes with professional clinical evidence indicating it can help address insomnia.
In addition, the company also comes with a high BBB rating and positive customer feedback—although very limited at the time of our research—seemed to indicate that the previous B-2 system (which only differs in its headband) really can work.
Perhaps the biggest potential stumbling block to owning the new B2v2 system is it's nearly $1,000 price tag. But, as someone who suffers from insomnia, the reality is that most of us will probably pay whatever price it takes to start sleeping well again.
And ultimately, the manufacturer provides a 60-day refund policy on all purchases, which should be more than enough time to discern if it will deliver real-world benefits for you. Just remember that you'll have to pay to ship the system back to the company if you're dissatisfied.
Great investment

By Karin B.

,

Scottsdale, AZ

,

Nov 7, 2018
Verified Reviewer

I signed up for the entire program and began with four consecutive daily one hour sessions at the office, then continued to use my home device daily. I had one more office session after twenty-one days. So far it has been seven weeks, and I sleep better than I ever have. I didn't believe I had any major issues going on in my life but then realized I actually had been suppressing a few specific things for a few years. I was able to take a careful look at them as they came up and was able to deal with each of them in a calm and thoughtful way. I feel very well balanced and much more in control of my everyday life. I have not had any technical issues with the device to date. Thank you, Lee, for introducing me to this wonderful device!

Bottom Line: Yes, I would recommend this to a friend

---

A terrible barely functioning product

I have done the full $2,000 Brain Wave Optimization treatment from Brain State Technologies, and I do not regret it one bit. Lasting results.

My experience, however, with the B2 unit and as well with the B2v2 second version has been a truly horrible experience.

The unit functioned for a bit, until the software upgrade. It became basically non-functional. So new receptor lads were sent. It worked for awhile, even though the headband was tight and uncomfortable. Then the second software update came. This time there was no functioning change on the software after the treatment. So, a replacement headband was sent.

It worked fairly well, until the third software update. The unit completely froze. I sent it in, and it was so messed up they could not fix it, or retrieve any of my session data. So they sent back a totally new unit. And now, this (the latest) is so frustrating and glitchy that it works maybe 1 out of 10 attempts.

I use a number of devices to aid with sleep and health, and I can unequivocally say that this is BY FAR the most regretful I have even been on spending $1,500 on. It is such a disaster even now with this latest version and I have completely given up using it.

I can in no way recommend it. I will be happy to expand on this review for anyone wanting any further clarification etc. I hope to be of service to warn others before spending so much money on a device that works about 10% of the time.

Bottom Line: No, I would not recommend this to a friend

---

Advertisement

---