Babbel Reviews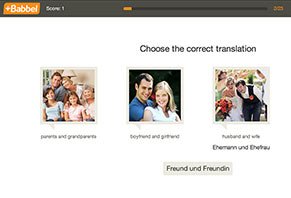 Babbel is an online learning program from professional linguists, educators, and authors that can help you speak, write, and understand a new language.
About Babbel
Founded in 2007, Babbel is an easy, fun, effective, and fully developed way to learn a new language online, whether you're interested in Spanish, English, German, Italian, French, Portuguese, Swedish, Turkish, Dutch, Polish, Indonesian, Norwegian, Danish, or Russian.
Unlike a classroom, Babbel's learning programs are self-directed (it's up to you to complete the work), although you'll be given everything you need to speak, write, and understand your new language. In fact, the company claims you'll start speaking in your very first lesson, and Babbel's integrated speech recognition uses your computer's microphone to help improve your pronunciation.
This self-directed format also means you'll be able to learn what you want, when you want. Just choose the program you're interested in, and learn grammar intuitively as you build your vocabulary. As you move along, Babbel saves your progress in the cloud, so it can even be used when you're on the go through their iOS and Android apps!
It might seem trite, but learning a new language really can expand your horizons and open up new possibilities, whether it's improved memory and multitasking skills or boosting your job prospects. But there are also thousands of different language learning programs out there, so how do you know if Babbel is your best option? That's exactly what we'll help you decide here.
To begin, let's find out how Babbel claimed to differentiate themselves from the competition.
What Makes Babbel Different From Other Language Learning Programs?
Babbel claims to provide "the best language learning experience" available. But why? Really, it all boils down to 3 distinct benefits:
According to the company, their courses are "created by a dedicated team of professional linguists, educators and authors."
They guarantee that all of their lessons are tailored specifically to your native language, as well as the language you're looking to learn: "The way an English speaker learns French, for example, is different than the way an Italian speaker learns it. This way our customers benefit from useful content with a maximum learning effect."
Babbel's Review Manager, which we'll discuss next.
What is Babbel's Review Manager?
Using a learning technique known as spaced repetition, Babbel's Review Manager will "automatically remind you when words and phrases are due for review" in order to optimize your learning. The Manager determines which words need to be reviewed—and when—based on how many times it's been reviewed and how often you answered correctly.
Then, if you answer a review question correctly, it will move up one knowledge level. Here's how the Babbel website explains it:
If no mistake is made, the word or phrase moves up one level and becomes due again in 4 -180 days (depending on the new level).
If you make only one mistake, the word or phrase stays at the same level and becomes due again the next day.
If you make more than one mistake, the word or phrase moves down a level and becomes due again immediately.
Sounds pretty neat, right? But are these benefits really unique to Babbel?
Are There Similar Language Learning Programs To Babbel?
On their About page, we learned that Babbel was formed in response to the fact that no "fully developed" online language learning programs existed at the time. Instead, everything was multimedia-based, such as CDs and DVDs. But that was nearly 10 years ago; has the marketplace changed since then?
In short, yes. In fact, finding your next language learning program is as easy as typing "learn a language" into your favorite search engine. And when you do, you'll see that you have dozens of choices, including popular options like Live Lingua and Rosetta Stone (which got its start using multimedia-based programs), as well as free sites like Duolingo and LiveMocha.
You'll also find dozens of programs that use the same spaced repetition technique as Babbel, so it's not necessarily unique in this aspect either.
Granted, not every language course will take the same approach as Babbel (or be as high quality, especially with free versions), but the point is that if you're looking to learn a new language online, you have a ton of options to choose from.
Given all these choices, are customers pleased with their Babbel experiences?
Are Customers Chatting About Babbel? What Are They Saying?
Overall, it seems that Babbel has received mostly positive online reviews, both from customers and industry leaders.
PC Mag provided a fairly in-depth review of their experience with Babbel, whose author used the program to learn German, Spanish, Italian, and Norwegian. They liked that everything was good quality and inexpensive, but thought that it might not be ideal for beginners (too many new words at once), and that the quality varied depending on the language chose. Ultimately, they concluded:
"For an inexpensive and little-known online language-learning program, Babbel exceeds expectations, delivering high-quality, self-paced courses in 13 languages. The material is more challenging than what's in many other programs, however."
On Amazon, Babbel's Spanish program had an average rating of 4 stars based on 341 reviews. There, common compliments cited ease of use (regardless of your current level) and effectiveness. However, the most common complaints seemed to revolve around incorrect translations (one reviewer said his Spanish-speaking wife noticed about 33% were wrong), and that the app didn't work properly.
Finally, LanguageSurfer provides some great insight in their Babbel review, claiming that it's a great tool (especially for the price), but it does come with some considerations. These include that it feels like instruction (versus the game-like feeling of some other programs), some words/lessons will likely be difficult for a beginner, and that the courses are relatively short.
How much will a Babbel subscription cost you, though?
Babbel's Pricing & Refund Policy
You can register for free with Babbel, which will give you access to the first lesson in every course, regardless of the language. Then if you decide you'd like full access to all the courses in your chosen language, you'll have the following membership options available:
1 Month: $12.95
3 Months: 26.85
6 Months: $44.70
12 Months: $83.40
Keep in mind that your subscription will automatically renew, so be sure to set a reminder a couple days before the end of your subscription to cancel.
All Babbel language programs come with a 20-day, no questions asked refund policy.
We know we've given you a lot of information in this Babbel review, so let's wrap everything up so you can make a final decision about whether or not it's right for you.
Is Babbel a Good Choice For Learning a New Language?
If you like learning at your own pace, then a self-directed language program might be right up your alley. After all, you'll be able to start and stop when you want, without the pressure and hassle of attending a traditional class.
But just like everyone else, you've got your own learning style, and there's no way to tell whether or not you'll like Babbel's style without first giving it a try. The good news is that the company offers free access to the first lesson in each of their language courses. And even if you decide to sign up for full access, you can still get your money back within 20 days if you're not satisfied.
In other words, if you decide to give Babbel a try, the company has been in business for nearly 10 years with mostly positive online customer reviews, and they're less expensive than many of the other paid language learning programs out there. On top of this, the spaced repetition they use to cement words in your mind is a proven technique.
But there are dozens of other language learning programs available (including free options) that use this same spaced repetition technique, so it's important to explore all your options before handing over your hard-earned money (you're already off to a great start!). In fact, finding the perfect online language learning program might take some trial and error, even if it's not Babbel.