BackgroundAlert.com Reviews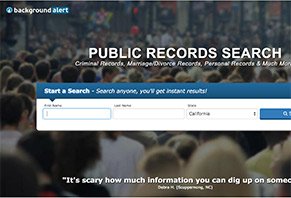 BackgroundAlert.com is a people search company that provides access to more than 37 billion public records, and compiles them into a comprehensive report.
About BackgroundAlert.com
BackgroundAlert.com searches more than 37 billion up-to-date public records to help you efficiently find the information you need.
Looking for criminal records, marriage and divorce records, personal information, sex offender data, or anything else available publicly? BackgroundAlert.com uses proprietary technology to link directly to federal, state, and county databases, compile what they find, and display it in a comprehensive report.
Sound simple? On the surface, BackgoundAlert.com seems to be.
But if we dig a little deeper, we might find that things aren't exactly what they appear. Let's start digging, shall we?
What Service Does BackgroundAlert.com Provide?
Public records are "documents or pieces of information that are not considered confidential." As soon as you're born, your public records begin amassing, including:
Birth certificate
Driver's license
Addresses and phone numbers
Criminal record
Real estate owned
Social media information
… and more!
In the past, these records were stored wherever they were generated (e.g. courthouse for criminal records, DMV for driver's license info, etc.). With recent advances in technology though, they're now stored in different federal, state, and county databases spread all across the country.
Because public records are, well … public, anyone had access to them, completely free of charge, which is good.
The problem is that if you need 10 different pieces of public information for someone, you might have to request it from 10 different sources, which could be a hassle.
In contrast, BackgroundAlert.com does all this searching for you, and then compiles everything into a "comprehensive" report.
How much will all of this cost you?
BackgroundAlert.com's Standard and Premium Reports
BackgroundAlert.com seemed easy to use; just type in the person's first and last name, choose the state they live in, and press the Search button (you can also perform an advanced search).
After some loading, you'll see the results listed by the person's full name, age, location, and relatives. Is one of these what you're looking for? Click on the Get Report button.
Again, you'll wait for everything to load. Then, in order to "save your report" for this individual, you'll be required to enter your first and last name, along with your email address.
Only after all this occurs (and you've waited several more minutes) will you learn that you'll need to sign up for a monthly BackgroundAlert.com membership in order to access any information:
1-Month Membership: $22.95
3-Month Membership: $14.95 per month ($44.85 total)
6-Month Membership: $9.95 per month ($59.70 total)
Although this will give you access to Standard reports, in order to access a Premium report, you'll be required to pay an additional fee.
Standard vs. Premium Reports
What's the difference between a Standard and a Premium report? How much extra will this cost you? We're not told on the BackgroundAlert.com website, so we contacted customer service at (866) 203-0027 to find out.
According to the representative we spoke with, Premium reports cost an additional $20 (on top of your membership), and "may or may not" contain any additional information.
For example: If you pulled a Standard report on someone and it didn't return a criminal record, a Premium report also won't list any criminal info. However, if a Standard report did contain criminal information, then a Premium report might add a case number.
The representative noted that all membership refund requests are handled on a case-by-case basis, although no refunds are available for Premium reports.
Because of this, they mentioned that they "don't encourage customers to order Premium reports."
Common Complaints for Companies Like BackgroundAlert.com
Here at HighYa, we've reviewed several of the most popular people search companies, including Instant Checkmate, SpyFly, and Persopo. What have we learned from hundreds of customer reviews?
They all pretty much work the same and seem to have the same online reputation. Not a good one, either. But why?
These companies feature nearly identical site designs, lengthy loading times (with flashy graphics to make you think they're working hard), overblown claims like "these reports may contain information that is graphic or shocking in nature," and more.
Sure, that's annoying, but it's only the tip of the iceberg.
As we detailed in "The Problems with People Search Websites," these companies also have reputations for selling incomplete reports with incorrect information, hiding the fact that much of this data can be found for free, and then sneakily charging customers an arm and a leg in the process.
Is it the same with BackgroundAlert.com?
On SiteJabber, BackgroundAlert.com had 23 user reviews with an average rating of 1 star. There, customers complained about inaccurate information, sneaky recurring monthly memberships (usually after a $1 trial), and difficulty obtaining refunds.
Elsewhere online, BackgroundAlert.com had two reviews on Reviewopedia with a 1-star rating, and another complaint listed on ComplaintsBoard.com.
The company, based out of Huntington Beach, CA, had a B rating with the Better Business Bureau based on 16 closed complaints (as of 9/10/15). Common complaints on all of these sites? The exact same things found on SiteJabber—just like with nearly every other people search service we've reviewed.
If all of this has made you nervous about giving BackgroundAlert.com a try, are there any other options?
How to Find Online Public Records for Free
Yes, you have tons of options!
Looking for a phone number? Try AnyWho and Infobel. Need a birth, death, or marriage certificate? Vitalrec.com can probably find what you're after. Want court records? Pacer.gov might be your best bet (note: this may involve a small fee).
And if you're not finding what you need on any of these sites, you can also hone your Googling skills by searching for specific terms, like "[person name] firearms license" or "[person name] real estate owned."
New to online searching? You can also learn the best practices for using Google, so that you can find what you need quickly and easily.
Should BackgroundAlert.com Put You on High Alert?
Can BackgroundAlert.com provide you with a beneficial service? If you don't have the time or skills necessary to find the same public records online for free, then the answer might be "yes."
But will BackgroundAlert.com's reports provide a good value for your hard-earned money? Because so many people have complained that the information contained in their (and other companies') reports is inaccurate, this might not be so cut and dry.
BackgroundAlert.com even addresses this in the footer of their website:
"The Public Records and commercially available data sources used in the Backgroundalert.com system have errors. Data is sometimes entered poorly, processed incorrectly and is generally not free from defect. This system should not be relied upon as definitively accurate. Before relying on any data this system supplies, it should be independently verified."
Where does this leave you?
If you decide to use BackgroundAlert.com—or any other people search company, keep in mind that 1) you'll probably end up paying $20+ for your report (the vast majority of customers are only interested in a single report), and 2) you'll be enrolled in a monthly subscription. This means that if you don't cancel, you'll continue being billed each month, which can add up quickly.
Our recommendation? If you're trying to find online public records about someone, spend a few minutes sharpening your Google skills. This can not only help save you a decent chunk of change, but can also help you search more effectively for other things you need, too!
Ripped Off

By James Hopson

,

Phoenix, AZ

,

Nov 19, 2015

I used their $1.00 for 5 day trial and after the five days, I was charged again within a week of the expiration at the rate of$ 29.99 which eventually cost me $200.00 in bank charges. I have since closed the account to ensure their unscrupulous methods are not used on me again. As my son is an attorney for the Coconino County prosecutors Office, I am going to forward this information to him, as well as the Arizona State Attorney Generals Office for review. Maybe it will save some other poor soul the anguish it has caused me. Christmas will be a little sadder for my grandchildren as a result of your deceptive practices. And Channel 3 News's consumer advocate Gary Harper will also get a copy of my report.

Bottom Line: No, I would not recommend this to a friend

---

Watch out!

By Sharon

,

Virginia

,

Jan 20, 2017
Verified Reviewer

I signed up for what they described as a "one-month membership" (their most popular purchase). I took this to mean I had a one-month membership. When charges continued to appear on my credit card I called them, and they told me they don't offer a one-month membership, all their memberships were ongoing.

I finally said I disagree, but anyway, cancel my membership and refund my money. The first agent couldn't "hear" my number and disconnected. I called back and the second agent was polite and canceled my membership and refunded all but the one month's charges.

Bottom Line: No, I would not recommend this to a friend

---

Advertisement

---

Scam with membership fees

I got a selection indicating that if I wanted to pay $22.95 for a membership fee to select a "one-month (one-time charge)" or to check "ongoing membership." Well, I just found out that they have collected $137.70 from my bank for six more months. And there was nothing in the premium report either.

I have similar experiences as all of you. I plan to contact the Visa Fraud Department about this. They offered a 75% refund on the last charge of $22.95 (which equals $17.21), and I am like "no, this wasn't the plan I subscribed to."

Bottom Line: No, I would not recommend this to a friend

---

Unsatisfactory

Smithfield, NC

,

Dec 19, 2016
Verified Reviewer

I wanted search on myself in order to judge accuracy. The results were incomplete and inaccurate. For instance, they said that there was no record of marriage even though I have been married for 61 years. Also, there was no record of a 23-year military service.

All they wanted to do was sell more complete info.

It is a scam due to my unsatisfactory review. I doubt it will see the light of day, which is likely how this group works.

Bottom Line: No, I would not recommend this to a friend

---

Advertisement

---

Do not use them

I thought I was buying something else when I was on the website. I canceled and they charged me for services I didn't receive or use. What a scam. Run and tell everybody not to use them. I called customer service and I thought it was taken care of, but I was going through my bank statements and it wasn't. I called back to customer service and didn't get anywhere, so I paid for a service. Someone needs to go to jail.

Bottom Line: No, I would not recommend this to a friend

---

Really poor. No info on three people I checked.

Springville, UT

,

Dec 20, 2017
Verified Reviewer

I will tell my friends and family that this is a scam, waste, and fake. Wasted my time. I want a full refund. Do not solicit me!

Bottom Line: No, I would not recommend this to a friend

---

Advertisement

---