BACtrack Skyn Reviews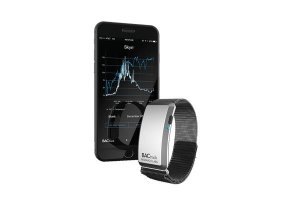 The Skyn device from BACtrack promises to accurately measure blood alcohol concentration from the surface of your skin.
What Is BACtrack Skyn?
Advertised as the world's first wearable alcohol tracker for personal and professional use, the BACtrack Skyn transdermal sensor allows you to track your alcohol consumption directly from your wrist and make better decisions while drinking.
To use the sensor, the website indicates you just strap it on your wrist, open the app to connect and start a session, and then measure the alcohol coming from your skin in real time. In addition to active monitoring, users can set personalized notifications to caution them when they've had too much to drink, or once they've reached a specific blood-alcohol concentration.
Together, the company tells us that Skyn makes tracking your drinking accurate, effortless, and free of any guesswork.
Whether you're a social drinker, health nut, gadget lover, or you're looking to avoid a DUI, it certainly seems like BACtrack's Skyn can help you make more informed—and responsible—decisions about your alcohol consumption. Is it necessarily right for you, though?
In advance of the device's release, we've compiled publically available information into a single resource that can help you make a more empowered choice.
How Does BACtrack Skyn Work?
WebMD tells us that a "blood alcohol test measures the amount of alcohol (ethanol) in your body," formally known as blood alcohol concentration (BAC). An adult of legal drinking age is considered intoxicated if they have a blood alcohol concentration (BAC) of 0.08 or greater, which is equivalent to 80 mg/dL.
The two most common methods of measuring BAC are through breathalyzers or blood tests, although the transdermal electrochemical alcohol sensor found in Skyn promises to provide constant measurements from the skin on your wrist.
While the BACtrack website didn't provide much detail about how this works, according to a 2016 Mic.com article:
"The band is equipped with an electrochemical sensor which tracks the ethanol molecules that are released through your skin when you consume alcohol … The band then uses BACtrack's "proprietary algorithm" to convert the reading into an estimated BAC which is sent to your device."
As a wrist-based device, Skyn is available as a standalone version with an adjustable band, or it can be integrated into Apple Watch' band.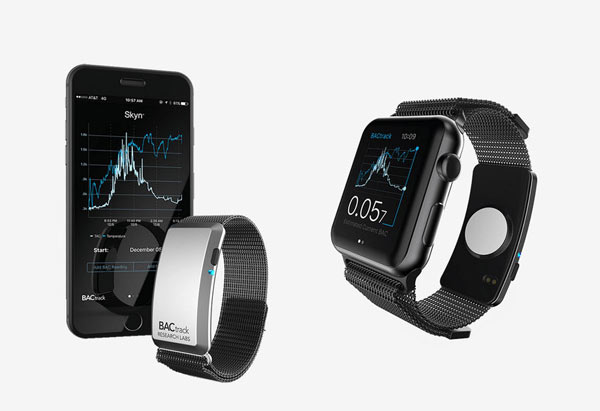 BACtrack's Skyn device can be used on its own, or integrated with Apple Watch. Credit: KHN Solutions, Inc.
There's also a proximity sensor that lets the device know when it's being worn and when it should be taking measurements, which we're told will help prolong battery life, along with an internal water reservoir for the main miniaturized sensor, as well as a Bluetooth LE antenna that sends the results over to your phone.
On the underside, this miniaturized sensor features a flippable latch that provides protection when it's not being worn, as well as to reveal a micro USB port for easy recharging.
The prototype version of Skyn's app demoed in the promotional video indicates users can monitor their BAC estimate in real time (including a graph that helps you see if you're trending up or down), and receive notifications upon reaching a specific BAC. At the end of each drinking session, you can view how many drinks you had and your peak BAC.
Finally, the app allows users to view their raw alcohol number, date, time, and temperature, as well as all their past sessions. This is also where you can customize lower and upper alcohol calibration points, as well as sample rate, save and export data, view battery and water levels, and even integrate with Apple Health.
How Much Does BACtrack Skyn Cost & When Will It Be Available?
After reaching out to the company, we learned that Skyn's price is expected to be $99, with a release date sometime during 2018. It will come with the same 30-day refund policy and one-year limited warranty as other BACtrack devices.
Just keep in mind that if you send back a damaged, non-defective unit, you could be assessed a restocking fee of up to 15 percent. Customer service can be reached at 877-334-6876 or support@bactrack.com.
What Do We Know About the Company Behind BACtrack Skyn?
BACtrack (KHN Solutions, Inc.) was founded in 2001 by CEO Keith Nothacker and received marketing clearance from the FDA in 2004 to sell breathalyzers intended for public use. Then, in 2013, the company released its smartphone-connected breathalyzer, which went on to win Popular Science's "Best of What's New Award" that same year.
Regarding Skyn specifically, we found articles highlighting the device as far back as May 2016, in addition to numerous articles this year since its appearance at the 2017 Consumer Electronics Show. However, there's no word on a release date, yet.
In the meantime, let's find out if any skin-based BAC wearables are in the pipeline to compete with Skyn.
BACtrack Skyn vs. Proof: Which Should You Buy?
During our research, we found a study as far back as 2007 that explored the potential of detecting BAC via the skin, although "significant time delays" of between 33 and 53 minutes were noted from the time alcohol was ingested until it was detected at the skin.
More recently in 2016, the UC San Diego Center for Wearable Sensors, led by nanoengineering professor Joseph Wang and electrical engineering professor Patrick Mercier, created a wearable tattoo with a built-in "hydrogel patch containing pilocarpine, a drug that passes through the skin and induces sweat." From there, the ethanol content in the sweat is measured.
Outside of this preliminary research, the online product in the pipeline set to compete directly Skyn at the time of our research was Proof from Milo Wearables, which found crowdfunding success on Indiegogo earlier this year and remains under development.
Comparatively, Proof uses a disposable cartridge versus Skyn's built-in sensor, so there will likely be ongoing costs associated with the former. Price-wise, Proof is set to retail somewhere between $100 and $150, while Skyn's price is pending.
Let's carry this idea over to the final section as we wrap things up.
Our Final Thoughts About BACtrack Skyn
Considering its simplicity, unobtrusiveness, and app-connectivity—not to mention the fact that it can help you make more informed decisions about your alcohol consumption, it seems there's a lot to like about the BACtrack Skyn—including the fact that it seems closer to making its way to market than the only current competitor (Proof).
In addition to these details, we reached out and learned the following:
What materials is it made from? Final device materials are to be determined.
What are its dimensions? The dimensions for the wearable device are also TBD.
How long does the battery last? How long does it take to recharge? The battery is expected to last up to two weeks on a single charge, with a recharge time of approximately three hours.
How often does the water reservoir have to be filled up? How is this accomplished? According to the response we received, "earlier versions of Skyn included a water reservoir, but it's no longer integrated into the device."
We were advised that additional information will be released as the launch date moves closer, so be sure to bookmark this page and we'll update the article as soon as we know more.