Bank of America Cash Rewards Credit Card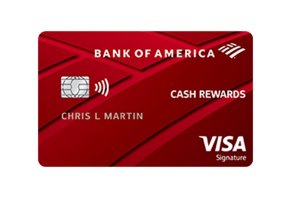 Summary
A three-tiered rewards system, as well as a substantial sign-up bonus, make the Bank of America Cash Rewards an attractive card but its APR's and low yearly rewards reduce its value.
Bank of America Cash Rewards Credit Card Review
Credit card rewards hacking is all the rage. Whether it's for travel perks, sky miles, cash back, or sign-up bonuses, all cardholders need to do is spend a certain amount of money and reap the rewards. The key is finding the right card.
If the card is good enough, rewards hackers will often end up keeping it in their rotation indefinitely. In general, a card with a solid rewards program is a card worth having in your wallet.
So does the Bank of America Cash Rewards Card pass the test for rewards hackers? What sets it apart from competitors in the same space? In this review, we'll take a detailed look at everything you need to know.
Quick Facts

Pros: 3x bonus on dining and an excellent sign-up bonus of $200.

Cons: Penalty APR, low yearly rewards.

Estimated Yearly Cash Rewards: $422

Sign-Up Bonus
Annual Fee
Regular APR
$200
$0
13.99% – 23.99%
Rewards Rate: 3x on dining and gas, 2x on groceries and warehouse clubs, 1x on everything else
How the Cash Back Rewards Work
The Bank of America Cash Rewards Card is a basic cash back card on the surface, with hidden rewards potential for loyal Bank of America customers.
You'll earn 2% cash back on grocery stores and warehouse clubs like Costco and Sam's Club, as well as 1% cash back on all other purchases.
Plenty of cash back credit cards have special categories with extra rewards potential. What makes this card different is that Bank of America lets you choose this bonus category, which will earn 3% cash back.
You can pick from the following options:
Gas
Online shopping
Dining
Travel
Drug stores
Home improvement/furnishings
The 3% and 2% cash back is only available on the first $2,500 in purchases for each quarter. After the $2,500 limit is reached, you'll earn 1% until the next quarter starts.
There's no limit on how much cash back you can earn with the 1% categories.
This $2,500 limit is higher than most other cash back cards without an annual fee. Most cards in this category have a $1,500 limit.
The category you choose for 3% cash back isn't set in stone, and you can change it once a month. Just call the Bank of America customer service line when you want to change it.
You can also change it via the mobile app or in your online account. If you plan ahead, you can schedule this 3% category to coincide with major purchases.
For example, if you're going to buy Christmas gifts, you can set the 3% category to online shopping. If you're going to book a vacation, you can change it to travel.
New homeowners can switch it to home improvement/furnishings after they've bought a house, and existing homeowners can do the same if they're looking to remodel.
The Bank of America Cash Rewards Card has a $200 bonus when you spend $1,000 or more within 90 days of opening the account.
This bonus amount is similar to other cards in the same space, but the $1,000 spending requirement is almost double what most competitors require.
Still, it shouldn't be too hard to reach the bonus since you only have to spend $333.34 a month for three months. That's very doable for families and couples who use the card to pay for gas, groceries, utility bills, and other expenses.
Additional Benefits
Bank of America rewards banking customers who have high balances in their checking account or linked Merrill investment accounts with a higher cash back rate on their Cash Rewards card.
There are three tiers for Preferred Rewards members: Gold, Platinum, and Platinum Honors.
To qualify for Gold status, you must have a three-month average balance between $20,000 and $50,000 in a Bank of America checking account or linked Merrill investment account.
Platinum members must have a three-month average balance between $50,000 and $100,000, while Platinum Honors cardholders need an average balance of more than $100,000 in linked accounts.
Those with Gold status will earn 25% more cash back when using the Bank of America Cash Rewards Card. Platinum members will earn 50% more, and Platinum Honors cardholders will earn 75% more.
Here's a table explaining the new effective cash-back rates:
| | | | |
| --- | --- | --- | --- |
| Current Cash Back Rate | Gold | Platinum | Platinum Honors |
| 1% cash back | 1.25% | 1.5% | 1.75% |
| 2% cash back | 2.5% | 3% | 3.5% |
| 3% cash back | 3.75% | 4.5% | 5.25% |
Customers who are eligible for Preferred Rewards will earn more cash back with this card than with almost any other card, especially if they hit the $2,500 limit each quarter.
Cash back rewards can be redeemed as statement credit or sent to your Bank of America checking or savings account. The money can also go in a Merrill investment or 529 account. This is a great way to boost your savings rate without doing anything special.
Cardholders can automatically redeem rewards in $25 increments. 529 accounts are the only ones ineligible for an automatic deposit, but you can still transfer them manually. There is a $25 minimum redemption for the 529 account.
Rewards don't expire as long as the account is open. If you're considering closing the card, make sure to redeem the rewards first.
This card is perfect for consumers who want to use their cash back for something more substantial than travel or gift cards.
It's especially helpful if you currently can't afford to contribute enough to your IRA or child's 529. Using this card can help you contribute more without changing your budget in any way.
This makes the card an interesting choice for a recent grad who wants to start an IRA, but is saddled with student loans and other bills. Just by using this card for regular purchases, they can earn cash back to add to their IRA.
Other card perks include free access to a FICO credit score, which can be found in your online account or in the mobile banking app. Checking your credit score regularly will show if it's increasing, decreasing, or remaining steady.
This card includes trip cancellation/interruption coverage. If you, or someone traveling with you, get sick or injured and you have to cancel the vacation, you may be reimbursed for the unused part of an airline, bus, or train ticket. Cruise ship tickets may also apply.
This doesn't work if you didn't pay for the entire trip with the card or if you cancel because of another reason. It's also not clear what kind of illness qualifies or if you need a doctor's note to prove eligibility.
Interest Rates and Fees
The Bank of America Cash Rewards Card card has no annual fee, another mark in its favor. Most other cards with a $2,500 limit for rewards-eligible purchases charge an annual fee.
There is 0% APR for 15 months for both new purchases and balance transfers. The card has a 3% or $10 balance transfer fee, whichever is greater. After the 15-month period ends, the APR will switch to a variable rate between 13.99% – 23.99%, depending on your credit score.
Bank of America charges a late payment fee up to $40, and there is a 29.99% penalty APR charge for late payments. If you make a late payment, you may pay up to $40 in late fees and 29.99% APR on the total late balance.
The card also has a 3% foreign transaction fee, which is standard for many cash back rewards cards. This fee applies to both purchases made abroad and those made in a foreign currency.
The Bottom Line
This card is a great choice for everyday purchases, especially if you want to use cash back for something other than travel rewards or gift cards.
The ability to redeem cash back to an investment or 529 account means your rewards can earn interest and compound over time.
If you're having trouble maxing out your IRA or 529 account, using your BOA cash back is an easy way to contribute more without changing your spending habits.
Frequent travelers should use another card when going on vacation since the card comes with foreign transaction fees. You also won't find any extra travel perks, like collision damage waiver on rental cars or free checked bags.
Current Bank of America Preferred Rewards members benefit the most from this card, especially those with Platinum or Platinum Honors status.
If you invest regularly and want to improve your cash back rate, you might consider moving your accounts to Merrill to take advantage of this special Bank of America rate.
Customer Reviews
Posted on Jul 27, 2017
Good luck getting bonus cash
Unlike Citibank or Chase, who's bonus cash works promptly, I am unclear if I will ever get my bonus from Bank of America. I spent the money and more in the allotted time. The fine print says I will get maybe in three months? No indication on my account that this will ever happen.
All others I have used gave the bonus as soon as you met the goals for the bonus offer.
I will get rid of this card and will be going back to others.
Unhappy customer.
Bottom Line: No, I would not recommend this to a friend
Posted on Nov 6, 2016
Best card around
I have been a card holder for 16 years and have always received excellent service!
Bottom Line: Yes, I would recommend this to a friend
Our Promise to You
In order to safeguard you and ensure helpfulness and relevance, our compliance team manually assess every customer review before it goes live.
We have a zero-tolerance policy for fake reviews, and companies cannot control or alter any reviews at any time.