BankAmericard Credit Card Reviews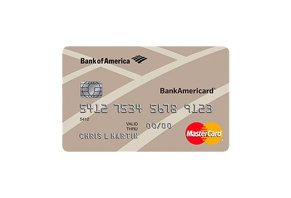 The BankAmericard is a Bank of America credit card with an introductory interest rate of 0% for 18 months on balance transfers. The card has no annual fee and free access to your FICO score.
About BankAmericard Credit Card
The BankAmericard is one of Bank of America's best credit cards for balance transfers. Cardholders get 0% APR on all balance transfers made in the first 60 days and no annual fee.
If you're stuck with balances on other credit cards and you're paying lots of interest on those balances, this card could be a good choice for you.
However, before you make that choice, you should take a few minutes to figure out what this card offers in the short term, what it offers in the long term, what fee's you'll have to pay and what other consumers are saying about this card.
It's also key to compare this card to other similar cards – competing banks may offer you better deals.
We're going to explore each one of the areas we talked about here, taking the time to walk through some of the fine print to help you understand exactly what you're getting into.
The Benefits of the BankAmericard
Every credit card you check out will have a series of up-front benefits, as well as long-term perks that will keep you happy a few years down the road.
The BankAmericard's Short-Term Perks
We've already mentioned the main short-term perk of the BankAmericard: the 0% APR on balance transfers.
What this means is that, when Bank of America tells you, "Hey, we're going to give you our BankAmericard with a $X,XXX credit limit," you have 60 days from that day to make a balance transfer.
If you apply online for the card, you'll have a chance to enter the amounts and accounts that you want to transfer.
You'll also have a chance to log into your BankAmericard account after you're accepted and make a transfer.
18 Months of No Interest: What Does it Mean?
Once the transfer is made, you won't pay any interest on that balance until 18 months after you got your card.
So, if you get your acceptance notice on Nov. 1, 2017, not only do you have 60 days from that day to make a transfer, but your 18 months of 0% APR starts on that day, too.
This sounds straightforward, but people often forget that, once those 18 months are over, you'll be charged interest on the original amount if you don't have it all paid off.
So, if you made a transfer of $3,000, then you have 18 months to pay that off. If you don't and your APR is 20%, Bank of America will add $600 ($3,000 X 20%) to your BankAmericard balance.
From that point on, you'll not only have all that back interest built up, but you'll also be paying monthly interest on any chunks of that original balance you still haven't paid off.
Now, you'll also be charged a fee to make that initial transfer, but we'll get into that in the section on fees and rates.
Pro tip: Don't assume your BankAmericard will have a high enough credit limit to accommodate all the balance transfers you want to make.
The BankAmericard's Long-Term Benefits
Most credit cards you'll get have several different types of long-term benefits. We consider "long-term" to mean perks that stay with the card beyond the introductory period, which is, in this case, 18 months.
Free FICO Score
Anyone who has a Bank of America credit card gets access to their FICO score, which is the main credit score lenders use to figure how much they'll let you borrow and what kind of APR they'll charge you.
Low Rates and Fees
We'll get into this a little more in the next section, but, for now, we want to point out that the APR on the BankAmericard card is lower than any other cards Bank of America offers and lower than any card you'll find with Chase.
Zero Liability
One of the big reasons why credit cards are better than debit cards is zero liability. This means that you aren't responsible for any fraudulent purchases made on your card. Even though you won't be responsible for these charges, it's important that you notify Bank of America as soon as you can.
Doing so means they'll cancel the card and send you a new one, which is important, especially if you're paying bills with the stolen card/card number.
Shopping Security
When you use your BankAmericard to make a purchase online, Bank of America will use ShopSafe, a feature that creates a temporary credit card number with which you make your purchase. Your card will be charged, but you'll never use your card's number to buy the item or items.
How the BankAmericard's Benefits Compare to Other Cards
Zero liability is a feature nearly every credit card has these days, especially cards from Chase and American Express.
However, Bank of America's ShopSafe is a unique bonus that you won't see from Chase or AmEx. Identity theft is a big deal these days, and it's nice to know Bank of America is offering its credit-card customers added protection.
The free FICO score is industry standard – Chase, American Express, and Discover provide the same thing.
The BankAmericard's Fees and Rates
When you sign up for the BankAmericard, Bank of America will send you some paperwork when you get the card in the mail.
This paperwork is pretty important because it shows you all the fees you could pay, as well as the interest rates you'll be charged for various transactions.
Here's a quick list of those fees and rates:
APR - Between 11.49% and 21.49%, depending on your credit scores.
Balance Transfer Fee - 3%
Annual Fee - None
Penalty APR - 29.99%
Late Fee - Up to $38
These are the main fees and rates you'll need to keep in mind. The APR applies to all purchases and to any balance transfer balances left after the 18-month intro period.
Here's the catch, though: If you make one late payment, all APRs on your BankAmericard will go up to 29.99%. This is what's known as a penalty APR, and it's permanent.
Some AmEx cards have a penalty APR, but, unlike Bank of America, American Express is willing to reconsider your penalty APR every six months.
The best way to avoid a penalty APR is to set up automatic payments on your card. That way, you'll at least be paying the minimum due and you won't have to worry about missing a payment.
What Other People Are Saying About the BankAmericard
There are plenty of consumers out there like you who've chosen the BankAmericard. Before you follow the crowds, consider this: Many of the reviews of this card are negative or neutral.
BankAmericard Reviews on Credit Karma
Of the 20 reviews found on Credit Karma, 50% are three, two or one stars.
Customers complained of low credit limits and limited benefits. As we mentioned earlier, low credit limits are a big problem for a card whose main short-term perk is a 0% balance transfer.
Several people who left reviews said the balances they wanted to transfer exceeded the credit limit they were given, which meant they had to carry balances on two cards.
Because every consumer is different, it's really hard to say who will get a big credit limit and who won't, so keep this in mind as you consider this card.
Several other websites have reviews of the BankAmericard, but the reviews are at around two years old and older. We tend not to take those reviews into account because the card could've had other offers on it that don't match up with what's available today.
Based on what we've read from other consumers, we think the BankAmericard gets a fair shake. It's a card with limited benefits—one, really—and no rewards to speak of. There are other cards out there that can offer you much more, which is what we'll cover next before concluding our review.
How the BankAmericard Compares to Other Cards
We included the BankAmericard in our Best Low Interest Credit Cards of 2017 article. Compared to the other cards we reviewed, it ranked fourth of six cards.
We gave the BankAmericard high marks for its 18-month introductory 0% interest rate and for its low APR range.
However, we really felt like the BankAmericard lost steam in the fees and rates categories.
The card finished last in late fees:
The BankAmericard was also at the bottom of the list for penalty APR:
Slate, Simplicity, Ring & BBVA: None
Citi Diamond: Up to 29.99%, may apply indefinitely
BankAmericard: Up to 29.99%, will apply indefinitely
What sets this card apart from others isn't so much the benefits it offers, but what it lacks. The Citi Simplicity and Citi Diamond, for example, offers 21 months of 0% interest on balance transfers and purchases, whereas the BankAmericard offers 18 months of 0% on balance transfers only.
This is the main difference between the BankAmericard and its competitors.
Our Final Thoughts About the BankAmericard
The BankAmericard's introductory offer of 18 months of 0% interest is great if you have high balances you want to transfer.
You'll make interest free payments on those balances until the end of the intro period, but, remember, you have to have the balance paid off in full to avoid any interest charges.
In terms of introductory perks, this is all the BankAmericard has to offer. The long-term benefits this card has to offer are pretty normal – most credit cards offer the same perks.
Try the BankAmericard Cash Rewards
This card could be a good fit for Bank of America customers who want to keep their credit cards in-house, but, if that's the case, we think the BankAmericard Cash Rewards could be a better option for you.
The Cash Rewards is offering 12 months of 0% APR on purchases and balance transfers. If you spend $500 in the first three months of owning the card, you'll get $100 deposited to your account.
On top of that, you'll earn cash-back rewards on all purchases (1%) and bonus rewards on gas purchases (3%) and groceries (2%).
Based on our calculations, the average American household could earn more than $300 per year in cash back.
Yes, the Cash Rewards card has a shorter 0%-interest period, but it does offer 0% on purchases and nice cash-back rewards.
Moving Beyond the BankAmericard: Citi Simplicity, Barclaycard Ring
If you're willing to step outside of the world of Bank of America, there are great cards out there for 0%-interest offers and other perks.
For example, the Citi Simplicity has no late fees and 21 months of 0% interest on purchases and balance transfers. Balance transfers come with a standard 3% APR.
The Simplicity's APR was the highest of all the cards we researched for our article (13.24%-23.24%), but the Barclaycard Ring was the lowest at 8.25%.
Another advantage to the Barclaycard Ring? The card doesn't charge you for balance transfers.
Both of these cards topped our list of best low-interest cards for 2017, and for good reason. Both of them offer 0% interest on purchases and balance transfers, which is something the BankAmericard doesn't offer.
You'll also get a low-interest rate and no balance transfer fees from the Barclaycard Ring, which, based on our rankings, made it the best card of the bunch.
More on Credit Cards
If you're looking for low-interest offers, don't limit yourself to low-interest cards. You can also find great deals with cash-back cards. Take a look at our rankings for the best cash back cards.
We rank the best credit cards based on seven different categories, including intro APR, cash-back rates, and best perk.