Barclaycard Ring Mastercard Reviews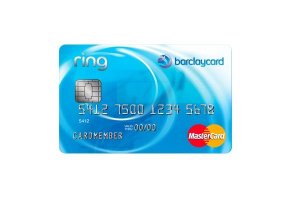 The Barclaycard Ring Mastercard is a unique credit card that combines a single APR (13.49%) with an active online user community and an absence of fees for balance transfers and foreign transactions.
About Barclaycard Ring Mastercard
Editor's Note: As of 1/18/18 – The Ring Mastercard from Barclaycard is no longer available
The Barclaycard Ring Mastercard is a low-interest credit card with a limited set of benefits.
The Ring made some pretty big waves this past year when it offered a flat 8.25% interest rate on all purchases and balances transfers for the life of the card.
This percentage rate was a great deal – the lowest you could find for a credit card. However, Barclaycard changed that percentage rate in 2017. It is now 13.49%.
Does the Barclaycard Ring still have the same punch it did when we rated it the best low-interest credit card of 2017? That's a question we'll answer in this review.
Over the next few minutes, we're going to walk you through the benefits this card has to offer, it's rates and fees as well as general opinions of experts and your fellow consumers.
At that point, we'll work through a section on how the Barclaycard Ring Mastercard compares to other credit cards.
We'll end our review with some general observations about the Ring and some suggestions for more reading about credit cards.
The Barclaycard Ring Mastercard's Benefits
If you do a quick search for "low-interest credit cards", you'll be bombarded with hundreds of credit cards and reviews. It's really overwhelming.
Despite all the options you have out there, everything that makes a credit card awesome or not-so-awesome can be reduced to benefits you get in the first year and benefits you get beyond the first year.
What's unique about the Barclaycard Ring is that it only has one set of benefits. There are no flashy up-front offers of low APR, travel rewards or cash back. In that sense, it's a unique credit card.
Now, at this point, you might be wondering why anyone needs this card when you can get all kinds of offers from other cards like the Chase Sapphire Preferred or the Citi Double Cash.
That's a great question, and we'll get to the answer in a few minutes.
For now, we'll talk about the Barclaycard Rings long-term benefits since it doesn't have any short-term promotional offers, aside from two options we'll mention later in this review. Most credit cards have a set of benefits that stick with you for the life of the card. These benefits cover shopping, fraud, and travel.
Shopping Protection
Any purchases made with your Barclaycard Ring get special coverage:
Theft/damage to items: Up to $500 reimbursement up to 90 days after purchase
Warranty: Up to one extra year on certain purchases.
Zero liability: No liability for fraudulent purchases
Return protection: Up to $1K/year on returns that stores won't accept
Price protection: Reimbursement if price drops on items w/in 120 days
Travel Protection
The Barclaycard Ring Mastercard offers the standard set of travel benefits for purchases made with the card:
Car rental insurance: Covers CDW that rental company would provide
Baggage delay insurance: Up to $100/day for 3 days if bags are more than 12 hours late
Death/dismemberment coverage: Up to $250K for accidents during travel
Trip cancellation/interruption: Up to $1500
Each of these coverages comes with their own rules and exceptions, so make sure you read through them once you get your card.
You can access this information in the Rewards & Benefits section of your account page.
Barclaycard Community
Barclay makes a big deal out of their Barclaycard Ring community, an online meeting point where cardholders can share tips and tricks with each other.
This community is split up into four different categories: discuss, track, influence, blog.
Discuss: This is where cardmembers go to have discussions about the basics of the Barclaycard Ring.
Track: A peek inside the financial stats surrounding the Barclaycard Ring.
According to the card's website, you can use this section to find the "'big picture' of the card's overall financial performance and where you will be able to view our estimated profit and loss statements."
Influence: This is where you go to discuss aspects of the card and vote on ideas put forth by fellow cardholders. Many of the ideas you vote on are pitched by Barclaycard.
Blog: Posts from Barclaycard team members about topics "relevant to the Ring product or other newsworthy items."
Barclaycard Ring Mastercard's Low Fees and Rates
The biggest draw for this card is its low fees. Now, back when the Ring was offering an 8.25% APR, its fees and rates were the absolute best.
Here's what you can expect (at the time of publishing):
13.49% APR
No annual fee
No balance transfer fee
No penalty APR
$27 late payment fee
No foreign transaction fee
We couldn't find any other card with a permanent APR so low and an absence of annual fees, balance transfer fees, and foreign transaction fees.
The Citi Simplicity came close, which is why it tied the Barclaycard in our rankings for Best Low Interest Credit Card of 2017.
What Other People Are Saying About the Barclaycard Ring
Trying to figure out how other consumers feel about a credit card like the Barclaycard Ring can help you see the basic positives and negatives of owning it.
For instance, many of the consumer reviews we read said they enjoyed their customer service experience and they were excited about their 8.25% interest rate. That rate, however, is now obsolete, so it's hard to say at this time how consumers feel about the higher interest rate.
Negative reviews complained about bad customer service and decreased credit limits that were impossible to raise again.
The experts say this card is great for its APR and for the lack of fees you'll pay. Our research also revealed a very interesting development.
Referral Programs Offer 0% APR for 15 Months
In the world of credit card reviews, personal finance sites work out deals with credit card companies that go like this:
CC company gives PF site a link to a CC application form
PF site writes review, includes links
Reader clicks on link and goes to application
PF site gets a bonus if application is accepted
This is what's known as an "affiliate program". We don't use affiliate programs and referral links at Highya – our reviews are unbiased and we don't make any money off links we include in our credit card articles.
The reason we bring up these referral programs is because, sometimes, Barclaycard will allow certain websites to offer special deals on their Ring card.
Both Value Penguin and Get.com have links to an offer that gives you 0% APR for 15 months on purchases and transfers.
Now, if you're just the average person who looks for credit card deals in the mailbox or your inbox, you probably aren't going to get this promotional APR.
For this reason, we don't list the promo APR is an intro benefit because it's limited to certain websites.
However, we can't deny that the offer exists. So, we consider it a unique benefit that, most likely, won't be around for long.
How the Barclaycard Ring Mastercard Compares to Other Cards
As we mentioned earlier, when the Barclaycard Ring had an 8.25% APR, we rated it the top low-interest credit card on the market.
Now that the APR has bumped up to 13.49%, we'd knock it down to second place even with the referral program promotion.
The main reason it drops down to second is that it's APR is higher than the lowest APR offered by the BankAmericard and the BBVA Compass card.
Aside from that, though, the Barclaycard Ring still makes a strong case for being in your wallet over, let's say, the more popular Chase Slate and Citi Simplicity. The main reason it still puts up a good fight is the absence of fees.
However, our research shows that Simplicity is the stronger card because it matches the Barclaycard Ring in all categories and beats it out in one: late fees.
The Simplicity card doesn't charge late fees, whereas the Ring charges up to $27.
Now, these comparisons are limited to the low-interest category of cards. There are other cards out there that offer great intro APR's and cash rewards.
For example, the Citi Double Cash card has 0% APR on purchases and balance transfers for 18 months, along with 2% cash back on all purchases and a low-end APR of 13.24%.
By our calculations, consumers with good FICO scores (730+) will most likely get the lowest APR, which matches the Barclaycard Ring.
Our Final Thoughts on the Barclaycard Ring Mastercard
As we've mentioned a few times in this review, the Barclaycard is unique because it doesn't offer you a set of flashy introductory benefits.
Unlike many other cards in the low-interest or cash-back space, you get one APR over the life of the card and the only fee you'll pay kicks in when you make a late payment.
Referral Programs Boost the Ring's Value
The referral APR is a nice perk and definitely adds value to this card, but those offers tend to be fleeting and unpredictable. What's offered on one site today may not exist tomorrow.
However, as affiliate sites become the dominator in the credit card space, exclusive offers could become the standard for credit card companies.
Other Cards Give Better Perks
When the Barclaycard Ring was handing out 8.25% APR's the card was our favorite in the low-interest niche.
Those days are gone, however, and what consumers are left with is a basic card with an interesting consumer community.
Will Barclaycard's Ring community, forums, and information access make you love the card?
We'd be hard-pressed to say yes on your behalf, simply because there are so many other options out there that could bring you better intro APR's and rewards.
We mentioned the Citi Simplicity at length earlier, so we'll dive into the specifics of a few other cards you might like:
The Citi Double Cash Card
We ranked this card #1 in our Best Cash Back Rewards Card of 2017 article. The Double Cash gives you an 18-month 0% APR offer, which tops the Ring's affiliate offer.
The Double Cash also gives you 1% cash back on purchases and 1% back on what you pay toward your balance. Based on our calculations, you could use these bonuses to earn around $500 a year.
The main drawback to this card is its 29.49% penalty APR, which means that's most likely what you'll pay if you make one late payment.
The Discover it Cash Card
The Discover it is also an interesting choice because, unlike the Citi Double Cash, it doesn't have a penalty APR.
Over time, the Citi Double Cash will earn you more cash back because it's 2% rewards rate is double the Discover's 1% rewards rate. However, in the first year, Discover will match any cash back you earn.
Also, Discover gives you the chance to earn 5% on certain categories throughout the year. These bonuses are a nice perk, but there's a good chance they won't help you reach the overall 2% cash back you get with the Discover it.
More Information About the Best Credit Cards
Credit card reviews are just part of what we do here at Highya.
Our "Best Credit Cards" section has links to individual reviews, as well as articles, informational guides to credit cards and a pretty great section on credit scores.
Each article contains in-depth research that covers what credit cards offer, what you need to keep in mind when signing up for them, and in the case of our guides, the finer points of credit cards and credit scores that you may not have known.