bareMinerals Reviews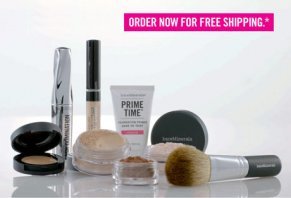 The bareMinerals makeup line claims to use natural, nourishing, skin-loving ingredients to help you look naturally beautiful, even if you have sensitive skin.
About bareMinerals
BareMinerals claims to be the original mineral-based foundation created with the idea that your makeup should look good on, while also helping your skin to be even better when it's taken off.
Founded in 1976, Bare Escentuals was inspired by the idea that makeup could be holistic and helpful, not damaging, to your complexion. And by promoting a reasonably priced intro package that combined basic brushes and powders you needed to get going, Bare Escentuals brought their token foundation, bareMinerals, to the market with a big bang in 1996.
The groundbreaking makeup was initially greeted by women as if they were being asked to smear dirt on their face. But now, Bare Escentuals and its token foundation bareMinerals, have come a long way toward being recognized as a household name over the last 20 years.
Swirl, Tap, Buff
The brand that you could once only buy on TV now has brick and mortar shops in almost every mall, and is even a Sephora best seller. What hasn't changed is bareMinerals's original formula of powder (although it's now available in up to 20 shades), but Bare Escentuals has become a natural makeup empire.
They've finally revamped their starter package to reflect the wider selection of products under the Bare Escentuals name. For those first timers who have never tried the product before and are looking to plunk down some cash, this is what an introductory order will get you:
One original or matte mineral foundation
One flawless application face brush
One mineral veil finishing powder
One spritz-on primer
One tube of eye brightener
One tube of volumizing mascara
One pot of correcting concealer
This kit will run $39.98, and claims to be a $124 value. That's quite a lot more than the old starter kit, which included only three shades of foundation, a pot of blush, and the veil (does anyone else remember mixing those three shades to match your skin tone, only to walk outside and look orange? The embarrassment!).
bareMinerals Convincing Claims
Bare Escentuals promises to be so light and healthy for your skin that you can sleep in it. Supporting the claim to be a leader in pure products are the corresponding claims that the bareMinerals makeup does not contain fragrance, oil, binders, preservatives, emulsifiers, or any other harmful chemicals.
The product also promises:
To be lightweight and sheer for a natural look
Easy blending for various skin tones
Natural ingredients
SPF 15
Quick application (swirl, tap, buff!)
Fact Checking bareMinerals
Although this line does have advantages for those with sensitive skin, as it turns out, bismuth oxychloride is a major ingredient in the powder formulations. The element can cause skin irritation, while the other minerals can be drying, which could cause further irritation to those who are already using drying treatments or have naturally dry skin.
It's also interesting to note that bismuth (a metallic element) seldom occurs in nature. Instead, it is a by-product of copper and lead refining; in other words, it's manufactured synthetically. The bismuth oxychloride used in cosmetics is non-toxic, but the use of a man made element offers a good example of how skewed a company's definition of "natural" can be.
Reality Checking bareMinerals
From a few years of personal use on my then acne-prone, quasi-pizza face, I can attest that bareMinerals is indeed "so light you can sleep in it" (without any ill effects, that is).
But there are a few other quirks about this product worth noting, so the mineral makeup newbies know exactly what they're getting into:
bareMinerals Is Messy
It could probably be avoided if the jars were a bit wider, or the special brushes a bit smaller, but your mineral powder is bound to get everywhere. I'd recommended that you wear a bib towel while getting ready in order to avoid last minute shirt changes due to makeup fallout.
Also, the fine particles of powder simply cannot be contained in the screw-top jar. This means your counter, and especially your bag, are likely to get a little coverage of their own. It's only then you realize how difficult this stuff is to get out of anything!
Finishing Veil Finishes First
You're supposed to be liberal with this stuff, but controlling the amount that pours out those tiny holes is a feat. As such, it tends to go twice as fast, and at $21, it's not cheap to replace.
Don't Sweat It
If you're heading out for a night on the town or a day at the beach, don't even think about glistening (and by "glistening", I mean sweating). Your flawless face will streak at the first sign of liquid and, which will surely give away your secret — or make you look like you have some rare and troublesome skin disorder. And snuggling up to anyone is out of the question unless you want him (or her) to be wearing your foundation too.
The Final Word on bareMinerals
BareMinerals definitely gets a thumbs-up if you're someone who prefers the natural look (i.e. like you're not wearing makeup at all), or if you have sensitive skin.
I really enjoyed using the product, but due to its finicky reaction to any moisture, the extensive time it takes to apply multiple powders in specific swirl and buff motions, and the potential for mess with those leaky jars, I don't think it's up to par with some of the better foundations currently on the market.
Additionally, while there are softer neutral shades, as well as some fairly exotic shades available, most are mildly to extremely shiny and make any amount of crepey skin or uneven texture look even more so.
Love this makeup line!

By Jamie M.

,

Chesapeake City, MD

,

Nov 11, 2019
Verified Reviewer

I love this makeup! I have been wearing it for several years. It is reasonably priced and always looks great! I get compliments on my skin all of the time and I don't have flawless skin. I love that it is easy to use and there are so many choices so you can find your perfect foundation etc. I have always had a great experience when shopping in a store with excellent customer service. I highly recommend it!

Bottom Line: Yes, I would recommend this to a friend

---

1 out 1 people found this review helpful

bareMinerals kit

By Donna L.

,

Cedar Bluff, AL

,

Jun 18, 2018
Verified Reviewer

I bought the bareMinerals kit a while ago, but it didn't cover good at all for me. I was very disappointed. The commercials show it covering all kinds of dark spots, etc., but it just didn't cover good for me.

Bottom Line: No, I would not recommend this to a friend

---

Advertisement

---

4 out 4 people found this review helpful

Twenty years of great.

I'm 70 years old, and I started using bareMinerals at 50. I never ever wanted to try any other makeup. I like to look natural, and I get that look with bare minerals. I did a local commercial for our town years ago, and the professional makeup artist told me how beautiful my skin was. I went to a dermatologist for a look over and she also remarked how beautiful my complexion was. Let me be the first to tell you, I have dark spots, and my pores have gotten larger from age, and once I apply my make up all those bad things disappear. I feel like I have no makeup on while wearing bareMinerals and that's the feeling I want. I love it and tell everyone I know how much I love it.

Bottom Line: Yes, I would recommend this to a friend

---

7 out 8 people found this review helpful

bareMinerals Review

By Constance

,

Arizona

,

Jul 11, 2015

I have been using Bare Minerals for about 8 years now and it is a great mid priced make up. Yes, the lids to the powder foundation could be larger like when they first started selling it, however that is not a big issue. I have to seriously wonder about the person who wrote this article for HighYa, they were either a man or someone who does not wear makeup. Reasons being it's no more messy to use than any other powder foundation and if you need a "bib" when applying it your doing it all wrong to start with. As far as it streaking when you sweat, your using too much. And really who puts on make up foundation to go to a beach? or work out? I live in one of the hottest places in the United States and I have not had a problem with streaking of this make up. Why? Because I know how to apply it. Lastly, the cost factor is not that much when you break it down if applying it correctly (and not like a drag queen, no offense to drag queens) a full sized foundation will last a few months and that breaks down to penny's a day. So yes, I would recommend this product for light to mid coverage that never looks caked on and for me has never caused my skin to break out.

Bottom Line: Yes, I would recommend this to a friend

---

Advertisement

---