BarePRO by BareMinerals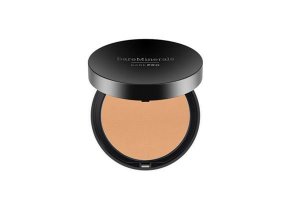 BarePRO is a mineral-based makeup line from BareMinerals that promises to improve your complexion without harming your skin.
BarePRO by BareMinerals Review: A Detailed Overview
What Is BarePRO?
BarePRO is a makeup line from BareMinerals that is advertised as breathable and good for your skin while still providing hours of makeup coverage to keep you looking your best.
When it started in 1976, BareMinerals was one of the first makeup companies to provide mineral-based options.
Women have appreciated BareMineral's more natural alternative to conventional foundations for decades, but some found the loose powders to be too difficult to apply.
The BarePRO line offers an alternative to these powders with four products: a pressed powder foundation, liquid foundation, concealer, and lipstick. Will these products provide your face with the long-lasting beauty you're seeking? Let's dig deeper into the specifics.
What Products Are Available with BarePRO?
According to WebMD, women have been turning to mineral-based makeup for decades as a way to avoid irritation from chemical additives like parabens, dyes, and fragrances that are common in more conventional products.
Mineral-based makeup is better for sensitive and acne-prone skin as well, because it is non- comedogenic and oil-free, meaning that it doesn't clog pores.
With this in mind, at the time of writing, the BarePRO product line contains foundation, concealer, and lipstick.
BarePRO Performance Wear Pressed Powder Foundation SPF 20: Designed as a matte foundation, BarePRO's website claims this powder stays in place for over 12 hours and is made from 90% natural ingredients, meaning that the foundation is breathable for your skin while providing a glamorous coverage. This foundation comes in a range of 35 shades to make it simpler to match your exact skin tone and improve skin clarity while reducing pore sizes.

BarePRO Performance Wear Liquid Foundation SPF 20: Like the pressed powder, the liquid foundation comes in thirty variations for matching skin tones. It's also designed to last for 24 hours and produces a sweat-resistant, natural finish that covers up skin imperfections while preventing pores from getting clogged. The liquid foundation is made without synthetic oils, parabens, and fragrances so that it can improve your skin texture over time.

BarePRO 16-Hour Full Coverage Concealer: This crease-proof, waterproof concealer will purportedly give you long-lasting coverage and improve your skin over time. The formula is antioxidant-rich and designed to keep pores unclogged, so it doesn't trigger breakouts. You can also use these concealer sticks for color correcting or as contour makeup. The company offers 15 shades, each of which precisely matches BarePRO foundations.

BarePRO Longwear Lipstick: You can get up to eight hours of wear with this lipstick, which gives your lips a lightweight, matte finish. The lipstick's vegan formula is formulated with raspberry seed oil and sunflower seed wax to provide antioxidant benefits and lock in moisture. Choose from 20 shades.
What Are BarePRO Product Line's Ingredients?
Below are the complete ingredients lists for both BarePRO foundations, the concealer, and lipstick.
Liquid Concealer:
Water, Cyclopentasiloxane, Trimethylsiloxysilicate, Butylene Glycol, Silica, Peg-10 Dimethicone, Bis-Butyldimethicone Polyglyceryl-3, Bambusa Arundinacea Stem Extract, Sodium Glutamate, Disteardimonium Hectorite, Sorbitan Sesquiisostearate, Hydrogenated Lecithin, Methicone, Papain, Aluminum Hydroxide, Stearic Acid, 1,2-Hexanediol, Caprylyl Glycol, Carbomer, Algin, Tocopherol, Sodium Dehydroacetate, Phenoxyethanol.
Pressed Powder:
Talc, Silica, Tetrahexyldecyl Ascorbate, Caprylic/Capric Triglyceride, Diphenyl Dimethicone/Vinyl Diphenyl Dimethicone/Silsesquioxane Crosspolymer, Diphenylsiloxy Phenyl Trimethicone, Triethoxysilylethyl Polydimethylsiloxyethyl Hexyl Dimethicone, Lauroyl Lysine, Magnesium Stearate, Dipentaerythrityl Hexahydroxystearate, Tocopherol, Tocopheryl Acetate, Methicone, Sorbitan Sesquiisostearate, Distearyldimonium Chloride, Pyridoxine Cyclic Phosphate, Chlorphenesin.
Foundation:
Hydrogenated Polydecene, Cyclopentasiloxane, Mica, Kaolin, Diphenylsiloxy Phenyl Trimethicone, Trimethylsiloxysilicate, Paraffin, Lithium Magnesium Sodium Silicate, Sorbitan Sesquiisostearate, Polyethylene, Glycerin, Copernicia Cerifera (Carnauba) Wax (Cera Carnauba/Cire De Carnauba), Barium Sulfate, Bambusa Arundinacea Stem Extract, Rosmarinus Officinalis (Rosemary) Leaf Extract, Limonium Gerberi Extract, Ribes Nigrum (Black Currant) Seed Oil, Rubus Idaeus (Raspberry) Seed Oil, Helianthus Annuus (Sunflower) Seed Oil, Caprylic/Capric Triglyceride, Squalane, Methicone, PEG-10 Dimethicone, Microcrystalline Wax (Cera Microcristallina/Cire Microcristalline), Water (Aqua/Eau), Silica, Alumina, Simethicone, Tocopherol, Tocopheryl Acetate, BHT.
Lipstick:
Cyclopentasiloxane, Synthetic Wax, Polyethylene, Isohexadecane, Dimethicone, Isododecane, Silica, Trimethylsiloxysilicate, Lauroyl Lysine, Glycerin, Sorbitan Sesquiisostearate, Cetearyl Dimethicone Crosspolymer, Jojoba Esters, Helianthus Annuus (Sunflower) Seed Wax, Rubus Idaeus (Raspberry) Seed Oil, Ribes Nigrum (Black Currant) Seed Oil, Helianthus Annuus (Sunflower) Seed Oil, Rosmarinus Officinalis (Rosemary) Leaf Extract, Acacia Decurrens Flower Wax, Adansonia Digitata Seed Oil, Squalane, Caprylic/Capric Triglyceride, Limonium Gerberi Extract, Polyglycerin-3, Isopropyl Titanium Triisostearate, Disteardimonium Hectorite, Propylene Carbonate, Phenoxyethanol.
We turned to the EWG cosmetic database to get a better understanding of how BarePRO's various ingredients work.
Many are technically vitamins, including Tocopherol and Tocopheryl Acetate (vitamin E), as well as Tetrahexyldecyl Ascorbate (vitamin C).
Other ingredients, like Distearyldimonium Chloride, Butylene Glycol, Peg-10 Dimethicone, Methicone, and Cyclopentasiloxane, are considered 'low-risk' conditioning agents that are safe for skin and hair.
Likewise, Methicone, Tocopheryl Acetate, Triethoxysilylethyl Polydimethylsiloxyethyl Hexyl Dimethicone, and Hydrogenated Lecithin are 'safe' conditioning agents regularly found in skincare products.
The BarePRO concealer and lipstick contain numerous types of natural waxes and oils, including sunflower seed wax, raspberry seed oil, black currant seed oil, sunflower seed oil, and several types of flower wax.
These ingredients are used as stabilizers and as natural sources of antioxidants.
Sorbitan Sesquiisostearate, Dipentaerythrityl Hexahydroxystearate, and Bis-Butyldimethicone Polyglyceryl-3 Sorbitan Sesquiisostearate are used as emulsifying agents, meaning that they help the other ingredients to spread properly through the product.
Magnesium Stearate, Lysine, and Stearic Acid provide natural amino acids for helping your skin renew itself, and the formulas rely on plenty of natural plant extracts, including coconut oil (Capric Triglyceride), bamboo stem extract (Bambusa Arundinacea), brown seaweed extract (Algin), and papaya enzyme (Papain).
The rest of the ingredients in the foundations are classified as safe for skin and include anti-foaming agents, quartz, MSG (sodium glutamate), thickening agents, and antimicrobial preservatives.
What Are Potential BarePRO Side Effects?
Our research on these same sites didn't unearth any negative side effects from the ingredients found in BareMinerals makeup, besides some customers reporting an oily appearance if the liquid foundation is applied too heavily.
After looking at the ingredients lists, we believe that the BarePRO line's ingredients are similar to what you'd find in other mineral-based cosmetic products, and no particular ingredient is considered alarming for regular use on your skin from our research through the cosmetic database.
Equally noteworthy, these ingredients lists are missing the silicones, petrochemicals, and parabens common in many makeup products that can clog skin and lead to acne breakouts.
One ingredient that might give you pause in BarePRO's pressed powder's ingredient list is talc.
Though it is a naturally occurring mineral, talc tends to be a controversial ingredient because, according to the American Cancer Association, overexposure has been linked to cancer through asbestos contamination.
The BareMinerals site takes the time to mention that they rely on cosmetic grade mineral talc that complies with the FDA's strict safety requirements for using the mineral.
Notably, both the BarePRO liquid foundation and concealer are talc-free.
Are There Any Clinical Studies on BarePRO?
According to the company website, BarePRO products underwent an independent clinical trial with 31 women, which found that all of them saw a 36 percent improvement in their skin's hydration and texture after the first week, and improvements up to 50 percent after six weeks.
How Much Do BarePRO Products Cost?
As the cost of BarePRO makeup products will depend on where you buy them, we chose to highlight just the official pricing on the company website. Here's what they were at the time of publication:
Powder Foundation SPF 20: $31
Liquid Foundation SPF 20: $34
16-Hour Full Coverage Concealer: $24
Longwear Lipstick: $20
You have the option to sign up for an automatic subscription with every purchase at the time of writing. Doing so qualifies you for free shipping, signs you up to receive deluxe free samples, and takes 10% off your order.
The shipping frequency options range from every month to every six months, with every three months being the most popular option.
If you opt instead to make a one-time purchase, you'll pay $5.95 for standard shipping.
The company's refund policy lets unsatisfied customers return their products within 30 days of receipt through mail at: BE Returns, 700 Commerce Parkway West. West Greenwood, IN 46143.
Customers are also responsible for all return shipping costs, and products can only be returned to BareMinerals if they are purchased directly from the company website.
A Look at BarePRO Customer Reviews
We found generally positive reviews for BarePRO products. The pressed powder averages 4.3 out of 5 stars after over 2,100 reviews on Ulta, with many reviewers commenting that the powder was easy to apply, lightweight, and smoother on their skin than the original BareMinerals foundation.
Others thought that the product only worked for light to medium coverage and was pricey for the amount of makeup they received.
People had similarly positive things to say about the liquid foundation.
On Ulta, the product had 4.1 stars after 1700 reviews, with the biggest complaint being that women found that they were a different shade in the liquid foundation than they were used to choosing in their regular BareMinerals powder foundations.
The story is the same for the lipstick, as it averages 4.1 stars after 70 reviews on Ulta. We couldn't find reviews for the concealer on the site at the time of writing, though it averages four stars out of five on the company website.
Across each product and review platform, we found that the most common concern seems to be that customers can't always count on their favorite foundation color to be the exact same between the different products.
How Does BarePRO Compare to Similar Products?
If you have naturally oily skin, struggle with acne, or have skin sensitivities, Susan Docherty, a member of the British Association of Beauty Therapy and Cosmetology, states on WebMD that mineral makeup is the best product to use because it doesn't contain oils, fragrances or preservatives.
This makes mineral makeup a smart choice for keeping pores unclogged and not triggering allergic reactions.
To see how the BarePRO product line stacks up against other foundations on the market, we compared it to two mineral-based makeup kits.
The Pur Minerals 4-in-1 Pressed Mineral Makeup is advertised as an option with SPF 15 (only BarePRO's liquid foundation included sun protection).
Like BarePRO, it also contains a variety of vitamins as well as natural conditioning agents and quartz.
Retailing for $29.50, Pur Minerals is at a lower price point than BarePRO and generally has positive reviews online on Amazon.
Another product similar to BarePRO is Neutrogena Mineral Sheers Loose Powder Foundation. This powder contains natural ingredients with vitamins, emollients, and conditioning agents.
While users left very positive reviews for this makeup product on Amazon, some noted that it seemed to have a shorter shelf life than their makeup products with more preservation agents.
Costing $9.39 per .19oz cannister, Neutrogena is currently cheaper than BarePRO, though it offers fewer than ten colors, which will make it difficult for many people to match their skin correctly.
The Bottom Line: Who Should Use BarePRO?
The BareMinerals makeup line has been respected for producing quality products for decades, and their BarePRO line seems to match this standard.
The products have hundreds of positive reviews online, their ingredients are generally considered better for you than conventional products, and the price point is only a little higher than the competition.
Whether you choose to use pressed powder or liquid foundations is up to several factors. Liquid foundation tends to be more moisturizing than powders, though it can look oily if applied too thickly, making it a poor choice for people with naturally oily skin.
In contrast, pressed powder foundations can be challenging to apply lightly because it comes concentrated in a compact, though the product's smaller size makes it more portable and easier to apply on the go than liquid or powder foundations.
If you're looking to delve into the world of more natural makeup without compromising the effect on your appearance, our evidence from the ingredients list and online reviews have led us to believe that the BarePRO line might be a solid place to start.
Bottom line: If you feel like you need to branch out beyond pressed powders and liquid foundations and concealers to have the flexibility of a foundation that is applied in a more classic way, the larger BareMinerals product line might offer more of what you're looking for.