BarkBox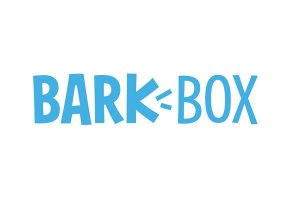 Summary
BarkBox is a subscription brand for dogs that delivers five healthy, safe, and fun pet products to your home each month, all based around a theme.
BarkBox Review: Is It Worth It?
These days, it's possible to purchase almost any product on a subscription basis. Pet items are no exception.
BarkBox is a dog-centered subscription service that lets you receive a box of themed toys and treats for your dog each month. Each BarkBox delivery includes toys, treats, and a chew, all based around a monthly theme.
You can customize this delivery based on your dog's size and capabilities. For instance, pets with strong jaws are best suited for a Super Chewer box that comes with more chews and extra-durable toys.
BarkBox's goal is to add some whimsy and the thrill of the unexpected to pet ownership while allowing you to spoil your favorite canine. Though you won't know what will come in your box ahead of time, BarkBox guarantees that every toy, treat, and chew is designed to maximize your dog's enjoyment while keeping them safe and healthy.
Is a monthly pet subscription from a company like BarkBox worth it? In this review, we'll go through what you'll receive and whether other pet owners are happy with the service so you can decide.
Pros:
Cons:

Cute pet products based around themes
Possible to choose how many chews, toys, and treats you want
"Original" and "Super Chewer" subscriptions available for different dog personalities
You can purchase add-ons from the company website

Mediocre reviews on HighYa
The company won't refund payments for subscriptions that automatically renew
Customer complaints about toy quality
How Does BarkBox Work?
BarkBox boxes are offered on a subscription basis. You'll start the signup process by sharing your pet's name, size (selecting 0–20lbs, 20–50lbs, or 50+lbs), breed, age, and any allergies for ingredient preferences.
If you think your pet is between two sizes or you have two pets of different sizes, BarkBox recommends sizing up your order. The price per box won't change based on pet size.
Note: BarkBox isn't available for cats.
The BarkBox default option will include two toys, two bags of treats, and one chew toy. You can adjust this assortment and request more or fewer of one type of product by messaging BarkBox's customer service at happy@barkbox.com or by using the website's online chat feature.
Each month's BarkBox will be based around a theme. For instance, December 2019's theme was "The Muttcracker" and its options included a nutcracker toy, multipart sleigh toy, sugarplum fairy toy, wearable Santa hat, ginger cranberry "cookies", and dance of the berry dazzled ducks treats.
May 2019's "Sniffs from the Abyss" theme included four navy and fuschia hued sea creature toys, including a jellyfish, sea slug, and multi-part "food chain friends," as well as two bags of treats.
Note that your pet will only receive two of toy options associated with each theme unless you specify otherwise. These toys are chosen randomly for each box.
It's possible to add additional extra products to your box or double the items included in it through your online account dashboard.
You can also share your pet's birthday or adoption day as part of the signup process. During that month, BarkBox will offer you birthday-themed products that you can purchase as add-ons for your box.
Are BarkBox Treats Healthy?
The company states online that all BarkBox treats are made from USA-based ingredients and are free of soy and wheat, and corn. You can also request that they be free of chicken, beef, or turkey if your pet has a sensitivity to one of these proteins.
It's also possible to chat with a company representative to customize your pet's box if they have other dietary needs.
The Super Chewer Subscription
If you have a pet that loves to chew, you might want to upgrade your subscription to Super Chewer status. These boxes are also delivered monthly, and each one includes two durable toys, two bags of treats and two chews.
These toys are designed for serious chewers and should last longer than toys in the original boxes. They are "fluff-free" and made from a tough-but-tearable fabric cover and a solid rubber or nylon core.
If your pet chews through a Super Chewer toy, BarkBox's return policy states that the company will replace it with another toy.
What Does BarkBox Cost?
BarkBox subscriptions cost the following prices per month:
| | Original BarkBox | Super Chewer |
| --- | --- | --- |
| Month-to-Month | $29/month | $39/month |
| Six Months | $25/month ($150 total) | $34/month ($204 total) |
| 12 Months | $22/month ($264 total) | $29/month ($348) |
Adding bonus items to your order will raise this base cost. For example, you can purchase a premium toy every month for an additional $9.
It's possible to purchase most items included in BarkBox on an a la carte basis at the brand's e-commerce site, BarkShop.com. Many of these toys and treats are also available in US retail locations like Target, Amazon, Bluestone Lane and more.
Each of these plans enrolls you in a recurring subscription unless you choose to opt-out online before it renews.
You can also order boxes as gifts, which don't come as a subscription. Their pricing is the following:
1 box: $35
3 boxes: $89
6 boxes: $149
12 boxes: $249
All orders include free shipping.
How to Cancel Your BarkBox Subscription
You can cancel your subscription at any time through your web account, but it's not possible to get a refund on any unused months that you already paid for.
This means that those who purchase a six-month or twelve-month subscription need to cancel before it renews if they don't want to pay for the additional subscription time.
While the company doesn't have an official return policy, they will work with your privately to ensure you are 100% satisfied with your order.
It's best to direct any questions to the company support team at happy@barkbox.com.
Are BarkBox Products a Good Deal?
According to the prices on Bark.com (BarkBox's official supplier), most treats in the boxes can be purchased individually for $5. The toys range in price from $10–$18, and most of the chews are about $10 each.
This brings the total value of each original box to between $40 and $56 if you were to buy each product separately. As you can purchase the boxes for $22–$29 each, you're getting a benefit of $11–$24 by purchasing them through a subscription instead.
That's a good deal if your pet loves everything they receive but it might get pricy if you find you aren't using several items in every box.
Analysis of Customer Reviews
Here on HighYa, BarkBox has an average rating of 2.7 stars after more than 200 reviews. This included about 75 five-star reviews and more than 100 one-star reviews. Below is a summary of some of their main takeaways:
Fun, Engaging Boxes
A large portion of reviewers loved everything about BarkBox. They wrote that their pets enjoyed the treats and toys and that the themes were a fun surprise every month.
Though some subscribers noted that they were eventually going to cancel their subscription because they only needed so many dog toys in their homes, many seemed content to continue their membership longterm.
Box Quality Is Inconsistent
A few reviewers wrote that they were long-term subscribers to BarkBox and that they believed the value had gone down over time. Many reported that they received duplicate toys and full box duplicates and that the toys seemed lower quality because their pets were destroying the toys much faster than they had a few years before.
Others wrote that they felt like their boxes often contained returned items, as the products seemed bedraggled and almost prechewed.
Boxes Not Always Delivered
Some BarkBox subscribers never received their orders because they were sent to the wrong address. Others received boxes for only half the time they had paid for and needed to get in touch with customer service to fix the delivery issues.
Some users struggled to change or cancel their subscriptions and consequently ran into problems when they moved and couldn't quickly update their listed address.
Inaccurate Pricing
A few Barkbox subscribers wrote that they were charged more than expected for their subscriptions and consequently felt like the company was taking advantage of them.
Pets Chewed Toys Too Quickly
The biggest complaint on HighYa about BarkBox is that pets chewed up their toys too quickly. Many reviewers wrote that the toys in an original subscription lasted less than an hour and that the Super Chewer toys were destroyed within a week.
Some wrote that they requested replacement toys from the company but were usually disappointed because they received the same toys again, which didn't solve the durability. Others wrote that the company stopped replacing toys in the boxes after about five requests.
Key Takeaways
While a large portion of HighYa reviewers loved BarkBox, others were less positive.
Common complaints involve shipping and billing issues, the materials used in the chews, and the longevity of the toys.
If you have a dog that loves to tear toys apart, you might be disappointed in BarkBox's quality.
BarkBox vs. Pooch Perks, PupBox, and BullyMake Box
There are many other canine-focused subscription brands to consider besides BarkBox. The following chart goes through key details for four popular options to help you decide what is best for your needs.
| | BarkBox (Original) | BarkBox (Super Chewer) | Pooch Perks (Popular Pooch) | PupBox | BullyMake Box |
| --- | --- | --- | --- | --- | --- |
| Cost Per Box | $22–$29 | $29–$39 | $26–$35 | $29–$39 | $31–$39 |
| Items Inside | 2 Toys 2 Treats 1 Chew | 2 Toys 2 Treats 2 Chews | 5–6 Handpicked toys, treats and chews | 5–7 Premium products, including a bag of treats, toys, and training tools | 5–6 Premium treats and heavy-duty toys |
| Key Features | Boxes are based around monthly themes | Durable toys designed for big chewers, boxes are based around a theme | Possible to sign up for toys-only subscriptions | Each month's box is based around your pet's developmental age and includes training resources | Durable toys designed for big chewers, boxes are based around a theme |
As this chart shows, each brand offers its monthly subscriptions at a similar price-point to the others, and they each come with at least five products. All four also sign you up for an automatic subscription unless you choose to opt-out.
Pooch Perks is the only company we looked at that offers different prices based on your pet's size, which could be an incentive for anyone with small dogs.
BarkBox offers the lowest price per box, but you need to commit to a year-long subscription to get it. Likewise, the brand got relatively low reviews on our site for customer service and product quality.
Each company (besides Pooch Perks) bases each month's products around a theme. These vary from seasonal celebrations to dinosaurs, deep-sea creatures, video games, and more. These themes seem to be a significant selling point for many people, as they add an element of surprise and anticipation to the boxes that make them more exciting than picking out pet supplies at the store.
BarkBox's Super Chewer subscription is very similar to BullyMake Box, both from a pricing and a product standpoint. While there aren't any reviews for BullyMake on HighYa, the company averages four stars out of five on MySubscriptionAddiction.
Both companies offer nylon toys, which might be a drawback if you're concerned about them being too hard on your pet's teeth.
Key Takeaways
If you are shopping for a puppy, PupBox provides you with age-appropriate toys and training materials that can be a big help to new pet owners.
Those interested in owning lots of "cute" dog toys based around specific themes will likely be happy with BarkBox. Just keep in mind that the toys might not last long if your pup gets aggressive with them.
For those who own a chewing enthusiast, BarkBox's Super Chewer box or a BullyMake Box are both excellent options. Our research shows that BullyMake boxes often include more bones and digestible chews than chew toys, which might affect your decision process.
The Bottom Line: Should You Consider BarkBox?
BarkBox has a transparent business model. You will sign up for a subscription that renews at a preset point, and then receive a predetermined ratio of pet toys, treats, and chews each month based around a surprise theme.
We like that the company offers customers a choice in what kinds of products are included in each box and that it's possible to purchase monthly add-ons or buy the same items a la carte from the brand's e-commerce store.
However, BarkBox gets mediocre reviews overall from HighYa readers. Common complaints involve the toys' quality and problems with billing and delivery.
We think there's a good chance that you and your pet will be happy with BarkBox, but you might not want to commit to a long-term subscription until you've sampled a box. That's why suggest buying a few toys and treats individually or purchasing a gift box so you aren't immediately enrolled in a subscription.
Customer Reviews
Posted on Aug 24, 2020
Crooks
I have tried to stop the products by calling and texting but they won't stop. I have changed credit card numbers but they still get thru to my credit card. I talked to a lady who said that it would be taken care of but it still comes. It doesn't even matter that my dog died. My wife sent one box back with "return to sender" on it and they just kept it. BEWARE OF CROOKS.
Length of Use: 1–2 years
Bottom Line: No, I would not recommend this to a friend
Posted on Aug 5, 2020
Disappointed
Customer service is not good. They say they want to make things right but they don't do anything to correct the concern.
Length of Use: Less than 3 months
Bottom Line: No, I would not recommend this to a friend
Pros and Cons
No "pros" were specified in this review
Not a live person to speak to
My puppy destroyed the toy in no time
They will not let you cancel your subscription
Posted on Jun 8, 2020
Zero stars if that were an option
My pup almost died...toys did not last. Our last shipment a piece broke off within minutes and although I thought I caught it all as fast as it happened I hadn't...two surgeries and a feeding tube in over the course of 4 days and we finally got her stable.
Length of Use: 3–6 months
Bottom Line: No, I would not recommend this to a friend
Pros and Cons
The auto ship was cool if it was quality
Junk
Posted on Jan 14, 2020
Great box! If it ever get delivered.
What has changed since summer? Over the past 6 months, I have had issues with my account. I feel like I am on a hamster wheel going around in the same circle. Every month I get charged, I don't receive my box. I email their customer service and talk to someone and explain my issues. They promise to refund me and/or send an extra box. I agree and thank them for their help. Most of the time I get my money back, but I never received my box. Like, ever...it's been four months. I do really enjoying having the toys treats, etc...but I am getting seriously annoyed by their customer service. How hard is it to ship a box every month? They sure don't ever forget to charge me. It's sad, but I need to cancel. I can't have my pup waiting around forever.
Bottom Line: No, I would not recommend this to a friend
Posted on Dec 24, 2019
FALSE advertising
My pomeranian Teddy loved his Grinch from BarkBox last year. I was so excited to see they were offering it again but you had to subscribe for 6 months plus $5 for the Grinch. I decided to subscribe for 6 months just so I could get him a new Grinch. They sent me an email saying Teddy would have his Grinch in his paws soon. Today the box arrived, there was no Grinch in it. I tried contacting them but you can't call them, you can only email them. I told them I wanted to return the package and cancel the subscription since this was false advertising. Still have not gotten a call back. I have had to call PayPal to have the issue resolved. So beware.
Bottom Line: No, I would not recommend this to a friend
Posted on Nov 21, 2019
BUYER BEWARE
In 2017 I started getting my rescue dog the Super Chewer BarkBox. Since 2018 it has been her only source of toys. They used to seem good but I've noticed this year the service has become really bad. The didn't send me a July box even though I paid the whole year in advance and made no real move to correct the error. And some of the toys were looking REALLY tough and hard...even for a "strong chewer".
One day I was in the yard throwing her toys for her and I noticed she wasn't picking them up. That's when I realized about half a centimeter of her lower canine was completely gone. Wondering what the hell she did to do that, I brought her to the vet. That's when I learned the Super Chewer hard nylon toys are absolutely not safe in any way for dog teeth. Horns, bones, antlers, nylon hard stuff - all bad. BarkBox had been increasingly sending harder and bigger nylon chews but I just assumed, since they're a company claiming safety and testing in their toys, that these things were fine.
She had to be referred to a vet dentist who verified what my vet said. She was scheduled for a root canal. While under anesthesia the vet discovered other chipped teeth and a rear one with a fracture. Thankfully those were less drastic repairs but it was heartbreaking to think she had been suffering in pain for who knows how long. This whole ordeal has also cost thousands of dollars.
When I contacted BarkBox I asked to cancel and be refunded the remainder of my subscription. At first they were very defensive - claiming their toys are perfectly safe and tested beforehand. When I asked them for documentation showing their testing is inclusive of safety for teeth they backtracked. They began apologizing profusely and stated they would close and refund my account and that a senior Ambassador would be contacted me directly. That was weeks ago and neither has happened.
Save your dog the pain and yourself the THOUSANDS of dollars in tooth repair - run far away. A quick google search for "vet dentist-approved toys" should provide options that are actually safe. I wish I had known that this company was completely deceptive in their reputation of having "safe" and "tested" toys.
Bottom Line: No, I would not recommend this to a friend
Posted on Nov 11, 2019
Didn't deliver box, then didn't stand by what they promised to "make it up to me"
I have a yearly subscription with BarkBox and they added this new feature with the additional toys called the "double deluxe box" and it started with the October box and I was super excited for it being a huge fan of Halloween and so I said sure, why not, I will pay the additional $20.38 to make it almost $50 for the month! It would be a fun little treat.
The box was "shipped" and when I went to track it I saw that it was delivered to a completely different state! BarkBox could not find my box!
Told me that they would send me another one that week, but never did. I kept asking when were they going to send me the box because October was almost over and I really wanted my box.
Then they said they were going to send a November double deluxe box for free and said "double the fun" for the dog.
Then I see an email at the beginning of November that says I agreed to the additional toys (which I did not!) and they were going to charge my card $20.38 on the 5th and then I also saw they were charging me for the box too! I was under the impression that was free when you say are giving me the November double deluxe box for free that means that I am NOT paying for the whole thing!
I am pretty darn annoyed!
Maybe 95% of their problem is the fact that they communicate exclusively via text/email and they don't do it well!
I know that I will NOT be renewing with them even though as someone who actually loves the toys and treats and actually was one of the very early customers that they had when they first started and left them for the same damn reason I am leaving now... customer service!
Bottom Line: No, I would not recommend this to a friend
Posted on Oct 31, 2019
They suck
When I signed up for BarkBox, I'm pretty sure it said $22 a month for Super Chewer, however, there is nothing listed in my account as far as the price and it was charged to my PayPal account but they charged me over $400 at once, which comes out to about $35 a month. So not what I was quoted. The first box I got had a squirt toy gun in it and my dog chewed/ate pieces off of it within minutes. They would replace that for free with another one but I didn't need another one that he could again chew/eat in minutes. I have a Husky and he is a big chewer and thought these toys would be durable enough but they aren't, and all BarkBox will do is replace it with the same thing, which defeats the purpose as he will have it chewed up in minutes. I tried to cancel seeing as how these toys aren't durable enough and they won't let me. There is fine print that states you cannot cancel (you can but they won't refund any money and will continue to send a box each month). When I did email them to cancel, I got several replies from a different person there each time and none of them read the last email I sent to them or the emails from their co-workers and I kept repeating myself until I got tired of it and just stopped replying to their emails. Their customer service is fast but not efficient at all. So I would not recommend them if you have a heavy chewer.
Bottom Line: No, I would not recommend this to a friend
Posted on Oct 18, 2019
No non destructible dog toys
First box I received, cute theme, but my dogs had the toys chewed up within an hour so I contacted their customer service and was told about the Super Chewer box, so I switched to that box and they sent me replacement toys. So far, it sounded good. The replacement toys lasted about a week. The next month, I received a super chewer box, treats were good, toys lasted less than a week. Tried contacting them again via email, never heard back. They stated on their website they have a "Scout's Honor" promise that your pack will love their BarkBox, and they would work with us to find the right plan, etc. I guess that only applies if you can get them to respond. Kept receiving the boxes for a few months, still toys only lasted a day to less than a week. So I tried to cancel the subscription, good luck navigating their web site to actually cancel the subscription. Finally located an old email from them and sent them an email to cancel, to which they responded that I needed to login to my account in order to cancel. Tried that, but after many efforts was finally able to cancel the subscription. I would not recommend this subscription service due to its inconsistent customer service, and website that is deliberately hard to cancel a subscription.
Bottom Line: No, I would not recommend this to a friend
Posted on Oct 13, 2019
Very misleading company
Unable to cancel a subscription even if you move or have travel plans that do not require the same address once given. This company was not accommodating and only tried to convince me to switch toys or put the YEAR long subscription on hold. WOW BarkBox, this was initially supposed to have been a fun treat for my dog, but has turned into a huge burden of payments for an entire year which I no longer have a need. DON'T SIGN UP WITH THIS COMPANY. There are other dog services out there who have better flexibility policies and who actually donate to charity, whereas BarkBox does NOT actually give a portion to helping animals.
Bottom Line: No, I would not recommend this to a friend
Posted on Oct 9, 2019
BarkBox SUCKS
BarkBox IS DISGUSTING. Customer support NEVER answers its phone calls or emails or even direct live messages. You are not allowed to cancel your membership even if you are unhappy with the product and service. NONE of the toys we received were anywhere close to being indestructible.
Bottom Line: No, I would not recommend this to a friend
Our Promise to You
In order to safeguard you and ensure helpfulness and relevance, our compliance team manually assess every customer review before it goes live.
We have a zero-tolerance policy for fake reviews, and companies cannot control or alter any reviews at any time.