Bavarian Edge Reviews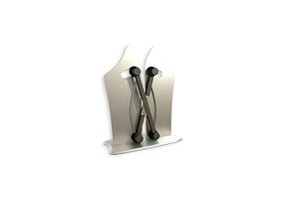 Compared to traditional pull-through knife sharpeners, Bavarian Edge's V-shaped tungsten carbide arms are mounted on springs to accommodate all blades and a variety of angles.
About Bavarian Edge
Advertised as the world's best knife sharpener, Bavarian Edge features two independent spring action arms made from ultra-tough tungsten carbide that flex and contour to any angle, thereby sharpening dull and damaged blades in seconds.
Unlike conventional electric devices, stones, and other sharpening tools, the website indicates its professional and portable design can even sharpen serrated and beveled knives.
But will Bavarian Edge's unique design really help you bring any knife back to life, as claimed on the website? This is the central question we'll help you answer here.
How Do Pull-Through Knife Sharpeners Like Bavarian Edge Work?
In How to Choose a Great Knife, we explain that different blade materials give knives different characteristics, and are prone to different types of wear and tear.
For example, carbon steel blades are hard and can hold a sharp edge for a very long time, but they're also brittle and subject to small nicks and chips that can reduce performance. They also need to be cleaned immediately after each use.
Stainless steel is softer and requires less maintenance than carbon, but will need to be sharpened more often, while ceramic blades "don't rust, discolor, or leave a metallic taste after cutting." They're also notoriously difficult to sharpen once the time comes.
In fact, if you use a knife often enough, its blade will eventually need sharpening, regardless of the material. How do pull-through devices like Bavarian edge potentially make the process easier?
A.A. Newton over at LifeHacker explains that, regardless of the specific design, handheld—or pull-through—sharpeners "work by using two pieces of tungsten carbide in a "V" formation to wear away the metal on either side of a blade, creating a new edge." At its most basic, we can see that this is exactly how Bavarian Edge works.
In layman's terms, compared to sharpening steel, which only bends the blade back into place, pull-through sharpeners, whether manual or electric, actually remove blade material.
Because of the way they operate, handheld sharpeners are typically ideal for re-honing stainless steel blades, although carbon steel and ceramic blades can be tool brittle and may end up causing damage.
Given these basic details, the question now becomes: what makes Bavarian Edge different than other manually operated pull-through knife sharpeners? We'll cover this in detail in just a second, but let's quickly discuss price and manufacturer first.
How Much Does Bavarian Edge Cost & Where Can You Buy?
One Bavarian Edge knife sharpener is priced at $19.99, plus free S&H, although you can purchase a second during checkout for an additional $9.99 fee.
In addition to direct from the manufacturer, we also found it for sale on Amazon for $16.99 and at Walmart for $30
While the Bavarian Edge homepage and commercial notes that the sharpener comes with a lifetime money back guarantee ("If it ever breaks, you'll get your money back"), the Returns Policy page noted a 30-day policy. We reached out to Bulbhead (a division of ASOTV giant Telebrands) customer support at 855-668-1655 and learned that the 30-day guideline is correct.
Bavarian Edge vs. Brod & Taylor's Tungsten Carbide Knife Sharpener
It appears to be identical to the Brod & Taylor manual knife sharpener, from both design and functionality perspectives.
As such, like the product in question, its dual tungsten carbide arms claim to work with all blade types (including serrated)—even those that are dull and misaligned, and to feature spring-action bars that can accommodate a variety of blade angles (specifically, between 12 and 20 degrees).
Brod and Taylor tell us their model is constructed of heavyweight stainless steel to provide "a lifetime of use," and features four rubber feet on the base to prevent scratching counters and tabletops. Also, that their sharpeners last between five and 10 years with normal home use, with replacements available when the time comes.
Comparatively, after several calls to customer support, none were able to provide additional information about the blade angles Bavarian Edge can accommodate, the material it's constructed from, or whether or not it comes with rubber feet. They also couldn't advise how long its sharpeners last, or if replacements (as well as pricing) were available.
Speaking of which, outside of materials, potentially the biggest difference between these two models is the price; Brod & Taylor's design averages about $120 through a variety of retailers, while Bavarian Edge is a fraction of the price at about $20.
Regardless of their specific design and price point, though, KnifePlanet's Peter Nowlan advises that pull-through models can certainly sharpen a blade. But in the end, you have to ask: "at what expense to the knife"?
Specifically, manual and electric models have reputations for prematurely wearing down blades—especially in the hands of an amateur.
With this caveat in mind, at this price point, is it worth rolling the dice on Bavarian Edge?
Our Final Thoughts About Bavarian Edge
The Bavarian Edge manual sharpener seems to accommodate a variety of blade types and angles, and come with popular tungsten carbide arms (which are spring-loaded) and an ultra-competitive price. It's also made by a manufacturer with decades in business, and who seems to stand behind the product with a 30-day refund policy.
In the end, though, we think it's not necessarily a question of price, but one of value. For example, customer service wasn't able to provide important details about Bavarian Edge's price, construction materials, or tungsten arm longevity, so we can't know exactly how it compares to the functionally identical Brod and Taylor model—or how long it'll last.
So, while you might pay meaningfully less for one model, it might not deliver the same level of value as a higher-priced one, if it doesn't end up providing the same level (and length) of operation. But, whether manual or electric—or from Bavarian Edge or another brand—are pull-through blade sharpeners the right choice for you?
As it turns out, this is a hotly debated topic within the world of knives.
For example, in the KnifePlanet article cited earlier, Peter Nowlan emphasizes that these types of sharpeners work perfectly fine for most consumers if you're simply looking for "something that stops [you] from using dull knives." Even LifeHacker advises something similar:
"If you're a fancy lad with a thousand-dollar carbon-steel knife, I'm obviously not suggesting you use [a pull-through sharpener]. You paid good money for that edge, which means you get to continue paying good money to have someone maintain it for you.

But for the rest of us who just need something sharp, a handheld sharpener can get the job done well and quickly. Remember the immortal words of Julia Child: "Keep your knives sharp, and above all, have a good time." Whatever sharpening method lets you have a good time in the kitchen, I encourage you to keep it up, guilt-free."
Bottom line: Based on everything we learned during our research, pull-through sharpeners like Bavarian Edge might be a solid option if you use inexpensive stainless steel knives as the "workhorse" of your kitchen and need a quick way to achieve razor sharper edges.
But if your blades consist of mostly carbon steel or ceramic, these designs might have a tendency to do more damage (even break the blade in half) than anything else.
On top of this, we didn't encounter any direct evidence indicating that Bavarian Edge's (and Brod & Taylor's) unique design—and potentially higher price points—could provide better results than a basic, inexpensive tungsten carbide pull-through sharpener.
With all of this said, since Bavarian Edge comes with free initial shipping, you might not have much more to lose than a bit of your time and a few dollars in return S&H if you give it a try and end up dissatisfied with its performance.
Will damage your knives

By Anonymous

,

Erie, PA

,

Dec 8, 2018
Verified Reviewer

I would not recommend this product. $20 is pretty cheap for something that supposed to do so much. Anyways my experience is it takes chunks out the blade of your knife. If you got an expensive Knife Set like I do you'll be upset, it'll sharpen it to a certain point but it also takes chunks out your blade.

Bottom Line: No, I would not recommend this to a friend

---

Utter rubbish

By Sarel J.

,

Republic of South Africa

,

Nov 29, 2018
Verified Reviewer

I purchased this "sharpener" on "one day only" after reading other reviews, which with hindsight could be false.

The best aspect of this device are the pictures. It does not and cannot do what they advertise it can do. I should have read the reviews on this site and I could have saved myself money and frustration.

The idea is good, if only they put proper material on the shafts to sharpen knives. Like diamond stones like warthog is using.

The flimsy material they are using is too short and definitely does not do the job as advertised.

Bottom Line: No, I would not recommend this to a friend

---

Advertisement

---

You get what you pay for

By Greg P.

,

Victoria, Australia

,

Oct 17, 2018
Verified Reviewer

This is cheap to buy and cheaply made. The product packaging represents better value than the item itself. I got the buy one get one free offer - well, in my view, they should have both been free as they are worthless junk. My first and last experience buying anything from an infomercial.

Bottom Line: No, I would not recommend this to a friend

---

Avoid, don't waste your money. It's useless.

By Vincent N.

,

New South Wales, Australia

,

Jul 27, 2018
Verified Reviewer

I bought this in May and used it only four times. The blade fell out and I hardly used my item, it's faulty. I contacted support I was told to take a "ticket" only to be served by CharmS and to be told they will not replace my faulty unit because it's only four months old. What type of service is this? I would never recommend buying anything from these people. It was an absolute waste of my money and time.

Bottom Line: No, I would not recommend this to a friend

---

Advertisement

---

Broke on first pass with knife

By Sheri E.

,

Garland, TX

,

Jul 19, 2018
Verified Reviewer

This one broke the first pass. The little piece of metal that does the sharpening fell off on the first pass. Seems to be very cheaply made. Very disappointed. The box was also damaged in shipment. The sharpener was wrapped in packing material so not bent or damaged.

Bottom Line: No, I would not recommend this to a friend

---

Piece of trash

By Lorisa S.

,

Pennsylvania

,

May 30, 2018
Verified Reviewer

This was such a disappointment. The Bavarian Edge is so badly made, it fell apart before I even had a chance to use it. There are missing parts, the feet fell off. It is totally unusable. It is a piece of trash.

It is not immediately apparent how to return it.

Bottom Line: No, I would not recommend this to a friend

---

Advertisement

---