Baze Reviews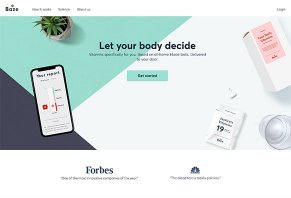 Baze uses at-home blood testing to identify your nutritional deficiencies, creates a customizes plan based on the results, and sends you monthly vitamin shipments to optimize your health.
What Is Baze?
After undergoing a simple, painless blood test at home, Baze uses MIT developed technology provided by third-party laboratories to identify potential nutritional deficiencies.
Combined with additional data points like your body measurements, diet and lifestyle, physical activity levels, and unique biology, they'll also provide recommendations, coaching, dietary supplements, and "other nutrition-related products and services tailored to your personal wellbeing, needs, and goals."
Together, the website advertises Baze can help ensure you're taking the right vitamins (along with the appropriate dosages), getting nutrients in a readily absorbable format, and always remain "in the optimum zone" for each vitamin—all in an affordable, transparent, and convenient format.
As consumers, this leaves us with two core questions: 1) Is it necessary to optimize your nutrient levels in the first place, and if so, 2) is going through a supplement subscription company like Baze necessarily your best option? Let's find some answers by starting with the basics.
How Does the Baze Process Work?
Collecting Your Blood Sample
After signing up for an account and choosing your product or service (more next), Baze will mail a simple blood test to complete in the comfort of your own home.
The website indicates detailed instructions are included, although in general, you'll want to collect your sample in the morning before eating or drinking (water is the exception).
After collecting the sample, you'll place it in the included postage-paid envelope and mail it to the company within an hour of testing. The remainder of the materials can be discarded in the trash. Overall, the process shouldn't take more than 10 minutes.
After receiving, Baze indicates that they assign your sample an anonymous number to protect your privacy before sending it to their "certified laboratories where it gets analyzed for your nutrients." They also use end-to-end SSL encryption, and all their servers are protected using industry-leading security measures.
It typically takes two weeks to receive your results, although this timeframe can vary depending on demand.
Accessing Your Baze Report
Baze takes all the data gleaned from this process and runs it through their patent-pending algorithms. When combined with your lifestyle information, we're told this allows the app to "provide the nutrient dosing which is right for you." And as you progress, they indicate they'll "get to know your nutrient biochemistry better and adjust your dosing accordingly."
Once your report is ready, you can access it directly via any device running Windows, OSX/iOS, or Android operating system. Inside, you'll find:
Your current nutrient status, which will be dynamically updated with each new blood test
A graphics-based supplementation program
Useful insights and recommendations on how nutrients impact your life, as well as how to optimize your nutrient supply
A "continuously updated feed that keeps you informed of the most current scientific research in the field of nutrients and wellness."
Nutritionist support via live chat
[Caption: The Baze app (iOS version pictured above) condenses all of the data gleaned from your blood test into an accessible, easy-to-read format that's continuously updated with each new test. Credit: Apple Corporation]

Taking a Closer Look at Baze's Vitamins & Supplements Subscription
Based on the results of your lab tests, along with the company's proprietary algorithm processing, Baze will recommend a mix of different nutrients that focus on the nine critical areas of your life: Bones & Joint, Brain, Energy, Hair, Skin, & Nails; Immunity, Libido & Fertility, Longevity, Sleep & Stress, and Strength & Endurance.
After being reviewed by a nutritionist, the company will organize your high-quality vitamins into daily packs, in the right dosage, and tailored to your unique levels. They currently offer the following eight ingredients:
Vitamin B12
Vitamin D
Selenium
Magnesium
Omega-3
Zinc
Vitamin E
Copper
With these details in mind, Baze emphasizes that all of their supplements are GMO, gluten, lactose, and artificial flavor-free, feature high bioavailability, and are made in the USA.
They're produced in accordance with GMP (Good Manufacturing Practices), and based on what we learned from the company's website, they're also "tested and approved for quality and purity by highly respected independent labs including Lab Door and ConsumerLab."
How Much Do Baze's Supplements & Testing Services Cost?
Baze's services are currently only available to those in the US, at the following prices:
Vitamin Test: $79
Subscription: Starting at $79/mo
6 Weeks of Vitamins: $59
All orders come with free shipping and a 90-day risk-free trial. After this point, their website emphasizes you can cancel your monthly membership at any time. After canceling, you'll retain access to all your data in the app, although you can contact support and have this information permanently deleted.
They can be reached at hello@baze.com or (+49) 30 35 51 73 00.
Baze vs. the Competition
After a brief online search, we encountered dozens of traditional vitamin testing services, which required a lab visit and waiting several weeks to get your results. In many of these instances, a doctor's orders were required.
However, we came across a multitude of online vitamin deficiency test kits available without first visiting a doctor, although the majority (such as Life Extension) were related to specific vitamins and minerals—not a complete panel like you'll find with Baze. The exceptions were:
HealthLabs.com – Offers a comprehensive panel of 13 different vitamins with results in 1-3 days: $499
Health Check USA – Provides a Vitamin Deficiency Profile (tests for vitamin D, vitamin B12, and magnesium): $175
We also found a couple of third-party companies that offered customized vitamin pack deliveries (Care/of, VitaminPacks.com), although their recommendations were based on questionnaires, not at-home blood testing. And none of these options provided in-depth reporting accessible online or via an app.
Given their distinctive differences, does this necessarily mean that Baze's testing and subscription services are right for you?
Bottom Line: Should You Become a Baze Customer?
Step 1: Talk With Your Doctor
First, any time you're dealing with something that can impact your health—supplements included, it's always wise to speak with your physician before making a financial commitment. Not only can they help you make scientifically sound decisions based on your diagnosis, but they could also help you avoid potential side effects and medication interactions.
Even the Baze website emphasizes that their "support service is not intended to be a substitute for professional medical care or treatment. Always consult your physician or other qualified health provider with any questions you may have regarding a medical condition."
Step 2: Maintain Realistic Expectations
Next, as we learned when writing Do You Need to Take Vitamins or Dietary Supplements, many professional medical organizations (the National Institutes of Health, Nutrition.gov, and the American Academy of Family Physicians, to name just a few) recommend that unless you're deficient in the ingredients they contain, vitamin or mineral supplementation isn't generally recommended.
Along these same lines, we also learned that according to the Centers for Disease Control's 2012 Second Nutrition Report, Americans are most deficient in vitamin B6 (about 10.5% of the population). This is followed by vitamin B12, vitamin C, and iron at between 2-8%, while less than 1% is deficient in vitamin A, vitamin E, or folate.
In other words, while the Baze website frequently emphasizes that nine out of 10 Americans are deficient in at least one essential nutrient, the only support provided is a report titled "What America's Missing: A 2011 Report on the Nation's Nutrient Gap," which was funded and created by the Milk Processor Education Program Dairy Research Institute.
Returning to our dietary supplement article, we also learned that if your doctor diagnoses you as deficient in one or more areas, they'll often emphasize that obtaining vitamins and minerals from food-based sources is often preferred to supplementation.
With these important caveats in mind, between their blood deficiency testing, app-based customized reporting, and monthly vitamin deliveries, Baze seems to provide a unique service not currently offered by any competitors. And they stand behind their services with a 90-day money back guarantee, so you might not be out a more than a bit of your time if you end up dissatisfied.