Bear Mattress Reviews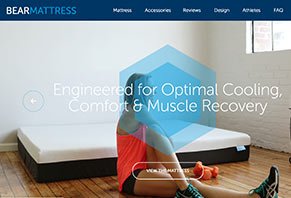 Compared to other online options, Bear Mattress uses 4 layers of high-quality, breathable foam and features Celliant fibers to boost circulation and recovery.
About Bear Mattress
Featuring an exclusive blend of specialty foams, each Bear Mattress promises to deliver cool, universally comfortable sleep, each and every night.
Compared to the competition, the cover on Bear's US-made mattresses features Celliant responsive technology—woven fibers that turn body heat into infrared energy.
This energy is then sent back to your body, where it's claimed to boost circulation and improve cellular recovery. This is why Bear targets their mattresses toward a physically active demographic.
Sound like you? Whether riding your bike, walking around the neighborhood, playing team sports, or pumping iron at the gym, are you looking to improve your recovery times—and your sleep?
If so, is this what you can expect from a Bear mattress, or does this amount to little more than a unique marketing angle? We'll talk about what we learned during our research and leave the final decision up to you.
Your Bear Mattress Quick Reference Guide
Bear's Basic Details
Bear engineered their mattresses to deliver middle-of-the-road firmness and effective pressure relief, regardless of your body shape or sleeping preferences.
All materials found in Bear mattresses are sourced and assembled in the U.S.; their cover is manufactured in South Carolina, their foam in Georgia, and they're headquartered in Hoboken, NJ.
Depending on the model, your Bear mattress will weigh between 90lbs (King) and 50lbs (Twin) and will arrive at your doorstep in a 40x20x20 box.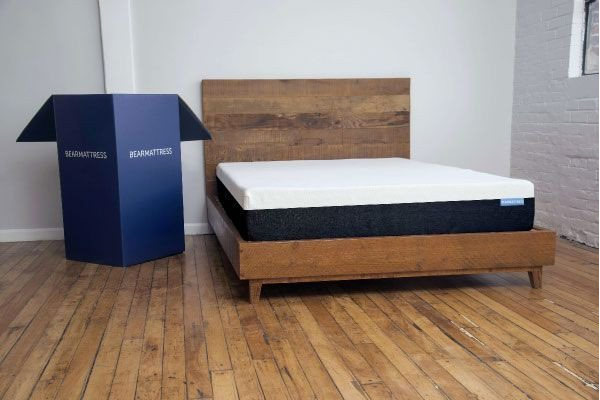 To give you a good sense of scale, here is the box your Bear mattress will arrive in, next to a Queen bed. Image credit: Bear Mattress.
Like most other online-only mattress companies (more soon), setting up your Bear mattress is as easy as moving the box to the appropriate room and pulling the mattress onto the bed frame.
Note: Bear's mattresses can be used on any flat, hard surface, including adjustable flat or platform beds, traditional foundations and box springs, and slatted bases.
See Also: Does Your New Mattress Need a Box Spring?
Then, you'll cut away the outer plastic wrapping, and your mattress will begin expanding. Finally, you'll need to cut the second layer of plastic around the perimeter.
While your mattress should completely expand in less than a minute, it could take 24 hours to fully decompress (largely based on the length of time it was in the box).
One common customer complaint about all-foam mattresses (again, more soon) is that they come with strong smells, which can sometimes take a week or more to dissipate. These fumes also sometimes contain harmful VOCs.
However, Bear tells us their foams have little-to-no smell. If you experience anything, it probably won't be worse than the smell of a new pair of sneakers, which will dissipate within a couple of days.
The Bear Mattress
Regardless of the model you choose, all Bear mattresses are 10" thick and contain four layers of CertiPUR-US Certified foam. Instead of a chemical fire retardant spray, Bear uses a woven fiber sock that wraps around its foam layers, underneath the Celliant exterior (more about this soon).
1" Top Layer – Graphite-Gel Infused Memory Foam: A breathable, odorless phase change foam featuring an open cell polymer structure that promises to enhance airflow by 95% and leave you with a cool, comfortable sleeping surface.
In fact, the company claims this foam is 7x cooler than industry-standard memory foam mattresses.
Combined with its improved thermal conductivity (it absorbs more heat), Bear claims you'll experience greater pressure relief, spinal alignment, and support while reducing motion transfer.
1.5" Second Layer – Quick Response Foam: Bear tells us that the polymer structure of their proprietary Quick Response Foam's provides outstanding pressure relief while retaining coolness, bounce, and responsiveness.
They claim it works as a hybrid foam that bridges a gap between viscoelastic, or traditional memory foam, and latex.
1" Third Layer – Quick Response Foam: Outside of reiterating many of the same benefits as above, Bear doesn't provide further details about this layer.
6.5" Fourth Layer – Core Support Foam: A top-of-the-line high-density foam that works to provide proper support for all weights and body types. Durable for long-lasting use.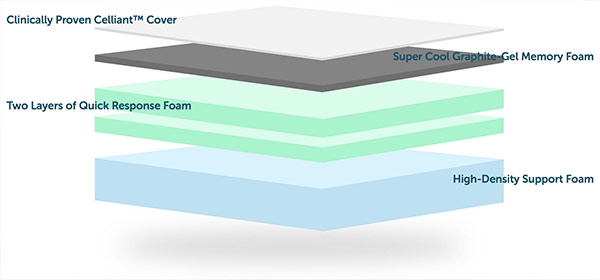 Bear mattresses feature four layers and three different foam types, which promise to deliver better breathability, support, and bounce. Image credit: Bear Mattress.
Now that we've covered Bear's inner layers, let's talk about the company's unique marketing angle—its Celliant cover.
What Is Celliant? Is It the Real Deal?
How Is Celliant Manufactured?
Surrounding Bear's four foam layers is a cover made from a third-party fiber called Celliant, manufactured by Hologenix, LLC.
First, the manufacturer grinds down 13 different minerals, including titanium dioxide, silicon dioxide, and aluminum oxide, as well as other proprietary ingredients. Then, these minerals are extruded into a resin and blended with polyester fiber.
From there, these fibers can be woven into just about any fabric. And because Celliant's resin works as the core of each fiber, it will never wash out or break down, and will last the lifetime of the material.
What happens next?
How Does Celliant Recycle Body Heat?
Celliant calls their proprietary fibers "thermo-reactive"; that is, they react to heat. Specifically, we're told they absorb body heat, convert this heat into infrared energy, and then radiate this energy back into your body.
Once this energy makes its way into your muscles and other tissues, Celliant claims it can provide real-world benefits like:
Increased tissue oxygen levels
Boosted circulation
Enhanced cell vitality and improved cellular performance and recovery
Regulated body temperature
More restful sleep
Improved overall wellbeing
As a result, Celliant calls their therapeutic fibers a "hybrid engine" that "puts body heat back to work."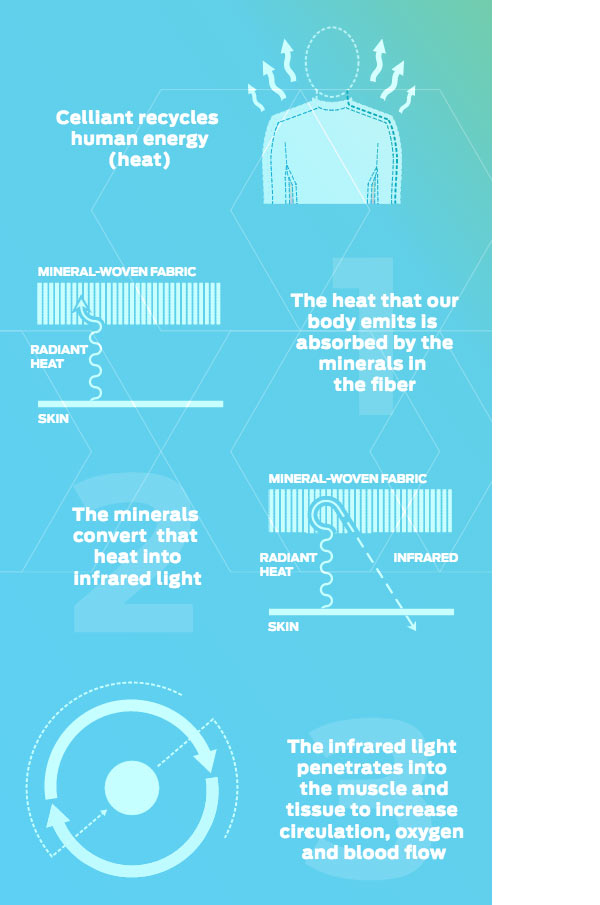 Celliant's proprietary fibers promise to convert body heat into infrared light, send this light back to muscle and tissue, where it can improve blood flow and more. Image credit: Celliant.
Because of these potential benefits, you'll find Celliant's fibers in products made by many popular manufacturers, including New Balance, Garneau, L.L. Bean, Asics, Sealy, Jockey, Puma, and more.
This sure sounds great and all, but is there any clinical evidence to support Celliant's claims?
Is Celliant Clinically Proven to Work?
According to their website, Celliant's fiber has been subjected to nine clinical studies, some of which were placebo-controlled and double blind. These primarily used socks and gloves infused with Celliant fibers, as well as shirts and other athletic apparel.
While you can browse the results at your leisure, it appears that many of these studies only measured transcutaneous oxygen tension (TCPO2). After exposure to Celliant fibers, most participants' tissue oxygenation was found to increase anywhere between 8% and 24%.
Important note: In many of these studies, the potential benefits provided by this increased oxygenation were only theorized. In other words, no direct benefits (such as reduced muscle recovery time) were observed.
In other studies, pain surveys were filled out by participants, some of whom reported a 2.7x greater reduction in pain than placebo.
A Celliant mattress cover was also studied (no manufacturer listed) by Dr. Marcel Hungs at the University of California, Irvine Medical Center between 2009 and 2010. Again, no recovery benefits were observed, although they did find:
The median time spent awake at night after falling asleep was reduced by 18.3 minutes.
Individuals spent an average of 42 minutes less time sleeping, "suggesting that the sleep they received was more restful."
Median sleep efficiency improved by 2.6%.
Taking all of this together, it's positive that Celliant fibers have been clinically shown to provide some real-world benefits, such as improved tissue oxygenation, reduced hand and feet pain, and improved sleep.
And while improved oxygenation could certainly have some implications for improved recovery following physical activity, this claim doesn't seem to be supported by the available evidence.
Does Bear Manufacture Any Bedding Accessories?
In addition to their Celliant-covered mattresses, Bear manufactures two accessories.
The Bear Pillow's design promises to intuitively contour to your sleep position and support the natural curves of your head, neck, and spine. Its dual mesh side panels also claim to deliver continuous cooling airflow while you sleep, along with hypoallergenic and antimicrobial protection.
Bear's Mattress Protector features this same protection against bacteria and allergens while helping you prevent stains and liquid damage with its breathable, waterproof HeiQ Adaptive Fabric Technology.
How Much Will You Pay For a Bear Mattress?
Bear mattresses and accessories are priced at:
Twin (39" x 75"): $500
Twin XL (39" x 80"): $650
Full (54" x 75"): $750
Queen (60" x 80"): $850
King (76" x 80"): $950
California King (72" x 84"): $950
Bear Pillow: $95
Bear Mattress Protector: $110
For now, Bear's products are only available in the continental US. Taxes will be applied to purchases shipped to GA and NJ, while CA, CT, and RI purchases are subject to an additional recycling fee between $7 and $11.
At the time of our research, financing was available for three, six, or 12 months through Affirm, with rates ranging between 0% and 30%.
All Bear orders come with free shipping and will arrive at your door in 4-7 business days.
Their mattresses also come with a 100-night risk-free trial, although the company requests that you sleep on your mattress for at least 30 days to give your body plenty of time to adjust.
If it still doesn't work out, Bear will come pick up your mattress for free and will try to donate it to a local charity.
Bear's mattresses and mattress protectors come with 10-year limited warranties against manufacturer defects, while the Pillow comes with a 2-year warranty.
Customer service can be reached at 844-311-0035.
Are Bear Mattress's Customers Sleeping Better & Recovering Faster?
On Bear's website, their mattress had 360 customer reviews (at the time of this publication), who had given it an average rating of 5 stars. Common compliments referenced comfort, breathability, and coolness, a solid mix between support and bounce, and improved sleep.
On the other hand, what few complaints there were seemed to mostly relate to personal preferences, such as discomfort and/or increased pain due to firmness.
Across professional mattress review sites like Sleepopolis, Mattress Clarity, Sleep Sherpa, and more, the Bear mattress seemed to receive unanimously high marks; typically between four and five stars.
They all put Bear's firmness somewhere between a 6 and 6.5 our of 10, noted that it provided a good amount of bounce compared to other memory foam mattresses, with little motion transfer and average sinkage and edge support.
While they didn't mention anything about improved recovery from the Celliant cover, they did note that it does a solid job of regulating internal temperature, resulting in a cool sleeping surface—even among those who tend to sleep very hot on memory foam.
From a company perspective, the family behind Bear Mattress claims to have been in the industry for more than 25 years. They had an A Better Business Bureau rating and no closed complaints as of 11/30/16.
Bear Mattress vs. the Competition (Leesa, Casper, Tuft & Needle, etc.)
In our online mattress buying series, we had the opportunity to interview Novosbed's CEO Sam Prochazka.
Among other things, he pointed out that—when it comes down to it—there are very few meaningful differences between mattresses released by popular bed-in-box companies like Leesa, Casper, Tuft & Needle, Sapira, Yogabed, and more.
Quickly comparing the basic details for many of these mattresses, you can certainly see his point:
| Manufacturer | Price | No. of Layers | Foam/Layer Types | Trial Period | Warranty Details |
| --- | --- | --- | --- | --- | --- |
| Bear | $500-$950 | 4 (3 different types) | High-Density, Quick Response, Memory | 100-night | 10-year |
| Leesa | $525-$990 | 3 | Avena, Memory, Support | 100-night | 10-year |
| Casper | $500-$950 | 2 | Latex, Memory, Support | 100-night | 10-year |
| Novosbed | $799-$1,199 | 3 | Ultra-Dense Memory | 120-night | 15-year |
| Tuft & Needle | $350-$750 | 2 | Adaptive, Support | 100-night | 10-year |
| Sapira | $975-$1,775 | 5 | Pocket Springs, Memory, High-Density | 100-night | 10-year |
| Yogabed | $574-$974 | 4 | Instant Response, Gel, Support | 101-night | 10-year |

Instead, Sam noted that it largely comes down to finding unique marketing angles for each of these companies in order to distinguish themselves in the marketplace.
To this extent, compared to these other companies, can you expect real-world differences from your Bear mattress?
Is the Bear Mattress Better?
When you exercise, you create microscopic tears in your muscle fibers. When the body repeatedly heals these tears, it causes the muscle as a whole to grow stronger and larger—hence the point of working out.
The speed at which these tears are repaired, however, largely depends on how many nutrients can reach the site. This, in turn, largely depends on blood flow or circulation.
The problem is that the clinical evidence correlating infrared energy and improved circulation is thin, and much of what does exist relates to saunas like SaunaSpace.
Furthermore, as we noted above with Celliant, there seems to be even less clinical evidence that this improved circulation results in meaningful, real-world benefits for otherwise healthy individuals.
The good news is that, based on customer and professional feedback, Bear's mattresses seem to sleep meaningfully cooler because of the Celliant cover. So, if you sleep especially hot, then this could be worth its weight in gold.
Outside of this, though, Bear's mattresses seem to be priced in line with much of the stiff competition and to deliver much of the same performance. But if you feel like giving it a try, the company offers a risk-free 100-night trial.
Before clicking away, tell us about your experience with Bear Mattress by writing your review below!
Thinking about purchasing a mattress online? Head over to our Mattress Reviews and Buying Guide.