Bear Pillow Reviews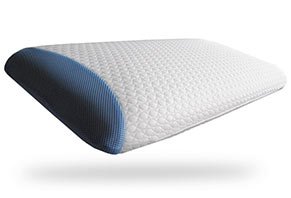 With Loft-X foam on the inside and Double Ice Fabric Technology on the outside, Bear Pillow promises to help you sleep comfortably, regardless of position.
What Is Bear Pillow?
Bear Pillow's Loft-X foam promises to intuitively contour to the curves of your head, neck, and spine, providing natural support while you sleep, regardless of your preferred position.
On the outside, Bear Pillow features a hypoallergenic and antimicrobial cover, with dual mesh side panels that provide continuous airflow to keep you cool at night.
Between mattresses, comforters, sheets, and pillows—not to mention environmental factors like temperature, humidity, and more—there are a lot of components that can affect the quality of your sleep.
With this in mind, will the Bear Pillow solve your pillow problems? Can you really expect it to keep you cool and dry throughout the night? Is it worth the money, or should you look elsewhere?
Let's begin answering your important questions by taking a look at Bear Pillow's construction.
How Does the Bear Pillow Work? What Materials Does it Feature?
At 28" wide, 18" deep, and 2" thick, the Bear Pillow falls squarely between Standard and Queen sizes, although we're told it fits in a standard size pillow case.
On the inside, you'll find Bear's Loft-X foam technology, which the company claims is a hybrid foam that provides the resilience and bounce of latex, while also offering the contouring support of memory foam.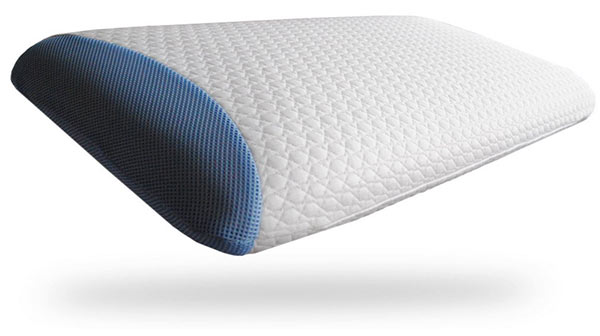 The Bear Pillow is sized between a Standard and a Queen pillow and is filled with Loft-X foam technology. Image credit: Bear
Regardless of your position or the weight of your head, Bear tells us that this Loft-X technology will provide proper spinal alignment. As a result, Bear markets their pillow toward all types of sleepers, whether side, stomach, or back.
On the outside of Bear Pillow, you'll find a washable zippered cover made from soft Double Ice Fabric that promises to help keep you cool and dry throughout the night. In fact, Bear claims you can use the Pillow without a case if you prefer.
Pro tip: While we learned in our investigation that these fibers might not provide any meaningful, real-world benefits, it's important to note that Bear's pillows do not feature the same Celliant fabric found in their mattress cover (more soon).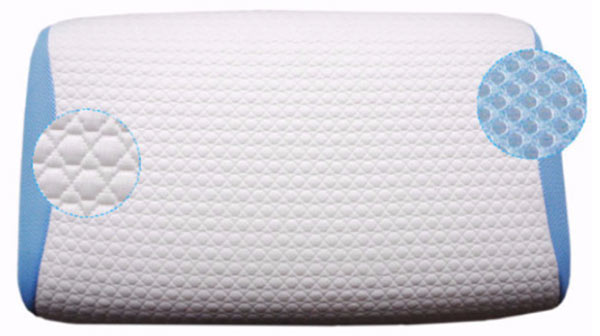 Although Bear's Pillow features cooling Double Ice Fabric Technology, it does not feature the Celliant fabric woven into their mattress covers. Image credit: Bear
The Bear Pillow cover is completely washable, although the foam core shouldn't get wet. If you must spot clean, the company recommends doing so with a damp cloth and mild detergent and then allowing time to dry fully.
Inside and out, Bear's Pillow is hypoallergenic and antimicrobial, providing protection against dust, mites, bacteria, and allergens.
Undoubtedly, these sound like some great benefits. But are they all that unique to Bear's pillows?
Bear Pillow vs. Casper Pillow vs. the Competition
Are There Other Memory Foam Pillows Like Bear?
As you probably know, you have a whole lot of memory foam pillow choices. We've even reviewed several popular models here at HighYa, including WonderFlex, Pleasure Pedic, and Cuddle Cool.
And if you're willing to explore other options, you can choose from:
In short, if you're just looking for a better night's sleep, the number of choices (not to mention their price differences!) can seem mind-boggling. How in the world can you choose the right one?
How Can You Pick the Right Pillow?
We've reviewed dozens of sleep-related products over the years, and we've learned that it's easiest to choose the right pillow by starting with your sleeping position, instead of the material it contains.
For example, if you sleep on your back, you'll probably want a medium firm option that has a fluffy, yet squishy feel, with extra loft in the bottom third to support your neck.
On the other hand, if you prefer to sleep on your side, you'll want a maximally firm pillow that's thicker and features a "center cavity" design to cradle your head.
While memory foam has a reputation for sleeping hotter than other materials, it also provides springy resilience that could be ideal for back sleepers.
Pro tip: Another common feature of memory foam, whether in pillows or mattresses, is off-gassing, or a chemical smell that slowly dissipates.
There's no mention of this on the Bear Pillow website, although you can probably expect at least a minimum amount of off-gassing, whether from Bear's memory foam or another manufacturer.
On the other hand, side sleepers might prefer the ultra-firmness, as well as the lack of off-gassing, that's prevalent with latex foam.
Bottom line: As much as anything else related to sleep, choosing the right pillow is a very personal process and might require some trial and error.
Compared to the competition, what will you pay for a Bear Pillow?
How Much Does the Bear Pillow Cost?
Bear Pillow is priced at $95 and comes with free shipping.
Casper's Pillow is priced at $75–$85 (depending on size), while ASOTV options like Sobakawa and BambooMagic are typically priced between $20 and $40.
Like Casper Pillow, Bear Pillow comes with a 100-night in-home trial, although you're responsible for return shipping. Note: You'll have to try the pillow for at least 30 nights before requesting a refund.
All Bear Pillows come with a two-year warranty against structural and craftsmanship issues.
In order to request a refund or file a warranty claim, Bear's customer service department can be reached at 844-311-0035.
Are There Any Consumer Reviews for Bear Pillow?
On Bear Pillow's website, it had three customer reviews and an average rating of about 4.2 stars. Unfortunately, no details were available.
Outside of this, we didn't encounter any online customer feedback.
However, the Bear Mattress seemed to receive unanimously high marks across professional review sites, referencing cool comfort when sleeping, with little motion transfer and just the right amount of sinkage.
Without any customer feedback or additional details about its construction, though, there's no way to know if you can realistically expect the same from Bear's Pillow.
Where does this leave you in the pursuit of better sleep?
Bear Pillow: Meaningful Differences or Just Marketing?
Over the past several years, there has been a revolution in online mattress buying, where companies mass-produce one middle-of-the-road memory foam model and then pass the significant savings onto customers.
Many of these companies (Bear included) have also launched their own line of bedding products, like pillows, comforters, sheets, and mattress protectors.
The problem is that many of these products are very similar and it's nearly impossible to discern 1) any meaningful differences between them and 2) if these will actually deliver a better night's sleep.
Instead, Spindle's President Neal Van Patten told us that the differences between these companies largely come down to marketing angles.
Is it the same with Bear's Pillow? In other words, are you paying a premium for marketing, versus something that will provide a solid return on investment?
Unlike their mattress, we're not told a whole lot of details about the Bear Pillow. We also couldn't find any third-party information about the Loft-X foam or Double Ice Fabric Technology, so there's no way to confirm if these amount to anything more than buzzwords.
In the end, will you sleep better on a nearly $100 Bear memory foam pillow than you will on a $10 down alternative down option from your nearest big box retailer?
As we mentioned above, you should probably read our pillow picks article and start your search based on your sleeping position. From there, your only option is to try out a few pillows and see which ones work best for your needs. You might even prefer a combination of different types!
The good news is that you'll be able to sleep on your Bear Pillow for up to 100 nights and won't have to pay anything more than return shipping if you're not satisfied.