BeautiControl Reviews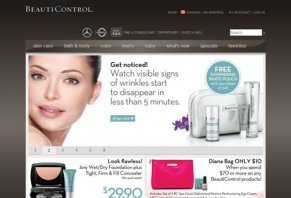 About BeautiControl
A subsidiary of Tupperware Brands Corporation based out of Carrollton, TX, BeautiControl is a direct sales marketing company that specializes in advanced skin care and premium cosmetics. According to the company, their more than 100,000 consultants offer skin care, bath and body, men's and women's, and fragrance and lotion products throughout the United States, Canada, and Puerto Rico.
BeautiControl guarantees that their products will provide you with visible results within 30 days, or your money back.
Popular BeautiControl Skincare Products
Whether it's a daily facial, anti-aging, or an exfoliator, all BeautiControl products can only be purchased directly through their website, or from local consultants. Some of their most popular anti-aging products include:
Regeneration® Tight, Firm & Fill® utilizes a peptide blend to help you achieve immediate results. These products also contain proprietary HylaSponges™, which act as a "second skin" to continuously release active ingredients, while also plumping and filling.
Regeneration Overnight treatments are intended to work as you sleep, by utilizing a blend of 11 ingredients to improve your skin's appearance, and to produce better quality skin cells.
The BC Spa Facial pairs with Dermalogica's Skin Sensors™ to create ultra-personalized care for your specific skin type. The unique formula is paraben, sulfate, gluten, artificial dye and fragrance-free, and is dermatologist-tested.
The BeautiControl Opportunity
The BeautiControl Opportunity provides women the freedom to become independent sales representatives—in other words, you become a consultant and sell their products. While the company's website doesn't disclose how much you'll earn or how much work you'll have to put in, payment is applied based on a commission schedule, with some sources claiming that you'll earn up to 40%.
As a consultant, in addition to commission, you will receive 25-50% discounts on BeautiControl products, depending on the size of your order:
25% if your retail order is less than $149
30% if your retail order is $150-$349
40% if your retail order is $350-$749
50% if your retail order is $750 or more
In order to get started as a BeautiControl representative, you'll first need to submit your information on the company's website, and a local consultant will get in touch. Chances are, you will probably end up enrolling through this same consultant. After joining and becoming an official consultant, you'll receive immediate access to free online training, along with competitive, full-time compensation and unlimited earnings potential.
After digging around, we were able to uncover the following information: To join as a BeautiControl consultant, it costs $89, and in return, you'll receive $249 worth of full-size retail products, in addition to training tools and other services. BeautiControl also claims that new consultants will receive an additional $122 in full-size retail products after attending BeautiYOU within their first 90 days. Consultants are not required to maintain an on-hand inventory, as your clients can place orders online directly through your BeautiPage, after which you'll earn a 40% commission.
1 out 1 people found this review helpful

Fabulous Product

I have been a faithful customer of this product since 1986. I love these products! Having a consultant who can guide and direct you on your skin care choices and what is best for you, is super important. I began with basic skin care of cleansing and moisturizing. I started to get more add on products, which enhanced my skin more. I could NOT live without the wet/dry coverage. People need to not criticize this line of skin care. Great or not, such great skin can result from environment, stress, too much sun, dry/oily skin, and poor diet and not enough water. Your LIFESTYLE plays a huge part in appearance.

I am using the regeneration series in BeautiControl, and I LOVE it. We have to grow, and move along with new skin care, as we get some age on us. Thank you for the wonderful SCIENCE behind this product! This product is just amazing, and so is my consultant, Carla.

Bottom Line: Yes, I would recommend this to a friend

---

2 out 2 people found this review helpful

Good, but expensive

The scents are good, the bath products, lotions, makeup etc are all very good quality. Most recommended product would be the "instant manicure" scrubs. Great for after shaving (albeit extremely expensive). If you are willing to pay, and wait, it's not bad.

Bottom Line: Yes, I would recommend this to a friend

---

Advertisement

---