BeenVerified Reviews
Claimed This company has claimed this profile, is getting alerted on any new customer reviews entering this page, and may engage in dialogue with its customers to address their matters.

Companies cannot pay money or provide goods in order to remove or alter customer reviews.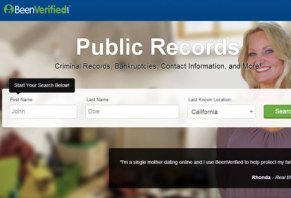 BeenVerified is an online company that aggregates public record information, such as addresses, criminal histories, and social media profiles into one easy-to-read report.
About BeenVerified
BeenVerified claims to "give people easy and affordable access to public record information" by aggregating addresses, phone numbers, criminal histories, social media profiles, and more into one easy to read report.
According to the company, they take the confusion out of accessing public records, and do so in a straightforward, ethical manner.
BeenVerified is based out of New York, NY, and has been featured in Inc., CNET, TechCrunch, and more.
The company is not rated with the Better Business Bureau, despite having more than 60 closed complaints over the past three years, most of which appear to relate to billing issues, and the amount of information provided in their reports (see the Bottom Line section for additional details about this). With this said, it appears that the company does respond to complaints quickly.
Outside of the BBB, online customer reviews appear to be primarily negative, with the most common complaints citing inaccurate/incomplete information and billing problems.
How BeenVerified Works
At its most basic, BeenVerified aggregates information obtained from public databases, and merges this information into a single, easy to understand report that can be purchased by members.
According to the company's website, BeenVerified can be used to help people find a long lost love, verify prospective roommates, verify information about someone they met online, locate a current address, verify online buyers, and more.
However, BeenVerified is not intended to be used to uncover information related to public FCRA records, to screen tenants, to perform an employer background check, or to verify someone's eligibility for a mortgage.
If you have any questions about this, BeenVerified's Do's and Don'ts page provides a quick overview.
At this time, BeenVerified only provides records for U.S.-based individuals, although all searches are performed anonymously. In other words, the person you're searching for will not be notified.
BeenVerified currently offers desktop, iPhone, Android, and mobile web versions of their site. In addition, in the event that the record you're looking for isn't available online, BeenVerified claims to be able to send people to the courthouse to manually gather information.
BeenVerified Pricing and Refund Policy
When signing up for BeenVerified, you'll be presented with three different options, all of which include unlimited report requests during your subscription period:
Moderate User – Billed on a month-to-month basis: $19.62 per month.
Recommended – A 3-month subscription billed in one lump sum: $44.62.
Power Users – A 6-month subscription billed in one lump sum: $59.62.
Whichever option you choose, keep in mind that BeenVerified will automatically renew you membership once it expires. To opt out of this automatic renewal, you'll need to contact customer service at 888-579-5910 for their "no hassle, no haggle" cancellation.
Bottom Line: Is BeenVerified a Scam?
BeenVerified does not appear to be a scam, though we learned of several concerns during our research:
First, online data brokers such as BeenVerified simply aggregate information that can be found elsewhere online for free, put this information into a report, and then charge you for the service.
This means that, with just a little digging on your part, you can probably locate much of the same information at no charge whatsoever.
Next, BeenVerified's online reputation appears to be very poor. In fact, according to this article, "The worst [data broker] is BeenVerified. We get more complaints about BeenVerified than any other data broker, by a factor of five."
On top of this, we encountered numerous customer complaints during our research that cited inaccurate/incomplete information—so much so that it could rightly call into question the service provided by BeenVerified in the first place.
For example, countless users stated that they searched for individuals with known criminal records, only to have none of this information contained in the BeenVerified report.
On the other hand, we read just as many consumer complaints stating that they ordered reports on themselves, which were riddled with incorrect/vastly outdate information—even criminal records that didn't belong to them.
Most billing problems appeared to be related to the company's automatic membership renewal.
With this in mind, remember that Been Verified doesn't verify any of the information contained in its reports, so it's up to you as a consumer to do so.
Also, while the company doesn't provide a method of correcting false information, they do provide an easy way for you to have your record removed from their database altogether.
Bottom line: If you're looking to find someone's last physical address and phone number, BeenVerified seems to provide accurate information. However, if you're looking for a detailed criminal history, the company has a reputation for being fairly inaccurate.
» See Also: The Problem with People Search Websites and How You Can Find the Same Information for Free
---
BeenVerified

By Lundy N.

,

Fort Worth, TX

,

Apr 1, 2020
Verified Reviewer

Overall Experience:

I found this site to be woefully incomplete and quite inaccurate. I received very little usable information. It didn't even have listed that my brother had died nearly 3 years ago. Then I did a search for his name, and it showed he was still alive at 72. He died when he was 69. Don't waste your money or time.

Bottom Line: No, I would not recommend this to a friend

Apr 2, 2020

Hi Lundy,

I want to offer our deepest condolences for your loss.

We are sorry to hear you ran into any inaccurate information in your reports.

BeenVerified is an easy-to-access collection of public record information. Public records are collected through several different public resources. Sometimes the information they collect is not always 100% correct. We continuously strive to provide you with the most current and accurate information we possibly can.

You were issued a refund, details of the refund were emailed to the address associated with your account.

If we can be of further assistance please contact support@beenverified.com

Respectfully,

BeenVerified Customer Care

---

Terrible experience

By Carrie F.

,

Eugene, OR

,

Mar 24, 2020
Verified Reviewer

Overall Experience:

Please do not use this company. They continue charging your account months after cancellation. All their customer service numbers do NOT work. It does not matter if you change your card number as they have a feature to continue charging a card even when is changed. This has been a nightmare. It is interesting that the services this company does are aimed towards seen into a person's reputation as they lack professional integrity. If anyone from BeenVerified can read this, please write a number where either my bank or I can contact you. Thank you.

Bottom Line: No, I would not recommend this to a friend

Mar 26, 2020

Hi Carrie,

Our records do not indicate a previous request to cancel. On the sign up page we inform that you can call or email at any time to cancel and will not be billed prior to the next billing cycle.

The payment method that was used at the time the account was created is the payment that will be billed for the recurring charges to use our services.

BeenVerified is an easy-to-access collection of public record information. Public records are collected through official government records such as mortgage deeds and court records, and through sources such as magazine subscriptions, warranty cards and utility bills. We do not create this information, this information is obtained from several public record resources.

Please be assured that your account was canceled, details of your refund were sent to the email address that was used to create your account.

If we can be of further assistance please feel free to contact us at support@beenverified.com or 1-866-885-6480.

Respectfully,

BeenVerified Customer Care

---

Advertisement

---

75% to 25% it will be wrong, website very slow!

By Elsie J.

,

Hogansville, GA

,

Feb 19, 2020
Verified Reviewer

Overall Experience:

Not many arrests show up, even people I know have been in jail several times. Information is old. Not many deaths show up. WEBSITE IS VERY SLOW TODAY! Sometimes I do find out something I didn't know!

Bottom Line: No, I would not recommend this to a friend

Feb 20, 2020

Hello Elsle,

The Criminal Records section of the background report may include criminal records from county courts, department of corrections, Administration of the Courts, and other state legal agencies. Positive or false matches in criminal searches may not provide confirmation of an individual's criminal background. While we put every effort into making our data as accurate as possible, we are dependent upon the criminal data made digitally available to us by the courts.

We do not have full death records in our reports, or access to death certificates. This information comes in part from the Social Security Death Index, which contains information on millions of deceased individuals whose deaths were reported to the Social Security Administration.

If we can be of further assistance please contact support@beenverified.com

Respectfully,

BeenVerified Customer Care

---

Rip-off

By Dennis A.

,

Virginia

,

Feb 18, 2020
Verified Reviewer

Overall Experience:

I had to pay upfront to be told that they could not find a match. SUCKS. I received a message that there were 32 hits, but none were an exact match of my qualifier. Now I am trying to fulfill the 180-character count.

Bottom Line: No, I would not recommend this to a friend

Feb 19, 2020

Hi Dennis,

I'm sorry to hear that you're having trouble locating the person report.

BeenVerified is an easy-to-access collection of public record information. With public record data we may not have all of the information related to an individual in our records. If you have submitted your search with a specific city, middle name, or age and received no results, try removing some of that information and running the search again. You may find that we have a record for that individual in a different city than you were looking for them in, or we have a result for them, but it does not have an age attached.

By adjusting the search parameters to be wider you may be able to find a record that was not showing up at first.

Please be assured that your account was canceled and you were issued a refund of $22.86. The refund was processed immediately on our end, however, please note that it may take up to 10 days for the refund to reflect on your bank statement depending on your financial institution.

If we can be of further assistance please contact support@beenverified.com

Respectfully,

BeenVerified Customer Care

---

Advertisement

---

Useless

By Eric R.

,

Massachusetts

,

Jan 17, 2020
Verified Reviewer

Overall Experience:

Before you sign up, it says unlimited report (you will think everything is included, but it doesn't tell you, if you want to see a value report you will need to pay premium data). After I signed in, all I can see is the useless information that you could see on other websites everywhere for free. Now I think if pay for the Premium data, will I get real information? I don't think so. I'm pretty sure if they trick and cheat you once, and they will do again.

Bottom Line: No, I would not recommend this to a friend

Jan 18, 2020

Hello Eric,

We are sorry to hear that you were not happy with the search results. BeenVerified's mission is to provide easy affordable access to public records, so people can use public data in their everyday lives.

Our aim is to make the service as easy to use and affordable as we can. There are costs associated with obtaining the data and integrating that information into easy-to-read reports. Payment is required to sign-up for BeenVerified.

Please be assured that your account was canceled and you were issued a refund of $24.29. The refund was processed immediately on our end, however, please note that it may take up to 10 days for the refund to reflect on your bank statement depending on your financial institution.

Respectfully,

BeenVerified Customer Care

---

Costly waste of time!

By Joyce B.

,

Fallon, NV

,

Dec 17, 2019
Verified Reviewer

Overall Experience:

I signed up for a month, received my membership ID number but every time I would try to sign in, I wasn't allowed to! Their page would just keep trying to load! Checked my computer but nothing was wrong as I could go to other sites which worked. I contacted customer service and they weren't any help at all, so I told them to cancel my membership. They did but also told me I could still use the remainder of my month (almost 4 weeks!) to use their website! What a joke! I never could log on to use it! Try another company...just don't use this scam one!

Bottom Line: No, I would not recommend this to a friend

Dec 18, 2019

Hello Joyce,

We are sorry to hear you were having trouble accessing your account. You emailed us to inform you were not able to log in, we attempted to resolve the issue for you and your response was to cancel the account in which the request was granted.

It is highly possible that if we were allowed to assist, you could have regained access to the account. Please know that you always have access to log back in and reactivate if you need our services again in the future.

Respectfully,

BeenVerified Customer Care

---

Definitely a scam

By Ami B.

,

Ann Arbor, MI

,

Nov 29, 2019
Verified Reviewer

Overall Experience:

I was searching for the history of owners of certain real estate. It appeared I will see the result as soon as I signed up. However, I never got the information I wanted except the present owner's name which I knew. So, I forgot about them. A month later they charged "membership." I canceled the membership, but they charged the next month. It is rip off!

Bottom Line: No, I would not recommend this to a friend

Nov 30, 2019

Hi Aml,

We have several options to expand your search. The subscription you had was limited to information upgrading the subscription would have unveiled more information. We received your request to cancel and processed the request for you the same day. However, the request was also received the same day your account was renewing, thus the reason for the charge. Nevertheless, we have processed a refund of $22.86. The refund was processed immediately on our end, however, please note that it may take up to 10 days for the refund to reflect on your bank statement depending on your financial institution.

Respectfully,

BeenVerified Customer Care

---

Fake promo email

By Brian W.

,

Las Vegas, NV

,

Nov 28, 2019
Verified Reviewer

Overall Experience:

I signed up for the $1 trial because I searched for an individual in Google and BeenVerified sent me a clever-looking email saying the report was ready for this person. When I logged into my trial account, that report for this person in the right city did not exist. I immediately emailed them to cancel and not charge me further. To their credit, they responded quickly and said the cancellation is "in process," whatever that means. Apparently a "report" exists for anyone before you pay. Once you pay and search for the information, no report exists. I also searched myself and my girlfriend just to see if it had accurate info. It does not. This app may be useful for some. But it wasn't for me. So it gets two stars, assuming their customer service has integrity and follows through on NOT charging me further.

Bottom Line: No, I would not recommend this to a friend

Nov 30, 2019

Hi Brian,

I'm sorry to hear that you're having trouble locating the information you're looking for.

BeenVerified is an easy-to-access collection of public record information. Public records are collected through official government records such as mortgage deeds and court records, and through sources such as magazine subscriptions, warranty cards, and utility bills.

This means that sometimes we may not have all of the information related to an individual in our records. Sometimes we do not have an address available, or may be lacking a birthday for the person you're searching, however, that does not mean that we do not have a record with other information available for that person.

If you've submitted your search with a specific city, middle name, or age and received no results try removing some of that information and running the search again. You may find that we have a record for that individual, but that it is in a different city than you were looking for them in, or we have a result for them, but it does not have an age attached.

By adjusting the search parameters to be wider you may be able to find a record that was not showing up at first.

I hope this helps to clarify and that you are able to find the record you're looking for. In addition, your account is canceled, as you requested.

If you still have any paid time remaining in your plan, you still have access for the remainder of that time, however, you will not be billed going forward.

Respectfully,

BeenVerified Customer Care

---

They renewed me for years and I had no idea

By Char B.

,

Fort Wayne, IN

,

Nov 1, 2019
Verified Reviewer

Overall Experience:

I joined and used the service for a year. Then I did not renew.

When I went to the website to check out the pricing, I was renewed without my permission. I did not know I had been automatically renewed until several payments later. While they reimbursed me for the current months I was being charged for (after numerous calls and much determination on my part), they refused to refund the hundreds of dollars they owed me for the numerous charges. I will never use them again or recommend.

Bottom Line: No, I would not recommend this to a friend

Nov 5, 2019

Hi Char,

I'm sorry to hear this was your experience and for any confusion. Accounts can only be reactivated per our customer's request. We are happy to look into your account and offer further assistance regarding the charges, could you provide the email address you signed up with to support@beenverified.com?

Thank you,

BeenVerified Customer Support

---

Horrible!

By Sherry H.

,

North Chesterfield, VA

,

Sep 26, 2019
Verified Reviewer

Overall Experience:

Please don't waste your time with this company. My paid service was canceled by them because I was checking criminal backgrounds in individuals before that entered my home. Their policies states you can't use their information against a tenant. I do not have a tenant and should be able to look someone up for to verify where they have lived and criminal background FOR MY OWN SAFETY. I'm a single 61-year-old and have people stay here on occasion. I will tell everyone I know not to use this company. They definitely don't care about anyone's safety.

Bottom Line: No, I would not recommend this to a friend

Sep 30, 2019

Hi Sherry,

Please be assured that your account was closed and you were issued a refund of $22.86. The refund was processed immediately on our end, however, please note that it may take up to 10 days for the refund to reflect on your bank statement depending on your financial institution. Please note that as per our Terms of Service, you may not use BeenVerified to conduct Employment Background Checks, Tenant Screening or FCRA Related Background Checks. BeenVerified is not a consumer reporting agency as defined in the Fair Credit Reporting Act ("FCRA"), and the information contained within our website has not been collected for the purpose of furnishing consumer reports, as defined in the FCRA. You may not use any of our information as a factor in establishing an individual's eligibility for personal credit, insurance or assessing risks associated with existing consumer credit obligations. You also may not use any of our data or results for other business transactions with another individual, such as leasing an apartment. Please feel free to review our Terms of Service at http://www.beenverified.com/consumer-terms-of-service. We apologize for any confusion or inconvenience that you may have experienced.

If you have any additional questions, please feel free to contact us at support@beenverified.com.

Kind Regards,

BeenVerified Customer Care

---

No accurate information

By Gregory G.

,

Franklinton, LA

,

Sep 14, 2019
Verified Reviewer

Overall Experience:

The report was full of bad info, phone numbers, emails, and addresses that I have never used. It even had that I lived at a former boss's house from 15 years ago. I have never used these numbers or emails or addresses in my life, in any way, and don't know how they would be linked to my name.

Bottom Line: No, I would not recommend this to a friend

Sep 17, 2019

Hi Gregory,

I'm sorry to hear you ran into any inaccurate information in your reports.

Please be assured that your account was canceled and you were issued a refund of $22.86. The refund was processed immediately on our end, however, please note that it may take up to 10 days for the refund to reflect on your bank statement depending on your financial institution.

BeenVerified is an easy-to-access collection of public record information. Public records are collected through official government records such as mortgage deeds and court records, and through sources such as magazine subscriptions, warranty cards, and utility bills.

As you just experienced, sometimes the information they collect is not always 100% correct. However, we can only work with the information provided to us within public data. We continuously strive to update and expand our databases in order to provide you with the most current and accurate information we possibly can.

If you have any additional questions, please feel free to contact us at support@beenverified.com.

Thank you,

BeenVerified Customer Care

---