BeenVerified Reviews
Claimed This company has claimed this profile, is getting alerted on any new customer reviews entering this page, and may engage in dialogue with its customers to address their matters.

Companies cannot pay money or provide goods in order to remove or alter customer reviews.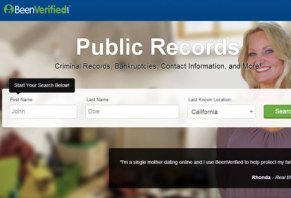 BeenVerified is an online company that aggregates public record information, such as addresses, criminal histories, and social media profiles into one easy-to-read report.
---
Not my info

By Laurie T.

,

North Carolina

,

Sep 13, 2019
Verified Reviewer

I signed up at BeenVerified to see what info was out there on me. All I got was information regarding my in-laws, who passed away some time ago. It showed their old address as mine, even though I never lived there and showed I owned an old Grand Cherokee vehicle, which was theirs, not mine. It was a total waste of money and I wouldn't recommend that site to anyone.

Bottom Line: No, I would not recommend this to a friend

Sep 17, 2019

Hi Laurie,

I'm sorry to hear you ran into any outdated information in your reports.

BeenVerified's database contains information collected from public records and publicly available data, compiled from thousands of different sources.

Your ability to locate specific information in our database can be dependent on a number of factors, such as the amount of information collected on that individual by various government and private agencies, and the laws regarding public information in the state where the individual resides.

Please be assured that your account was canceled and you were issued a refund of $22.86. The refund was processed immediately on our end, however, please note that it may take up to 10 days for the refund to reflect on your bank statement depending on your financial institution.

If you have any additional questions, please feel free to contact us at support@beenverified.com.

Thank you,

BeenVerified Customer Care

---

BeenVerified: continues billing credit card AFTER cancellation

By Rene H.

,

California

,

Sep 4, 2019
Verified Reviewer

Purchased three months of service from BeenVerified.com on Jan 31, 2019. Less than 30 days later, I canceled/closed the account via a phone call to 1-888-579-5910. However, my credit card continued to be billed two additional times (a credit card number is required to open an account with BeenVerified).

When I called to explain the situation, they immediately said:

"All phone calls are recorded and there is no record of your phone call. However, as a courtesy to you, we will refund one of the two additional charges".

How quickly they wanted to put me "on the defensive" with the "record all calls" statement and then just as quickly offer to refund one charge. How many people agree to this just to put the issue to rest? A very lucrative "business practice", indeed.

Bottom Line: No, I would not recommend this to a friend

Sep 5, 2019

Hi Rene,

Thank you for reaching out.

I apologize for any confusion. After reviewing your account, we do not show there was a previous cancellation request made before 08/28/19.

However, we do show your account was refunded for $89.16 per your request on that same day 08/28/19. The refund was processed immediately on our end, but please note that it may take up to 10 days for the refund to reflect on your bank statement depending on your financial institution.

If you need further assistance or have any questions, please don't hesitate to contact us at support@beenverified.com

Thank you,

BeenVerified Customer Care Read less

---

Advertisement

---

Phone numbers are a conglomerate of crazy numbers

I hope to get to the bottom of the phone numbers that are listed under my own name that are absolutely baseless in origin. I put a phone call in and an email to find out where the phone number is listed under my name are, appearing to be baseless in origin, my goal is to find out where they are getting the colleague information, they appear to be people from my past that I was loosely associated with.

Bottom Line: No, I would not recommend this to a friend

Sep 3, 2019

Hi Elisabeth,

I'm sorry to hear you ran into any inaccurate information in your reports.

BeenVerified is an easy-to-access collection of public record information. Public records are collected through official government records such as mortgage deeds and court records, and through sources such as magazine subscriptions, warranty cards, and utility bills.

As you just experienced, sometimes the information they collect is not always 100% correct. However, we can only work with the information provided to us within public data. We continuously strive to update and expand our databases in order to provide you with the most current and accurate information we possibly can.

If you haven't already, we encourage you to check out the Monitoring feature, which you can activate on up to ten reports you have run. Once Monitoring is activated, you will be notified as soon as we receive any new information in that report, such as a new phone number, address or even court record.

If you have any additional questions, please feel free to contact us.

Thank you,

BeenVerified Customer Care

---

Outdated information

By Jon D.

,

Michigan

,

Aug 20, 2019
Verified Reviewer

The information they provide is not up to date. Nothing on a person in the last couple of years. Information provided was what I already knew. Save your money. I cannot recommend this site for accurate information.

Bottom Line: No, I would not recommend this to a friend

Aug 24, 2019

Hi Jon,

I'm sorry to hear you ran into any inaccurate information in your reports.

We show you canceled via our automated system. Please be assured we have now issued a refund of $22.86.

BeenVerified is an easy-to-access collection of public record information. Public records are collected through official government records such as mortgage deeds and court records, and through sources such as magazine subscriptions, warranty cards, and utility bills.

As you just experienced, sometimes the information they collect is not always 100% correct. However, we can only work with the information provided to us within public data. We continuously strive to update and expand our databases in order to provide you with the most current and accurate information we possibly can.

If you have any additional questions, please feel free to contact us at support@beenverified.com

Thank you,

BeenVerified Customer Care

---

Advertisement

---

Worthless

By Paul C.

,

Tucson, AZ

,

May 30, 2019
Verified Reviewer

The site takes a very long time to go through all of their processes. When they finish the info provided is no better than what is found on other FREE search engine sites. I don't think the site is a scam but all they really have to offer is information that is already on other public sites. My suggestion is to save your money.

Bottom Line: No, I would not recommend this to a friend

Jun 24, 2019

Hi Paul,

Thanks for reaching out. BeenVerified's mission is to provide easy affordable access to public records, so people can use public data in their everyday lives.

If you're interested in trying out the service, you may want to check out our app for the iPhone or Android. The app is free to install (from the App store and Google Play store). With our apps, you can run unlimited people searches to get contact info and more, for free and you have the option of upgrading with a subscription to unlock criminal records and more.

I hope that helps, but if you have additional questions, please don't hesitate to contact us at support@beenverified.com.

Thank you,

BeenVerified Customer Care

---

Rip off

By Roy H.

,

California

,

May 21, 2019
Verified Reviewer

The preliminary report showed a criminal matter. After paying for it - there were no criminal reports? Would not have gone through all the steps and paid for nothing. Would not recommend for any reason.

Bottom Line: No, I would not recommend this to a friend

May 23, 2019

Hi Roy,

We are happy to look into your account and offer further assistance, could you provide the email address you signed up with to support@beenverified.com?

Please note we currently do not show if there are criminal records on file during our sign up process. Could you tell us what you saw that indicated this so we can investigate?

Thank you,

BeenVerified Customer Support

---

Surprised at all the negative comments

By Jan O.

,

Washington

,

May 18, 2019
Verified Reviewer

I have been using BeenVerified for many years now, and it has been a very handy tool for finding lost classmates so they could be invited to Class Reunions. It may help that I know of their parents also so I can narrow down the duplicate names of individuals in the U.S. I am surprised at how MANY people have the same name, even the same middle name. I have been very happy for the reasons above to subscribe to this service called BeenVerified.

Bottom Line: Yes, I would recommend this to a friend

May 19, 2019

Hi Jan,

We're happy to have you as a customer and to hear we could help you find lost classmates. Thank you for your time and for this great review! Please feel free to reach us at support@beenverified.com if you need any assistance.

Many thanks,

BeenVerified Customer Care

---

Waste of time for no info

By Cody C.

,

Denver, CO

,

May 1, 2019
Verified Reviewer

All I wanted was to know who the phone number belonged to. BeenVerified proceeded to do a full background search taking 10+ minutes only to tell me it didn't have the name of who the number belonged too. What a waste of time! You should give the customer the option if they want the full background check instead of wasting their time with a search that provided absolutely nothing.

Bottom Line: No, I would not recommend this to a friend

May 2, 2019

Hi Cody,

Thank you for reaching out.

We do offer our free mobile app that allows you to view basic contact information for free. You would then have the option to purchase full background reports.

I hope that helps but if you have any other questions, please do not hesitate to contact us at support@beenverified.com.

Thank you,

BeenVerified Customer Care

---

So not worth my money

By Esther G.

,

Ohio

,

Mar 20, 2019
Verified Reviewer

I decided to try this service to specifically find out criminal record information. The information I received was mainly contact information. I put the name of someone I knew had a criminal record and none of the information came up, so then I thought, I am not getting enough information on the other people. When I called BeenVerified they said they do not always get the information released. Well, I told them I found my information through public records through the court system. Now, unfortunately, I have to be my own detective and try to find any court records. I wish I would have read these reviews before I paid. Fortunately, it was a little over $20 and not more for the first month.

Bottom Line: No, I would not recommend this to a friend

Apr 3, 2019

Hi Esther, We are sorry to hear that you were unable to locate the information you were looking for. While we put every effort into making our data as accurate as possible, we are dependent upon the criminal data made digitally available to us by the courts. There are some counties that make more criminal data digitally available to us than others (some include cases that date farther back, some counties provide arrests while others may only provide felony convictions), and there are still some counties that do not yet make their criminal data digitally available to us.

Please be assured that your account was canceled and a full refund was issued.

Thank You

BeenVerified Customer Care

---

BIG TIME SCAM

By Brian G.

,

Boston, MA

,

Mar 8, 2019
Verified Reviewer

Do not waste your money. Big time scam.

Cannot identify e-mail owner or even country. Lists Australia when owner is in England.

Debit card get denies. They want a credit card number. Probably to re-sell for profit and fraud.

As with everything online - be careful against phishing for your credit card info.

Bottom Line: No, I would not recommend this to a friend

Mar 11, 2019

Hi Brian,

Thank you for reaching out.

It sounds like you may have been using a different company. BeenVerifed does not offer information outside of the U.S. or international searches.

Is it possible you were on a different website? Could you provide the email address you searched to support@beenverified.com so we can look into it?

Thank you,

BeenVerified Customer Care

---

This is a bogus search

By Syeda D.

,

North Carolina

,

Dec 21, 2018
Verified Reviewer

It only provided relatives and previous addresses, no current data, and didn't show any public arrest records, which I know for a fact the person I looked up had because I was there for the arrest and found them on backgroundcheck.com as well. They don't let you cancel the membership either - the only way was to email and ask, so this is probably a scam a fell for.

Bottom Line: No, I would not recommend this to a friend

Dec 22, 2018

Hi Syeda,

We show you were canceled and refunded on 11/18/18 per your email request. We don't show that you called to cancel as this is an option we offer. I'm sorry to hear you ran into any inaccurate information in your reports.

BeenVerified is an easy-to-access collection of public record information. Public records are collected through official government records such as mortgage deeds and court records, and through sources such as magazine subscriptions, warranty cards, and utility bills.

As you just experienced, sometimes the information they collect is not always 100% correct. However, we can only work with the information provided to us within public data. We continuously strive to update and expand our databases in order to provide you with the most current and accurate information we possibly can.

If you have any additional questions, please feel free to contact us.

Thank you,

BeenVerified Customer Care

---