Beepi Reviews
Claimed This company has claimed this profile, is getting alerted on any new customer reviews entering this page, and may engage in dialogue with its customers to address their matters.

Companies cannot pay money or provide goods in order to remove or alter customer reviews.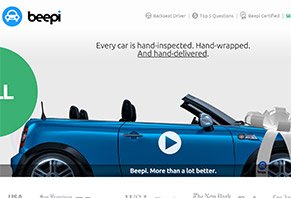 Beepi is a new company that claims to make the process of buying or selling a used car simple and straightforward, and to help you get the best deal possible.
About Beepi
Co-founded by Alejandro Resnik and Owen Savir, Beepi is a peer-to-peer marketplace that's claimed to take all the hassle out of buying and selling a used vehicle, or what the company calls the "largest broken market in the world." On top of this, Beepi claims that their business model allows sellers to get more money for their vehicles, and for buyers to pay less.
In order to accomplish this, Beepi claims to "connect buyers and sellers in an organized, efficient and safe environment;" almost like a virtual dealer, but without salespeople or showrooms, so the savings get passed on to you.
How Does Beepi Claim to Work?
First, you'll fill out an online questionnaire about your vehicle, which will include important details such as make, model, year, mileage, options, and so forth. This is also where you'll indicate whether or not everything works as it should, if there are any defects, etc.
Then, Beepi will send one of their inspectors—each of which has years of experience in the industry and undergoes more than 100 hours of training—to meet at your convenience. At that time, the inspector will verify that you are the legal owner of the vehicle, after which it will undergo a 185-point mechanical and cosmetic inspection.
If your vehicle is deemed "Beepi certified," the company will use their proprietary algorithm to give you a better price than you'd receive at a dealership (and you won't have to worry about random people coming to your house, like you would selling it elsewhere online).
If you accept the offer, your vehicle is then made available to the company's customers. There is no haggling, so you won't have to worry about the price changing, and Beepi guarantees they will find a buyer in 30 days or less (you can continue driving your car in the mean time). If they don't, Beepi will buy the car directly from you at the original price.
Once your car has been sold, Beepi will take care of all the paperwork and ensure that it's filled out correctly, and will also handle pick up, delivery, and the secure transfer of funds.
Sounds really easy, right? But should you choose Beepi if you're buying or selling a used car? Consider the following:
Is Beepi Available in Your Area?
First and foremost, because Beepi is a newer company, they're currently only available to customers in CA and NV. However, residents in neighboring states such as WA, OR, NV, and UT can have Beepi cars shipped to them for an additional $999 through the company's Prime program.
How Much More Can You Expect to Get Using Beepi?
According to the Beepi website, "We take into account the mileage of your car, the demand for the model, the retail price quoted on Edmunds, and other factors. The price you get is always higher than what a dealership would pay, by as much as 20% more."
Does Your Vehicle Cut the Mustard?
Despite the higher amount Beepi sellers can get for their car, the company claims that only 1 in every 3 cars they inspect ends up being listed on their website.
At their most basic, all Beepi-certified cars must have less than 60,000 miles and be less than 6 years old. However, if there is any sign that a vehicle has been in an accident or has had alterations made, it will not pass inspection (more about this in a moment).
Is a Test Drive a Deal Breaker for You?
Perhaps the biggest (and perhaps only) downfall related to Beepi is that as a buyer, you won't be able to test drive a vehicle until you've purchased it an it's been delivered at your home.
However, Beep does offer a 10-day trial period where you can return the vehicle hassle-free.
What Are Customers Saying About Beepi?
Based on 127 Yelp reviews (as of 5/11/15), Beepi had an average rating of 4.5 stars, with common compliments citing quick and easy process (whether buying or selling), better prices than expected, and complete transparency throughout. With what few complaints there were, they appeared to reference failure to pass certification (which primarily was due to factory bolts that had been removed at some point) and lower offers than expected.
In the instances of poor reviews though, it appears that Beepi responded quickly and attempted to rectify the situation.
Beepi also held 37 customer reviews on eKomi, with an average rating of 5 stars and many of the same compliments noted above.
From a company perspective, Beepi (aka Carsavvy Inc.) is based out of Los Altos, CA and holds an A rating with the Better Business Bureau, with no closed complaints as of 5/11/15.
Beepi Pricing & Guarantees
Although it's free to list your car through Beepi, once it sells, the company will charge a fee ranging between 3% and 9%, depending on the vehicle. Despite this, Beepi claims that sellers are guaranteed to get more than trade-in value for their vehicle, while buyers are guaranteed to pay less than the dealer advertised price (fees included).
In fact, if you get a written offer from a dealership that's higher than Beepi's, the company claims they'll beat it by $500.
All Beepi cars have clean titles and AutoCheck and CarFax reports are included at no extra charge.
Once you've listed your vehicle, Beepi claims you can cancel at any point, up until it's actually sold. In addition, if you sell your car through Beepi, they will give you a $600 coupon right away to buy your new car with them.
As a buyer, you can pay for your Beepi vehicle using a credit card, wire transfer, check, ACH transfer, or choose an online financing option through one of Beepi's partners.
Once you've received your vehicle, you'll have 10 days (and less than 1,000 miles) to try it out. And if you don't like it, you can return it to Beepi with no questions asked.
If you have questions for Beepi, you can reach customer service at (888) 542-3374.
Should You Buy Your Next Car Through Beepi?
If you've ever purchased a car before, you know how harrowing the experience can be. In fact, according to an Autotrader survey, only one half of one percent were satisfied with the current car buying process. As such, Beepi seems to be paving new roads in an effort to make us all happier car buyers.
Despite how broken the current car buying process may be though, it can be scary to embrace change, especially considering the large amount of money on the line. But if you're willing to forego the initial test drive and accept a 10-day return policy instead, it seems that most Beepi customers were very pleased with their buying experience.
Also, keep in mind that from a selling perspective, while you might get more money for your car using Beepi than through a traditional dealer, Beepi's guidelines appear to be much more stringent. In fact, numerous customers have complained that their vehicles were rejected because the paint on one or more factory bolts had been chipped, indicating a repair was made, even though they bought their cars new.
» More on Buying a Car:
5 out 12 people found this review helpful

Opportunistic thieves

By Andrew

,

California

,

Feb 14, 2017
Verified Reviewer

These guys sold a car to a buyer who in turn sold it to me. The police come and take my car, tell me it's stolen and give it back to Beepi.

Beepi (who never took a loss), was paid in full and now refuses to compensate me or give me my $80k BMW back. I am ignored by their customer service. Don't do business with these clowns.

Bottom Line: No, I would not recommend this to a friend

---

6 out 8 people found this review helpful

Horrible experience

By Dora Davila

,

Covina, CA

,

Jan 30, 2017
Verified Reviewer

My brother got this car around four months ago. Everything was bad from day one, but after giving them more downpayment then the original request, my brother got his car delivered around October of 2016.

He received an email to do a voluntary return today since they are not able to find a finance company. Please don't use their services.

Bottom Line: No, I would not recommend this to a friend

---

Advertisement

---

1 out 3 people found this review helpful

Exceeded expectations

The whole experience was pleasant and professional. The car was in better condition than described and had less mileage than posted. The delivery was pretty unique and special. We chose the option of having Beepi do all the DMV paperwork, which saved us hours of time.

We purchased the car in August and have had no problems. Having purchased many cars over the years, we can eagerly say that this was truly a unique and stress-free experience. We have already recommended this company to a relative who then also made a purchase and is quite pleased.

Bottom Line: Yes, I would recommend this to a friend

---

5 out 6 people found this review helpful

Deceptive business practices

By Erick Reyna

,

Houston, TX

,

Jan 3, 2017
Verified Reviewer

First of all, let me say that the initial communication with the Beepi was very positive. Their emails were quite clear and succinct. The inspection was very professional. Their initial offer was fair, and they clearly committed, in writing, to either selling my car or purchasing it after it had been listed for 30 days or more.

Then, 37 days after listing it, I was informed that they were shutting down their operation in my area and wished me the best of luck in selling my car. When I informed them that I had met their terms and conditions for them to purchase my vehicle, and insisted that they do so, they told me that they would not be honoring that agreement.

Their response was that, regardless of what I had in writing, I should have been offered a non-guaranteed offer for my class of vehicle, which would absolve them from any obligation to purchase it.

So I am left high and dry. I entered into the agreement with a high level of trust in this organization that was certainly misplaced.

At the time that I am writing this, I can find no mention of non-guaranteed offers on the website. They only entice the seller with a guaranteed purchase price after meeting their terms and conditions. After this is posted, that may change.

Otherwise, I would strongly suggest that all sellers beware of this organization. The timing of their communication to me was pretty suspicious. My experience does not lead me to believe that their business practices can be trusted, at least for sellers seeking to have their vehicles purchased after adhering to their terms and conditions.

Bottom Line: No, I would not recommend this to a friend

---

Advertisement

---

7 out 7 people found this review helpful

Horrible experience and they are laying off their employees

By Sandy K

,

Los Angeles CA

,

Jan 1, 2017
Verified Reviewer

This is my Yelp review, and another Yelp reviewer is having the same issue:

I signed an agreement on October 31 with Beepi to sell my car, which had already passed their extensive inspection. I waited the 30 days for them to sell it, and did not hear from them. A few days later, I called and they said they were very busy and they'd be out in 2-3 weeks to pick up my car and pay me, and would contact me to set up an appointment. Really? I waited another week and complained about the wait, and I was told again that they are busy because of the holidays and "we are a start-up". In other words, they haven't sold my car yet, so they are extending the contract without my permission so they don't have to pay me before selling my car. This time, they said they had to email me a form to set up the pick up appointment. I filled it out a week ago and emailed it back, with an "expedite" request, which is being ignored. I wrote and told them that if they didn't pick up the car last week, I would be posting bad reviews. No response. So here I am, two weeks later, still with no response to the form requesting pick up. My husband called Beepi again today and the woman he spoke to said she'd look into it. Hopefully, by posting a review, we will get the attention of a higher-up at Beepi so we can receive the money we were counting on and the car will be picked up. I didn't agree to 45 days, or 52 days or 59 days for them to sell my car. I agreed to 30 days, and they have not kept to their own promised terms. Very disappointed.

Update:

Judging by some recently laid off employees (180 of them!) reviewing Beepi on Glassdoor.com, Beepi is "a sinking ship." They offer a six month Beepi warranty. Buyer beware! If you buy a car from them now, and they do close their doors, likely you will have NO warranty.

Bottom Line: No, I would not recommend this to a friend

---

2 out 3 people found this review helpful

Beepi.com Online Car Purchase

By Stacie

,

GA

,

Nov 1, 2016
Verified Reviewer

This was my first individual financed car purchase. It was a very simple, easy process that I completed over my cell phone. Then a few days later, right on schedule, my car arrived at my front door. The Beepi team kept me informed and always immediately responded to any questions or concerns I had.

Bottom Line: Yes, I would recommend this to a friend

---

3 out 4 people found this review helpful

Great experience!

By Beth

,

Los Angeles, CA

,

Oct 31, 2016
Verified Reviewer

My Seller review: Ford Edge SEL 2014 sold to Beepi today 10.20.16

I wanted to sell my Ford Edge a few months ago, however, when I took it to be appraised at Carmax (Ugh) they gave me a much lower price than they had given me just 2 weeks before. This really irked me so I decided to search other options. After reading many reviews I decided to go with Beepi.

Beepi met me at my location of choice and appraised the car. It took a bit longer than Carmax but they offered 2k more which made me super happy! The price is pretty much written in stone until they either sell the car or 30 days pass, whichever comes first. Be aware that they allow 1000 miles overage during the 30 day period otherwise, you will be charged 0.50c/mile. I went over the allotted mileage so I had to pay by credit card $550; to me this was reasonable and I still came out much better than Carmax.

Hercules (love that name!) was patient, knowledgeable, and very flexible. Because the check was not a cashier's check I wanted to verify funds first. The branch manager at Chase Bank called a Beepi financial rep who in turn called Comerica Bank to verify funds for us. The Comerica branch manager said, "Beepi is one of our good customers" and she verified the funds. This made me feel confident so I deposited the check at Chase. It would have been much more convenient to have a bank certified check which is my only complaint about the whole process.

Overall, I will give Beepi an A+!

Thank you Beepi for making a typically difficult process almost painless.

Bottom Line: Yes, I would recommend this to a friend

---

2 out 3 people found this review helpful

Good experience

By Jeremy R

,

San Diego, CA

,

Sep 13, 2016
Verified Reviewer

I've sold cars to dealerships and Carmax and this time I discovered Beepi and sold my last car to them. They beat everyone else. The experience was smooth, convenient, and worthwhile. Lance was the Beepi employee who breezed through the paperwork with me, gave me my money, and took my car away. The experience was flawless from beginning to end. Based on my experience, I highly recommend Beepi and would work with them again if I had a car to sell.

Bottom Line: Yes, I would recommend this to a friend

---

10 out 15 people found this review helpful

Be careful

By Matt Armetta

,

Tampa, Florida

,

Jul 31, 2016
Verified Reviewer

After reading reviews I decided to give Beepi a shot. My initial impression was good. They followed up via phone quickly and set up an appointment to have my vehicle inspected. Shortly after I received a confirmation email stating the date and time, and the name and picture of the individual doing the inspection.

On inspection day I received a call from Jesse stating he was on his way and to make my vehicle accessible. After he arrived he explained the process, and I left him to conduct his inspection. Unfortunately it rains a lot in Florida, so we had to reschedule the inspection. Fast forward two days, and Jesse was back in my driveway. He completed the inspection and explained the results to me. There were some issues with the vehicle (which I was aware of) and a few I wasn't. He stated an engine mount was bad, my back bumper had been repainted, and the headlight housing was going foggy. He told me he does not decide what passes and what doesn't. He advised that there is a team back in California that takes car of that. He stated I would hear back in 24-48 hours. This was at 9:30 AM Thursday morning.

On Monday afternoon (taking into account the time difference) I called because I did not receive any information concerning the inspection. The individual I spoke with on the phone placed me on hold to review the file. After a brief pause he returned to the line, and told me I should hear something by the end of the day. After no word, I decided to use the chat option this afternoon so I could take screen shots of the conversation so I could have a record (you learn things from being in the military). The individual I typed with was Jamie. He advised me my vehicle did not pass inspection, but Beepi could offer me 5,700 under their "blue service". He was polite, and apologized for them not responding faster. He stated, "they should have reached out shortly after the inspection".

Here are my issues:

When you originally put in your information, they give you a ballpark range. I understand this will very depending on the condition of the vehicle. The 5,700 offer was 79.00 more then the "low-ball salesman offer.
I passed on numerous private offers waiting to hear back from Beepi. The offer that was supposed to arrive to me within 24-48 hours. Who knows if, or when I would have received this if I had not contacted them multiple times.

A little background on my vehicle. It is a 2011 with 54k miles. It is a one owner vehicle, and has never been in an accident. There are no dents or dings.

I understand this is a business and they need to make a profit. Selling "questionable" vehicles could sour their reputation. It's the way they handle things that upsets me. So go into a transaction with them not expecting anything. That way you will not be disappointed.

FYI, the offer they gave me under their Beepi blue was 300.00 less then a popular blue and yellow dealership that purchases cars nationwide. Per their inspection, everything on the vehicle passed. Just something to keep in mind. I wish I had the option to upload pictures of my vehicle, the CM inspection and report, the Beepi conversation, and their report, if it's ever emailed to me.

Bottom Line: No, I would not recommend this to a friend

---

6 out 6 people found this review helpful

Excellent Car-buying Experience

By R. L.

,

Texas

,

Jul 14, 2016
Verified Reviewer

Absolutely fantastic, hassle-free experience.

It was my first time buying a car, so I looked through a few online pre-owned car sites. Beepi offers one of the most user-friendly user interfaces, and its reps are quick to respond to any queries/concerns I have regarding both the online experience and the vehicles themselves. The checklist Beepi offers on car "dimples" is honest, and includes even imperfections on the car that is not visible to the naked eye. Once I decided the make a purchase, the process is transparent and efficient. I was first contacted by an agent who set up my deal and I only had to pay $500 deposit upfront to reserve the vehicle. Beepi is willing to accommodate my delivery date, and responsibly gave me an accurate delivery window a few days prior to the actual shipment.

In the period between purchase and delivery, Beepi followed up with me frequently, querying for delivery address and prepping me for the big day. They keep me updated with the status of my car, and what's more, they take care of all the paperwork and DMV registration. The pricing scheme is transparent, and in no instance did they try to force me to purchase unnecessary insurance, pay over-the-top premiums etc. Also, there is a guaranteed 10-day period where if you don't fall completely in love with your car, you can return it, with no questions asked.

On the day of delivery, the agent called me 30 minutes prior to arrival in my driveway. He was friendly, polite, and efficient with the process. He unloaded the car from his Beepi truck and walked me through all the paperwork within 20 minutes. He then showed me the controls in the vehicle and took me out for a test-drive. His explanations are professional and in-depth, and he answered any lingering questions I had (remember, my first car, so). Finally, he told me that should I have any questions on the road, I can always call Beepi for help and assistance.

The entire process, all in all, feels extremely honest and professional. Also, response time from Beepi is efficient, so I am never left talking to robots or waiting on dial tones. Even when the purchase is made and payment is complete, the company continues to cater to customer needs to ensure I have a good driving experience. This is an extremely ethical company, and I am very satisfied with my purchase. I would recommend Beepi to anyone who is looking to purchase a pre-owned car in excellent condition.

P.S. The registration/title transfer is also processed in a timely manner, and mailed to me as soon as it's ready. Beepi kept in contact with me and was accountable throughout the process even after the payment is processed. Such a committed team.

Bottom Line: Yes, I would recommend this to a friend

---

4 out 5 people found this review helpful

Transparent, Patient, Efficient

By Sarah Alzas

,

Bedford, TX

,

May 14, 2016
Verified Reviewer

I found Beepi through a Yahoo article wherein the columnist detailed his experience buying a Beepi.

I HATE, hate, hate having to deal with the panhandlers that are referred to salesman, so this sounded like a dream opportunity; my car would cost roughly a thousand dollars in repairs to pass inspection, and it was time to move on. I perused Beepi for days, checking out everything in the way of smaller cars (we rented a Yaris on a trip and LOVED it), and found my little mint green Fiat convertible. I was in love with the car, and the website provided everything you could imagine needing to know.

My husband is INCREDIBLY detail-oriented, so he took on the task of checking out the website, the company, the car, the "dimple report", everything. The car was RIDICULOUSLY cute, and I never dreamed I'd actually end up with it. We moved forward on the car through the website, established contact with a rep, a week and a half after putting in our request for financing quotes, decided to go ahead and put down the reserve deposit. Go another week and a half, and the car arrived in front of the office -- they delivered it to my job. I was ecstatic, and my coworkers were really impressed with the process -- they insisted on staying updated every step of the way. There was no haggling, no having to worry about what I'm ending up with, and four months later, I'm still LOVING my little car.

Bottom Line: Yes, I would recommend this to a friend

---