Bell + Howell microBite Reviews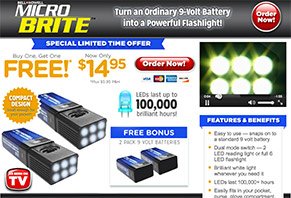 With 2 modes for customizable light levels, the Bell + Howell microBrite is an "As Seen on TV" flashlight that claims to snap onto any standard 9-volt battery.
About Bell + Howell microBite
The Bell + Howell microBrite claims to turn an ordinary 9-volt battery into an LED-wielding powerhouse of a flashlight that's "incredibly small but brilliantly bright."
Despite its power though, the Bell + Howell microBrite flashlight claims to last up to 100,000 hours, feature a dual mode switch, and to easily fit into your pocket, purse, glove compartment, or anywhere else you need.
According to the product's website, the easy-to-use microBrite works over 3 steps:
Snap on to a standard 9-volt battery.
Switch to 2 LEDs for low-powered light, useful for reading discreetly at night.
Switch to 6 LEDs if you need a full-powered flashlight.
Seems pretty cool, right? But how well can you realistically expect the Bell + Howell microBrite to perform? Will it be in line with what you pay? Consider the following:
How Flashlight Power is Measured
According to FlashlightWiki, "Lumens are a measure of the total light emitted by a LED or flashlight. For scale, a 60-watt incandescent lightbulb produces 890 lumens, a 40-watt bulb is 460 lumens, and a pretty decent flashlight produces about 200 lumens."
This is important, because we're not informed how may lumens the microBrite emits, either in its 2 or 6-LED configuration. As such, there's no way to know if the light it provides will be worth your hard-earned money.
With this said, because it's only powered by a 9-volt battery, it's our opinion that the Bell + Howell MicroBrite might be much more useful reading in bed than it will be to illuminate your path on a dark night.
Can microBrite's LEDs Really Last 100,000 Hours?
To put this in perspective, this means that Bell + Howell is claiming that microBrite's LEDs could—at least in theory—last more than 11 years.
However, you have to keep in mind that there are a lot of variables at play here, including how well the mini flashlight's connections are made during the manufacturing process, what kind of abuse the flashlight is subjected to over the course of its life, and much more.
Instead, a much more realistic number might be 20,000 to 50,000 hours, although given many "As Seen on TV" manufacturer's reputations for selling low-quality products, you might realistically expect the Bell + Howell microBrite to last for a much shorter period of time (more about this in a moment).
Keep Your Options Open
Finally, a common tactic among "As Seen on TV" companies is to make their products seem revolutionary, when they're usually just a small twist on a product that already exists.
As such, you'll have a variety of mini 9-volt battery flashlights from which to choose, including Blocklite, PakLite, PAL Survival Light, and generic options through website such as Alibaba (here's an example), although the latter would admittedly have to be bought in bulk. In fact, there are even DIY plans for making your own 9-volt mini flashlight all over the internet that could be made for a few dollars.
Customer Reviews for Bell + Howell microBrite
The Bell + Howell microBrite was a very new product at the time of our research and didn't have any online customer reviews available.
However, we also reviewed the Bell + Howell Solar Charger here at HighYa, which had a 1-star average rating among readers (as of 5/19/15). Elsewhere online, Bell + Howell's products seem to have a similarly poor reputation, with complaints of low quality and failure to work as advertised.
While you may not necessarily experience the same with the microBrite, it's our opinion that it's a strong possibility.
Bell + Howell microBrite Pricing & Refund Policy
Two Bell + Howell microBrites are priced at $14.95 plus $5.95 S&H. With your order, you'll also receive a bonus 2-pack of 9-volt batteries.
All Bell + Howell microBrites comes with a 30-day refund policy, less S&H charges. In order to request a refund, you'll need to contact customer service at 800-325-2972.
Is the Bell + Howell microBrite Your Next Flashlight?
Chopping to the point: Considering that several other options are available similar to the Bell + Howell microBrite (especially factoring in the non-refundable S&H charges), as well as the company's apparent online reputation for manufacturing low-quality products that don't work as advertised, we'd recommend exploring your options.
Bell + Howell hit a home run with these little lights

By Chuck Pool

,

Cincinnati, OH

,

Mar 10, 2018
Verified Reviewer

Yeah, this is a cheap piece of plastic with a low-off-high switch on one side. The LEDs are probably in series, parallel with one or two resisters on the board limiting current flow so as not to exceed the LED capacity.

This reviewer may know a thing or two about Bell + Howell durability, but with only one switch as a moving part, and with toddlers playing with my 9v flashlights regularly (I purchased them with the toddlers in mind, I don't want them playing with our larger flashlights), I give kudos to Bell + Howell for durability.

I can say what Lumen output or feet of penetration these things provide; it is enough to see under the car seat, bright enough to find the correct orientation of the house key, keeps my toddler focused when we roll the trash bins to the street, and helps with detail work when the living room lamps are inadequate.

Would I use these to look for something lost on the floor? Well, yes, we have, and as long as you are within 3-4 feet of a small object, you can see it, just put the light on the floor and shine it in the direction you heard it fall. Anything larger than a nickel that isn't the same color as the floor you should be able to see without it, but if you are looking for a sewing pin or the pin from a watch band (or worst, the tiny screw from a laptop hard drive cover), this little light might make your day. It has mine in all three situations.

I'm writing this review on the laptop where the HDD bracket screw is residing. Bell + Howell may make cheap products, but this one works for a small pocket flashlight, definitely better than a candle!

Bottom Line: Yes, I would recommend this to a friend

---

Works fine

By Scott

,

Chicago, IL

,

Jan 30, 2017
Verified Reviewer

It is what it is. It's great if you have to get up in the middle of the night or something like that, but I would never take it to work. Mine works great, and I was actually looking for a few more (Menards, $5).

Bottom Line: Yes, I would recommend this to a friend

---

Advertisement

---

0 out 1 people found this review helpful

Junk - don't buy it.

By Brent W

,

Salt Lake City, UT

,

Jul 9, 2016
Verified Reviewer

After purchasing this brand new from a local supermarket on a whim, I took it home and tried it out. It's easy to assemble. But never worked - not even for 1 second. It can't be taken apart like a regular flashlight to check why it isn't functioning. There is no customer service number on the package - anywhere. In several online searches THIS website is the only place I could find a contact number for Bell and Howell. Other alternative products would cost far less than the time it would take me and shipping involved in sending this back to them for a replacement. It would seem that this is the strategy for the success of this product. Don't get succored into buying products that aren't supported by the company's that sell them. If you don't believe how hard they are to find online just try a few searches. It's all sales sites! I may be lucky that I bought it in a store I frequent. Returning defective merchandise to the store with good customer service may save me some of the bite of ever buying this. Either way - its a piece of junk.

Bottom Line: No, I would not recommend this to a friend

---

2 out 2 people found this review helpful

Bell + Howell 9 volt flashlight

By Ken

,

Portland, OR

,

Feb 4, 2016
Verified Reviewer

I got one in the mail today. It came as a 2 pack; but no 9 volt batteries were included. I took an old 9 volt from a guitar peddle and it works like a charm so far. But I've only used about a couple hours of it. I don't know how long to expect it to last until I need a new battery, but all in all -good product.

Bottom Line: Yes, I would recommend this to a friend

---

Advertisement

---