Best Egg Reviews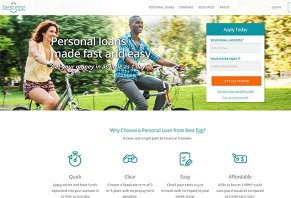 Best Egg's website process personal loans for consumers like you who are looking for an infusion of cash for vacation, medical bills, credit card consolidation and similar reasons. Rates range from 5.99% to 29.99%.
About Best Egg
Best Egg is an online lending site who provides loans via a simple online application. Loan amounts range from $2,00 to $35,000.
The company is based in Philadelphia and was founded in 2014. Their website acts as a connection point between you, the borrower, and Cross River Bank, the bank who is actually l lender who is headquartered in Fort Lee, N.J.
Best Egg is one of many online lending sites that provides these types of loans. Differentiating between all of the sites is something that's important because it helps you see which sites have the best interest rates, origination fees and which ones offer loan amounts that best suit your circumstances.
In this review of Best Egg, we're going to provide you with our analysis of what the site offers, what its restrictions are for borrowing and what borrowers are saying about it. We're also going to give you a chart that shows you how Best Egg's loans compare to similar sites.
By the end of this review, you'll have the information you'll need to know if this lending site is good for you and the strengths and weaknesses it has over the competition.
The Types of Loans Best Egg Offers
Best Egg sums up their loans as "personal loans", which means you have the ability to use the loan for a variety of purposes including medical debt, debt consolidation and a vacation.
Their loans are made up of several different components that we'll list here then explain afterward:
Loan amount
Loan term
Interest rate
Origination fee
Annual percentage rate
The loan amount is the amount for which you're approved and, as we mentioned in the introduction to this review, ranges from $2,000 to $35,000. Now, Best Egg's fine print says that you can be approved for a loan of $50,000 but that your income will need to be at least $150,000.
The loan term is how long you have to repay your loan. Best Egg's loans are repaid over terms of three or five years. Other sites, as you'll see later in this review, offer more variation in how long you have to repay your loan.
The interest rates you get on your loan will vary on multiple factors. The lowest interest rates are usually given to borrowers that have excellent credit scores and sufficient income. The rates you'll get from Best Egg range from 5.99% to 29.99%.
Keep in mind that your APR isn't the same as your interest rate. Your APR is what you get when you add together the interest payments you'll give Best Egg along with your origination fee, which is a fee you're charged for the manpower and time it takes to process your loan.
Best Egg's origination fees are between 0.99% and 5.99%. So, if you get a loan for $10,000 and your origination fee is 5.99%, you'll pay a $599 origination fee.
Now, let's say that loan has an interest rate of 10%. You'll end up paying $1,000 in interest. When you combine that with your origination fee, the total you'll pay in rates and fees is $1,599. Your APR, then, is 15.99%.
Best Egg Requirements
When you apply for a loan from this site, there are certain things that you should know. First, like all loan sites, Best Egg will want to know information about where you live and how much money you earn. In addition to this, they'll check your credit history to get a sense of how responsible you are as a borrower and how much debt you already have.
We also read that their lowest interest rate is reserved for borrowers who have credit scores of at least 700 and income of at least $100,000 a year.
Based on our research, there's a good chance your credit score may be around 700 because that is the national average.
However, it's the $100,000 that's the tough part for most borrowers. The average household income in 2016 was around $75,000. So, there's a good chance you may not qualify for the lowest rate. What your rate will be is something that Best Egg will determine.
Pro tip: The site says you can get your money in as little as one day. Remember, though, this isn't a promise. Loans require paperwork and information verification, two things that most likely will at least a day to solidify. Don't be surprised if it takes longer than a day to get your loan.
Reviews of Best Egg By Borrowers
Best Egg gets excellent reviews from consumers. In fact, it was the #1 lender, customer-service-wise, on popular loan aggregating site Lending Tree.
Borrowers often talked about how easy the application process was, with one person saying they were approved for a loan in less than 10 minutes.
Based on what we read from other borrowers, we believe there's a good chance you'll have a positive experience with Best Egg.
How Best Egg Compares to Other Lenders
Personal loans have become a popular thing among online financial companies, mainly because the process they offer is a lot easier and quicker than what you'd experience at your local bank or credit union.
Here's a chart to compare Best Egg's loans to loans from other lending sites we've reviewed:
| Company | Best Egg | Pay Off | FreedomPlus | Prosper |
| --- | --- | --- | --- | --- |
| APR | 5.99% - 29.99% | 5.94% - 24.40% | 4.99% - 29.99% | 5.99% - 36% |
| Origination Fee | 0.99%-5.99% | 2%-5% | 0% - 5% | 0% - 4.95% |
| Repayment Length | 3 or 5 years | 2-5 years | 2-5 Years | 3-5 Years |
| Loan Amount | $2K - $50K | $5K - $35K | $10K-$35K | $2K - $35K |
One of the things that stands out most to us is that Best Egg offers a wider range of loans than its competitors. However, that's where the advantage stops.
Payoff, a company who provides loans specifically for credit card debt, has lower APR's than Best Egg. Its lowest APR is 0.05% lower than Best Egg and its higher APR is a full 5.49% lower.
As far as the repayment period goes, Freedom Plus and Payoff provide a better range of options – 2 to 5 years – than what Best Egg provides.
Of the four lending sites we compared, Prosper has the best origination fees: 0% to 4.95%.
Based on our comparison of these four sites, we believe that Payoff offers the best overall experience. However, their lending is limited to credit cards. So, in terms of which site you can actually use for a variety of various situations, we think that Best Egg competes pretty well with sites like Freedom Plus and Prosper.
Its interest rates, repayment period and loan amounts provide you with what we consider to be the most well-rounded set of rates, fees and terms.
The Final Word: Pros, Cons and Who Best Egg is Good For
In our opinion, Best Egg's strength is that they provide you with a wide range of loan amounts. The fact that you can borrow between $2,000 and, in some cases, $50,000, makes it the most flexible lender of the four we compared.
Their high-end APR is higher than what you'd get with a credit card – they hover between 25% and 26% -- but as good as Freedom Plus and better than Prosper. Another thing we'd like to point out is that consumers give Best Egg tremendous reviews.
The downside of Best Egg is that their origination fees are higher than the competition. Both Freedom Plus and Prosper give you the chance to get a loan without an origination fee.
Based on our research, we believe you're a good fit for Best Egg if you have credit scores of at least 700 and an income of $100,000. If you can meet these criteria, you'll get the site's best interest rate. The best way to know if your credit scores measure up is to do a quick check of your credit scores via a free credit score website.
How to Use a Best Egg Personal Loan to Your Advantage
The site's loans can be a valuable asset to you if, for example, you have credit card debt with APR's that are higher than what you'd get from Best Egg. This could be a viable option if your credit scores have improved significantly in the past year.
Other situations in which their loan could be helpful is if you have multiple credit cards and you just want to condense them down into one payment that has a similar APR to what you're paying now.