Better Brella Reviews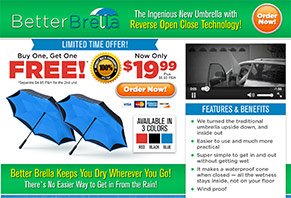 Better Brella works like a traditional umbrella, but in reverse. This means it'll be easier to get in and out of cars and doorways, and reduce inside dripping.
About Better Brella
Using Reverse Open Close technology, Better Brella helps keep you dry like a normal umbrella—except in reverse. How's it work?
Basically, by turning the traditional umbrella upside down and inside out, Better Brella forms a waterproof cone when closed. This provides 2 benefits: First, the company promises it makes getting in and out of your car or doorway simple and practical, without getting wet. Then, when you're inside, this cone will keep wetness in the interior and prevent dripping on your floor.
Attached to Better Brella's pole, you'll also find an ergonomic handle with a soft comfort grip that molds perfectly to your hand, making it easy to hold. Altogether, the manufacturer claims there's "no easier way to get in from the rain."
You're probably having a Why didn't I think of that? moment right about now. I mean, you've got to admit that Better Brella's design is pretty ingenious. But will Better Brella work as well in the real world as it does in the commercial? Even if it does, is it worth the money? Is there any competition?
We'll explore all things Better Brella in this review, so that you'll be able to make a more informed purchase.
How Does Better Brella Work?
If you compare how Better Brella opens to a traditional umbrella, you'll see that it works pretty much the same; a runner moves along a central shaft, which has any number of stretchers attached. As the runner moves up the central shaft, the stretchers push out ribs (the thin pieces of metal that hold open the fabric canopy), thereby providing rain protection.
Instead of curved ribs like larger umbrella models though, Better Brella seems to feature hinged ribs that fold in the middle—similar to a folding umbrella. From this aspect, Better Brella has two main design differences:
The tips of its ribs point up, instead of down, creating a v-shape
Underneath the canopy, there is a second piece of fabric that adds support and wind resistance
Pretty cool, right? But is Better Brella one-of-a-kind?
Is Better Brella a Unique Product?
There's a lot we've learned reviewing 650+ ASOTV products over the years, and one big thing is that—in some instances—they're just slightly redesigned versions of products already available on the market. And this seems to be the case with Better Brella.
Want to see what we're talking about? Search online for "reverse umbrella," "upside down umbrella," and "windproof umbrella," and you'll literally have thousands of different options. Now, not all of these will be designed exactly like Better Brella, but in a lot of instances, they're very close (especially the windproof models).
Compared to these options, the manufacturer claims that Better Brella can hold water and prevent it from spilling on your floor. Is this true?
Can Better Brella Hold Water?
Sometimes it seems like you get everything wetter after coming in from the pouring rain than you do during. You shed your hat and jacket, and any water remaining on the umbrella falls to the floor with it.
Although there's no description of the material used in Better Brella's canopy, it makes sense that a) it's waterproof and b) when it's folded into a v-shape, this will cause water droplets to slide down and accumulate, while keeping the surrounding floor dry.
Here's the important part: Based on the image below taken from the product's website, this only works if you place Better Brella with the handle touching the floor—not the ferrule on the top. This means you'll have to bend down (while keeping Better Brella upright, lest you spill any water), carefully place Better Brella's handle on the floor, and then balance it against a wall so that it doesn't fall over.
Granted, Better Brella claims their handle is made of a soft material (likely rubber) that might make it more slip-proof, but this might be somewhat of a hassle if you're walking in the door with your hands full (or even if you're not and suffer from mobility issues or chronic pain).
Now, let's talk about price.
How Much Does Better Brella Cost?
Better Brella is sold in twos and is available for $29.99 with free shipping plus any applicable tax. The umbrella comes in three color choices: Red, Black, and Blue.
All Better Brellas come with a 30-day refund policy, less S&H charges.
Regardless, you can call Better Brella customer service at 855-818-8296 to request a refund.
Is Better Brella the "Last Umbrella You'll Ever Own"?
Better Brella was brand new at the time of our research, with no online customer reviews. As such, there's no way to tell what kind of quality you can expect, or just how long it'll last you. Reviews have shown that one of the top 3 complaints related to ASOTV products is low quality, although there's no way to know if you'll experience the same with Better Brella.
From a value perspective, we can definitely infer more about Better Brella. Since we learned that it's priced similarly to other windproof/upside down umbrellas, it really comes down to whether or not you're willing to pay the extra, non-refundable S&H charges for Better Brella, or:
Search for other options locally. These types of umbrellas are fairly popular, so it's likely that a big box retailer near you carries a couple options. Or,
Search for other online retailers who charges less S&H fees.
Ultimately, only you can decide whether or not it's worth the risk. After all, it's your money!
Before you go, tell us: Did you buy Better Brella? Did it work as well in real life as the commercial made it seem? Tell us about your experience below by writing a review!
Umbrellas (Better Brella)

By Dianne G.

,

Plaquemine, LA

,

Jan 6, 2020
Verified Reviewer

The worst umbrella I ever had. In fact, I have had 3 of them. First one fell apart the second I used it. Second one the frame broke up and wouldn't go up or down. Third one was an LSU one and you push and it wouldn't latch kept sliding down.

Bottom Line: No, I would not recommend this to a friend

---

Garbage

By Stacey F.

,

New York

,

Dec 24, 2019
Verified Reviewer

Bought this with high hopes. Great idea, if it would stay open. But it never does. The mechanism doesn't catch properly and it closes on my head. I called the company, who walked me through "how to open an umbrella" (you need to jiggle it, you need to...), then told me I was "out of warranty." Followed by crickets on their end of the line. So, $25 piece of garbage that has not, does not, and will not stay open. Maybe I can use it as a doorstop. Lousy product, lousy company.

Bottom Line: No, I would not recommend this to a friend

---

Advertisement

---

Poor quality, bad service

By Sarah A.

,

Philadelphia, PA

,

Nov 19, 2019
Verified Reviewer

Purchased two Better Brellas one month ago, one broke after using it two times and the second one after one month.

Contacted the company by email, they never responded.

Very poor quality and bad customer service.

There is no zero star because that is what they deserve.

My next stop, BBB.

Bottom Line: No, I would not recommend this to a friend

---

Better Brella is actually not better

By Casey W.

,

Richmond, VA

,

Oct 18, 2019
Verified Reviewer

Well, I've had my Better Brella for a little over a year, and honestly, the only thing I like about it is the folding inside out feature. The spokes are constantly coming loose, and I am not impressed with the overall integrity of its quality. Maybe I'll switch back to my Regular Brella soon. Will not buy another Better Brella. VERY DISAPPOINTED!

Bottom Line: No, I would not recommend this to a friend

---

Advertisement

---

Not good

By Tom T.

,

Alberta, Canada

,

Sep 23, 2019
Verified Reviewer

I bought and used this umbrella maybe 6 times. The last time I tried to open it, the slide traveled to the top and is stuck there. No effort in trying to close it is successful. I found no way to contact customer service via email. I will not be buying another one as it has poor quality opening mechanism. Prior to this happening, the end cover at the top which screws on, cracked and would not stay on.

Bottom Line: No, I would not recommend this to a friend

---

The Better Brella co. is a rip-off scammer, based on my experience.

By Helen S.

,

Sarasota, FL

,

Jun 24, 2019
Verified Reviewer

Better Brella is probably an OK product. If you want one, go to Bed Bath & Beyond and buy one for $20 (or less with a BBY coupon.) Based on my experience, I urge you to stay away from the Better Brella company itself. I saw their TV ad for two Better Brellas for $29.95 + tax, no shipping fees. So I placed an order. They charged me $57.98, and would not cancel the order, and disputed my dispute with my credit card company, even though I refused the package and had the USPS return it to them. First they claimed they never received the package I shipped back to them. Then they refused to issue the credit because they claimed (falsely) that more than 30 days had passed.

The Better Brella company is a rip-off scammer. Also, the product is not unique. When I went to BBY to buy one, I saw a similar umbrella made by ShedRain, whose products I bought previously and have been happy with. And that's the umbrella I actually bought. Avoid the Better Brella company. They might try to rip you off and scam you too.

Bottom Line: No, I would not recommend this to a friend

---

Purchased and got five

By Teresa H.

,

Salisbury, NC

,

Feb 27, 2019
Verified Reviewer

I purchase them when I got it for my family and me. I spend around $80. I don't know about the other ones, but I've used mine twice and the tip end of it on one side is pulling apart in the storm. I paid such good money for these umbrellas and I'm highly disappointed. I would like to know if anybody knows how I can get in contact with the company to see if they would send me another one in the place of this one. I like the umbrella. It has done good, but it's tearing up on one end, on the outside. If anyone knows how, please text it to me. Thank you so much.

Bottom Line: Yes, I would recommend this to a friend

---

Sad, twice disappointed

By Allana B.

,

South Australia, Australia

,

Feb 5, 2019
Verified Reviewer

I bought my first one at the Post Office - it lasted about a month before the inside frame broke and the metal pieces came thru and then, of course, it would not fold up or work again.

I thought I'd try a slightly different style, but same make...this one won't shut or open properly, and again, the metal snapped and came thru.

Wasted $60. Back to my old fashioned umbrella!

Bottom Line: No, I would not recommend this to a friend

---

Only one of the two opens

By Audrey S.

,

Georgia

,

Jan 27, 2019
Verified Reviewer

I received my order (two for $29) yesterday. I tried to open one, following the directions, but the slide never clicked into place and the umbrella would not stay open. I tried the other one and it did open. I fear the second one will not last very long because of the poor quality.

I was seeking a means to return the malfunctioning one when I came upon this site. I just need an address so that I can return either one or both of them in order to have my money refunded.

Bottom Line: No, I would not recommend this to a friend

---

Pieces of junk

By Joseph P.

,

Southaven, MS

,

Jan 21, 2019
Verified Reviewer

A piece of junk, and neither work. Do not buy these, they are terrible. Yuck yuck. Sorry, but they really REALLY stink. Garbage garbage. Do not buy. Do not buy. I can tell you they stink by time. Sucks sucks.

Bottom Line: No, I would not recommend this to a friend

---

It is NOT broken.

By Patti N.

,

Port Hueneme, CA

,

Jan 18, 2019
Verified Reviewer

I had the same experience as most people here. The umbrella would open perfectly when you pushed the button, then close when you pushed it again. This closes it most of the way, like when you get into your car. Then you get out of the car and the umbrella will not open either with the button or manually. Grrr! I did some research and found the answer in a video (of another brand of umbrella). Watch it if you want, but the answer is that you have to push the umbrella stem down to fully close it, then it will again open perfectly when you push the button. Here is the link to the video: https://catladybox.zendesk.com/hc/en-us/articles/218445657-My-umbrella-is-broken-won-t-open-or-is-stuck-Help-VIDEO-.

Bottom Line: Yes, I would recommend this to a friend

---