Better.com Reviews
Claimed This company has claimed this profile, is getting alerted on any new customer reviews entering this page, and may engage in dialogue with its customers to address their matters.

Companies cannot pay money or provide goods in order to remove or alter customer reviews.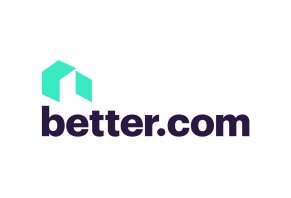 Better.com provides new mortgages or refinances on existing mortgages via a group of lenders. They use 5 criteria to formulate interest rates and loan amounts.
What Is Better.com?
If you're looking for a mortgage, you've entered the arena at a pretty good time in history.
Instead of doing hours of research online before making your first phone call to a lender, you can use a service like Better.com and get pre-approved for a purchase or refinance loan in a matter of minutes.
That's a pretty big sigh of relief, especially considering the stress that comes with the money, responsibility and information of buying a home or refinancing.
Thankfully, Better.com and similar sites say, they've come up with a better way of getting you a loan based on your credit score, income, down payment and price of the home you want. But this nearly automated world of lending isn't always what it seems.
For instance, a site like LendingTree.com provides you dozens of mortgage quotes in less than 15 minutes. But customers have complained that they have no control over who calls them, or, in some cases, who taints their credit score by running hard checks.
Does Better.com offer a "better" mortgage solution? How exactly does it work? Are there drawbacks?
We're going to answer these questions in our review within the next few minutes.
How Does Better.com Work?
We did a test run on Better.com's site to get a feel for what the average consumer can expect. We entered a California zip code (92115), along with our credit score (740-759) and our down payment amount ($100,000 on a $500,000 house).
The results came in less than five seconds. We had several different options across six types of loans: 30-, 20-, and 15-year fixed rates and 10/1, 7/1 and 5/1 adjustable-rate mortgages. We found this refreshing, as most lending sites lure you in with low percentages for adjustable rate mortgages (ARM). ARM's are usually a bad idea because you pay lower rates for a period of five, seven or 10 years, but after the higher rates kick in many homeowners have a hard time making their payments.
Let's get back to the quotes: two of the three included points payments. What that means is that they calculated our monthly payment based on us paying a percentage point of our APR up front, rather than spreading it out over the life of the loan.
The reason that's interesting to us is that buying points is a hotly debated topic and there's no one answer as to whether or not it's the right thing to do. To help you decide if paying points is right for you, Better.com created a video located on their homepage, to explain points.
Now, points aside, we appreciated how simple Better.com makes the rates page.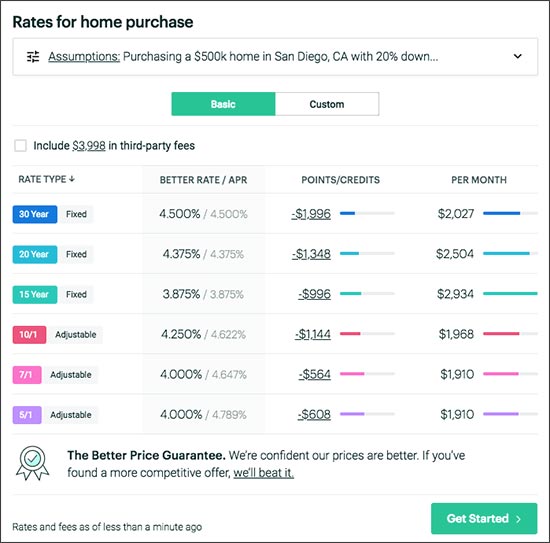 An example taken from Better.com's website of us trying to obtain interest rate quotes. Credit: better.com
The refinance option worked exactly the same way.
To get a pre-approval for a mortgage or refinance, you choose which offer you like the best and fill out additional information, including the address of the home you want to buy/refi.
Quick note: It's common to confuse Better.com with a site like LendingTree.com who connects you to "direct lenders".
However, the two aren't the same. Lending Tree connects you with direct lenders. Better.com is a direct lender.
You're basically cutting out the middleman (and a lot of annoying emails and phone calls…check our Lending Tree review for the details) by skipping Lending Tree-style sites and going directly to Better.com.
Where Do the Loans Come From?
As a direct lender, Better.com originates (processes) and funds your loan. Once your loan is finalized, you'll be making payments to the final investor who services the loan until it's paid off.
Here's how the Better.com application process works:
Better.com analyzes your income, debt, credit history and the value of your home as compared to its price tag.
They come up with a loan amount and interest rate you get to see.
Meanwhile, Better.com finds investors who are willing to buy the loan and service it.
What Are The Fees?
When you secure a mortgage, you end up paying what's known as "closing costs." That's cash out of your pocket, so to speak, that you need to pay up front. At Better.com, you can also roll it into your mortgage by accepting a higher interest rate in exchange for no closing costs.
According to Better.com, closing costs for 2015 typically ranged from $1,500 to $3,500.
We double checked these closing costs with Bankrate.com's figures for California. They calculated the average closing costs on a $200,000 home to be about $2,225.
Even though you're buying your home with money you secured through Better.com, you still have to pay third-party costs like appraisals, title changes and other fees common to the home buying experience.
You won't have to pay an origination fee, though, which is basically a charge for processing your application. In most cases, that fee is 0.5 or 1% of your loan amount. In the example where we used ($400K), that would total out to between $2,000 and $4,000.
How Sure Are the Rates You're Quoted?
Rates are a way for lending companies to lure you in. In many cases, they'll plaster a landing page or home page with a low-interest rate. Come to find out, that rate is actually for a 5/1 adjustable rate mortgage and not the traditional 30-year fixed rate mortgage (which typically has a higher percentage rate than ARMs).
Better.com, as we pointed out, doesn't do that. They give you the 30-year fixed rate as the first result when you ask for a quote. And, according to their FAQs, that rate will remain the same if your answers are consistent.
Word to the wise: Be very straightforward about your credit score, income, and other related numbers. The more truthful you are, the better the chance that your final rate will be the same as, or close to, what you were first quoted.
Better.com will do a basic credit check and income verification, so fudging the numbers won't help you.
In What States does Better.com Offer Mortgages and Refinancing?
Better.com's purchase and refinance mortgages are available in 31 states:
Alaska
Alabama
Arizona
Arkansas
California
Colorado
Connecticut
Delaware
District Of Columbia
Florida
Georgia
Illinois
Iowa
Kansas
Kentucky
Louisiana
Maine
Michigan
Mississippi
North Carolina
North Dakota
New Jersey
Oklahoma
Oregon
Pennsylvania
South Dakota
Tennessee
Texas
Washington
West Virginia
Wisconsin
Better.com Consumer Reviews
Better.com receives good reviews from borrowers.
As of 4/10/19, the company had an average rating of 3.8 from 72 HighYa reviewers. The best reviews noted how easy and fluid the process was, while negative reviews focused on the funding process taking too long.
From our perspective, the reviews are indicative of the type of reviews you get with mortgage lenders. The good reviews laud the process while the bad reviews lampoon it.
What's most important for you to know is that Better.com's reviews on HighYa are pretty solid and indicate that there's a good chance you'll enjoy your experience.
Reviews of the company are great on other sites as well, with most consumers giving Better.com high praise.
In terms of how often the initial quoted rate for your mortgage matches the rate you actually get, Bankrate says borrowers had a 95% success rate.
Is Better.com a Good Choice?
Based on the research we've done on Better.com, we think the site offers some advantages you won't find on a bigger site like LendingTree.
For example, LendingTree connects you with a bunch of companies who lend. Better.com is actually one of those lenders, so you don't have to go through the hassle of picking one lender out of many.
Another factor which works to the consumer's advantage, in our opinion, is that Better.com does research to understand exactly what kind of borrower you are. So, when they give you a rate quote, you most likely won't see a big rate jump.
It's kind of like how car companies say they're selling cars with 0% APR, but when you read the fine print there are certain requirements you must meet to get that amazing interest rate.
From what we've seen in our research, Better.com doesn't do that. In fact, when you go to their site, you aren't hit with ARM rates that try to lure you in.
What we've read and heard says that Better.com is a reliable site, and it appears that customers are overall happy with the company according to positive reviews on websites around the web.
Also, at this time, Better.com only offers loans and refi's in 31 states (Including District of Columbia) – since first writing about Better.com, this state of states has been gradually increasing.
---
Process does not work

By Jesse M.

,

Roswell, GA

,

Nov 17, 2020
Verified Reviewer

Length of Use: Less than 3 months

Overall Experience:

Their website has flaws in it. It couldn't upload my documents. For some reason their staff couldn't upload the documents into their portal.

Pros and Cons:

Rates
Concept
Their upload process doesn't work
They don't have a manual system to upload documents

Bottom Line: No, I would not recommend this to a friend

---

So-so for a tech company

By Tim Y.

,

Chicago, IL

,

Nov 15, 2020
Verified Reviewer

Length of Use: Less than 3 months

Overall Experience:

We would never go with them again if we had to do it all over for refinancing. Just like others have stated the requests are overwhelming at times with all the nonsense questions and repeating process over and over again. Their web portal for a technology company doesn't even get updated and submit errors ie requesting another closing date when the loan had closed already. It is just one example of the many tasks that are probably not looked over by a human being and the system keeps repeating itself for the same documents or tasks when it is already given sometime more than once in a day.

Their portal seems too automated at times and a repeated broken record. You will most likely don't get any heads up for any possible issues until the last minute and they will come up with a ton of requests all at the same time that it will become a full-time job. Questions will go unanswered or with a generic response as if they are hiding something at times. We even had to go online and pulled our own IRS tax record to update them because it was faster if we did it ourselves according to their portal task. And somehow we feel that we had paid for that service if not mistaken. Stick with the smaller banks or lenders that also provide hands-on human interaction when needed.

Also, forget about any promotion used to solicit offers because most likely it is not available once closed with many excuses as to why you didn't meet the criteria, etc. We used the promotion offer and later were told we didn't qualify because first, we didn't use the link, and then it was the application date deadline had expired, etc. They will use the many excuses to weasel out of honoring their promotion. Had we known we would have gone with another company in the first place.

They don't seem to care about meeting customer's expectation, but they sure love to ask for feedback all the time throughout the entire process. The rates and interests are the same as everyone else, so nothing special there, and the technology is the same or even worse with the repeating process mentioned earlier as well. We've done 6 loans and refinances in the past 10 years so this company is no different than the others or better by any means. In fact, we've received better discounts and terms from others in the past with fewer invasive and silly questions. This loan actually took longer than our last refinance with a small bank last year, in fact. This was one and done. We do not recommend at all for sake of time and professionalism being offered somewhere else.

Pros and Cons:

Closed
Appraisal
Notary
Communication
Dishonesty
Promotion not honored

Bottom Line: No, I would not recommend this to a friend

---

Advertisement

---

Horrible experience!

By Mandi S.

,

Galveston, TX

,

Sep 22, 2020
Verified Reviewer

Length of Use: Less than 3 months

Overall Experience:

I was pre-approved for my mortgage. We went to find a home and did a contract. Nine days before closing they said we did not have sufficient approval. This should have been addressed prior to 9 days for closing. Our dreams were crushed and we did not close on our home.

They are very disorganized and when you ask a question they just butter up everything and apologize for taking too long. I talked to the manager and he had the nerve to say "I am glad I am here for you to vent"! Very unprofessional. Please do NOT use Better Mortgage.

Pros and Cons:

Seemed professional and courteous at first
Easy to upload documents
Can schedule telephone meetings
Underwriting process
Ignored your questions
Did not answer questions over the weekend

Bottom Line: No, I would not recommend this to a friend

---

Worst experience

By Pissedof C.

,

Dallas, TX

,

Jul 24, 2020
Verified Reviewer

Length of Use: 3–6 months

Overall Experience:

One of the worst experiences for mortgage and a complete waste of time. They would preapprove and then keep on asking tons of documents and won't consider all your income, nor give any reasonable explanation. Happened more than once and I would not recommend to anyone. Don't waste your time. Their appraisal process is even worst...they have a third party, the appraiser is half baked, not even good enough to catch a dog. When confronted about his shortcoming, lied...Better.com didn't do anything and I wasted $450.

Bottom Line: No, I would not recommend this to a friend

---

Advertisement

---

Supremely satisfied with a very efficient/responsive refinancing experience

By Eduardo C.

,

El Dorado Hills, CA

,

Apr 25, 2020
Verified Reviewer

Overall Experience:

Better.com has a superb user-friendly web-based process for all paperwork and required loan documents, they're most responsive and a very professional team, including multiple loan terms options, and very efficiently worked with us to result in a refinance process of just 3 weeks from start to close.

Through our home ownership experience, 40 years total, we've done some half a dozen home loan refinancings; I can truthfully state that Better.com provided the best and most expedient experience that we've ever had. We're very satisfied with Better.com and will reference them with friends and family as the opportunities arise.

Bottom Line: Yes, I would recommend this to a friend

---

Very difficult to work with

By Rion G.

,

Olympia, WA

,

Mar 11, 2020
Verified Reviewer

Overall Experience:

We found Better Mortgage very difficult to work with. Online questions are misleading and communication is poor at best. They become confused about my spouse's employer and did not fully reflect her total salary. Did not capture or consider all of our assets. Would not recommend!

Bottom Line: No, I would not recommend this to a friend

---

DO NOT USE Better!

By Clare V.

,

Raleigh, NC

,

Feb 29, 2020
Verified Reviewer

Overall Experience:

ZERO STARS. DO NOT USE Better! A complete disaster from start to finish. My realtor warned me they had almost ruined a previous client's purchase and I failed to listen. Here I am months out from inception and they continue to prove themselves incompetent and careless, if not outright dangerous. Meanwhile, they seem to have singlehandedly wrecked my credit. The worst experience ever.

Bottom Line: No, I would not recommend this to a friend

---

A terrible company!

By Donald A.

,

Vineland, NJ

,

Nov 14, 2019
Verified Reviewer

Overall Experience:

I attempted to get a refinance at Better.com. I own 2 homes with more than $100,000.00 in equity between the 2 of them. I have no other debts other than a car payment of $180.00 a month, I have a retirement account with more than 6 figures in it and I have a credit rating of 800. I was denied...AFTER they charged me $550.00 for a home appraisal (I had a home appraisal done to remove PMI 6 months ago and it cost $120.00).

They did not return my $550.00 and I was denied. I would urge everyone to stay away from this company.

Bottom Line: No, I would not recommend this to a friend

Dec 3, 2019

Hello Donald,

We apologize for the inconvenience you experienced with us. Since we cannot discuss about your situation in public, can you reach us directly at reviews@better.com with details on what happened and your contact information? This way we can look into what happened and communicate better with you and see what we can do to help out.

Sincerely,

The Better.com Team

---

Useless

By C F.

,

California

,

Oct 25, 2019
Verified Reviewer

Overall Experience:

Waited for six weeks for them to tell us we didn't qualify for a refinance despite having excellent credit and more than adequate assets and income. Asked for documents in a very piecemeal way. Website has a good interface and they're responsive, but the bottom line is they just didn't deliver.

Bottom Line: No, I would not recommend this to a friend

Oct 29, 2019

Hi CF,

We apologize for the inconvenience you encountered and appreciate the feedback. Since we cannot discuss about your situation in public, please contact us directly at reviews@better.com with information on what happened so we can look into your situation. Let's work this out!

Sincerely,

The Better.com Team

---

Stay away. Bait and switch.

By Omar F.

,

Arizona

,

Oct 1, 2019
Verified Reviewer

Overall Experience:

Locked in a rate with 0 points for refinancing a rental property. The origination fee in the initial good faith estimate was 0. Now the rate is fixed but there is an origination fee of 1% (of the loan). Also, their response time is fairly slow (they claim there is a queue and loans are processed accordingly).

Bottom Line: No, I would not recommend this to a friend

Oct 8, 2019

Hi Omar,

We apologize for the inconvenience but can assure you we don't bait and switch. Since we cannot discuss your situation in public, feel free to contact us directly at reviews@better.com with details on what happened so we can look into it. We hope to work this out with you.

Sincerely,

The Better.com Team

---

Not good, too much aggravation

By Corey G.

,

Pequannock, NJ

,

Sep 23, 2019
Verified Reviewer

Overall Experience:

At first, I really liked this site, it quickly spiraled out of control. Looking back there were a few "red flags" I should have recognized. I read some negative reviews and my first instinct was well, you can't please everyone. I wish I had realized that anything you read about other posters' experiences are absolutely true! Don't be a sucker like me and fall for the most likely false positive reviews. Here is my honest unbiased experience.

I found Better.com while looking for rates for a second home condo refinance. I filled out some information to get my rate, which seemed a little high, but since it's on a second home I felt it may be in line. Immediately calls and texts start coming in. I ignored them for a day, and at one point someone named Andrew left me a voicemail with a number to reach him. A few minutes after his call I called back the number he left and listened to muzak for about 5 minutes. No answer, no automated system, nothing. I pictured the movie boiler room for a split second. But didn't dwell on it. Needless to say, I paid the $550 for an appraisal. Their portal asked for some uploads which seemed so smooth and user-friendly. Seemed like an amazing process. Right off the bat, they asked for my homeowner's policy on my primary residence, and my secondary. When I sent them my primary residence, it was rejected saying they wanted the HO6 policy for secondary...oversight I thought, and I just uploaded everything to their portal. Had an appraisal done, which according to their site if it was less than $550 they would refund the difference. Coincidentally it was $550.

A few days later, a fellow owner and board member in our small condo community forwarded me emails that they were sending him. They were relentless, and so poorly written, it almost seemed like a fraudulent email telling you that you are the winner of a foreign lottery. He replied to all the questions they had, and more emails came. Asking for HOA insurance policies, and contact info and all stuff I had already provided. He said he even tried calling them to help and listened to Muzak, no one would answer. Finally, after a few days, I myself replied to the email, almost in a curt tone, saying you already have been provided this information, and there were no harassing messages to fellow owners. This concerned me, but I thought after this hurdle, or hoop as another reviewer called it, we would be in the clear.

After that I spoke to a mortgage officer based in california, who was very friendly and said the underwriting was complete, everything looked good, would be closing within two weeks. In our conversation though he stated he is not licensed in the state of NJ, which was concerning.

Then the insurance fiasco started. My insurance agent called me and unbeknownst to me said someone called him saying they needed to change the payee on my policy. However, the caller would not verify any information on my policy and he wouldn't do it. We finally straightened that out and I can't tell you how many times I uploaded my policy declarations. After a few days, they tell me I don't have enough coverage on my unit. The same policy I had for 7 years, and no other bank had an issue. I had to triple the amount of coverage and payout of pocket about $300. I have more insurance on a walls in condo policy than I do on my house currently. Another hurdle complete. And another concern making me wonder why I keep sending my insurance info. Where is all this information going on the mystery portal?

Next, I had to obtain my own payoff statement from my current lender. When I contacted them their reaction was, why are you calling and not the lender you are dealing with? I got it anyway from them and sent it to the portal. $20 out of pocket, and another hurdle.

There were small things throughout the process that were concerning, they said my property taxes weren't current and wanted me to pay them. They were paid by my current lender, were on to date and paid weeks prior.

Finally, things were quiet for a few days and I started getting emails overnight. One, while I was on vacation with my family came at 12:30 AM. It basically said there were some things with a credit line that showed up, and I may or may not receive a call from a third party company to look into it. This was VERY VERY concerning, nauseating actually. I was worried that something may be wrong. I emailed my unlicensed NJ rep about it and he basically said someone will call you. I waited for DAYS! Sick about it. No one called. This is when I had enough. I checked my portal one day and it asked if I received a call. I answered no. Didn't hear anything. Then there was the "Have a better offer? We'll beat it screen." This got the gears turning in my head. It took me less than 5 minutes to find a lender with lower fees and rate, by a half an over half a point. And I sent it in. No answer for a few days.

A few more days pass and I get another request on my portal requesting my mortgage statement, account number and just a repeat of everything I had sent over and over. I emailed my unlicensed rep and said you already have all this info. He said we, unfortunately, do not. And that is when I reached the end. I informed them I don't want to proceed. I have no idea where all my personal info is going, who sees it. But this experience has been a financial and emotional burden. I'm roughly $1000 out of pocket.

To anyone reading this, please take my experience seriously and do not think yours may be better. There are much more professional and organized lenders. I really wanted to like this company and thought it would be easy and smooth. It was brutal. To any Better.com employee who reads this, please do not respond with a generic "sorry for your experience." You have a ton of my information, you know how to reach me.

As a side note, I just checked my Better.com portal. Still no competing offer.

Bottom Line: No, I would not recommend this to a friend

Sep 24, 2019

Hi Corey,

We apologize for the inconvenience we may have caused you. We appreciate your feedback and truly value it, however, since we cannot discuss your situation in public, can you email us directly at reviews@better.com with your full name, contact information, and the details of what happened so we can look into your situation. We strive to improve our processes so that borrowers can have a better experience.

Sincerely,

The Better.com Team

---