Better.com Reviews
Claimed This company has claimed this profile, is getting alerted on any new customer reviews entering this page, and may engage in dialogue with its customers to address their matters.

Companies cannot pay money or provide goods in order to remove or alter customer reviews.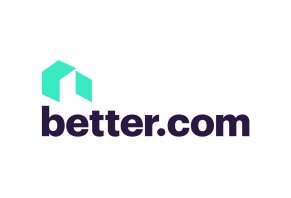 Better.com provides new mortgages or refinances on existing mortgages via a group of lenders. They use 5 criteria to formulate interest rates and loan amounts.
---
Above and beyond

By Nancy K.

,

Pennsylvania

,

Sep 13, 2018
Verified Reviewer

Overall Experience:

We worked with an extremely dedicated loan ranger (Joana) who worked and reworked our application fighting to get us approved. My husband and I had a very unique application, and Joana guided us every step of the way. I highly recommend Better.com and Joana Marin.

Bottom Line: Yes, I would recommend this to a friend

Oct 3, 2018

Hi Nancy, I'm happy to hear that our loan team made the mortgage process easier, especially with your unique situation. We can't wait to work with you again in the future. Sincerely, John Moffatt (Head of Loan Origination)

---

Better is better! They know how to treat their customers.

By Pauline G.

,

Beachwood, NJ

,

Sep 12, 2018
Verified Reviewer

Overall Experience:

Obtaining loan approval for a mortgage can be an overwhelming and daunting task. Additionally, some companies I have previously dealt with leave you feeling forgotten, causing a nail-biting lapse that leaves you so distressed. Not Better Mortgage! Their customer service is above reproach, making each customer feel as though they are the only ones. The caring and concern and even emotional support that exudes from the loan officers are outstanding. Not once did I have to feel inferior or forgotten.

Don't get me wrong, it's a long process, but Better Mortgage stays on top of things and helps you every step of the way. I highly recommend this company to anyone seeking a mortgage loan.

Bottom Line: Yes, I would recommend this to a friend

Oct 3, 2018

Hi Pauline, I'm thrilled that Better's dedicated customer support team made your mortgage experience comfortable and less daunting. It was a pleasure working with you, and I hope you'll keep in touch! Sincerely, John Moffatt (Head of Loan Origination)

---

Advertisement

---

Great rates, easy to use!

By Jon F.

,

Chicago, IL

,

Sep 11, 2018
Verified Reviewer

Overall Experience:

I happened to find Better online when I was comparison shopping for mortgage rates, and they had the best rate. Once I learned more about their process and goal of simplifying the mortgage lending process, I decided to move forward with them. The online portal was well-designed, easy to use, and they did a good job of keeping us up-to-date on where we were in the process and who we should contact if we had any questions or issues. The closing was scheduled at our convenience, and it went really smoothly! I'd highly recommend it!

Bottom Line: Yes, I would recommend this to a friend

Oct 3, 2018

Hi Jon, I'm so glad you enjoyed working with Better. It's also great to hear we were the most competitive choice among the other lenders you considered. It was a pleasure working with you, and I hope you stay in touch! Sincerely, John Moffatt (Head of Loan Origination)

---

Great online app

By Pat H.

,

Atlanta, GA

,

Sep 11, 2018
Verified Reviewer

Overall Experience:

Doing everything online allowed us to check daily to see what was happening. As we completed the task, the site was updated and we could see what other items needed to be done. Very easy to upload documents and watch the process proceed.

Bottom Line: Yes, I would recommend this to a friend

Oct 3, 2018

Hi Pat, I'm thrilled to hear you enjoyed working with Better! With our 100% digital application, we aim to make the mortgage process simple, transparent, and hassle-free. Feedback like yours helps us ensure that we are succeeding in this mission, so it's very much appreciated. Sincerely, John Moffat (Head of Loan Origination)

---

Advertisement

---

Better Mortgage - completely satisfied

By Oleg M.

,

California

,

Sep 10, 2018
Verified Reviewer

Overall Experience:

The flow of the online application is simple and intuitive, Better Mortgage requires a minimal amount of work which is really required. Loan officers Kelly Lescano, David Hu, and Eric Wilson were very helpful and easy to work with. Highly appreciated.

Bottom Line: Yes, I would recommend this to a friend

Oct 3, 2018

Hi Oleg, thanks for your review! It's great to hear you enjoyed various aspects of the Better experience, from our online application to our customer support team. We hope to work with you again in the future! Sincerely, John Moffatt (Head of Loan Origination)

---

Wonderful!

By Raebeca S.

,

Erie, PA

,

Sep 4, 2018
Verified Reviewer

Overall Experience:

Jennifer and Better Mortgage as a team were amazing to work with. They answered all the inquiries we had and guided us throughout the process. We were a little worried initially, as it was mostly online but that was the best part! It was easy, fast, and absolutely wonderful to work with Jennifer, our contact person, and the entire team. Thank you, and your turn around time was within the time frame they mentioned. I would definitely use them for all our future investments.

Bottom Line: Yes, I would recommend this to a friend

Oct 3, 2018

Hi Raebeca, I'm glad that Better's dedicated customer support team made your mortgage experience both fast and transparent. We can't wait to work with you again in the future! Sincerely, John Moffatt (Head of Loan Origination)

---

Loan application for home mortgage

By Jessica F.

,

Aurora, IL

,

Aug 24, 2018
Verified Reviewer

Overall Experience:

It was a very convenient process. Better was very responsive and accessible throughout each stage. There were some very last minute scrambles that I did not think were necessary, but as a whole, it was a very pleasant experience and would certainly recommend to others.

Bottom Line: Yes, I would recommend this to a friend

Oct 3, 2018

Hi Jessica, it's great to hear you enjoyed your overall experience with Better! We appreciate both your positive and constructive comments, there's always room to improve and we'll keep at it! Sincerely, John Moffatt (Head of Loan Origination)

---

Started good, middle horrible, end good

By Nasir H.

,

California

,

Aug 22, 2018
Verified Reviewer

Overall Experience:

Better Mortgage breaks the process down into three phases (which equates to working with three different people (or their teams): pre-approval, locking in the rate, loan processing, and closing. For pre-approval and locking in the rate, Better Mortgages first agent was nice, polite, and responsive. It was very simple, I submitted all my information and was pre-approved. Next, we locked in the rate and Better Morgage has a nice tool to compare all the rates at once, and you'd see what your estimated payment would be. The middle phase of loan processing was horrible, my loan ranger, and her team did not keep me informed and told me that other loans had higher priority because they needed to be closed.

As I said, I was not kept informed (maybe I am a little needy and want to be more informed), but my emails to my loan ranger (Better Morgage terms) were unanswered on several occasions, and others were only partially answered. We pushed through this and submitted and responded to almost 100 questions from Better Morgage which some were repeated over, and over again. In the end, it was sent to closing where someone else took over. He got everything together, responded to emails almost instantly and closed out the loan process.

Side note, if I had someone new at the end closing my loan, then why did my loan ranger have to put closing loans ahead of my loan, if her job was to get loans to the closing agent?

Bottom Line: No, I would not recommend this to a friend

Aug 24, 2018

Hi Nasir, thanks so much for your feedback. We appreciate both your positive and constructive comments, there's always room to improve, and we'll keep at it. We hope we can better serve any mortgage needs you may have in the future.

Sincerely, John Moffatt (Head of Loan Origination)

---

Amazing experience

By Anthony M.

,

New Jersey

,

Aug 14, 2018
Verified Reviewer

Overall Experience:

Buying a house is extremely stressful. Especially if you're like me buying a house for the first time. I was recommended to Better.com just to get pre-approved. After speaking with Elizabeth and shopping around, I decided to use Better for my mortgage.

The process could not have been easier and there are different staff members that are assigned to you along the way that are experts in the stage of the process that you are in. Everything is simplified online and you are given tasks to complete.

It really couldn't have been easier, and I'm very happy that I chose to go with Better.com. I highly recommend them to anyone buying a house, especially a first time home buyer.

Bottom Line: Yes, I would recommend this to a friend

Oct 3, 2018

Hi Anthony, congrats on becoming a homeowner! Buying a home for the first time can definitely be stressful, but I'm so glad Better made the process easier for you. We wish you the best of luck in your new home! Sincerely, John Moffatt (Head of Loan Origination)

---

Very honest company and fast response

By Manuel A.

,

New London, CT

,

Aug 6, 2018
Verified Reviewer

Overall Experience:

I apply online and I have a good experience and fast answer. It is sad that I have to stop the proses because of a personal situation, but I will apply again soon. Thank you and God bless. I hope that I can apply soon, see you soon.

Bottom Line: Yes, I would recommend this to a friend

Oct 3, 2018

Hi Manuel, I'm sorry you had to put the home financing process on hold, but I'm so glad you enjoyed your experience with us. We can't wait to work with you when you're ready. Stay in touch! Sincerely, John Moffatt (Head of Loan Origination)

---

Great online service

By Rahul G.

,

Texas

,

Aug 5, 2018
Verified Reviewer

Overall Experience:

I am a first-time home buyer and live in technology. Email and text messages (and chat) are my part of every minute.

And Better Mortgage plays right in there.

The initial sales/education call was super useful. As a first-time home buyer, I had many questions and each was answered in a patient manner.

Once the sales process was over, the loan officer took over. And it was a very interesting (in a positive way) experience. All document submission was through a very effective workflow process. But I want to mention here that Sarah, my Loan Ranger, was super helpful. Again as a first-time buyer, I asked every small question and she responded promptly without being frustrated. Also in my case, they needed to verify my India employment, which took some time, but she was patient and supportive. She even helped me with friendly advice about other parts of the home purchase. I give huge credit to her for successful funding of the loan.

They do require a lot of documents, but because of the online interface and super responsive staff, it was not stressful.

After underwriting, the closing manager was also helpful.

Overall I am quite satisfied with the whole experience.

Bottom Line: Yes, I would recommend this to a friend

Oct 3, 2018

Hi Rahul, congrats on becoming a homeowner! Being a first-time homebuyer can indeed be daunting, but we're working hard to make it easier. I'm so glad we succeeded for you! We wish you the best of luck in your new home. Sincerely, John Moffatt (Head of Loan Origination)

---