Better Sponge Reviews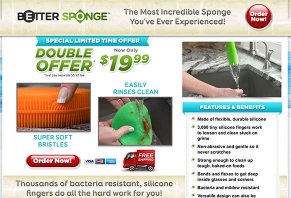 The Better Sponge is a multi-function cleaning device that claims to be able to use its 3,000 silicone "fingers" to provide a host of different functions.
What is the Better Sponge?
Claiming to be no ordinary cleaning device, the Better Sponge is a silicone-based cleaning device that hides some wide-ranging versatility behind its simplistic, minimal design. The 3,000 non-abrasive, bacteria resistant "fingers" that cover the entire product are said to be able to clean even tough, baked-on messes from a variety of different materials, from everyday dishes to delicate glassware and beyond.
The Better Sponge is positioned by the manufacturer as a cleaner alternative to messy rags and foul-smelling dish sponges, allowing you to stick it to the side of your sink to drain and dry using built-in suction cups. It's also completely dishwasher safe as well, letting you give it a thorough cleaning whenever necessary.
The commercial illustrates that unlike a regular sponge, the silicone pad is mold and mildew resistant, which could potentially also cut down on those foul smells tremendously as well. In addition, it is highly conformable, allowing you to get down into awkward places with ease, such as deep inside glasses or around jagged corners.
Of course, the commercial shows us more than just the product's dish-cleaning potential. Let's take a brief look at some of the other ways you can use the Better Sponge in and around your home below.
How Do You Use Better Sponge?
One of the Better Sponge's chief appeals lies in the product's inherent versatility; the commercial shows the pads being used in a variety of ways, such as a general purpose multi-surface cleaner, allowing you to wipe down windows, showers, sinks, tile, and more. Its gentle silicone design should be safe to use on just about anything, so you can really get creative when imaging all of the potential uses for the product in your home.
We're also shown the sponge being used as flexible pot holders for baking, due to the Better Sponge's ability to resist heat, as well as a non-slip gripper for removing lids. Finally, we're shown that all of those silicone fingers are able to act as a pet hair collector on upholstered materials and clothing, allowing pet owners to have another tool in their arsenal against the never-ending stream of hair.
Taken as a whole, there's an impressive amount of potential value to be had with the Better Sponge. It certainly seems to be a potentially useful addition to just about anyone's home toolkit, and even the unique cleaning functionality may be worthwhile for some by itself.
Having said that, we haven't tested their cleaning prowess out for ourselves, and despite what the commercial shows, we can potentially see how the slippery silicone pads may not be the best abrasive surface to get rid of those annoyingly difficult areas on certain pots and pans. Without firsthand experience, we can't sway in either direction, but it is probably wise to be cautiously optimistic until you get a chance to try the Better Sponge out for yourself.
Better Sponge Pricing & Return Policy
As of this writing, the Better Sponge was available both through the manufacturer and on Amazon.com. Through the former, it is sold as a pack of three; one larger purple square, and two smaller circle and oval-shaped designs. You'll also receive a Better Cloth Eraser as well, bringing your total to $21.99.
There is also an optional double offer available, allowing you to get double the sponges, bringing your grand total to $28.94. Interestingly, on Amazon, the same 6-pack sold for $18.59 when we checked.
As for the return policy, the terms state that you'll have 30 days to return the sponges for a refund, less shipping & handling fees. You'll also be required to pay return shipping fees if they are needed to ship the Better Sponge back to the manufacturer. To initiate a return, you'll need to contact customer support at 866-304-4225 to obtain an RMA number. On Amazon, you can begin a return in your customer dashboard.
Better Sponge vs. Similar Cleaning Solutions
The Better Sponge has a large presence on Amazon, and notably, there are also a wide variety of similar products being sold
Just as we speculated above, we found a large number of reviews for the product on Amazon that were negative, with the primary complaint by a wide margin being customer's disappointing experiences with the product's cleaning abilities. Multiple users chimed in with accounts of the Better Sponge's inability to wipe clean dried food, with some even stating that they had difficulty even with wet, loose debris.
In fact, users seem so divided that 41 percent of the nearly 100 reviews we found as of this writing gave the product just a single star on the online megaplatform. Interestingly, as noted above, we were able to find many other brands of silicone sponges, some with much higher reviews than others. Some options, such as the SigmaGo silicone dish sponges, held a suspiciously optimistic 100 percent 5-star rating across an even 50 accounts, which is a big red flag for fake reviews.
Other products seemed to include more genuinely positive reviews, though, such as the Kichwit Silicone Sponge, which appears to have shorter, more brittle fingers compared to the Better Sponge. Even this option was not completely immune to the negative accounts of poor effectiveness, however, and in fact, we weren't able to find a single silicone-based product online that was.
The Bottom Line: Our Thoughts on The Better Sponge
Combining everything that we've learned about the Better Sponge, can you truly expect the product to be as versatile and useful as described on the website and in its commercial?
One the one hand, the sponge's wide range of potential uses is certainly attractive, especially for those who like the idea of one "companion" product that can help out with multiple things in and around the home. We can even imagine that some readers may find great value in just one of the fringe uses, such as using the device as a dedicated pet hair brush, to use one example.
All the same, the Better Sponge's primary function is as a dish cleaning tool, and as consumers ourselves, we'd feel hesitant to make a purchase based on this alone when the numerous negative experiences recounted on Amazon tell a very different story than the one told by the manufacturer.
If you'd like to jump in and give the product a shot regardless, we'd recommend keeping the 30-day return policy in mind going into your purchase. If you find that it doesn't deliver the functionality you were looking for you'll be able to return them, as long as you're okay with losing a bit of cash in shipping and handling fees in the process.
1 out 1 people found this review helpful

Not worth the price

By Toni D.

,

Bellmore, NY

,

May 24, 2018
Verified Reviewer

Too big, too clumsy. Trying to use the Better Sponge to wash a dish, I found it too large in the hand. Much too thick to use with comfort. In cleaning my kitchen table, the sponge seemed to stick, and since it won't absorb, I needed a regular sponge anyway. Perhaps I might find other uses for this product. But until then, I'll stick to my reliable sponge.

Bottom Line: No, I would not recommend this to a friend

---

Advertisement

---