Betterment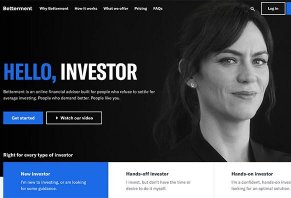 Betterment promises to provide you with an impressive lineup of financial products pertinent to anyone looking for a long-term solution for investing, retirement, trusts, and savings.
Betterment Reviews - Is It Right For You?
Betterment is a financial services provider that offers automated investing, retirement plans, trusts and savings accounts.
The company was one of the first of its kind to launch a "robo advisor" which is something we'll talk about later when we discuss Betterment's investment tool.
Betterment is based in New York. Its founder and CEO is Jon Stien. Stein told us in an interview that he started the company, in part, because he and his financial services colleagues were great at telling clients where to invest their money but had a hard time figuring out where to invest their own money.
Over the years, Betterment built a reputation as being a leader among automated investment platforms and, like its competitors, expanded its offerings beyond investments to include other financial products.
In our review, we'll discuss the five different financial services the company offers, review its advising and educational tools, talk about Betterment's pricing then compare it to Wealthfront, a similar company. We'll also discuss Betterment's customer reviews before concluding with a section about general pros and cons.
Along the way, we will include the opinions of Logan Allec, a CPA who runs financial advice site Money Done Right.
What Betterment Offers
While Betterment started out only offering investing, the company expanded its list of services to include four other options. We'll cover those options in this section.
Investing With Betterment
Betterment's investing platform allows you to invest your money into exchange-traded funds (ETF's), which are widely seen as relatively low-risk investments made up of various assets intended to mimic profitable Wall Street index funds. Some of Betterment's ETF's are made up of stocks and some are made up of bonds.
The investment process is automated, such that you can choose a risk level and then Betterment will do the rest. They use algorithms to automatically adjust your portfolio, reinvesting dividends, adjusting poor-performing parts of your portfolio and also making smart moves that will decrease your tax liability. The former is known as rebalancing and the latter is known as tax-loss harvesting.
This automated investment maintenance is known as "robo advising"; the company does all the work on your behalf.
This, says Allec, is perhaps the biggest advantage of investing with a company like Betterment.
"Pro number one of using a website/app to invest money is the ability to easily set up automated investing," Allec told us. "Many of the top popular investment apps (such as Wealthfront or Betterment) give you the ability to easily divert funds each month from your checking account. These websites/apps then will invest your money for you without the need for you to spend any of your own time in the process."
You also have the option of choosing pre-made portfolios made up of socially-responsible companies, a Goldman Sachs strategy called "Smart Beta" and BlackRock's Target Income.
Finally, Betterment gives more experienced investors the ability to adjust portfolios on a more granular level, too.
Whichever the level of involvement, you can choose to make one-time deposits into your investment account or do recurring deposits.
Rolling Over Your Retirement to Betterment
In addition to investing in ETF's, Betterment allows you to move your retirement account to them from another company. This process is known as "rolling over" your retirement account.
Betterment allows you to roll over a 401(k), 403(b) or an IRA into an IRA, either directly (the easiest route) or indirectly. Direct transfers require that you're moving money to and from the same types of accounts, whereas indirect transfers are between two different accounts (401(k) to IRA, for example).
There are a variety of tax complexities involved with an indirect transfer because you will have to withdraw all your funds from your old account and then deposit them into your new IRA within 60 days. While Betterment claims they are not a tax advisor, they do provide some direction when you go through their four-step rollover questionnaire.
Starting Your Retirement Account
Betterment provides traditional, Roth and SEP (self-employed) IRA's, all of which have their own tax nuances.
To figure out which one is best for you, Betterment will ask you to answer eight questions that cover your date of birth, income and some of the details of your current tax-filing and retirement investment status.
The site's fine print notes that they make certain assumptions when they recommend the best IRA for you. Some of those assumptions include:
You can save up to 25% of our pre-tax income
You take a standard deduction
You have no dependents
You have a job
While Betterment won't give you specific tax advice like a CPA would, they do give you retirement planning tools you can use to understand how much you need to save and where you need to save it in order to reach your retirement goals.
Trusts
Trusts are accounts you start that you plan to one day to give someone (a "beneficiary"). You could start up a trust for your children or a relative or anyone whom you designate.
Trusts also allow you to set a date at which point the trust is available to the beneficiary, or you can choose to make automated cash transfers to the beneficiary on a schedule of your choosing, Betterment points out.
Betterment helps you grow your trust by investing the trust money in a "risk-adjusted, globally diversified portfolio of low-cost ETFs."
Savings
The final product Betterment offers is a savings account that has a 2.00% annual percentage yield. What this means is that, every month, Betterment pays out a certain amount of money to your savings account based on your daily balance and the 2.00% yearly rate.
For example, if you have $1,000 in your savings account, you'll earn $105.08 after five years.
This savings account offers the advantage of a great interest rate compared to what you'd get with a traditional bank, most of which offer far less than even 1% APY.
Betterment's Learning Tools
The assumption with a company like Betterment is that it gives you the tools to invest on your own, while providing a set of tools you can use to further customize your investments if you become more confident.
Knowing that their platform has a DIY aspect to it, Betterment has an extensive educational section to their website and their app that provides general information about the various financial products they offer as well as targeted metrics for your unique portfolio.
Their advice centers on what they call "goal-based investing." This theory of financial advice focuses on your goals: "How would you need to invest and save in order to have enough money to buy a home?"
They provide various graphs and projections to help you plan out your retirement and calibrate your spending habits, too.
After reviewing the site's educational materials and articles, we believe that can be a great help to your learning process. However, you have to realize that this is the main way for you to get information or questions answered.
Allec said that this is one of the main drawbacks of using an online- and mobile-based service like Betterment. You can't just walk into a local financial adviser's office and get your questions answered.
"Investing with a local financial advisor or bank gives you a point of contact to call with questions. Large online services such as Betterment are not as easy to contact and get a real person on the phone to answer your questions," he said. "If you are likely to have a lot of questions, online investing might not be for you."
At the time of publishing, Betterment's phone and email customer service had the following hours (EST): Monday through Friday: 9 a.m. to 6 p.m.
Betterment's Fees
Betterment has two fee structures: one if you have a balance under $100,000 and one available if you have a balance of $100,000 or more.
Their Digital fee plan charges 0.25%. It includes all the features mentioned earlier: tax-loss harvesting, portfolio balancing as well as access to all the site's learning tools and in-app recommendations.
Their Premium service charges an annual fee of 0.40% for those who choose to sign up for it (it's voluntary). Premium includes the perk of having access to Betterment's CPA team. This perk allows you to get direct professional advice for all types of financial decisions and life changes.
The key difference here is that Digital customers get general advice from pre-written articles and posts.
Also, Betterment offers a one-time advising call for $199, through which you can talk with a licensed financial professional about your current situation and your future goals. The expert will then write up an action plan for you. You get "exclusive educational content," too.
In this sense, we see Betterment being a powerful hybrid service that gives you a financial planning session along with access to CPA's. All customers can pay for an initial consultation.
However, only customers with at least $100,00 in their Betterment accounts can get Premium access. This limits the scope of the site's services for those who are just starting their investment journey.
Betterment Vs. Wealthfront
One of Betterment's main competitors is Wealthfront, a similar web- and mobile-based financial services company.
Betterment' is the best choice if you're interested in rolling over or starting a retirement account simply because Wealthfront doesn't offer retirement accounts.
Betterment also offers the distinct advantage of a premium tier that gives you access to CPA's. We believe that the increased yearly fee you pay for this access is well worth it, especially if you foresee a wide range of major life events happening during the next 10 years (marriage, children, college, buying a house, etc.).
Plus, Betterment lets you pay for a consultation with a licensed financial expert.
Based on all of this information Betterment is more of a full-service financial platform for adults looking for professional financial advice and have at least $100,000 to put in their Betterment account.
That being said, Wealthfront's savings account has a higher YPA—2.57% versus 2.00%—and they offer lines of credit. We see the savings APY as a great perk that can benefit all users. The line of credit, on the other hand, is a more specific product applicable to certain customers.
Which service is better? We believe that has a lot to do with your own financial goals and situation. If you want a full-service company, Betterment is the best choice. If you're just starting out and want the option of a line-of-credit and/or you're looking for the best savings account APY, Wealthfront is the smart choice.
Betterment Customer Reviews
Android and iOS users give Betterment rave reviews. The service's app has an average of 4.3 stars from more than 100,000 reviews in the Google Play store and an average of 4.7 stores from more than 11,000 reviews in the iTunes Store.
An important complaint we read in the Google Play store is that the app does not allow you to close accounts or change bank information. However, these drawbacks are minimal, in our opinion, because they are situations that may arise once or twice. And, if they do arise, you can use a desktop computer to make the necessary changes.
Other complaints focused on glitches in downloaded and opening the app, while some complained their investments weren't making any money.
These various user experiences indicate that the odds are high you will have a positive user experience (app function and features) with the Betterment app.
Bottom Line: Who Is Betterment Good For?
Based on our research, we believe Betterment's strength is that it is set up to be a platform for new and seasoned investors.
We see someone who is just starting out signing up for Betterment's free account really enjoy this service. Then, as their financial situation becomes more complex and their balance surpasses $100,000, Betterments Premium service provides additional expert financial advice that can be an immense help.
The downside to Betterment is that their savings account APY is lower than what you'd get with Wealthfront. Also, their 0.40% fee for Premium accounts may not be appealing if you've got some investment experience and prefer, say, Wealthfront's 0.25% fee over what you'd pay Betterment.
Ultimately, we think Betterment is an excellent choice for someone who wants a company with which they can invest, save and build retirement. Their platform is excellent for a long-term commitment; the breadth of their services grow as your finances and financial complexities grow